Globetrotters fall in love with history-steeped cobblestone streets, lined with colorful houses set against a backdrop of vibrant Maya culture and dramatic volcanic scenery.
This is La Antigua, Guatemala, a UNESCO World Heritage Site, colonial city, and former capital cradled in the Panchoy Valley between three majestic volcanoes in the central Guatemalan highlands.
The city has a prolific volunteer and traveler scene as well as a thriving expat community as many visitors find life so enticing here they decide to make Antigua their part-time base or permanent home. This happened to me.
Like many before me, I came to Antigua to study Spanish as I'd heard the locals here spoke with a clear accent. In 2006, after a one-year stint traveling around South America, I was disappointed at my poor grasp of Spanish, so decided to settle in a homestay, study at one of the abundant Spanish schools and totally immerse myself in the language.
It was impossible not to fall in love with the charm of this colonial beauty. A wander along every street is a photographer's dream, so being a shutterbug, I was smitten—and I ended up renting an apartment and staying. I've since lived in Thailand (for the second time) but Guatemala lured me back in 2014 and altogether has been my home for over seven years.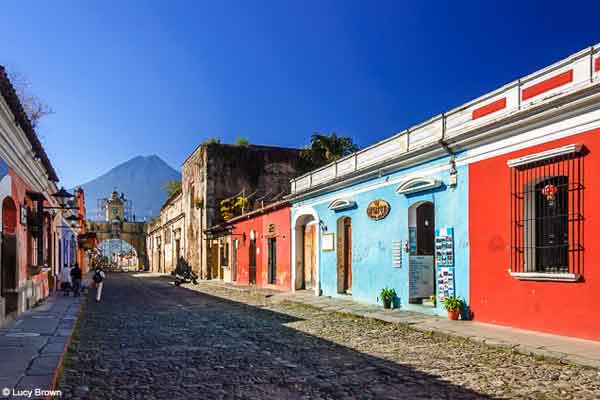 As anywhere, rental costs vary depending on location, rental term, property size, and quality of amenities and furnishings. Rentals in Antigua close to the central park, are pricier than those on the city outskirts or in outlying villages. Many rentals come fully equipped and furnished and some have rooftop terraces with spectacular views of the surrounding volcanoes.
Furnished rooms rent by the day, week or month. A room near the center of Antigua with shared kitchen, bathroom, and patio rents for $220 per month, while a fully furnished studio apartment rents for $425 per month. Both include WiFi and utilities.
A furnished two-bedroom apartment in a condominium five minutes by car from the central park costs about $750 per month including WiFi, cable, and security but not electricity. This nets you a living room, dining room, family room, kitchen, two bathrooms, patio, parking, beautiful gardens and views.
Your dollar stretches even further by renting in surrounding towns like Ciudad Vieja, Santa Ana, San Felipe, Jocotenango, San Bartolomé Becerra, San Pedro Las Huertas, or San Miguel Escobar. All are within a short drive or bus ride from Antigua.
For two and a half years I've been renting in the picturesque nearby village of San Juan del Obispo, sprawled up the slopes of Agua volcano, with a view over Antigua and the surrounding tree-smothered hills of the Panchoy valley. I pay about $450 per month (excluding utilities) for a lovely two-bedroom furnished house with a patio and a bougainvillea-draped rooftop terrace with volcano views.
For rentals in Guatemala, tenants pay the legal fees to draw up a contract and landlords usually request a passport copy, deposit (equal to one month's rent), and the first month's rent up front.
A great resource for current listings is the Facebook group Antigua Area Classifieds Real Estate and Rentals. They advertise short and long-term, and furnished or unfurnished rentals in Antigua and the surrounding area.
Other resources for Antigua house rentals are Airbnb and Craigslist or the classified sections of the local English language publications Qué Pasa and Revue. Both these are available online or their print magazines can be picked up in many restaurants and hotels around town.
Alternatively, once you're here, search for Antigua rentals on notice boards in popular cafés, restaurants, Spanish schools and Internet cafés. Good places to start are expat-favorite restaurants and bars like Doña Luisa Xicotencatl, Monoloco, Café El Portal, and Rainbow Café.
There are plenty of options out there for all tastes and budgets.