Just an hour south of Barcelona by train lies one of the prettiest and most underrated small cities on the Spanish Mediterranean coast—mesmerizing Tarragona. When you arrive, one of the first things you'll notice is the wealth of impressive Roman ruins scattered throughout the city, especially south of the Old Town. At one time, Tarragona was the Roman capital of the Iberian Peninsula and this certainly shows in its magnificent architecture, much of it situated to take full advantage of sparkling views of the Mediterranean.
Like Barcelona, Tarragona has two official languages: Spanish and Catalan. While the locals usually speak Catalan among themselves, I found English and my sub-par Spanish worked fine for communication. The only occasional challenge was trying to match up Catalan street signs with the Spanish equivalent.
I actually liked Tarragona more than Valencia and Barcelona, the two better-known cities that it sits between along the coast. For one thing, it's a lot less hectic. With only 140,000 residents, it's thoroughly walkable but still offers numerous attractions, lots to do, and striking scenery that includes nine miles of lovely coastline. Tarragona boasts some of the Mediterranean's most inviting beaches with soft, white sands, hidden coves, and green, hilly backdrops that attract sun-worshipers almost all year.
A great way to start your explorion of Tarragona is with a stroll down the Rambla Nova, a pedestrian promenade leading through the heart of the city toward an observation balcony overlooking the Mediterranean. Along the way, you'll feel like you're on a Paris street lined with small, tree-shaded cafes, 100-year-old buildings, and unique statues.
One of these statues depicts a tradition that's celebrated during festivals and exhibitions throughout the year—the building of human towers. This spectacle originated in Tarragona and has been going strong for hundreds of years. Well-trained participants in matching outfits form a sturdy base of standing people; others then climb upon their backs and shoulders to create a human tower than can be as high as 10 layers. These tower-builders wear special sashes that help with the climbing. Small children with safety helmets climb to the very pinnacle of these amazing human pyramids, called castells. If you don't get the chance to see these incredible feats yourself, don't worry—there's always YouTube.
Fascinating History in Every Part of the City 
Tarragona's rich cultural past is reflected in the many historical sites and buildings dotted throughout the city, including:
The Cathedral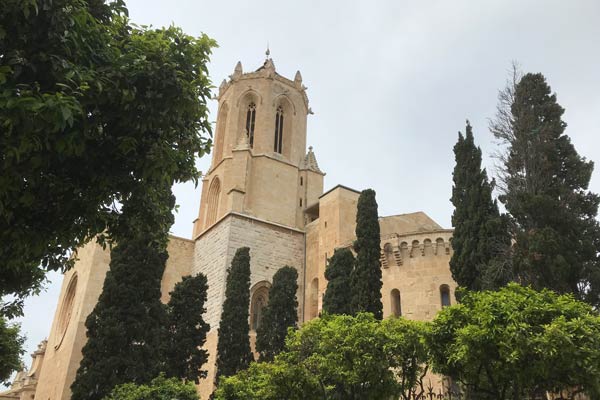 In a country blessed with spectacular cathedrals, this is one of the most sublime—a blend of Gothic and Romanesque features designed in the 12th century and housing the Diocesan Museum, where you can inspect stone sculptures, medieval religious artwork, ancient wooden carvings, ceramics, tapestries, and more.
Mercat Central
Tarragona's recently renovated central market is a hive of activity, housed in a grand old building in Corsini square. If you're looking to buy fresh produce, fish, meats, and local delicacies, this is a one-stop shop that also offers cafes, patisseries, and free toilets.
Archaeological Museum and Necropolis
Even if you're not 'a museum person', the displays here will impress, featuring an array of Roman ceramics, mosaics, clothing, coins, statues, and other items up to 2,000 years old.
Devil's Bridge Aqueduct
Rising 27 metres above the valley floor, this 36-arch Roman aqueduct is about 5 minutes north of the city (catch bus numbers 5 or 85 from Plaza Imperial Tarraco). If heights don't bother you, climb up and walk along the section where water once flowed between the Francoli River and the ancient city.
Part Alta
The oldest and most elevated part of Tarragona is perfect for ambling: the narrow streets wind through a mixture of old and new housing including the Casa Castellarnau, a 15th Century gothic manor house that's now a museum. When your legs start to tire, stop for some tapas and a glass of Priorat red wine at any of the small squares.
The Amphitheatre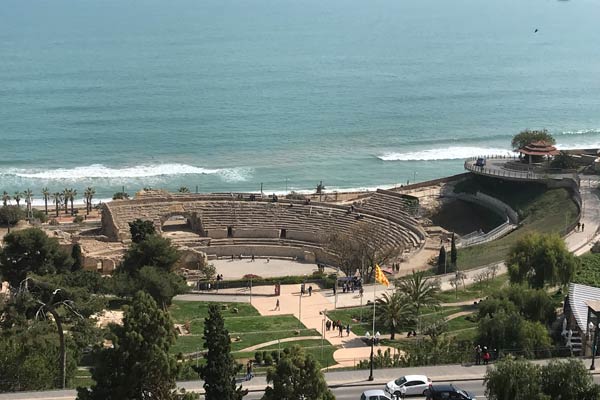 The setting alone will take your breath away: a vast, stone arena occupying a steep slope between the city's Roman walls and the sea. Dating back to the First Century BC, it held 15,000 spectators when it was a venue for gladiatorial combat and the occasional public execution. A guided tour is well worth the money to gain a full historical perspective.
Hit the Beach in Tarragona
The coastline around Tarragona is clean and family-friendly with life-guards, showers, and cafes available on the more popular beaches. With so many protected natural spots, it's easy to find calm-water swimming and a quiet stretch of warm golden sand. The more secluded beaches are further north, away from the city.
If you like a castle view with your sandy beach, head to Playa Tamarit which has an attractive setting, a chilled-out vibe, and great facilities. For clothing-optional beaches, try La Savinosa or Flat Rock Beach (la Roca Plana). If you're feeling lazy, just head to Tarragona's main central beach (La Miracle) at the end of the Rafael de Casanova promenade. My favorite beach was the peaceful, secluded cove at Cala Fonda, which the locals call 'Waikiki'. To reach it, just walk through the pine forest north of Playa Larga, the biggest beach in the area.
Sample the Restaurants in Tarragona
Despite its relatively small size, Tarragona is truly a foodie heaven. I consider its seafood restaurants to be some of the very best in Spain; look for them in Part Alta (the old, higher section of town) and El Serralo, the fisherman's district. Must-try dishes include local seafood paella, fried bluefish, seafood rice cooked in squid ink, grilled octopus, and Fideus rossejats (a delicious combination of shrimp, noodles, garlic, and fish stock, cooked paella-style). Don't miss the Cassola de romesco, either – a regional dish brimming with fresh seafood and cooked in a regional nut sauce.
The mountains and valleys near Tarragona supply a huge range of meats, fresh vegetables, wild mushrooms, chestnuts, and other goodies that are incorporated into the local cuisine. The area's mellow wines are also exceptional—especially the vermouth. Tapas bars and llesqueries (small snack outlets) are the hip places to go for a quick bite; it's fun to explore the city in the hunt for cheaper local establishments away from the tourist areas. I enjoyed some incredible tapas meals and light lunches in Tarragona for less than $10.
Day Tripping from Tarragona
You can also use Tarragona as a handy base for exploring the beautiful Catalonian countryside and nearby villages, towns, and cities. Hop on a train, hire a car, or join a tour to see what this region has to offer. Car rental should run you about $25 a day and the trains are dirt-cheap. Stop by the town of Montblanc (encircled by medieval walls) on your way to El Poblet Monastery, a magnificent gothic complex founded by French monks in the 12th century that includes a Royal Chapel.
The city of Reus is only 16 minutes from Tarragona by train. It's the birthplace of Antoni Gaudi—the renowned Spanish architect—and is also a prominent rock-climbing center. Its historical buildings and pleasant surrounds are well worth a look.
The breathtaking coastal town of Peniscola is halfway to Valencia, and its beauty has attracted film-makers for decades: the 1961 Charleton Heston/Sophia Loren movie El Cid was shot here as well as Game of Thrones and many other productions. Its castle and city walls rise more than 60 meters above the Mediterranean and there are some alluring beaches nearby.
You can reach Sitges in about 45 minutes by train from Tarragona, which only costs $4 to $7. Sitges has a gorgeous beach, awesome nightlife, a seaside esplanade, and a mountain backdrop—the Parc Natural del Garraf is right behind it. It's a lively, artsy place that embraces counterculture and has its own unique charm.
If theme parks are your thing, check out PortAventura World, a 10-minute train ride from Tarragona's Renfe Station. An assortment of adrenaline-spiking thrill rides, shows, golf courses, and waterpark activities make this one of the most popular family-themed parks in Europe. You can book your tickets online.
Enjoy Tarragona's Sunshine from a Boat
Tarragona is a Mediterranean city and getting out on the water is one of the best ways to experience its sun-drenched magic. Kayaking, windsurfing, paragliding, and stand-up paddle-boarding are popular activities here and if you're a beginner, don't worry—inexpensive lessons are available too. If there's a group of you, why not pitch in for a charter fishing trip? And for making new friends, nothing beats a sailing cruise on a spacious catamaran at sunset —there are plenty of well-priced charter companies to choose from.
Best of all, Tarragona is affordable—about 10% to 15% cheaper than Barcelona and Valencia. My roomy, modern Airbnb with WiFi, well-equipped kitchen and washing machine in the center of town cost around $45 a night. By cooking most of my own meals and shopping at local markets, I found that hanging out in this beautiful corner of Spain for a couple of weeks was very wallet-friendly. And of course, Mediterranean sunshine is always free…
Get Your Free Spain Report Here:
Learn more about Spain and other countries in our free daily postcard e-letter. Simply enter your email address below and we'll also send you a FREE REPORT - Live the Good Life in Sunny, Affordable Spain.
This report covers real estate, retirement and more in Spain and is yours free when you sign up for our IL postcards below.
Related Articles
There Are Many Reasons for Moving to Spain
An Overview of Traditions and Culture in Spain