If you are thinking about taking a trip to Southeast Asia, and if you aren't you should be, then here are the 10 most beautiful natural attractions that you can add to your Southeast Asian bucket list.
 1. Kapas Island, Malaysia
The only people that seem to know about this stunningly picturesque island are Malaysians, and they'd like to keep it that way. Unfortunately I've been and I think it's about time that we lifted the veil and told you about it.
2. El Nido, Philippines
This has been a popular spot for a few years with those in the know, but it's the lesser islands just off El Nido that are the real attraction—all 45 of them.
 3. Southern Inle Lake, Myanmar (Burma)
This place is on the tourist trail, and for very good reason. The traditional villages here are untouched, the monasteries are beautiful and there are some very old wineries where you can stop and taste the wine and watch the local fishermen do what they do best.
4. Sumbawa Island, Indonesia
We wrote about this island a few years ago and for good reason. Set in-between the islands of Komodo and Flores this glittering gem is still untouched, and you can still rent a beach bungalow for $10 a night. The water surrounding the island is crystal clear, and if you like surf it's been an Australian surfing secret since the 1960s.
 5. Mount Everest, Nepal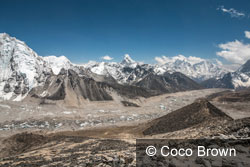 Breath-takingly beautiful, Mount Everest still leaves you speechless when you first set eyes on her. Yes, it's a "her" according to the locals. If you are not feeling that energetic, there are helicopter flights that get you just that little bit closer.
 6. Taman Negara National Park, Malaysia
Considered to be the world's oldest rainforest, Taman Negara also has the longest and one of the highest canopy walks in the world. This allows you to walk through the treetops and take in a bird's eye view.
7. Mount Fuji, Japan
Being the highest volcano in Japan doesn't automatically make you the most perfect or beautiful, but in the case it actually does.
 8. Tubbataha Reef, Philippines
This reef is among the best in the world for fish diversity, visibility and pure natural color. If you are a diver or a snorkeler, add it to your list and put it near the top.
 9. Stone Forest, China
Known throughout Southeast Asia as the first wonder of the world, it's here where you will find natural stone formations like no other on the planet.
10. Gobi Desert, China and Mongolia
The Gobi Desert is one of the world's great deserts spanning northern and northwestern China, and a good part of southern Mongolia. If you have ever wanted to see where Genghis Khan ruled three quarters of the known world from then this should be high on your list.

Related Articles
The World's Best Places to Retire
The Cheapest Places in the World to Live
5 Countries with the Best Healthcare in the World
Upcoming Conferences
Live Better, Spend Less, Retire Sooner
IL's Retire Overseas Bootcamp
October 21-23, 2022 in Atlanta, GA

In safe, warm, welcoming communities abroad, as little as $1,700 a month can bankroll a good life... this fall, our experts will show you where—and how.
Early Bird DISCOUNT—Save $200 When You Register by Sep. 29
Details Here IL's Retire Overseas Bootcamp
---
Registration Now Open for the Best of Europe Private Screening

In the Right Spots in Europe, You Can Retire in Style—in an Historic, Sun-Drenched Locale—for as Little as $2,300 a Month or Less—Especially Now With the Dollar and Euro at Parity for the First Time in Two Decades.
And We'll Show You How, October 1-2, During the Special All-Online Best of Europe Private Screening.
---
The Income Revolution Forum
What if You Had the Freedom to Enjoy the Good Life Anywhere in the World You Wanted to Be...and Get Paid While You're There?
We'll show you how—with hands-on guidance—you could beat inflation...secure your retirement...ditch your commute...and turn a skill you already have into a portable side income of $300, $600, even $3,000 or more a month.