I love Cabo. The golf, the sunsets, the seafood…the long walks on the beach. And, of course, the opportunity for stellar gains from our RETA-members-only deals.
But these past few days, I've been intrigued about another destination on Mexico's Pacific coast that's a lot like Cabo in many ways, albeit on a much smaller scale: Huatulco.
They both have beautiful beaches, a good restaurant scene, modern amenities for comfortable living, infrastructure that makes it easy to get around…
My scout, Jason Holland, has been checking out Huatulco, including the real estate scene.
And he's turned up some good value property. Everything from basic, entry-priced condos not much more than $100,000…to stunning luxury condos overlooking the Pacific with ample community sundeck, lagoon pools, and direct access to a sandy beach for just under $500,000…to a six-bedroom luxury home overlooking the 16th fairway of the golf course for $600,000…to hillside ocean-view villas for around $1 million…
To be honest, you couldn't find those sorts of prices in Cabo for luxury properties. Equivalent homes down the road from me would run in the multi-millions.
Huatulco is still a bit under-the-radar from the mainstream, doesn't have the cachet of better-known Mexican beach destinations, and there is a lack of direct international flights. So, there are barriers to this place exploding as a vacation hotspot.
As a result, I don't think you'd see the same sort of rental income or capital appreciation we do in our rare RETA-only deals in Cabo.
But if you want a laid-back vibe, amazing views, and fun-in-the-sun in a charming little seaside community where you can buy high-end real estate at attractive prices, Huatulco is worth a closer look.
I can't wait to visit myself. Jason has been sending me videos and reports from his trip. Each time he does I look at my calendar to see how soon I can go…
***
Small-Town Vibe in a World-Class Beach Resort
By Jason Holland
"Es muy tranquilo…muy seguro," said the taxi driver.
If I've learned anything in all my years traveling in Latin America, it's to trust the taxi driver.
They know what's going on in town. They give the unvarnished truth.
Laidback and safe, is what he said, before he dropped me off by the market packed with traditional Oaxacan crafts, with a recommendation for a must-visit beach for later.
Everybody I've met in Huatulco, a little seaside community on Mexico's southern Pacific coast, has been quite friendly. Even the hawkers trying to lure you into their beachfront restaurants at Santa Cruz, one of the most easily accessible beaches, do so politely.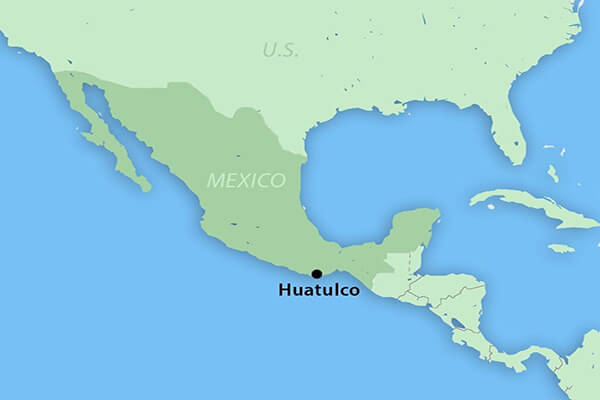 To his list of attributes, I'd add small-town vibe…stunning shoreline vistas…great restaurant scene—from craft cocktails and tacos to ceviche and cheladas on the beach…opportunities for watersports like boating, fishing, surfing, kayaking, and standup paddling…
I'll admit it, I'm a bit smitten with Huatulco.
Well-manicured. Well-ordered. High-end feel in some areas…more downhome in others…laid-back everywhere. Comfortable. It's no wonder it's one of Mexico's favored destinations for those in-the-know.
Yes, Huatulco was essentially built from the ground up for tourism, with Mexico's tourism authority, FONATUR, building roads, an international airport, and other infrastructure…not to mention having a say in all new development. But that doesn't mean it feels stuffy or stifling.
I found it to be a pleasant and vibrant community…and fun…with beautiful surroundings. Just what you want for a beach vacation.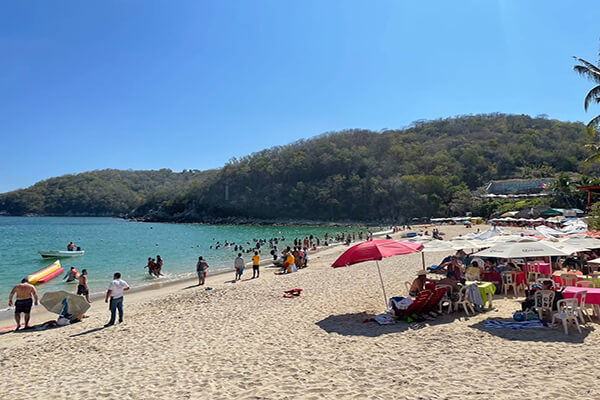 The other day I met a 40-something couple from Canada, who've explored Thailand, Panama, the Dominican Republic, other spots in Mexico over the last several years.
They've been vacationing, sure, but also looking for a place to buy a second home. Something to vacation in now, maybe rent out when they're not there. But eventually they plan move down full-time in retirement.
After all their world travels, they said Huatulco is their ideal place because of the warm weather year-round, the friendly people, the cool vibe…they like that it's neat and well-organized. It's easy.
And they certainly have no shortage of real estate options, from relatively simple and cheap condos a bit inland (but still easy to get to the beach, nothing is far in Huatulco) for under $200,000 to luxury units in beachfront buildings with panoramic ocean views for a half-million dollars…more for a penthouse.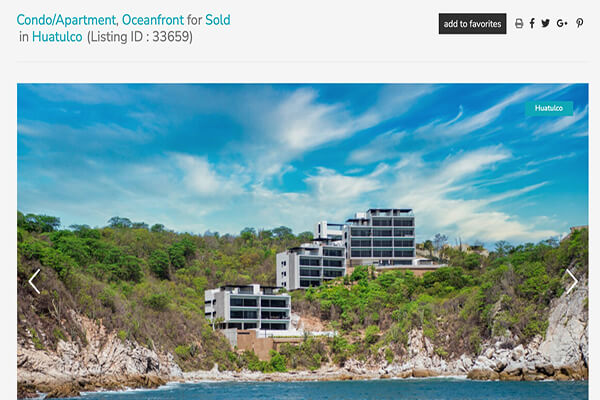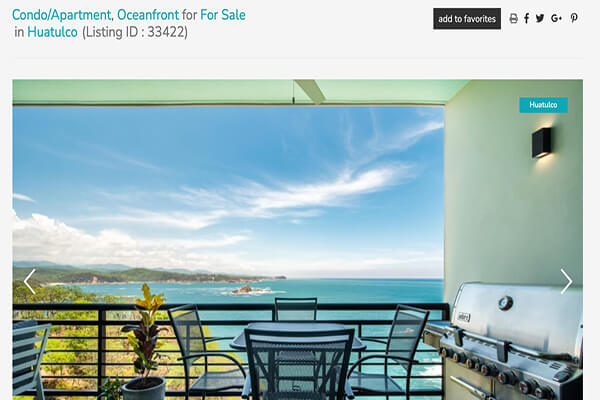 In Huatulco, there are also million-dollar homes on the hills overlooking the Pacific and others on canals with private boat docks.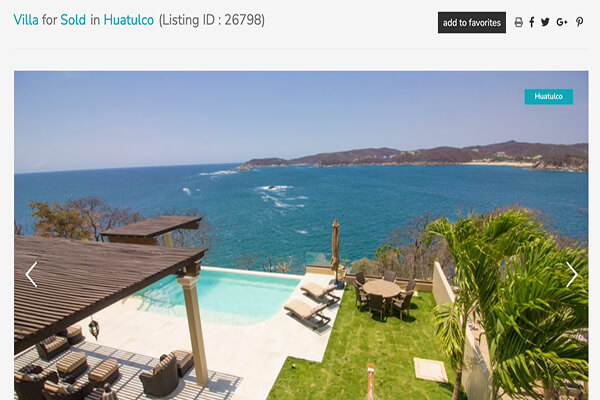 You can buy a lot for $100,000 and up and build. Invest in a pre-construction condo—there are all sorts of projects going up as we speak and on the drawing board.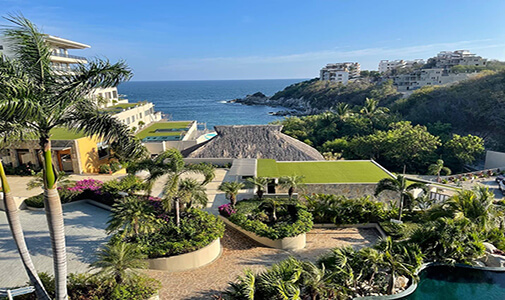 My new Canadian friends are not alone. Although it doesn't get the attention of Cancún, Cabo, or Puerto Vallarta, Huatulco is a popular destination…has been for a while. Traditionally it's been quite popular with Canadians for vacationers and snowbirds spending winter. Direct flights from multiple cities in Canada start up around this time of year. More Americans are coming too, although often they have to connect through Mexico City to get here.
Of course, Mexican tourists come in droves. It's just an hour flight from Mexico City and about the same from other major cities in the country. And a long-awaited new highway, which will cut the drivetime from the state capital Oaxaca to this stretch of coast by several hours, could bring even more national tourists.
My local real estate contacts, including the team at Bayside Real Estate and OWN Mexico, tell me these folks are still coming. But they've also seen increased visitor numbers, driven by a surge in post-pandemic travel…work-from-homers who decided to make "home" a Mexican beach resort…even folks simply fed up with the craziness in their home countries seeking a place where those worries seem far away.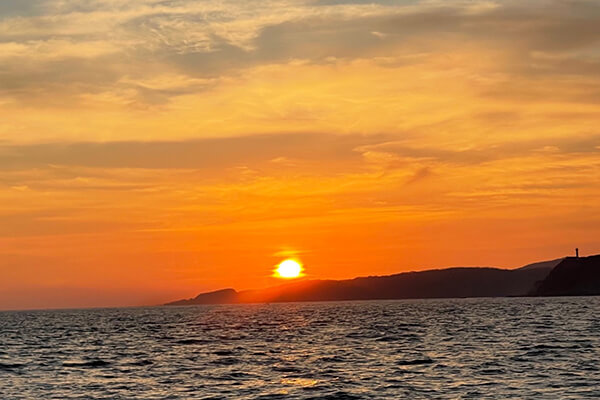 Many of these newcomers are buying property: vacation homes for now and retirement later, investment properties to rent out, buying pre-construction and then selling for a profit on delivery, lots to build on, or a new full-time home base.
It's clear Huatulco is growing. But it should be sustainable growth that doesn't overwhelm the place or change its laid-back vibe.
The infrastructure is already there, including an extensive road network, water treatment, and the like. Plus, FONATUR has a say in all new development, and there are strict zoning regulations to make sure new construction is a fit for the community.
Huatulco was designed to be low-key, low-density, and eco-friendly. And the growth is managed—not explosive.
I'm excited to come back in a few years to see how it has changed.
***
IMPORTANT INFORMATION ABOUT YOUR OVERSEAS DREAM HOME
Ronan says:
This Friday I'm shutting down Your Overseas Dream Home.
But this doesn't mean goodbye…
I also write about overseas real estate for the folks at International Living. And when you subscribe to their monthly magazine (which is full of tons of great info about living, retiring, and investing overseas) you'll also get the International Living Dream Home Letter.
In this daily Dream Home Letter, you'll get to follow along with me and my scouting team in real time as we discover the best in overseas living—the beaches, the towns, the cities…and of course, the dream homes.
You'll also find actual real estate deals and dream homes that you can act on to make your own overseas adventure a reality.
And for this week only, you can subscribe to International Living magazine, and the Dream Home Letter, for the special price of just $17. All the details are here.
But hurry! If you don't subscribe to International Living magazine by Friday, you might never hear from me again.
Get Your Free Real Estate Report Now
Sign up for our free daily Postcard e-letter and get a valuable free report on the The 5 Best Places to Buy Real Estate In 2023.
Related Articles
Escaping the Crowds in Magical Huatulco
The Best Places to Live in Mexico as a U.S. Expat