Despite its small size, approximately 122 square miles, the enchanting Mediterranean islands of Malta (located south of Sicily) offer a surprising array of things to do for people of all ages. From delicious food, stunning architecture, and hikes, to water sports and festivals Malta has an uncanny way of enchanting visitors.
Home to 10 UNESCO World Heritage Sites, here are my recommended must-sees while visiting this archipelago of limestone cliffs, azure seas, and ancient walled cities:
Valetta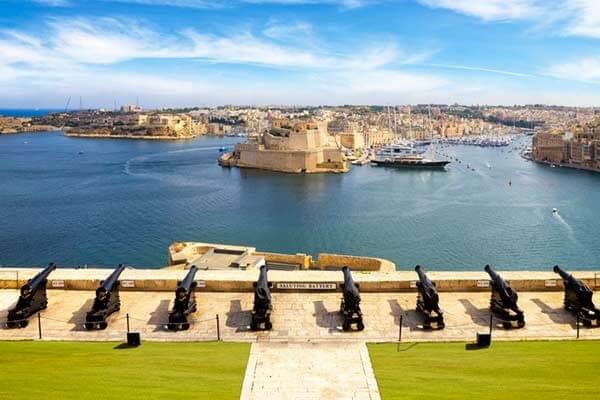 The alluring capital of Valletta is not only the EU's sunniest capital, but it is also one of the most concentrated areas of historical significance—with more centuries-old ruins, buildings, churches, fortresses, cathedrals, and ancient palaces than you can imagine.  Located on a peninsula on Malta's Grand Harbor, it will only take a day to walk the entire city—but you may want to allow for several days. And do not forget good walking shoes because it is quite hilly.
You will not want to miss St. John's Cathedral, with its opulent Baroque interior and its history dating back to the Knights of Malta. Also recommended is the only palace in Valletta which is still inhabited. The Owner of the 16th-century Casa Rocca Piccola Palace has opened 12 of the 50 rooms for tours and houses a massive collection of paintings, silver, and superbly crafted antique furniture.
The Maltese national theatre, or the Teatru Manoel, was built in 1731 to entertain the knights and general population. It is one of the oldest theatres in Europe and is still open for performances and tours. Baroque in its style, the golden chandelier within is quite impressive.
The saluting battery (the oldest still operating in the world) in the Upper Barrakkara Gardens at the edge of the Grand Harbor is not to be missed. The cannons are fired at noon and 4 p.m. daily.
Take a cruise around the waterfront and see Valletta's magnificence from the sea. Just across the Grand Harbor on the south side, a 10-minute ferry ride will take you to Vittoriosa, Senglea, and Cospicua, known as the Three Cities and considered the cradle of Maltese History.
Gozo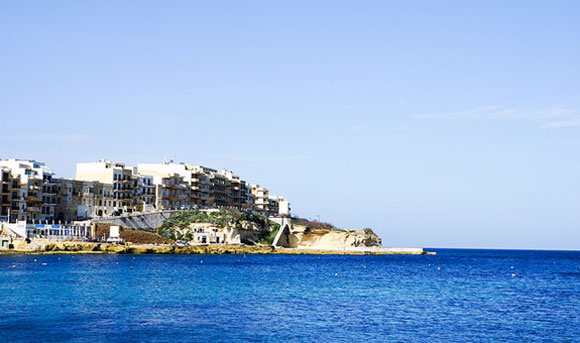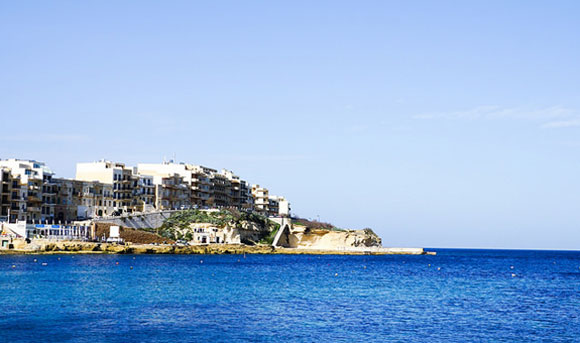 The island of Gozo takes on a slower pace and laidback attitude. You can spend days exploring this little gem with pretty beaches and a more natural feel, since it is not as developed as the main island of Malta. There is no bridge connecting the islands, so you will need to take the frequent ferry (which also accommodates cars).
The highlights include the massive Xwejni Bay salt pans—where you can see how the sea salt is naturally collected and processed. On the north side of Gozo, Ramla Bay, with its wide expanse of rust-colored sand, Roman ruins, and Calypso Cave, is typical of the pleasant surprises you'll find dotted all over Malta.
The spectacular Citadel, or Citidella, is another Gozo must-see. This fortified city with its imposing military style is a landmark which can be seen across the island. Within its winding streets, you will find historic and religious sites. On the main square visit the Baroque-style Gozo Cathedral dedicated to the Virgin Mary, the Law Courts, and the Bishop's Palace.
If you are into craft brews, you will want to check out Lord Chambray, where they have been brewing distinct local beers since 2014. Tours and tastings with a brewmaster are available, too.
Comino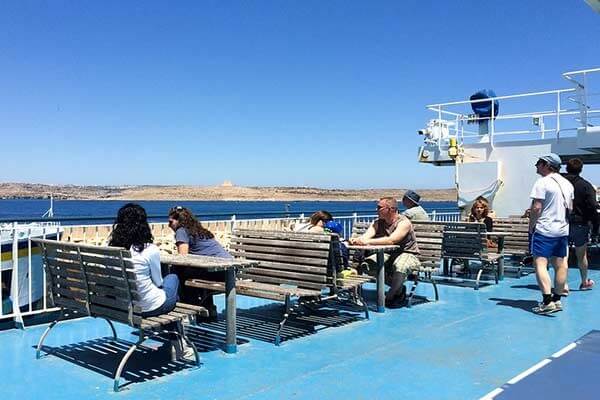 In between Malta's two larger islands is a tiny, third island—Comino (permanent population: 2), where you will find one of the country's most stunning tourist attractions: The Blue Lagoon. Which happens to be one of the most Instagrammed places in Malta. These picture-perfect turquoise waters are the place for snorkeling, lounging, or just hanging out with a famous pineapple cocktail. There are a variety of boat tours from Malta and Gozo priced at different levels, or you can also take the bus and a ferry. During high season, it gets incredibly crowded. But there is still plenty of space to swim in these crystalline waters. If you want to spend time swimming and hiking apart from the crowds, there is one small hotel on the island situated at San Niklaw Bay, but you need to book far in advance during high season.
Sliema and St Julians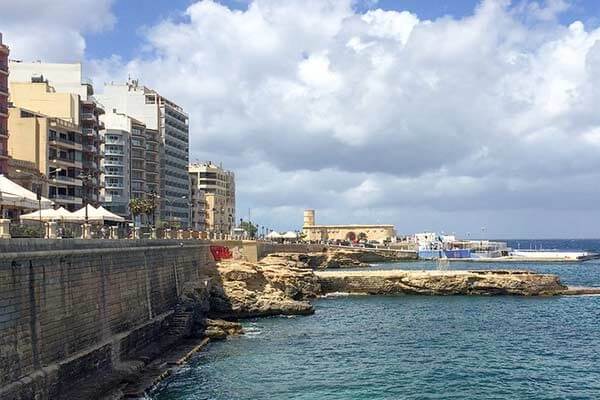 Also popular with tourists and locals alike, a 15-minute ferry ride across from the north side of Valletta, is the trendy and upmarket residential areas of Sliema and St. Julian's. Here you can stroll the waterfront promenades, shop till you drop, and dine at some of Malta's hippest restaurants overlooking the sea. If you enjoy the late, late-night party atmosphere, a night in Paceville in St. Julian's promises to be unforgettable.
Malta is famous for iGaming, but it also has real casinos. In St. Julian's, the Dragonara Palace Casino is a must-see landmark. Built in 1870 as a summer home for a wealthy banker, it became a casino in 1964 when the family leased it to a casino company. It has evolved and been improved multiple times and today is one of the most famous landmarks in Malta.
Blue Grotto, Dingli Cliffs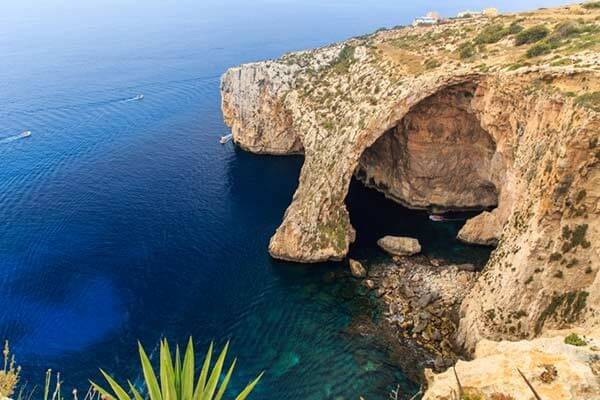 Not to be confused with the Blue Lagoon, this series of six naturally-formed sea caves includes a 30-foot limestone arch and some of the loveliest emerald and cyan-hued waters—rivaling Capri. It is located in the village of Wied iz-Zurrieq, south of the town of Zurrieq, on the southwest coast of Malta. The caves can be reached by land for a glimpse from above and also by boat.
While you are on the west coast, a visit to the spectacular Dingli Cliffs is a perfect sunset spot. The Dingli Cliffs stretch for over 1.25 miles from Bahrija to Mungar, with a road and walking footpath running nearly its length. These massive rock faces were formed from an uplifting fault line. As a result, the lower sections of the cliff are some of the oldest exposed rocks in Malta— estimated to be formed 25 to 30 million years ago. At roughly 820 feet above sea level, these cliffs are the highest point in Malta.
Mdina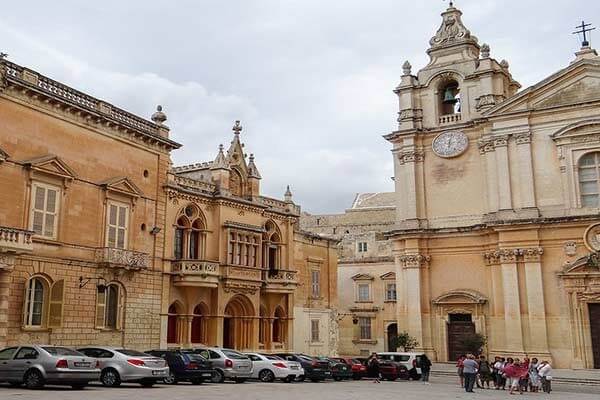 The captivating ancient walled city of Mdina in the central part of Malta served as the country's capital from the Middle Ages until 1565. It remains one of Europe's finest fortified cities and boasts an extraordinary mix of Medieval and Baroque architecture. In fact, it is so breathtaking, the first season of Game of Thrones was filmed here—portraying King's Landing. Traversing the narrow lanes by foot or in an enchanting horse-drawn carriage can easily be accomplished in a day trip. Be sure to look beyond the walls to delight in hidden palaces, flowering courtyards, and noble family homes. The Knights of Malta have a museum and theatre in Mdina. Albeit touristy, it is a great way to learn about the rich history of the island.
St. Paul's Bay/Bugibba
Located in the north of Malta, this area has grown substantially over the last decade. Far enough from the Inner Harbor area to not be as congested, but with plenty of activities.
Malta's National Aquarium is located here on the sea and hosts more than 170 ocean species. If you are into the pool club vibe, Ibiza's famous brand, Café del Mar, has chosen St. Paul's to locate its only chill-out club in Malta—right next to the aquarium.
A stroll down the long seaside promenade of St. Paul's will have you delighting in quaint shops and charming seaside restaurants. You may also want to tickle your taste buds at the Malta Chocolate Factory. This café turned factory allows you to see how chocolate is made and even offers chocolate and wine pairing workshops.
Mosta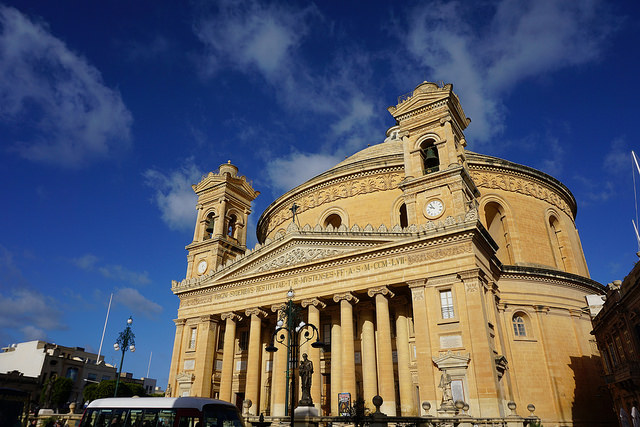 Built in 1860, the Mosta Dome is perhaps the most impressive church in Malta, with its massive rotunda—the third largest in the world. In 1942, during World War II the church was almost destroyed when as part of an air raid, a 200kg German bomb fell through the dome during mass.  Inexplicably, it did not explode and, to this day, is considered a Maltese miracle.
Mellieħa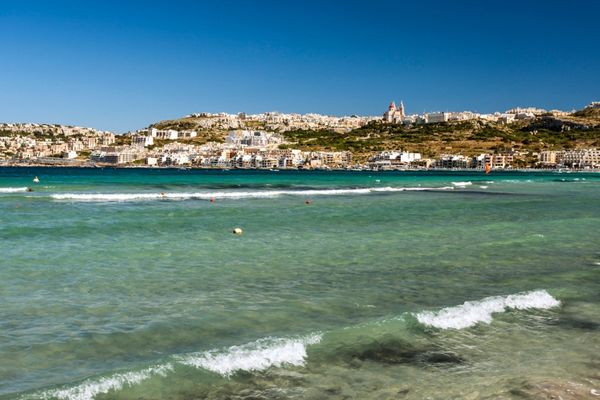 In the northern district, the Mellieħa area offers great family fun with a beautiful arcing sandy beach in a protected bay—small waves, water activities, and endless beach loungers are available for a small fee. Nearby you can visit the theme park of Popeye Village. Popeye, the major motion picture of 1980 starring Robin Williams, was filmed in breathtakingly scenic Anchor Bay. Rather than tear down the extensive set (a village, actually) they turned it into a theme park. Don't forget your swimsuit because you can swim in this breathtaking bay. The village offers sun loungers and a beach, too.
Did You Know: The Malta Film industry has one of the most extensive production facilities in the world. The country has serviced hundreds of feature films, television movies, documentaries, and commercials with some of the top production studios. They are world-renowned for their water SFX facility—Malta Film Studios—and boast one indoor tank and two large exterior water tanks (the biggest in the world) situated along the coast, creating a natural horizon. This studio is located in Kalkara across the harbor from Valletta in the 3 Cities.
Marsaxlokk Fish Market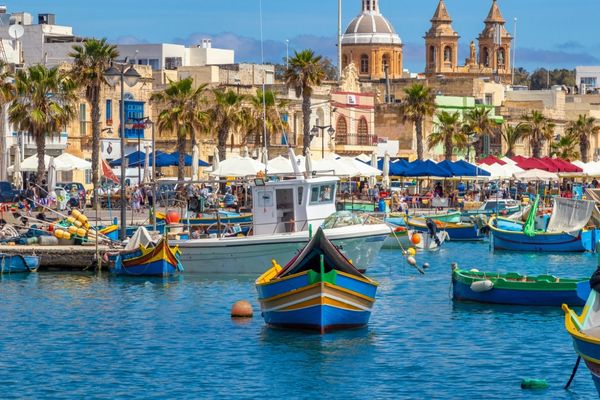 This fish market is a popular attraction for both locals and tourists every Sunday. It is the place to witness the old seafaring boats of Malta and purchase fresh Mediterranean fish and seafood caught that morning at prices cheaper than in the shops. Some so fresh—like the octopus for example—are still alive!
The market has grown in popularity over the years and now they have gone beyond just seafood stalls.  You can also buy locally produced honey, fruit jams, wine, as well as vegetables, souvenirs, and clothes. After shopping at the market, you can have lunch in one of the many seafood restaurants scattered in the picturesque bay of Marsaxlokk. It is recommended to get there early in the morning before noon, as they do sell out quickly. If you cannot go on a Sunday, there is a smaller daily market selling souvenirs, the restaurants are open and you will find endless photo opportunities strolling along the waterfront.
Outdoor Activities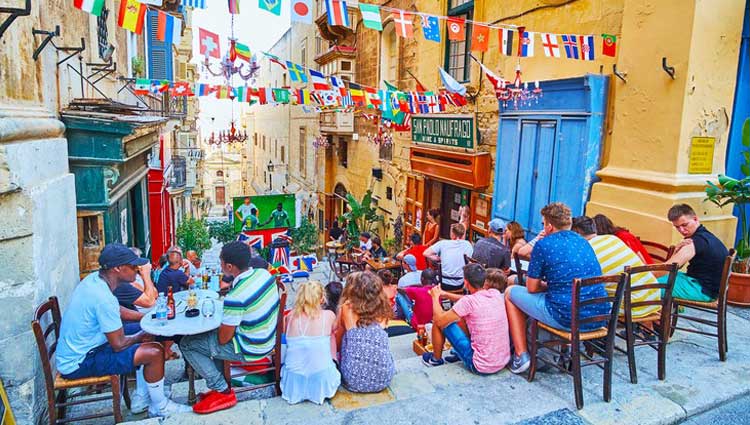 Malta's superb weather and epic scenery make it a true paradise for outdoor activities. You can explore the islands by jeep, kayak, scooter, bicycle, or on foot. Ride a horse, go sailing, fish, snorkel, or dive on sunken wrecks. Or visit a local farm on a private food and wine tour. You can even golf at the Royal Golf Club (visitors welcome for a fee). For something different, develop your traditional archery skills on a Maltese archery course or play bocci ball. You will also find dozens of summer festivals not to be missed.
Getting Around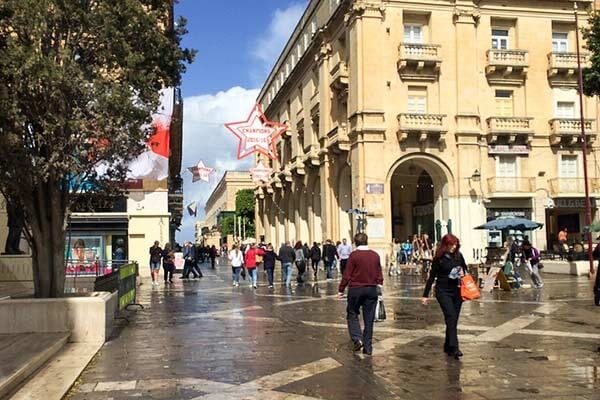 Malta is so small; it is easy to traverse the longest part of the island in less than an hour. So that makes it easy and affordable to take a Bolt or eCab—both available via a smartphone app. Uber was introduced to the island in 2022, heating up the competition. If you prefer to take the bus, it is affordable and (mostly) reliable, servicing almost all the major places on the islands.
For sightseeing, you can take a $25 per person Hop-On Hop-Off bus (routes for north, south, and Gozo) and see the sites listed in this article. There is also a package including a Hop-On Hop-Off coastal boat tour if you prefer the water route. Car and scooter rentals are available at the airport and in many of the tourist areas.
Local Food
Maltese cuisine is a delectable fusion of Italian, British, French, Spanish, Turkish, and other influences. Traditional Maltese food is rustic and hearty, relying on the freshest ingredients available during each season and combining all the very best of Mediterranean cooking styles.
Must-try dishes include rabbit stew, fish pie (lampuki), widow's soup with goat cheese, pastizzi (a delicious ricotta snack pastry), and seasonal seafood. Swordfish, sea bass, white bream, and fresh tuna are popular choices, and if you have ever wanted to try grilled octopus, Malta is the perfect place for sampling.
In Malta, you'll never travel far before running across a family-run bakery, and here is where affordability meets decadence in a big way. Some of the sweet treats you'll want to sample include date cakes (imqaret), almond cake (torta tal-lewz), Maltese cannoli, Turkish halva, and honey rings.
Malta isn't famous for its wines, but they've won plenty of international awards and certainly hold their own in the Mediterranean. The wineries are small and few export very far. Locally grown grape varieties include Ghirghentina and Gellewza.
For you foodies, Malta has five Michelin-starred restaurants (De Mondion, Bahia, Noni, Under Grain, and ION – The Harbour) and another 31 with Michelin designations (such as mentions and Bib Gourmand designations).
Related Articles
In Pictures: The Best of Mediterranean Malta
4 Delightful Food Festivals in Malta
Upcoming Conferences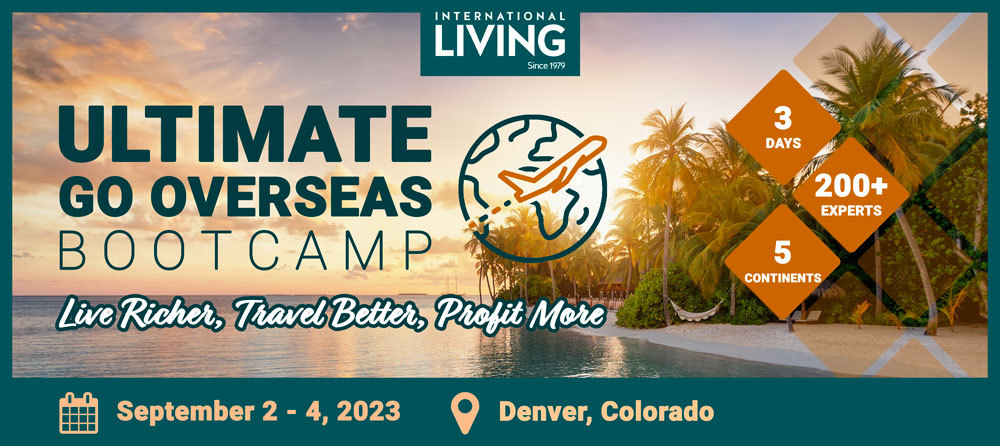 Most Popular Products
Popular Articles You May Also Like