Sitges is a beautiful beach community 25 miles from Barcelona. This makes it a great place to visit for a day trip if you are staying in the city. However, there are many things to do in the town so it is better if you can spend a few days here. Like every beach community, it gets busy during Spain's hot summers, so I recommend you visit during shoulder season, late spring, or early fall. The weather is still warm enough to enjoy the beach, but the town is not as busy, and hotel prices can be lower. When visiting Sitges, here are 10 things to do to make the most of your trip.
Relax on the Beach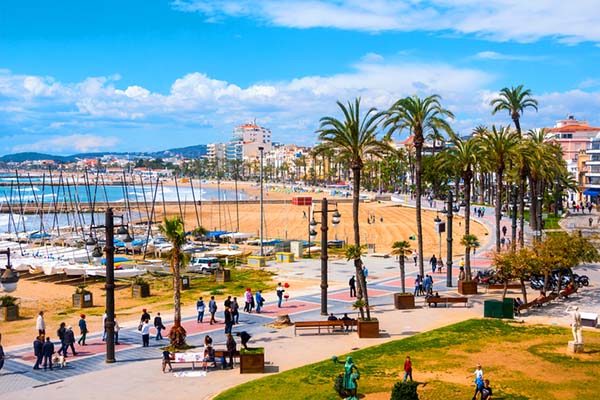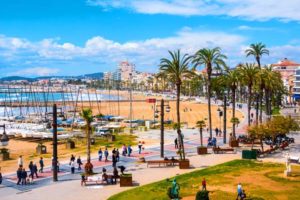 Most people go to Sitges to spend some time on the beach. Sitges has 17 beaches totaling about 2 miles. Of these 17 beaches, five are nudist or gay, or both. The beaches can get very busy during the summer months; however, you will still want to go and cool off. One of the great things about Sitges is the weather, which makes the beach enjoyable almost all year-round. December to March are the coldest months, but you will always see a few people on the beach.
Visit the Cau Ferrat Museum
The Cau Ferrat Museum was the home of Santiago Rusiñol. He was a Catalan songwriter and artist, as well an important figure in the Modernism movement. Located next to Sant Sebastià beach the museum was founded in 1893 and became a public museum in 1933. On display are ancient and modern pieces of ceramics, paintings, furniture, sculptures, and more. It includes works by Picasso, Zuloaga, Enric Clarasó, R. Pichot, and many others.
Tour the Palau de Maricel Museum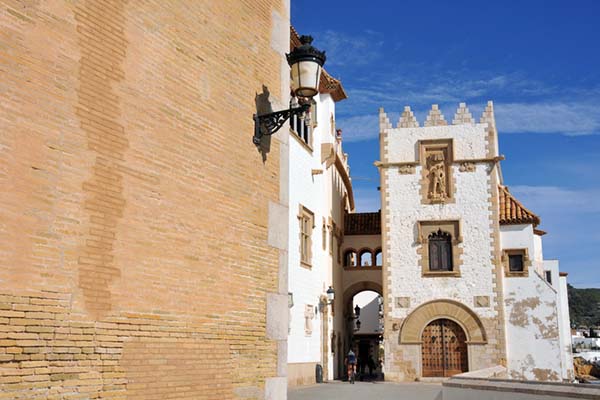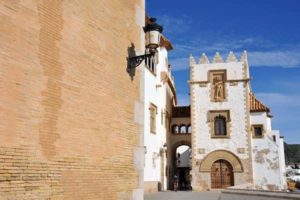 Located in one of the most symbolic buildings in Sitges, the Palau de Maricel is a museum and events center. The entire complex is also known as Maricel de Terra. The museum contains more than 3,000 artifacts, some of which date back to the 10th century. Guided tours of the museum are available every Sunday. In the summer months, concerts and outdoor dinners take place on the terraces. There are several halls throughout the complex that host cultural events, civic proceedings, concerts, and numerous private affairs.
Visit El Vivero Beach Club
Have dinner or a drink at Vivero Beach Club Restaurant with stunning views of the Mediterranean Sea and the town. Situated above a small cliff, next to San Sebastián de Sitges beach, the beach club is bordering two coves. During the day, you can enjoy a snack or relax with a cocktail enjoying the views. It is a great place to see the sunset and savor excellent Mediterranean food. Nighttime can be enjoyed with live music. Alternately, you can experience a relaxing massage, enjoy some water activities, and take a Tai Chi or Yoga class in the morning.
Visit San Bartolome Church and Santa Tecla Parish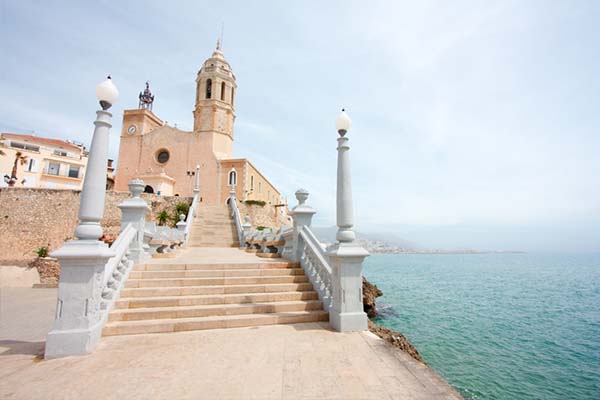 The church of San Bartolome and Santa Tecla is the parish of Sitges, known as Iglesia de San Bartolomé y Santa Tecla. Clues within the church suggest it was built, or another church was originally built, in the same location back in the 14th century. Most of what you see now was built in the 17th century and it has received many modifications and renovations over the past centuries. The parish dominates the surrounding buildings as it overlooks the beach. The organ in it is 320 years old this year (2019). Services in Castilian are held daily.
Jardí de l'Hort de Can Falç
If you are looking for some green space and shade on a hot summer day, then head over to Jardí de l'Hort de Can Falç. It is a lovely park in the center of the city that is usually quiet and not visited by tourists. Bring a picnic and enjoy an afternoon in the shade, or some sun during the fall.
Visit Casa Bacardí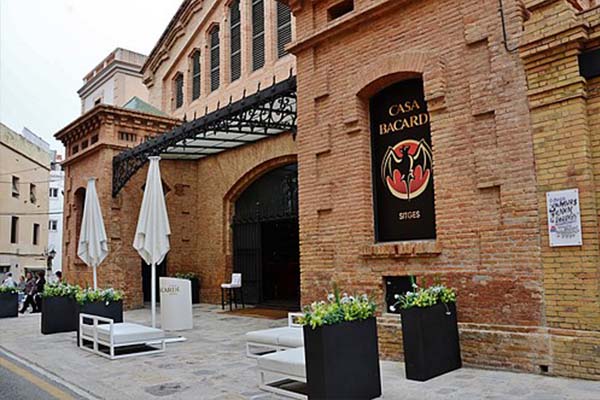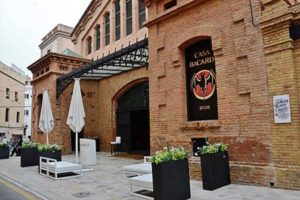 Nestled amongst the cobblestone streets of old town Sitges is Casa Bacardí. Sitges is the birth town of Don Facundo Bacardí Massó, the founder of the world famous and most prized rum, Bacardí. During the 40 to 60-minute guided tour, you will learn about how he revolutionized the spirits industry in 1862 in Santiago de Cuba. Hear about the process of rum production, discover some of the science behind the mixology of the traditional Cuba Libre and classic Mojito, and find out why there is a bat on the Bacardí bottle logo. Tours are available in Catalan, Spanish, and English.
Walk through Carrer de la Bassa-Rodona  
Throughout the center is a maze of cobblestone streets where you will find everything from drag queen shows, shops, cafés, restaurants, nightclubs, and more. One of the most well-known streets in Sitges is Carrer de la Bassa-Rodona. It is the perfect place to stroll through, checking out some of the shops, stopping for a coffee in a café, and enjoying a drink on one of the many outdoor terraces while people watching.
Stroll along Passeig Maritim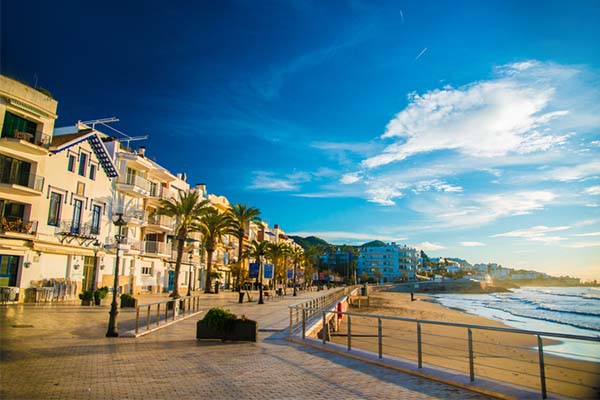 The waterfront promenade is a great place to go for an early morning walk before the beach gets too busy. If you are an early riser, you can stroll along the promenade while watching the sunrise. Alternately, you can people watch, relax on one of numerous benches if you like, or enjoy a refreshing drink and lunch at one of the beach restaurants.
Go Queenz Dinner Show
Drag Queen shows are very popular in Sitges. The city is known to have a large gay community and are accepting of all LGBTQ+ people. I went to a dinner show at Queenz Music Bar on Carrer Bonaire. The performances were great, and the food was delicious. It is a great evening out and supports the local community. If you want to go out after the show, head next door to Queenz Dance Club. Booking a reservation is recommended, many shows sell out.
These are just 10 things to do in Sitges; however, there are many more activities. If you have some additional time and can visit some places just outside the town then I recommend Ocio Aventoura Sitges, Sakya Tashi Ling (Buddhist Monastery), and Bodegas Güell (an architectural building and winery).
Get Your Free Spain Report Here:
Learn more about Spain and other countries in our free daily postcard e-letter. Simply enter your email address below and we'll also send you a FREE REPORT - Live the Good Life in Sunny, Affordable Spain.
This report covers real estate, retirement and more in Spain and is yours free when you sign up for our IL postcards below.
Related Articles
5 Old World Beach Retreats on Spain's Costa Blanca
Popular Food and Eating on a Budget in Spain
An Overview of Traditions and Culture in Spain
Upcoming Conferences
The Only 2023 Fast Track Costa Rica Conference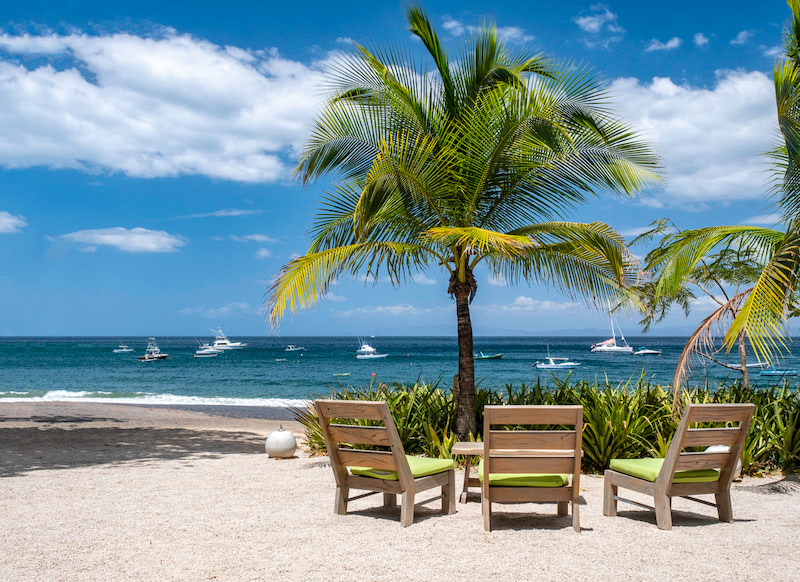 If your dream retirement involves stunning beaches… lush green mountains… a perfect year-round climate… first-rate healthcare… incredible value for money (a couple can live well on $2,109 a month—including rent!)...
Join our Costa Rica experts and expats in June and discover true Pura Vida.
REGISTER NOW, SEATS LIMITED: EARLY BIRD DISCOUNT HERE
---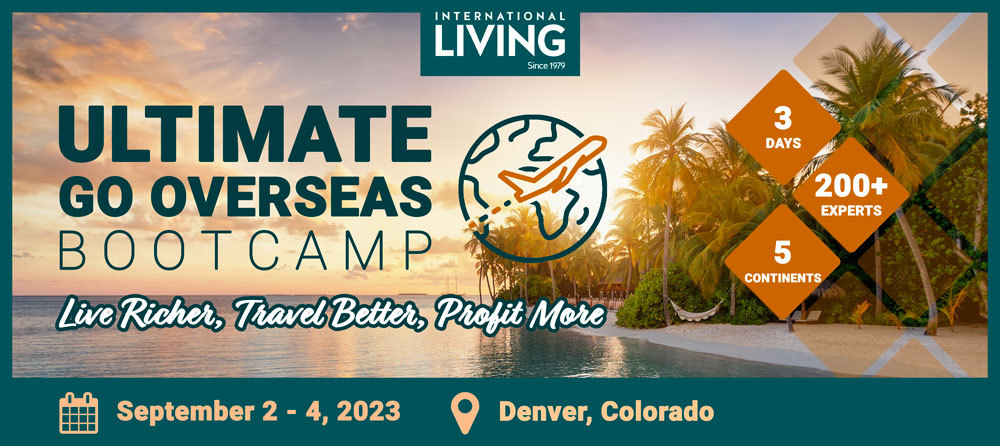 Most Popular Products