Mellow port wines nurtured in northern vineyards. Sun-kissed, sandy beaches with world-class surfing. A capital city whose cable cars clatter over hilly, cobblestoned streets sweeping down to the bay. This—and more—is Portugal. Located on the Iberian Peninsula, Portugal is the westernmost country of mainland Europe. Bordered by Spain to the north and east and the Atlantic Ocean to the south and west, its population of just over 10 million occupies an area of 36,000 square miles, roughly the size of the state of Indiana.
Offering arguably the lowest cost of living in Western Europe (a couple can live here comfortably on $1,700 a month), mild climate, spectacular scenery and rich history, Portugal has a lot to offer as a retirement destination. And you'll never run out of things to do whether you're living here or just visiting. Boasting 15 UNESCO World Heritage Sites alone in the country, it's not easy to narrow down the top things to do, but here are my top 10 things to do in Portugal.
10. Serra da Estrella Park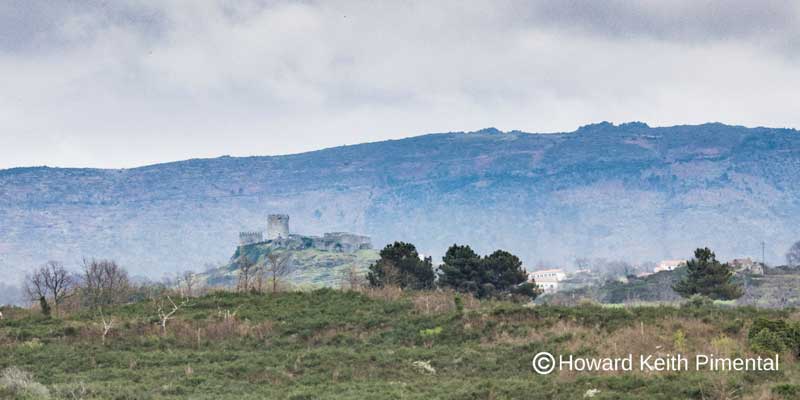 Enjoy a taste of Switzerland in Portugal's largest mountain range, Serra da Estrella. About 386 square miles in size, the park is the largest natural conservation area in the country and the source of three rivers. Its walking and hiking trails lead through bucolic country meadows dotted with wildflowers and grazing sheep, a glacial valley, and a lagoon fed by a waterfall at Poço do Inferno. Winter brings skiing at Vodaphone Ski Resort. Shop for prized Serra da Estrela cheese and handmade woolen goods in Manteigas, a mountain town of whitewashed houses, then rejuvenate yourself in the hot springs of Caldas de Manteigas.
9. Praia da Marinha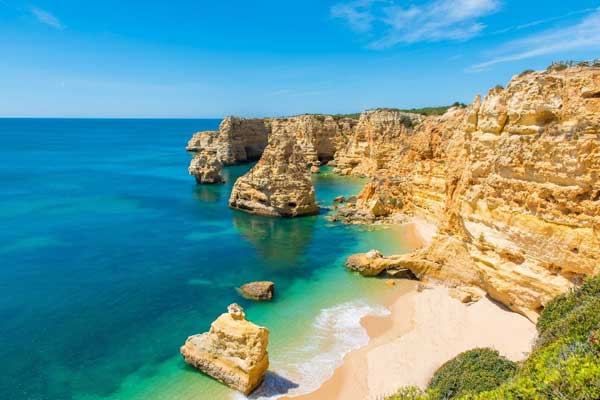 Considered by the Michelin Guide to be one of the 10 most beautiful beaches of Europe, this gem is located on the Atlantic in the south of Portugal in the municipality of Lagoa. Famous for its superb water quality and magnificent cliffs and rock formations, in 2015 it was officially classified as one of the best destinations in Europe by EDEN, (European Destinations of Excellence). After swimming and sunning yourself, head to nearby Tapas no Bucho Wine Bar and Restaurant. Try their popular octopus salad ($7), and puff pastry with cheese, nuts, and honey ($8.25) to finish off a perfect beach day.
8. Vila Nova de Gaia's Port Wine Caves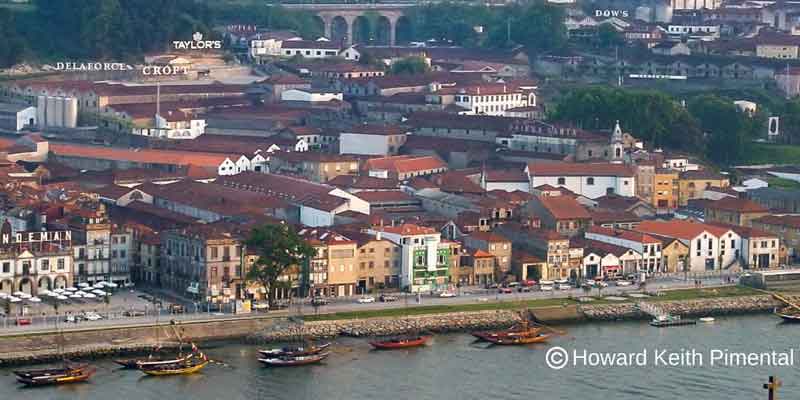 In northern Portugal, the Dom Luís I Bridge spans the Douro River to connect Porto with Vila Nova da Gaia, home to the country's famous port wine houses. Cockburn's, Cálem, Graham's, and others offer tours and tastings for about $14.50. Children are welcome, but Zoo Santo Ignácio is close by. After sipping some port, head to nearby D. Gancho Restaurante for cozida á Portuguese, a traditional meat and veggie stew for just $4.50. You should definitely trek up to the Serra do Pilar at sunset. This viewpoint has majestic views of Porto, the Gaia waterfront, and Douro.
7. Duke's Palace and Castle at Guimarães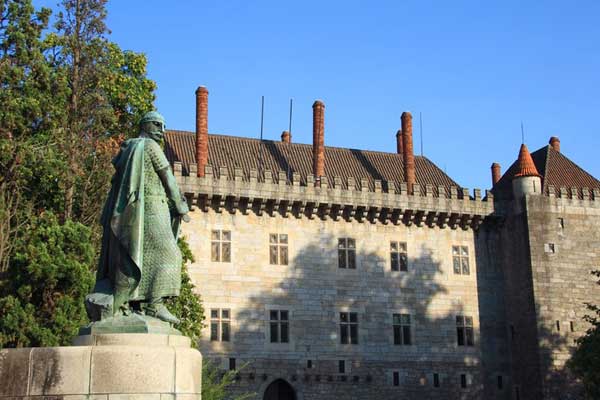 Get a flavor for the founding of Portugal by visiting Guimarães, located in the northwest of Portugal. Birthplace of the country's first king, Afonso in 1106. The city contains the residence of future royalty, the Palace of the Dukes of Bragança, construction for which began in 1420. Peek into the chapel and climb the neighboring castle's ramparts and you'll be rewarded with fine views of the city below and surrounding greenery. The entrance fee for both is $7.20 and seniors are half-price. Afterwards head to the main medieval square, Larga da Oliveira, and try a local beer. With luck, you might even catch a free evening concert.
6. Joanine Library at the University of Coimbra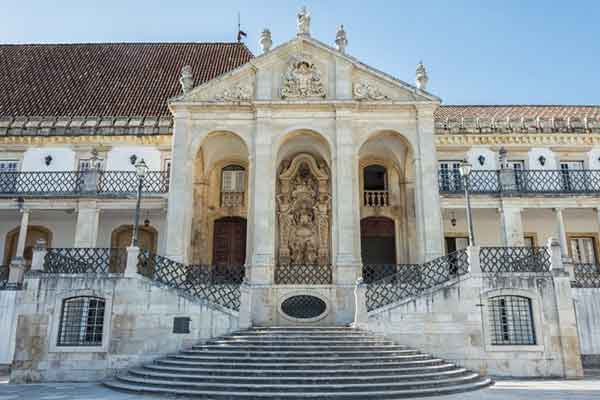 The University of Coimbra's Joanine Library is an 18th-century Baroque delight. The three-story structure's external walls, almost seven feet thick, contribute to a constant room temperature of about 70 F, and help protect the volumes of books that reside there. Also contributing to the effort is a colony of miniature bats living inside the walls. They emerge at night, dining on potential book-destroying insects. Afterwards, explore the nearby Machado de Castro Museum. Housed in the former Bishop's Palace built in the Middle Ages, the museum sits atop the ancient forum of Aeminium, Coimbra's Roman name. Art above, ruins below, make for a remarkable experience.
5. Evora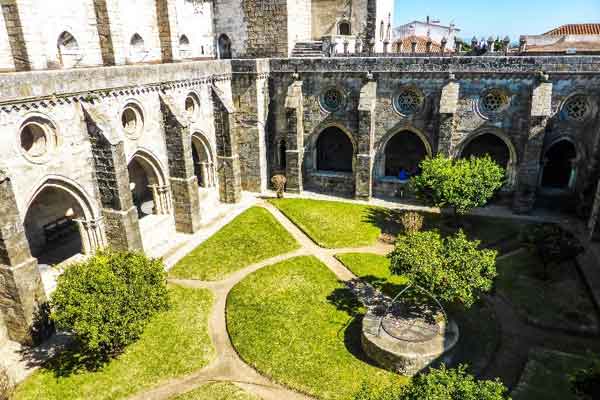 Neolithic monuments and rustic wineries pave the way to medieval Évora, perched on a gentle hill above a plain in the Alentejo region of central Portugal. A wall surrounds this university town, also a UNESCO World Heritage Site. Walk its narrow winding lanes, explore the majestic columns of the Templo Romano and Roman Baths, and the 13th-century cathedral and cloisters. The town square, Praça do Giraldo, whispers of a dark past as the former site of gruesome incidents during the Inquisition. Today it's packed with cafés, shops, and restaurants. Try açorda á alentejana—hearty, garlicky, bread soup with cilantro. Perfection.
4. Convent of Christ and Knights Templar Castle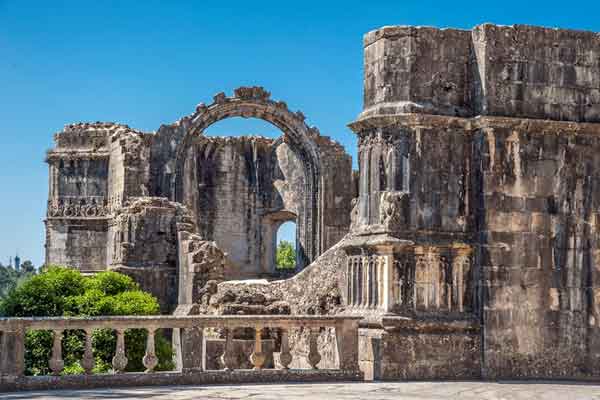 Step back in time—1118 to be precise—at this former Roman Catholic convent founded by the Knights Templar. High above the city of Tomar, the castle successfully defended itself against Moorish invasion. In its famous round church, modelled after Jerusalem's Dome of the Rock, it's easy to envision the Knights fanned in a circle, attending mass on horseback. Afterwards, hike down to the town's historic main square and grab a meal at Taverna Antigua. The authentic, candlelit, medieval restaurant serves up hearty plates of boar and venison (vegetarian options also available) and mugs of mead, artisanal beer, and local wines.
3. Batalha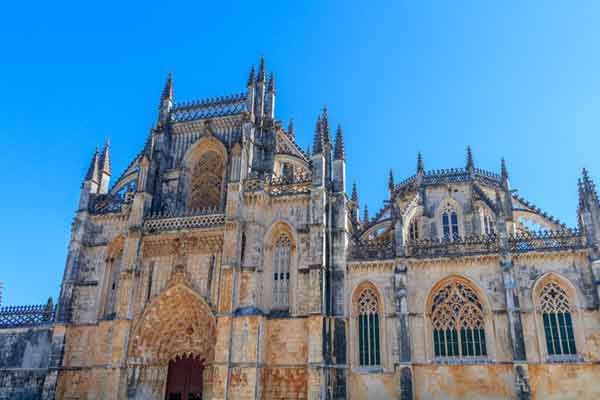 Whether it's history, architecture, or religion that tickles your fancy, you are bound to be impressed by this masterpiece, one of the most important gothic sites in Portugal. Construction began in 1386 by Portuguese King Dom João I to fulfill a promise to the Virgin Mary that he would build a convent to honor her if Portugal defeated Castile at the Battle of Aljubarrota. The complex was completed around 1517, so various styles and influences are evident. Four Kings of Portugal, a queen, and princes including Henry the Navigator have found their final resting place within the walls of Batalha.
2. Baixa, the Heart of Lisbon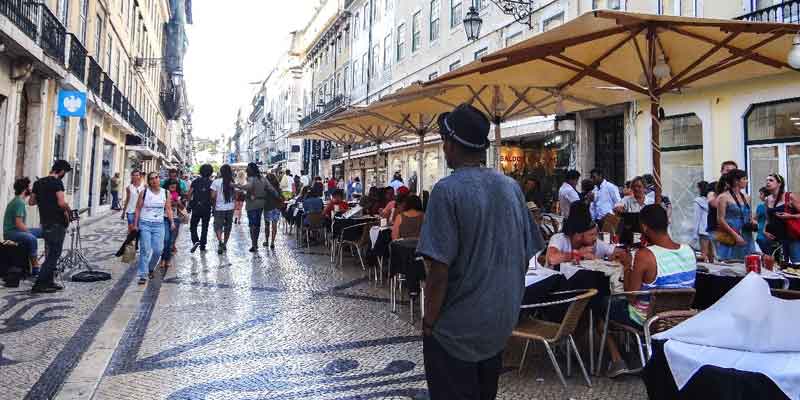 For the true flavor of Lisbon, hit its downtown district. Bordering the waterfront, the Baixa was completely rebuilt after the Great Earthquake of 1755. Europe's first example of neoclassical design and urban planning, the streets are designed in a grid instead of the usual warren of twisted passages so common in Portuguese cities. Start your exploring in Rossio Square, at Café Nicola, the art deco darling of Lisbon's literary set in the late 19th century. Then stroll the calçadas-paved Rua da Augusta past restaurants, boutiques, and pastry shops. Don't miss the Santa Justa elevator, Gloria funicular, and historic Saint George's Castle.
1. Sintra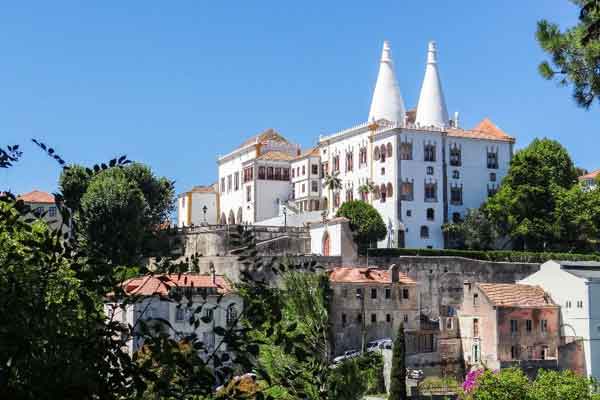 Sintra, a favorite summer retreat of the former royal family, is replete with national treasures. Start with the gothic-style national palace in the center of town, then stroll the ramparts of the 8th-century Moorish castle. The Convento dos Capuchos is remarkable as a monastery built into a stony hillside, while Quinta da Regaleira features an elaborate, Harry Potter-esque palace—complete with gargoyles—a chapel, and an expansive park boasting lakes, grottoes, and fountains. Perhaps the town's standout attraction is the pastel-painted Palace of Pena, a 19th-century Romanticist marvel sitting high atop Sintra's hill, surrounded by pine forests.
Get Your Free Portugal Report Here:
Romance, culture and adventure awaits in Portugal. Learn more about Portugal and other European countries in our daily postcard e-letter. Simply enter your email address below and we'll send you a FREE REPORT - Explore the Old World in Laidback Portugal.
This special guide covers real estate, retirement and more in Portugal and is yours free when you sign up for our IL postcards below.
Popular articles you may also like
Get Your Free Portugal Report Here
Simply enter your email address below and we'll send you a FREE REPORT – Portugal: The Jewel of Southwest Europe.