The classic vision of Costa Rica that you find on postcards and tourism board posters is of the Pacific and Caribbean coasts. The white sand beaches…blue ocean…and the wildlife-filled rain forest as a backdrop. It stands to reason. The seaside is beautiful and a haven for surfers, boaters, fisherman, and those who just like to lounge by the water.
But some people like the beach only in short doses. The heat and humidity at the beach in Costa Rica is too much for them. Luckily, there are plenty of places inland where the climate is temperate…and there are a variety of other advantages, including quick access to the best shopping and medical care in the country and rural or mountain living if you want it. Plus, because Costa Rica is such a small country (about the size of West Virginia), you can be at the beach for a day or weekend trip in less than two hours.
Let's take a look at some of the top towns for expats away from the beach.
1. Atenas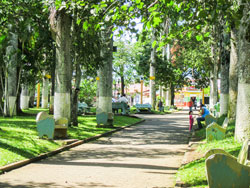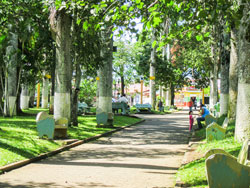 This village of about 8,000 in the Central Valley region has been the site of an active expat community, the majority retirees, for several years. The town center is walkable and charming, with a mango tree-filled central park that is the focal point of civic life.
The surrounding landscape is forest, sugarcane field, coffee plantation, and pasture. The weather is not too hot and never too cold. And you can be in San José, the capital, and its suburbs within 45 minutes. That's handy for going to the international airport, shopping districts, and top-notch medical care at the best public and private hospitals in the country. But what really sets Atenas apart is the large expat community. There's always something social going on: clubs, events, gatherings, or just Sunday brunch at Kay's Gringo Postres, a restaurant downtown that has become a defacto community center.
 2. San José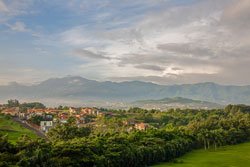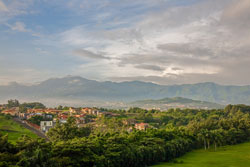 The capital of Costa Rica gets a bad rap with many visitors and residents of the country. Sure, rush hour can be a nightmare and the urban and suburban sprawl seems to go on forever. But if you want to feel the excitement and energy of the big city, this is the only place in Costa Rica you'll find it.
It's the center of commerce and culture in the country, with theater, classical music, jazz clubs, music festivals, art museums and galleries, hip restaurants and bars, boutiques… If you can buy something in Costa Rica, it'll be in San José. And you have neighborhoods like Pavas, La Sabana, and San Pedro that have small but strong expat contingents, as do suburbs like Escazu and Santa Ana.
3. San Isidro de El General
Head to Costa Rica's Southern Zone and you'll find an area well-known for agriculture; one of the breadbaskets of the country, so to speak. It's no wonder that the regional center, San Isidro de El General, one of the biggest towns in the country, has one of the largest farmers' markets in Costa Rica. The town itself is surrounded by jungle, tree-covered hills and mountains, and vast fields.
Expats with an interest in farming, even just hobby farming, have flocked to the area surrounding San Isidro because of the rich soil and ideal growing conditions. Many have come simply for the rural, off-the-beaten path feel—with the conveniences of the town nearby. And the heat and humidity is somewhat tempered by cooling mountain breezes once you get to higher elevations in surrounding towns like Platanillo, which is at about 1,000 feet.
 4. Lake Arenal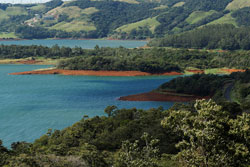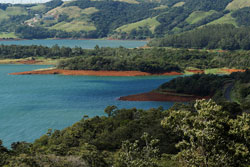 Costa Rica's famous Lake Arenal region is special, unlike any other in the country. The centerpiece lake is 33 square miles, and most expats live along the emerald green hills that rise from its shores. Lake views are the most desirable, where you can enjoy the constant spring-like temperatures and watch over the calm waters undisturbed by boat traffic. Some homes also have views of the 5,000-foot elevation Arenal volcano, which sits at the east end of the lake.
Arenal has a small but growing expat community that is very active socially. They're drawn by the peace and tranquility, a legacy of its history as a center for farming. A narrow two-lane road hugs the lakeshore, with occasional art galleries, restaurants, and small hotels. Most expats live in and around the villages of Nuevo Arenal, Tronadora, and San Luis.
5. Monteverde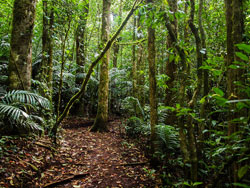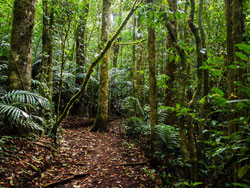 A major eco-tourism destination in Costa Rica, Monteverde is also home to a small but dedicated group of long-term expat residents. It's an active community, involved in social action, habitat preservation, and community work. Somewhat isolated for years by bad roads, this high mountain region noted for its large rain forest reserves (the cloud forest, a type of high-altitude rain forest is home to species found nowhere else) is set to open up after the completion of the paving of a stretch of road into town from the PanAmerican Highway. Time will tell what new development this road brings.
The village of Santa Elena has your basic needs as far as groceries and such covered. Most expats find they don't require much else; their needs become simpler. Perhaps they're taking a cue from the large population of Quakers from the U.S. who settle in the area decades ago.
Get Your Free Costa Rica Report Here:
Learn more about Costa Rica and other countries in our daily postcard e-letter. Simply enter your email address below and we'll send you a FREE REPORT – Costa Rica: The Land of Pura Vida
This special guide covers real estate, retirement and more in Costa Rica and is yours free when you sign up for our IL postcards below.
Related Articles
Best Places to Live in Costa Rica: Five Top Expat Havens
Upcoming Conferences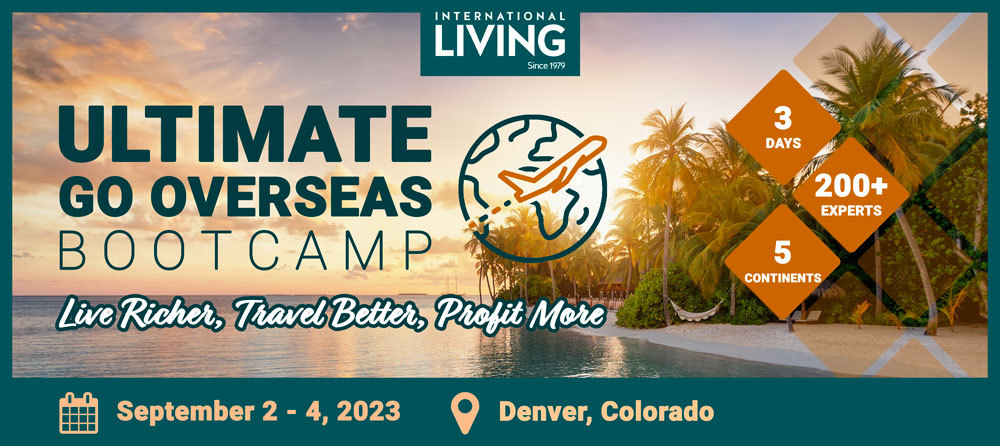 Most Popular Products