Last year, my wife and I traveled from our home in Granada, Nicaragua to spend a week in Guatemala as we continue exploring the region. We enjoyed world-class angling for sailfish off the Pacific coast, followed by a few nights in one of Latin America's finest examples of a Spanish Colonial city.
The name should give it away. The Spanish word Antigua translates to "ancient," and this amazing city has no shortage of historic offerings to capture your attention. Designated a UNESCO World Heritage site, Antigua was founded in 1543 and for over 200 years the city served as the capital of the Captaincy General of Guatemala (an administrative division of the Spanish Empire which included the present-day nations of Costa Rica, Nicaragua, Honduras, El Salvador, Belize, Guatemala, and the Mexican state of Chiapas) before a series of devastating earthquakes caused the city to be ordered abandoned in 1776.  Antigua is an intoxicating mix of the old and the new, inviting the visitor to explore this marvel of the Spanish Colonial era.
As the most-visited tourist destination in Guatemala, there is enough on offer to fill several weeks.  In fact, given that amount of time, a person should consider a stay in Antigua to improve one's Spanish speaking skills at one of the city's numerous language schools.  However, for those more pressed for time, here are some suggestions on how to spend two days in Antigua.
The city is laid out in an orderly grid system, making it an easy place to navigate on foot.  Wander the cobblestone streets as you admire the architecture from the grandest of cathedrals and public buildings to the flowers that seem to explode from windowsills and the detailed ironwork adorning the doors of homes and businesses along every street.
Day 1: Historic Sites
Antigua is full of well-preserved buildings, plazas, and churches just waiting to be discovered. Most are easy to locate as the colonial core of the city is somewhat compact.  Here are some highlights to take in:
Parque Central is a significant landmark in Antigua, and a popular historic location in the heart of the city. You'll see many locals and tourists chatting and drinking coffee on the park benches here, and vendors selling, fruit, scarfs, or musical instruments. Around the park are many shops and restaurants to explore while you're here.
The Arco de Santa Catalina is the city's most recognizable structure—and you'll find it featured on artwork throughout the town. From one direction, the Arco frames Volcan de Agua, and as you can imagine this is a very popular location to snap your own photo of this iconic landmark. So, go early if you want to get that perfect shot before the street gets busy.
The ruins of the Catedral de Santiago are awe-inspiring in scale. It's hard to imagine what this grand house of worship was like before being destroyed by an earthquake in 1773.
Iglesia de San Francisco is an active church that houses another enormous complex of photogenic ruins. It is one of the only places in Antigua to find construction dating back to the 16th century. There is a small museum dedicated to the life of Peter of Saint Joseph Betancur, and thousands of Guatemalans make the pilgrimage each year to the tomb of "Hermano Pedro" to ask for favors and miracles.
Iglesia y Convento Santo Domingo was founded in 1542 and became Antigua's largest and richest monastery. Today, this sprawling complex includes a luxury hotel, restaurant, ruins, and no fewer than six museums featuring silver pieces, artwork of various types and eras, religious artifacts, archeology, and even pharmacy exhibits.
The Mirador of Cerro de la Cruz ("Hill of the Cross") provides a panoramic view over Antigua, the surrounding valley, and the three volcanoes which tower over the city: Agua, Fuego, and Acatenango. Hike up or take a taxi.
Day 2: Shopping at Artisan Markets and Stores
Guatemala is known for handicrafts of all sorts, including wood, leather, beadwork, and more —but especially the unmistakable textiles in bright colors and beautiful patterns. Antigua provides an array of shopping experiences for authentic Guatemalan items, ranging from bustling markets to small shops tucked away down cobblestone streets. Bring your haggling skills (and your quetzals—Guatemala's currency), and set out to negotiate on some unique mementos of your visit.  A few places to hit include:
The Mercado de Artesanías: Near the city's central market is a series of courtyard shops that has everything. Better deals can be negotiated during the week when the pace is quiet. Bargain hard—start at 50% off or moreand cash rules.
Nim'Pot: A cavernous store just a few steps away from the Arco de Santa Catalina that sells Guatemalan crafts on consignment for artisans. No bargaining, but a cash discount is given if asked for. They even have a web site and online store: https://www.nimpotexport.com/.
Casa de los Gigantes: Located across from San Francisco Church, offers a very pleasant shopping experience. They are advocates for fair-trade and have many exceptional pieces crafted by local artisans on display. Items sold as marked, no bargaining.
Since we were only there two days, we didn't have a lot of opportunity to find the "hidden gems." Luckily, a couple we had met on a trip to Nicaragua before we moved there are now traveling the world in retirement and happened to spend considerable time living in Antigua.  Here are some off-the-beaten path suggestions:
Evelia del Pinal: This candle maker's shop is the oldest continuously operating business in Antigua. Family-run for five generations, you'll find beautiful candles formed by being dipped in beeswax. Some of the creations are sculptural works of art that make unique gifts.
Antigua Bronce : Admire the bronze castings available here. You've no doubt noticed that the door knockers on many homes in Antigua are very interesting and there are still several metal-smiths around town that cast and forge these and other items with hammer and anvil. Just ring the bell if the door is closed. These make a great souvenir for any home.
How to Get to Antigua, Guatemala
Antigua is easily reached from Guatemala City, roughly 90 minutes away by automobile.  Visit from November to April during the dry season, but be warned that hotels fill up far in advance of Christmas and Easter week. During those religious celebrations, the city is filled with lively crowds and colorful festivals. There are many choices for lodging, from basic to luxury and in all price ranges. And you'll have no problem satisfying your appetite before, during, and after your days exploring the city…Antigua boasts hundreds of restaurants from simple and delicious tacos to fine dining of nearly any cuisine.
Once you've been charmed by Antigua, you'll want to extend your stay or return as soon as possible. There's plenty more to see and do in the city, and the surrounding area offers additional adventures.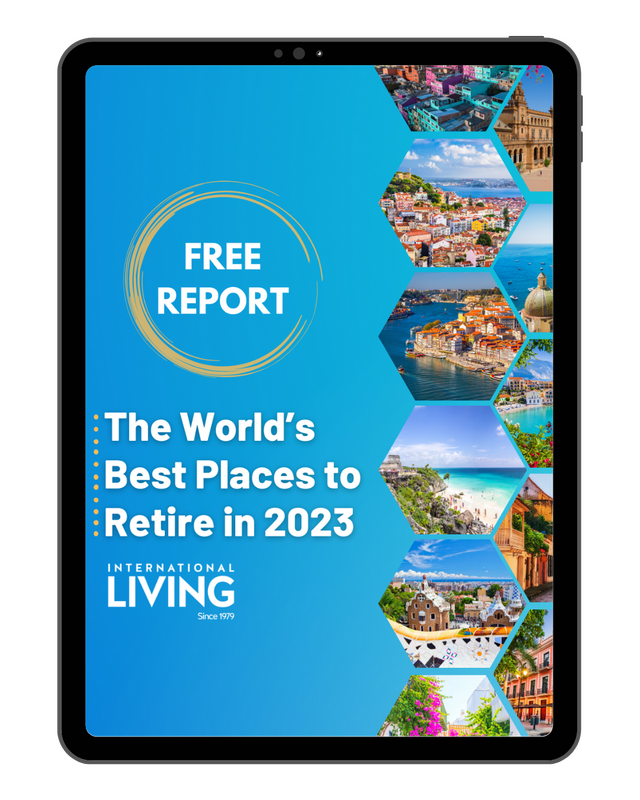 Get Your Free Report on the World's Best Places to Retire:
Learn more about the best places in the world to retire in our daily postcard e-letter.
Simply enter your email address below to sign up for our free daily postcards and we'll also send you a FREE report on The World's Top 10 Retirement Havens, plus access to over 10 more free reports. Our gift to you, on our favorite destinations.
Related Articles
The World's Best Places to Retire
The Cheapest Places in the World to Live