Imagine yourself sipping strong coffee from a tiny cup in a quaint European village, practicing your new language with a local couple at the next table, all against a backdrop of towering peaks and clean, crisp air. Or perhaps you'll make your new home in Asia, where living is cheap, the food is an edible art form, the scenery is breathtaking, and the people are friendly and accepting.
All you need to do is shake the mud from your roots and plant yourself in any one of the many idyllic retirement havens the world offers.
Here are five jaw-droppingly beautiful places to enjoy a magical retirement. In the right places around the world, retirees can combine a fulfilling, affordable retirement with stunning sites to explore.
Sintra, Portugal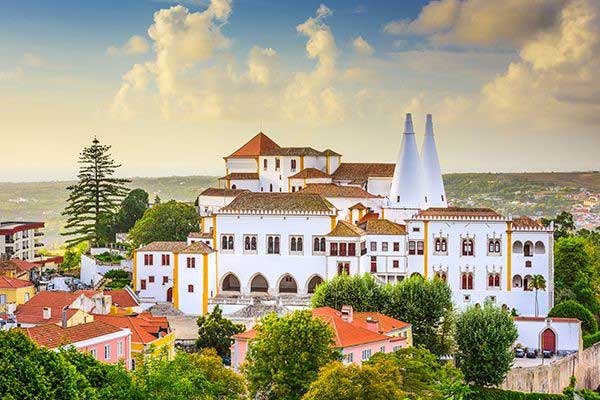 A favorite summer retreat of the former royal family, Sintra is full of national treasures. Just a 40-minute train journey from Lisbon, Portugal's capital, it's palaces, mansions, and architectural follies deliver an enchanted setting.
Moorish doorways, crenellated watchtowers, Scottish Baronial turrets, Manueline sea monsters—an inkling of what awaits lies only steps from Sintra's railway station. Some visitors mistake the first turreted fantasy building for the National Palace, but it's merely the town hall.
Sintra is packed with opportunities to explore—from the gothic-style national palace in the center of town to the ramparts of the 8th-century Moorish castle. The Convento dos Capuchos is remarkable as a monastery built into a stony hillside, while Quinta da Regaleira features an elaborate, Harry Potter-esque palace—complete with gargoyles—a chapel, and an expansive park boasting lakes, grottoes, and fountains.
Perhaps the town's standout attraction is the pastel-painted Palace of Pena, a 19th-century Romanticist marvel sitting high atop Sintra's hill, surrounded by pine forests—the pink turrets, daffodil-yellow tower, and monstrous gargoyles are incredibly striking.
A couple could live well in this arts-rich tourist town on a budget of $3,065 a month, though on less elsewhere in Portugal, according to International Living.
Cusco, Peru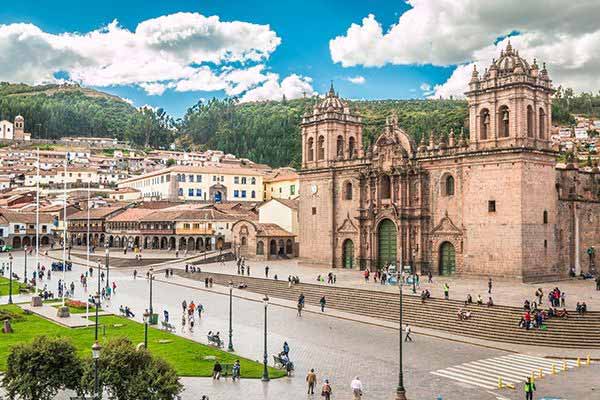 For those who dream of living a cosmopolitan lifestyle in a gorgeous setting, Cusco—Peru's most historic city—is a front runner. This 500-year-old colonial gem has ample domed churches and ancient, pedestrian-only cobblestone streets.
Once an Incan capital, then a prosperous Spanish-colonial center, Cusco sits at an altitude of 11,200 feet and has crystal-clear days with plenty of sun.
The core of the city features restored historic structures—neighborhoods of white-washed homes with red barrel tile roofs, grand civic buildings, and ornate cathedrals and churches, crisscrossed by narrow cobble-stoned streets and walkways. Today a UNESCO World Heritage site, the Colonial structures have been turned into hip restaurants, shops, and even homes. And this historic centro is surrounded by a vibrant, modern city.
Just outside the city, the Sacred Valley unfolds under snow-capped mountains that cradle traditional river villages as well as a score of pre-Columbian ruins, including Machu Picchu. Superfoods, like chia seeds, quinoa, and maca, are inexpensive and plentiful here. A retired couple could enjoy a good life on $1,700 a month, expats there report.
West Coast of Ireland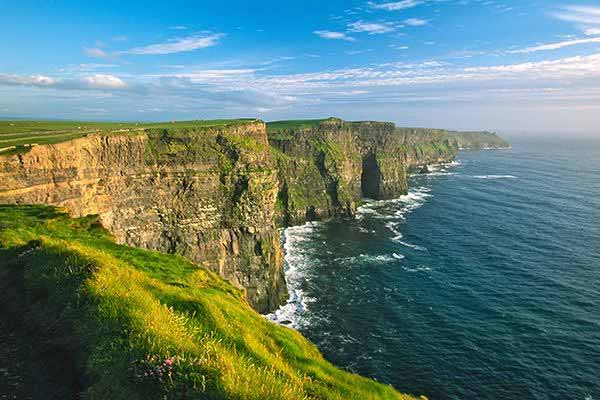 The west coast of Ireland is enormously inviting, with sandy coves tucked away between cliffs and rocky headlands. The difficult thing will be deciding where to settle—from the heathery mountains of Donegal down to the craggy peninsulas of Kerry, the entire western seaboard delivers a bonanza of scenic splendors. Spanned by a cycling or driving route known as the Wild Atlantic Way, visitors come from all over the world to tour the west coast's natural beauty.
At the heart of the Wild Atlantic Way stands one of the most spectacular natural wonders, the iconic Cliffs of Moher in County Clare—one of Ireland's most visited natural attractions. Stretching for five miles along the Atlantic coast, the cliffs reach 702 feet at their highest point—a place where you find all the magic of the Emerald Isle.
Here you can feel the breeze, taste the salt air, hear the birds, and watch powerful Atlantic waves crash against the coast below—there are many vantage points from which to admire the awe-inspiring views of nature at its purest form.
From the main platform, you can see the south cliffs toward Hag's Head, a natural rocky promontory that resembles a seated woman. From the North Platform, you can spot An Branán Mór sea stack, home of guillemots and razorbill birds, as well as the famous Aran Islands. On a budget of around $2,800 a month, a retired couple could live quite comfortably, according to International Living.
San Miguel de Allende, Mexico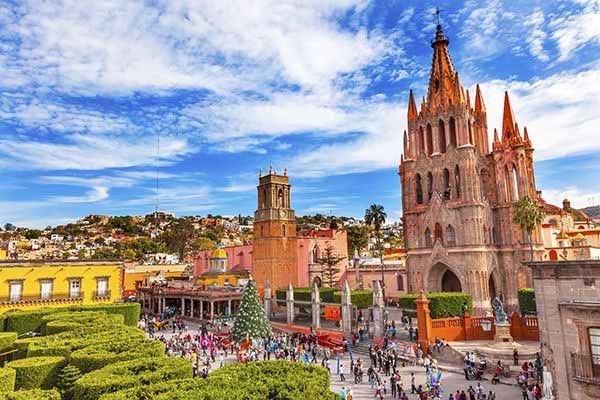 San Miguel was officially founded in 1541, getting rich when silver was discovered in the nearby states of Zacatecas and San Luis Potosi. Supplying the mines and catering to the workers and travelers passing through brought wealth to the city. Plus many of the newly rich silver barons chose to live there.
Today, its historic center is pretty much the same as it was 250 years ago, and in 2008 San Miguel was declared a UNESCO World Heritage City. Its colonial centro is a massive draw and has a lot of benefits to offer retirees: among them a low cost of living, a focus on the arts, charming local cultural traditions, and mild weather year-round.
Sitting at the rooftop Luna Bar at sunset, you are treated to a vision of dusky rays reflecting off the iconic Parroquia de San Miguel Arcángel church, casting soft rose tones on the Spanish colonial buildings and the cobblestone streets below.
San Miguel is deeply rooted in the heartland of Mexico, a few hours' drive from Mexico City. Its altitude is over 6,000 feet, so the days are comfortably warm and the nights blissfully cool. San Miguel's been a magnet for savvy artists who appreciate the natural beauty and artistic community to be found there. With a monthly budget of $1,650, a retired couple could live comfortably and enjoy the city's rich offerings.
Siem Reap, Cambodia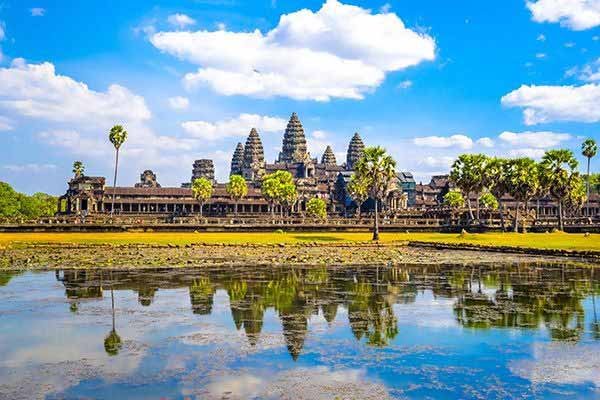 The exotic sights and sounds of the Kingdom of Wonder, shoots Cambodia to the top of many peoples wish list. The nation's rich history, traditions and culture; its ancient temples, royal palaces and saffron-robed monks attracts them.
Known as Cambodia's "temple town," Siem Reap, in north-western Cambodia, is surrounded by the ruins of the ancient temple city, from which the Khmer Empire ruled much of Southeast Asia from the 9th to the 15th centuries.
Developing at break-neck speed, the changes of the last 10 years in Siem Reap may have brought more tourists, but they have also raised standards. Now one finds beautiful hotels, excellent yet affordable food,  art galleries, and shops stocked with fine artisan offerings.
The ruins of Angkor Wat, just 10 minutes outside of town, anchor the local tourist industry. This is one of the world's largest religious monuments, a grand complex which encompasses about 500-acres filled with extraordinary stone temples.
An artsy retreat, Siem Reap is a place where expats report a budget of $1,100 a month is plenty to bankroll a comfortable day-to-day life.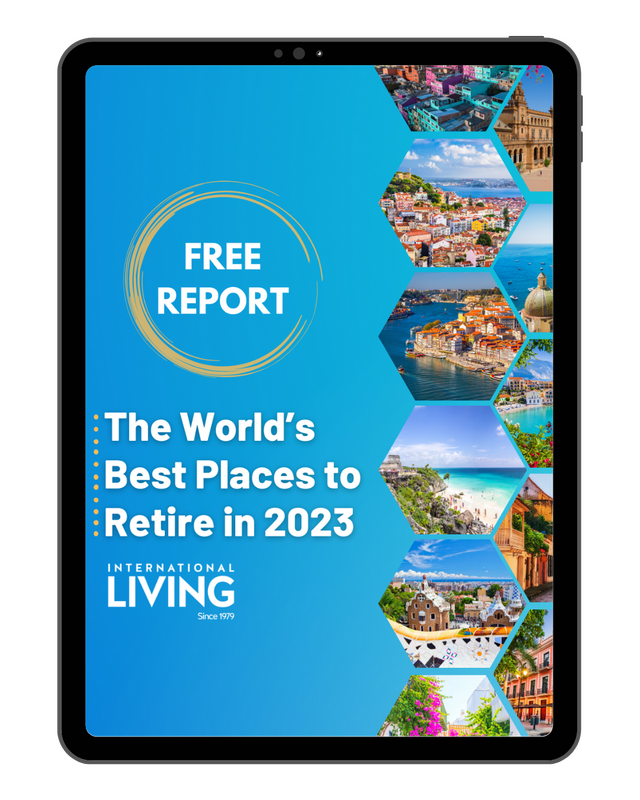 Get Your Free Report on the World's Best Places to Retire:
Learn more about the best places in the world to retire in our daily postcard e-letter.
Simply enter your email address below to sign up for our free daily postcards and we'll also send you a FREE report on The World's Top 10 Retirement Havens, plus access to over 10 more free reports. Our gift to you, on our favorite destinations.
Related Articles
The World's Best Places to Retire
Living Internationally: How to Enjoy a Roving Retirement