As our boat glided along Germany's Lake Chiemsee, I marveled at the stunning meeting of sapphire-colored water, verdant islands, and silhouetted mountains. When things felt like they couldn't get any prettier, I caught a fleeting glimpse of Herrenchiemsee Palace, crowning the forested island where it's existed since 1878. I could see a sliver of the palace's Versailles-like architecture nestled between the dense trees that bookended it on either side. And then, as the boat motored on, the palace seemingly vanished, obstructed by forest. My husband and I remarked this was precisely what its builder, the reclusive King Ludwig II, had wanted for his luxurious abode—an exceptional setting with much privacy and limited access.
Fortunately, for today's visitors to the southern German state of Bavaria, Lake Chiemsee is quite accessible and a visit is exceedingly rewarding. King Ludwig's palace—which he had modeled after France's Versailles—is the main attraction in this area. However, beyond this royal abode, there's much more to do around Lake Chiemsee, including sailing, cycling, kayaking, birdwatching, and more.
My husband, Shawn, and I had come to Lake Chiemsee, which the Germans have nicknamed the "Bavarian Sea" (Bayerisches Meer), to celebrate my springtime birthday. After a long, hard winter, I was thrilled to see that the landscape's foliage was coming to life, dotted with patches of mint-green grass and flower beds filled with cheerful yellow pansies and multi-colored tulips.
Lake Chiemsee is exceptionally clean, large, and boasts three islands. The largest is the Herreninsel, followed by the Fraueninsel, and finally, tiny Krautinsel (so named because of the herbs and vegetables that were once grown there). Since 1954, the lake has also been a protected nature reserve. Today, it's home to nearly 300 bird species and a large variety of fish.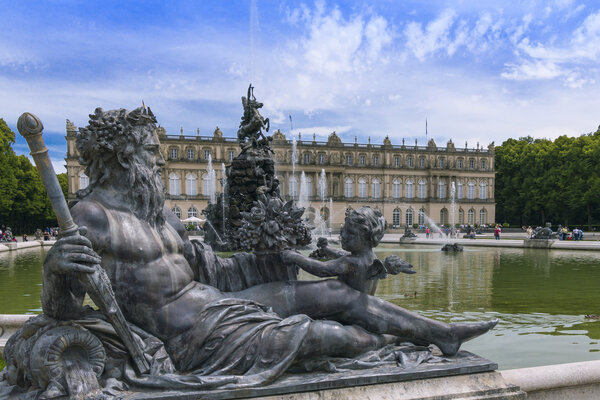 The island of Herreninsel, which means "Men's Island," got its name because of the monastery that housed monks there for centuries. Today, visitors mostly flock to this island to see King Ludwig's palace, but there are other worthwhile historical sights on the island, too.
In 1873, King Ludwig II acquired land on Herreninsel to build his opulent palace-to-be, the Herrenchiemsee Palace (Schloss Herrenchiemsee). Ludwig was obsessed with France's Louis XIV and was determined to have a Versailles of his own built on Bavarian soil.
Herrenchiemsee Palace was never completed, since Ludwig ran out of funds. However, what was built is extraordinary: Herrenchiemsee's Great Hall of Mirrors (Grosse Spiegelgalerie) is actually a few feet longer than Versailles' world-famous Great Hall of Mirrors. Incredibly, it took about 35 chandeliers and upwards of 40 servants to light the hall's 2,200 or so candles.
The furniture in the ornate rooms is also patterned after Versailles, including an elaborate clock, writing desk, and a bed reminiscent of Louis XIV's.
Herrenchiemsee's rooms are even more elaborately decorated than Versailles' interior. Since Ludwig wanted his palace to honor the French king, he didn't allow any Bavarian design elements to infiltrate the palace. He did, however, take advantage of 19th-century conveniences, such as a state-of-the-art heating system.
While I appreciated seeing the palace's lavish rooms and their showy magnificence, I also enjoyed the less polished areas of Herrenchiemsee. These included Ludwig's massive bathtub (which needed more than 15,000 gallons of water to fill!), as well as a staircase that remained unfinished so that you could still see the builders' 140-year-old architectural notes scribbled on the rugged brick walls.
Another wing of the palace compound contains a worthwhile museum dedicated to Ludwig himself. From Ludwig's christening gown and ceremonial robes to his death mask, the museum tells the story of the monarch's life. It also details the king's other realized and unrealized castle projects, including Neuschwanstein (said to be the inspiration for Walt Disney's castles), Linderhof, and Falkenstein. Herrenchiemsee Palace was the priciest of his castles, and when all was said and done, Ludwig spent less than a dozen days living there.
Such fantastical castles helped earn Ludwig the moniker, the "Fairy Tale King" or Märchenkönig. Unfortunately, however, Ludwig's story didn't have a fairy-tale ending. Over time, his extravagant building projects drained the government coffers and eventually he was declared insane and dethroned. At the age of 40, he mysteriously drowned in Lake Starnberg, about 60 miles west from Lake Chiemsee. Some historians still wonder if Ludwig was murdered.
After you've visited the museum dedicated to Ludwig, you might be ready for coffee or a bite to eat. The palace complex has an on-site café and restaurant with front-row views of the graceful gardens and fountains. A self-service eatery, it serves everything from Schnitzel to fish entrees. We'd actually packed a picnic, so we found a quiet spot on the palace's expansive grounds and enjoyed it there. Later, we returned to the café's sun-drenched terrace so we could savor a delightful latte macchiato—and its wonderful views. To get from Herreninsel's Visitor's Center to the palace, you can walk or ride a horse-drawn carriage. We simply strolled the wooded paths while listening to the chirping birds and the occasional woodpecker. See: herrenchiemsee.de
About half a mile from the palace is the Royal Augustinian Monastery (Augustiner Chorherrenstift). Inside, you'll find the impressive Imperial Hall, with jewel-colored frescoes and furnishings that are considered to be among the finest Baroque decor in Germany. Elsewhere in the building, you can also see the room where in 1948, a special conference was held and Germany's constitution was drafted.
Plan Your Stay to Lake Chiemsee
Getting to Lake Chiemsee: Lake Chiemsee is well-connected by roads and trains. By train, it takes about 55 minutes to get from Munich's main railway station (Hauptbahnhof) to Prien. A one-way ticket costs between €18 to €22 ($18 to $22, at time of writing.) Note that if you're traveling round-trip on the same day, you can save money by purchasing the regional Bavaria Ticket (Bayern Ticket). This special pass, which costs €26 ($26), allows you to travel on an unlimited basis throughout Bavaria, using local trains; it even includes some buses and trams. Up to five passengers can travel on this ticket, and the price only increases by €8 ($8) for each additional passenger. (For example, a Bavaria Ticket for two travelers costs €34 ($34).) See: bahn.com/en
When you arrive at Prien's train station, you'll be about one mile from the boat pier. During the tourist season, you can get to the pier by riding the Chiemsee Bahn, an emerald-green steam train that dates back to 1887. If you happen to visit when this train isn't running, as we did, you can either take a taxi or walk to the pier. We were able to do the pleasant walk in about 30 minutes.
Getting to the Islands: Boats link several towns around the lake to both islands (Herreninsel, where the palace is, and Fraueninsel, where you'll find the abbey). One of the most popular tickets allows travelers to journey from Prien to both islands. Round-trip tickets are €10.40 ($10.40). For timetables see: chiemsee-schifffahrt.de/en/home
Visiting the Palace: Tickets to Schloss Herrenchiemsee cost €10 ($10). This also includes the King Ludwig II Museum, as well as the Augustinian Monastery. Note that tickets must be purchased at the Visitor's Center located on the Herreninsel, near the spot where the boat docks.
Where to Stay: There are a variety of hotels and self-catering apartments located in both Prien and Bernau. Lake Chiemsee is an-ever popular destination for Munich residents, so depending when you visit, you might find that accommodation in both Prien and Bernau is fully reserved. When I researched accommodation options two weeks before our planned trip to Chiemsee, I found that no lodging was available.
Instead, I look for accommodation in the pretty city of Rosenheim, which is 18 miles west of Prien or 15 minutes by train. We stayed in a pleasant studio apartment at the Limehome Aparthotel (see: limehome.com), which was located in the heart of Rosenheim's delightful Old Town (Altstadt). On foot, we could reach Rosenheim's charming parks, boutiques, historic church, and international restaurants (everything from hearty Bavarian cuisine to Vietnamese fare) in a few minutes.
Fraueninsel: A Charming, Car-Free Island With An Ancient Abbey
After you've explored Herrenchiemsee Island, you'll want to island-hop to Fraueninsel (Ladies' Island), a small but endearing island that's home to about 300 people. The Fraueninsel's most famous attraction is the 10th-century Frauenwörth Abbey (Abtei Frauenwörth). This building's snow-white exterior and onion-domed bell tower are an eye-catching sight, as they contrast beautifully with the brilliant blues of Lake Chiemsee.
Nuns still inhabit Frauenwörth Abbey today, and they even produce herbed liqueur, gingerbread, and marzipan (a confection made from ground almonds and sugar, and often stamped with decorative patterns). You can buy these traditional products inside the abbey's shop.
After you visit the abbey, have a peek around the island, taking in the fishermen's cottages, inns boasting flower-filled yards, and beer gardens. The island is also known for its freshly smoked white fish, something that you can try before you return to the mainland. See: frauenwoerth.de
Get Your Free Report on Europe Here:
Learn more about countries in Europe and other countries from around the world in our daily postcard e-letter.
Simply enter your email address below and we'll also send you a FREE report - All the Charm and Romance of Europe…at a Price You Can Afford.
Related Articles
Best Places to Live in Germany
Cost of Living Breakdown for Germany
Popular Articles You May Also Like