By Tricia A. Mitchell
Cost of Living in Munich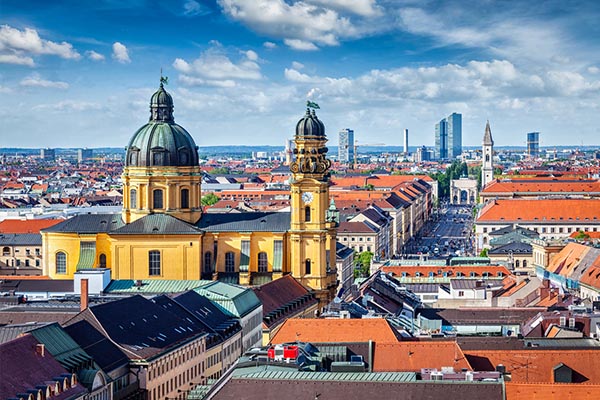 The following monthly budget is based on the cost of living for a couple living in a suburban area, close to Munich.
Expense
US $
Housing (rent for a furnished two-bedroom apartment)
$1,600
Electric, water, gas, garbage/trash pick-up
$250
Household help (maid twice per month, three hours per day)
$115
Internet package includes cell phones and TV
$100
Health insurance (private plan)

*this varies significantly, based upon one's age, health history, and deductible amount

$250 to $800

Transportation: Car expenses (maintenance, gas) including tolls for 1,500 km
$240
Groceries (supermarkets and farmers' markets including wine and beer)
$525
Entertainment (dinner once a week / movies twice a month)
$280
Incidentals
$250
Monthly Total
$3,610 to $4,160
Germany offers an excellent standard of living, with good infrastructure and quality healthcare. However, Germany's cost of living tends to be higher than the European Union (EU) average.
Housing costs—either for renting or buying—are likely to make up the largest share of your monthly spending.
According to Eurostat, the European Union's statistical office, Germany's housing costs are 8.6% higher than the EU average. Germany's rental prices have also been increasing in recent years.
Munich, Frankfurt, Hamburg, Stuttgart, and Berlin have seen some of the greatest increases in rent costs. Berlin, Germany's capital, has even enacted rent-control measures designed to prevent housing costs from soaring further.
As you consider renting a property in Germany, you'll also want to take into consideration the up-front expenses that must be paid before you move into your new home. These include security deposits, an advance rent payment, and possible commission fees.
In Germany, the tenant sometimes pays a finder's fee, or commission, to the real estate agent (Immobilienmakler) who showed them the apartment. For renters, the agent's commission can range from one to three months' rent. To avoid this fee, look for property listings that are provisionsfrei, or commission-free.
A security deposit (Mietkaution) is another up-front fee to consider when renting a home or apartment in Germany. Depending on the property, the Mietkaution can cost several thousand dollars. You and your landlord may opt to deposit the Mietkaution in a savings account (Sparbuch). Assuming there have been no damages, you will be able to cash out the account when you stop renting. These accounts often accrue interest at a modest rate.
Finally, a landlord often requests that you pay the first month's rent in advance.
Another expense to take into account is whether or not the apartment you are eyeing has a kitchen and light fixtures installed. While this often comes as a surprise to people moving to Germany, it is not unusual for an outgoing tenant or homeowner to actually take their kitchen cupboards, sink, and appliances with them. Often, the outgoing resident might even remove the light fixtures in the property. Since buying a kitchen, light fixtures, and installing them can easily cost thousands of dollars, you'll want to consider this German custom as you search for a place to call home.
German apartments also tend to be smaller than what you're likely accustomed to in the United States. These space constraints also mean that clothes dryers tend to be less common in Germany than they are back home. An upside of this is the utility cost savings you'll experience by line-drying your clothing.
Speaking of utilities, be sure to reference a property's energy certificate (Energieausweis) to see whether or not it has a favorable energy efficiency rating. While a significant number of German apartments are located in centuries-old buildings, you'll often find them to be renovated to a very high standard, including good insulation.
Though Germany's housing costs are nearly 9% above the European Union average, food costs are more reasonable; Eurostat rates them to be about 2.4% higher than the EU average.
Germany offers a variety of grocery shopping options—everything from discount supermarkets to some outdoor farmers' markets. This means that you'll be able to find a great variety of products. Recently, more shops catering to special dietary preferences have also cropped up.
When it comes to dining out, Germany has a wide range of eating establishments. From inexpensive but tasty döner kebabs to multi-course meals at fine restaurants, there is something for every budget. Unlike the United States, service fees are typically included in the prices that you see on German menus, meaning that it is usually not obligatory to leave a tip. It is common practice to round up, however, and your server will appreciate it if you choose to leave something more.
Germany's standard tax rate (VAT) is 19%, which is lower than Portugal (23%), Italy (22%), Spain (21%), and France (20%). While Germany's standard tax rate is less than some of its EU counterparts, it is higher than local and state sales taxes in the United States. As a result, some German consumer goods—particularly electronics and clothing—tend to be more expensive.
Germany's well-connected transportation network and central location in Europe make it easy to travel.
If you are considering getting a car, you'll be pleased to learn that there are currently no tolls on Germany's legendary Autobahn (interstate). But as a car owner, you should factor in parking costs—even in smaller cities. Also note that gasoline prices are considerably higher in Germany than they are in the United States.
If you decide to use Germany's mass transit network, you'll be able to find reasonable fares for buses, trains, and planes. A handful of discount airlines also service some German airports. This makes it affordable to explore new corners of Europe.
Cost of Living in Heidelberg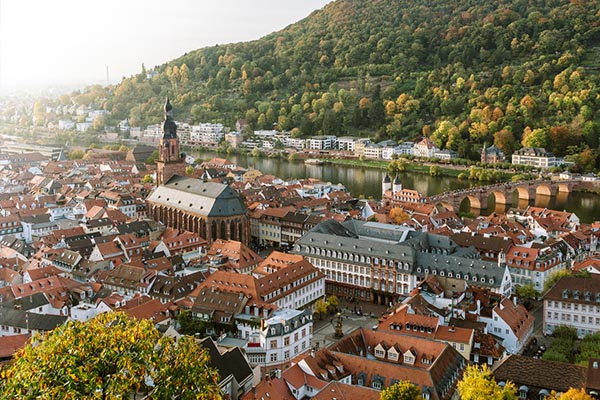 Sample monthly budget for a single person living in Heidelberg, a university town that's about 55 miles from Frankfurt.
Expense
US $
Housing (rent for a furnished one-bedroom apartment)
$1,050
Electric, water, gas, garbage/trash pick-up
$135
Household help (maid twice per month, three hours per day)
$100
Internet package includes cell phones and TV
$70
Health insurance (private plan)

*this varies significantly, based upon one's age, health history, and deductible amount

$150 – $400
Transportation: Car expenses (maintenance, gas) including tolls for 1,500 km
$240
Groceries (supermarkets and farmers' markets including wine and beer)
$375
Entertainment (dining out once a week / movies twice a month)
$130
Incidentals
$175
Monthly total
$2,425 – $2,675