"I told myself I would return to live here one day," says expat Fred Staff of his decision to retire to Cochabamba, commonly known as the Garden City. "I fell in love with the place when I first came here. It's clean. It's beautiful. The climate can't be beat. And it's really cheap, perfect for anyone retiring on a fixed income."
Back in 1993, Fred, an Oklahoma native, took a teaching post in Cochabamba, which is now one of Bolivia's most popular retirement destinations. He returned as a retiree 10 years ago and has lived here ever since with his wife Elizabeth, enjoying its highly affordable lifestyle.
Here, even a meager retirement income can see you enjoying a comfortable retirement. And while Fred and his wife rarely spend more than $2,000 a month all in, other expats report living well on as little as $1,000 a month.
Cochabamba sits in a valley high in the Andes Mountains. Home to just over 600,000 people, it has a strong indigenous influence that manifests itself in the vibrant colors and traditional dress you see on its streets. Its Spanish legacy is also present in its colonial churches, plazas, and parks, where flowers blossom all year round. Small wonder it's called the Garden City.
A modest retirement income from Fred's teaching career, coupled with his Social Security benefits, amounted to a low income in the States. But here, he can live very comfortably. Groceries, for instance, run him about 30% of what he would pay in the U.S. And that's not all…
"If you eat at a local restaurant at noon you will pay about $2 to $2.50, and a nice place similar to the States will run around $4 to $5," he says. "I was just back in the States and was really blown away by how costly things are. It's super cheap to run a car here. One thing I really love is nearly all of the vehicles run on natural gas; a taxi driver told me that his daily fuel cost was a little over $2. Plus, you can buy clothes here for far less than half price in the States. My wife bought me a new leather jacket for just $40."
Cochabamba's high elevation helps give it a spring-like climate year round, with temperatures averaging in the high 70s F in summer and low 60s F in winter. For Fred, this is a big part of its appeal.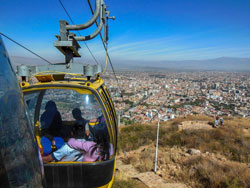 "The weather is perfect, ideal for relaxing," he says. "I love the climate. It's never too hot, never too cold, and only rains a couple months out of the year. Perfect for getting around outdoors any time of the year and enjoying the many outdoor parks and plazas."
Fred owns his own condo but finding an affordable rental Cochabamba is not a problem. You can get a furnished one- or two-bedroom apartment in town from $200 a month and up. One- or two-bedroom houses in the center start at around $300 a month.
Growing up with a doctor father, Fred was skeptical at first about the healthcare he would find in Cochabamba. But he didn't need to worry. The city is home to private hospitals where expats can get exceptional care for a very reasonable price.
"Everyone I know who's used the healthcare here has come out exceptionally well," he explains. "If I want a medication, I just walk into a pharmacy and tell them my problem and what I want, and they sell it to me, with a few exceptions.
"There's a pharmacy on almost every block and nearly all common medications are available over the counter. A typical round of antibiotics costs anywhere between $2 and $10." If a symptom requires a doctor's look, a private office visit without insurance is typically just $15 for a general practitioner and $40 for a specialist.
Overall, Fred is still in love with Cochabamba, the city he chose for his retirement home 23 years ago. For him, it's a fantastic place to live, and he encourages anyone considering retiring abroad to give it a look.
"The climate and the cost of living make my life here very relaxed and let me do the things I enjoy. I really feel that living in this kind of atmosphere will help me to live a longer and more fulfilled life. If you're looking for a laidback place to retire, give the Garden City a try."
Get Your Free South and Central American Countries Report Here:
Learn more about Bolivia and other countries in our daily postcard e-letter.
Simply enter your email address below and we'll also send you a FREE report: Live Life to a Latin beat…In Our Favorite South & Central American countries.
Get Your Free Report Here