My family and I hail from one of the sunniest cities in Canada; Calgary, Alberta. Set at the foot of the mighty Canadian Rockies, Calgary offers plenty of the outdoor enjoyment we love. But the season we enjoy the most, summer, lasts a short six weeks at best. The rest of the year is windy, soggy, and at times frigidly cold. Sunny just isn't as much fun at 4 F.
Then we discovered a place where we could have the sun and 75 F temperatures year round, a place with all of the exciting mountain adventure we love so much at home. That idyllic destination was Panama.
Initially, we had come to Panama City to explore our options for an affordable long-term stay. Lured by warm weather, affordable living costs, excellent shopping, and access to lush mountains just outside the city, it sounded like exactly the kind of place we were looking for.
It offered all of the benefits we'd expect to find in a metropolitan area back home but living costs were a lot cheaper. Good healthcare, access to all the amenities we have in Canada, but with a temperate climate, and all at discount prices.
But we couldn't wait to explore the mountains less than an hour outside the city. And, what we found there was nothing short of Shangri-La for nature lovers…in the town of Cerro Azul, a mere 45 minutes outside Panama City.
Set in the vast mountainous Chagres National Park, its location is special for many reasons including access to one of the oldest cloud forests in the Western Hemisphere. And it's teaming with exotic wildlife unique to Panama.
We were lucky to secure a six-month housesitting assignment in the gated community of Altos de Cerro Azul and while we lived there, we saw capuchin monkeys, coati, capybaras, sloths, harpy eagles, toucans, ruby-throated hummingbirds, literally thousands of hummingbirds all from the balcony on the property we were looking after.
Although our accommodation costs were free, we learned that the cost of renting a cute A-frame style home could be as low as $800 a month. And it isn't just accommodation costs that are low here. In the six months we lived in Cerro Azul, we spent $8,464…that's $1,411 a month for a family of three. On average, our grocery bills in Panama were 38% less than our grocery bills in Canada and locally grown fruit like oranges and pineapples were almost 50% cheaper than back home.
The elevation in Cerro Azul is about 2,500 to 3,000 feet above sea level. This makes for warm days and cool nights, perfect for active exploring and restful sleeping.
We were attracted to Cerro Azul because of its semi-remote location. We had lived rurally at one time in Canada and knew we enjoyed the peace and serenity of mountain living. Cerro Azul was similar to our living situation back home, it offered incredible natural beauty a short drive from the buzz of the big city. Everything we could want or need was a short drive (20 minutes down the mountain) to the closest town.
We had access to grocery stores, medical clinics, a hospital, restaurants, and everything we could need there. Panama City was just a bit further if we wanted to enjoy something more cosmopolitan.
Sitting on the balcony of the property sipping wine watching my husband and son marvel at the hundreds of hummingbirds, I often feel a need to pinch myself. Cerro Azul is truly a magical place. And, with the incredible weather, stunning mountain views, and affordable living costs, it was almost impossible not to stay forever…

Get Your Free Panama Report Here:
Learn more about Panama and other countries in our daily postcard e-letter. Simply enter your email address below and we'll send you a FREE REPORT — Panama: Easy, First-World Living and the World's Best Retiree Program.
This special guide covers insider advice on real estate, retirement and more in Panama. It's yours free when you sign up for our IL postcards below.
Related Content
The 5 Benefits of Living in the Mountain Towns of Panama
Captivating Mountain Views in Cerro Azul, Panama
By Moving to Panama You Can Move to Paradise
Upcoming Conferences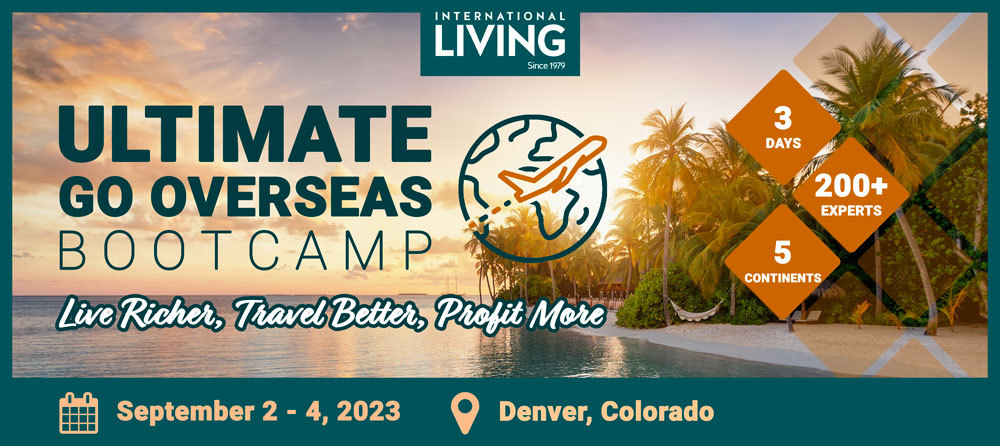 Most Popular Products