By Moving to Panama You Can Move to Paradise
Panama is finally starting to catch on as a top-notch destination for expats as people are becoming more interested than ever in moving to Panama. Some people are looking to retire overseas, some are looking for a life on the beach, and some are simply looking to move abroad and start a new life. Nevertheless, Panama has something to offer everybody, and is a very convenient place to move.
Moving to Panama for the Perfect Retirement
A large portion of the expats moving to Panama have chosen this tropical paradise as a destination for retirement. Panama offers an incredible pension program for retirees, which, combined with a high quality of living and the affordability of everything from real estate to healthcare, creates what International Living considers to be one of the top retirement destinations in the world.
Moving to Panama for its Gorgeous Beaches
One of Panama's primary attractions for everyone from retirees to young surfers is its many miles of beautiful coastline. A move to Panama is almost like moving to an island due to the tremendous amount of beachfront, both Pacific and Caribbean.
Panama Is a Convenient, Modern Destination
Many Americans favor Panama as a destination because it is so close to the United States. There are dozens of quick, direct flights going to and from the U.S. daily. Moving to Panama, therefore, does not greatly separate you from friends and family. In fact, from New York, a move to Panama is little different than a move to California.
Panama is also far more developed and modern than most people anticipate. The idea that moving to Panama means a move away from the First World could not be farther from the truth. People who move to Panama can typically find the same luxuries and amenities that they would hope for anywhere else, and can even afford more of them due to Panama's low cost of living.
Panama encourages retirees and other expats to move to Panama by offering a very straightforward visa program. For people who have decided to move to Panama, there are a variety of available visas, including the Tourist Pensioner Visa, the Private Income Retiree Visa, the Person of Means Visa, the Small Business Investor Visa, and the Forestry Investor Visa.
If you are considering moving to Panama with your family, then you will be pleased to know that Panama is an excellent place for kids of all ages. Panama offers a wealth of outdoor and cultural activities that will ensure that your children will never be bored. Looking back, your kids will undoubtedly appreciate that their move to Panama was an incredible, childhood-enriching experience.
It is also easy to take your pets with you when you move to Panama. There are some basic requirements, including an in-home quarantine requirement, but overall, the process is quite simple. Moving to Panama with your household goods, on the other hand, is slightly more complicated and expensive, so we typically recommend that you buy furniture and other household goods in Panama. Besides, it is doubtful your furniture will be suitable to your new tropical environment. Start fresh when you move to Panama.
---
How to Move Out of the U.S.
(and Where to Escape to)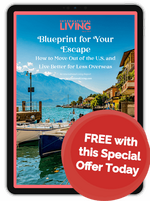 In lots of safe, warm, friendly spots abroad, a couple can live well for around $2,000 a month. Hundreds of thousands of Americans have already escaped—and you could, too. International Living shows you—step-by-step—how (and where) to go. You may be stuck at home right now—but it's the ideal time to put your escape plan in place.
Subscribe to International Living with this special discount offer today—and we'll give you a blueprint for your own escape.
Claim Your FREE copy of this Special Report now when you subscribe to International Living
---
Once the Decision Has Been Made…
Once you have decided to move to Panama, there are a few final tasks that should be on your checklist. The first is to learn a little bit of Spanish. There is a lot of English spoken in Panama, so don't allow a lack of Spanish fluency to keep you from moving here. But do familiarize yourself with some of the most basic and essential Spanish phrases.
Moving your household goods: We recommend that you buy new household goods in Panama, as they're inexpensive and there is so much to choose from. Moving your household goods overseas can be quite expensive (more than a couple thousand dollars in shipping alone). In Panama, you can buy everything you need and save yourself time, money, and hassle. What's more, you'll most likely want a different type of furniture than what you have in your home up north.
Next, you should figure out how you will be paying credit card bills and taking care of other similar responsibilities. The advent of the internet has, thankfully, made moving abroad much simpler in recent years. Most responsibilities, like paying bills, can be managed easily online. Modern technology makes your move to Panama easier than you ever dreamed.
Moving your children to Panama: Panama is a wonderful country for children. From cultural activities in the city to outdoor activities of all kinds in the countryside, there is much to keep children educated and entertained. Panama has wonderful beaches, lovely small towns, and lush forests, perfect for exploring with children.
Moving with your pets: Have your veterinarian prepare a standard International Health Certificate preferably no more than 10 days before travel to Panama. The certificate needs to indicate the pet's name, breed, owner's name and current country of residency. It should state that the pet is healthy and free of parasites. It must contain a list of inoculations including type, manufacturer, and batch number.
Finally, be prepared that moving to Panama, or any other country for that matter, can seem a little hectic and overwhelming at first. So just take your time and make sure that when making important decisions—like buying real estate—you are proceeding cautiously and finding the best deals possible. There is no question that you will be in the swing of things, enjoying your new life in Panama, even more quickly than you had anticipated.
Why I Moved to Panama
By Jessica Ramesch
Video Transcript
Hey there. I'm Jessica Ramesch, International Living's Panama editor. In today's video, I'm talking about why I moved to Panama.
I live in Panama City. I moved here in 2005 and I had lived in a lot of places before then, including Panama.
I really dreamed of just having that sort of cosmopolitan lifestyle where you can have great restaurants and great nightlife. So it's really hard to find a place that's very cosmopolitan and that isn't very expensive. I had a long list of criteria and people used to laugh at me and be like, well, you're not going to get everything on your list. And of course, one doesn't get everything on their list. But I just felt like I if I looked hard enough and I chose wisely, I could have the most important things on my list. And I knew that I wanted to live somewhere surrounded by water. And I knew that I wanted that cosmopolitan lifestyle, but I didn't want to work any more 70+ hour weeks. I had been there, done that. I worked on the cruise ship industry shipboard for over four years. Our work weeks were minimum 70 hours. And I just said to myself, there's got to be a better way to live. I don't want to spend my entire life working. I want to find work that I enjoy. I don't want to work too hard. And I want to be able to enjoy my life. And so I knew that I needed to find a place that was also reasonably affordable.
So I decided to come to Panama. And there were a few other reasons as well. I don't think I would have chosen it if the healthcare hadn't also been really good. I remember, those first jobs, not having a lot of money, not being able to afford dental care. And knowing how expensive dental care could get in the U.S. Just always kind of being always kind of living in fear. Like, what if I need something and it's painful and I don't have the money and I'll have to borrow or get into debt? So it wasn't at the top of my list, but I knew that it needed to be there. I knew that I was choosing a place for the lifestyle, but the healthcare had to be there as well.
When I mention a cosmopolitan lifestyle, let me tell you what I was looking for more or less and why I chose Panama City. I really like places that have a good fitness culture as I get really bored with doing the same thing over and over again. And so I knew that I wanted to live somewhere that was kind of forward thinking where there was a lot of people into fitness, lots of different things that I could do. Lots of outdoor activities were also really important to me and sunshine. I knew that I couldn't be happy somewhere where I didn't see the sun a lot. And in Panama City, I see the sun at least 300 days a year. So and, you know, today is actually a pretty rainy, cloudy day. But I'm able to enjoy those days because I know that I see the sun. I'm going to see it soon. I'm seeing it often. So those cool, rainy days are actually pretty nice here and pretty enjoyable. Now, a word about the climate here. I knew that I wanted to live on the water, but I did not want to live anywhere that had potential hurricanes.
Panama, much like Costa Rica, is completely outside the hurricane belt, even though we are in the tropics. But there are definitely some tradeoffs when you choose the tropics. First of all, is this extremely high humidity. Eighty percent today. That's generally what you get here in Panama. Even higher humidity on the Caribbean coast. I am on the Pacific coast and I actually really like a humid environment. Maybe that's because of where I grew up in the Willamette Valley. It was a lush, moist environment. I've never really lived anywhere too dry. I visited desert areas and they're beautiful. But the dry air really bothers me. I'm not used to it and I haven't been able to get used to it during my short visits. I think the driest place I've ever lived was in New Delhi towards 88 F, 89 F.
April is one of our muggyist months. I'm going to be honest with you. There are days that I suffer, everything sticks to me. But 90% of the time, I'm really, really happy with the temperature here. And those muggy days are tradeoffs. And, you know, outside of quarantine, I can always go work at an air-conditioned cafe. I actually don't usually work in air conditioning. I like having my windows open. So I have, as you can see, ceiling fans. And that's pretty much how I work every day. I just have a fan going on me and I'm usually very comfortable. But on the days that I need air conditioning, I would go to a cafe. But as I say, it's few days out of the year.
Another one of the tradeoffs is also, when you live in the tropics, there are lots of critters, lots of creepy crawlies. We have spiders and we have scorpions. And of course, we do have mosquitoes as well. I live in Panama City. So, again, I chose to live somewhere because it's so much more developed. There are buildings everywhere. There's a lot more concrete that does add a little bit to the heat island effect, but also the bug populations are kept down. So I do have screens on my windows in my apartment here in Panama City. A lot of people do not. I'm only on the second level, so I'm not so high up that you don't get any bugs and it doesn't bother me.
I am constantly considering a move to one of the mountain areas of Panama. They really attract me. I spent a lot of time in Boquete and Volcan as well. I lived for a month in the little mountain town of El Valle, which is a two-hour drive from Panama City. And I really love that it's a little bit cooler, very, very lush and humid. Mold grows on everything. It's something that you have to learn to deal with in your homes. But one of the big reasons that I chose not to move and I chose to stay here in Panama City was because the bug factor was so much higher. It's really inexpensive to hire somebody to help you, a housekeeper to clean. But for that month that I was living in that mountain town of El Valle, I did not have a housekeeper or anybody to help me clean.
So every morning I would come out on the porch and certain times of year you have different phenomenon. Like the month of May, you'll typically get—and this is only for a few weeks at a time and then you're good till the next year—but you'll have these winged termites that fly and they lose all of their wings. They're going through whatever their process is. And every morning I would come out and have to sweep them off of the terrace. After a month of it, I was like, you know, I'd really like my cosmopolitan Panama City. So I'm going to stay in the city and I can visit those other areas as often as I like. So, again, there are tradeoffs.
But I did get a lot of the things on my list. I got the nightlife. I got the hurricane-free zone. I like the humidity for the most part. And the older I get, the more important that seems to be, because the dry weather will do a number on your skin. I like our growing foodie culture and art scene here in Panama. I've been here since 2005. That's 15 years. I've really been privileged to watch this country grow. Already a very modern place when I moved here, it's really coming into its own as a destination for the arts, for film, for amazing chefs and restaurants. So having chosen Panama, why did I stay? Well, things just kept getting better and better. And the few things that seemed like challenges at the beginning just got easier and easier and were addressed by the government.
For me, my life here started out with more challenges and actually has just gotten better and easier over the years. So I have to really commend Panama for being so progressive. I live a very good lifestyle here, on about $2,600 a month. So I had mentioned earlier that I didn't want to live somewhere where I had to work too hard to afford that cosmopolitan lifestyle. In Panama, I find I don't have to work too many hours. I can work sort of, you know, 8 a.m. to 5 p.m. Take, you know, up to four weeks off every year as a freelancer, as an independent worker. And I can afford a really great lifestyle here. And again, outside of quarantine, that includes lots of little weekend trips, lots of outings, going to restaurants, casual ones and fine dining restaurants. I get a good mix and I also get to do all of that nightlife stuff that I mentioned earlier, going to the theater, art exhibits, sporting events, whatever you're interested in, whether it's jazz or golf, you can find that here. And that's another reason, one of the big reasons, that I stay not just in Panama, but also in Panama City. So I really hope that that gave you a little bit of a better idea of why I chose to live here in Panama. Why a lot of people choose to live here. And specifically, why I chose Panama City. And I have access to lots of great destinations within an hour or two of Panama City. So I can be on an island, in the mountains, on a beach within an hour or two from Panama City. I have multiple destinations. So I feel like I have the best of all worlds here.
---
How to Move Out of the U.S.
(and Where to Escape to)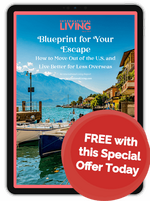 In lots of safe, warm, friendly spots abroad, a couple can live well for around $2,000 a month. Hundreds of thousands of Americans have already escaped—and you could, too. International Living shows you—step-by-step—how (and where) to go. You may be stuck at home right now—but it's the ideal time to put your escape plan in place.
Subscribe to International Living with this special discount offer today—and we'll give you a blueprint for your own escape.
Claim Your FREE copy of this Special Report now when you subscribe to International Living
---