Panama City Real Estate: Cosmopolitan, Chic, & Surprisingly Affordable
Panama City is home to First-World infrastructure, fun nightlife, big-city shopping, and a warm, tropical welcome. And compared to other global hubs, Panama City real estate is surprisingly affordable.
From neighborhoods studded with glittering high rises to sophisticated country club communities, there's a lot of choice when it comes to real estate in Panama City.
If that's got you interested, let's take a look at some of the most popular locations in Panama City for overseas buyers.
Here's Why You Should Consider Panama City
Panama City is a growing city with a metropolitan population that's north of a million.
The downtown city core is relatively compact, with lots of skyscrapers, big commercial centers and shopping malls, hotels and high-rise condo blocks.
The infrastructure is the best in the region, with good roads, drinkable tap water, a reliable electricity supply, and decent cell and internet coverage. There's a mix of public and private hospitals and clinics, including a Johns Hopkins-affiliated hospital. The choice of schools in the private sector includes a Japanese school, a French lycée, a British school, and many that follow the U.S. school system.
Another thing that sets Panama apart from its neighbors is a relatively easy process to get a visa for those wanting to set up in business, work for a multinational, or retire in Panama.
The Friendly Nations Visa allows professionals and entrepreneurs of 50 countries (including Canada and the United States) to get residence in Panama.
Panama also offers one of the most attractive retiree programs. Getting a retiree residence visa (which is possible if you can prove $1,000 a month in pension income) gets you some great discounts. These go from 15% off hospital bills; to 25% off utility bills and airline tickets; to 50% off entertainment. You'll also get these discounts if you're on another type of permanent residence visa in Panama once you reach the age of 55 for a woman or 60 for a man.
Panama also has a number of incentives to help multinational companies set up a regional base—including tax perks and easy visa options for employees. More than 160 multinationals have already done this. Many are household names you're familiar with, like Dell, 3M, Caterpillar, Johnson & Johnson, and Proctor & Gamble.
Panama is seen as a safe, stable haven compared to neighboring countries like Venezuela and Colombia. For that reason, many folks from these countries choose to base themselves, their business, and their money in Panama.
Weather-wise, there are no hurricanes, no major earthquakes, and no active volcanoes. Panama City's climate is warm all year, with only two seasons (wet and dry) and temperatures that average 78 F to 88 F. As Panama is so close to the equator, there are 12 hours of daylight all year, too, so no daylight savings time or switching your clock forwards or back.
With a focus on trade and shipping, insurance and banking, and service industries, Panama has grown very strongly over the last couple of decades. It's been one of the fastest-growing economies worldwide over the last 15 years according to the World Bank. It is now classed as a wealthy nation. The minimum salary is one of the highest in the region, and there's a large and growing middle class.
The enormous growth over the last two decades has transformed Panama City. Empty fields in the downtown core are now home to luxury residential, hotel, and office skyscrapers. New shopping malls have popped up. Car showrooms sell top brands such as BMW, Audi, Lexus, Ferrari. Stores sell designer clothes, the latest smartphones, and expensive jewelry.
Panama's tiny land area can make traffic a challenge. It's gotten much better since a new metro opened. Line 1 started operating in 2014, connecting the downtown city core. Line 2 opened in 2019, hooking up the eastern suburbs to downtown (this line will shortly link up to Tocumen International Airport). A contract was recently awarded to build Line 3, out to the western suburbs.
Read the headlines and you can see there's a lot of money being pumped into Panama City. New roads…a second terminal at Tocumen…a new cruise ship port…a huge new convention center.
Living in Panama City is very easy. There's a long history of foreigners in Panama…French, Americans, Chinese, and folks from the Caribbean who came to build the eponymous Canal…Arabs and Indians who trade in the world's second largest free-trade zone in the world…Jews fleeing persecution in other parts of the world. It's a true melting pot where all nationalities and creeds live, work, and socialize together.
Luxury real estate runs around $298 per square foot in Panama City. That's half the price of similar homes in Dubai…and one-seventh of Singapore.
Panama City has a tiny land area. It's hemmed in by the Pacific Ocean on one side and lots of protected land and watershed for the Canal on the other. That means limited land available for development.
But the country's population is growing fast. It was 3.3 million in the 2010 census and hit north of 4.2 million in the 2020 census…and is expected to carry on growing in the foreseeable future. It's projected to hit 5.8 million by 2050.
As with many countries worldwide, Panamanians are becoming urbanized with more choosing to live in and around Panama City. Combine that with the growing population and it means more demand for real estate—in a city with a shortage of developable land. That should push real estate prices up…
Get Your Free Real Estate Report Now
Sign up for our free daily Postcard e-letter and get a valuable free report on the The 5 Best Places to Buy Real Estate In 2023.
Top Neighborhoods & Communities in Panama City
You can live whatever type of lifestyle you want in Panama City—smack in the heart of the action, cocooned by nature, or in the lap of luxury.
Here are some of the top spots…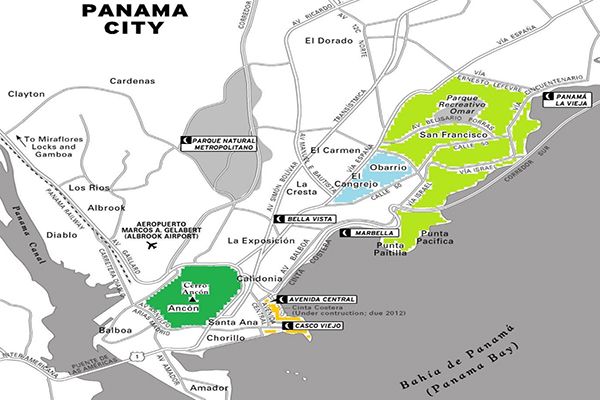 El Cangrejo is super central, the kind of place where you don't need a car. You can walk to gyms, beauty parlors, banks, supermarkets, restaurants, cafes…you name it. Metro stations link you to other parts of the city.
El Cangrejo is a favorite with younger singles who want to skip the daily commute… and meet with friends for dinner or drinks. Retirees like it too, for its walkability.
One downside, however, is the hustle and bustle. You're right in downtown, which means lots of people and traffic at peak times.
Property Samples in El Cangrejo:
A two-bed three-bath condo with allocated parking close to parks, shopping, and entertainment. This condo has 120 square meters (1291 square feet) of living space and nice city views from the living area. List price: $180,000.
An almost-new condo with 115 square meters (1237 square feet) of living space. Common area amenities in this building include a swimming pool and gym. It also has a property tax exemption for 10 years. The condo has two beds and baths, allocated parking, porcelain floor tiles, and an open-plan layout. List price: $260,000.
San Francisco also boasts a central location but is a bit lower density and greener than El Cangrejo. It's got big supermarkets and shopping malls, pharmacies, beauty parlors, banks, and casinos. Many of the restaurants are in large, detached properties that were previously residential…you can find all kinds of great places to eat behind unassuming facades.
And, it's got Parque Omar, one of the largest city parks. You can join regular yoga or Zumba classes in the park…walk your dog…or jog on the long trails or running track.
San Francisco feels more residential than El Cangrejo but is still very close to everything you want or need to do.
Property Samples in San Francisco:
A three-bed condo with an open plan layout and a very spacious balcony (big enough for entertaining). It's only a few years old and has nice clean lines and good finishes like granite counters. The building has adult's and children's pools, gym, social area, and half-sized basketball court. List price: $218,450.
A recently remodeled condo half a block to the largest in-city park, Parque Omar. It's got two spacious bedrooms, each with its own bathroom; the master bedroom boasts an ocean-view terrace. There is an additional guest bathroom, an open plan living area, and a big balcony. The building features adult's and children's pools, gym, squash and racquetball court, social area and events space. The condo has 166 square meters (1786 square feet) of living space. List price: $330,000.
Ancon: Cerro means "hill," and that's exactly what Cerro Ancon is—a verdant hill, covered in jungle, overlooking the city. It's lush, green, and packed with wildlife—almost like having a little national park on your doorstep. Yet it's only a 15-minute drive to downtown and close to shopping and entertainment. This neighborhood is popular with expats and Panamanians, young families and retirees.
Many of the homes are plantation style, with covered patios and terraces, overlooking forest and greenery. You can sit with a cool drink and watch the wildlife go by. I've seen parrots and toucans; Geoffroy's tamarins (a tiny monkey found only in Panama and Colombia); coatis (like a raccoon), and even sloths in Cerro Ancon.
Most of the properties are single-family homes, sometimes split into apartments. The feel is relaxed and suburban. It's very appealing to those that want a home that's close to the city, but a little quieter, with plenty of outdoor space.
Property Samples in Ancon:
A seven-bed plantation-style house. It's got some nice original features (such as doors and wood floors) but it could do with a make-over. It's got a very large covered terrace and parking for two cars. List price:$370,000.
A more modern five-bed, three-and-a-half-bath house with almost 5400 square feet of living space, a large patio and terrace. List price: $475,000.
Casco Antiguo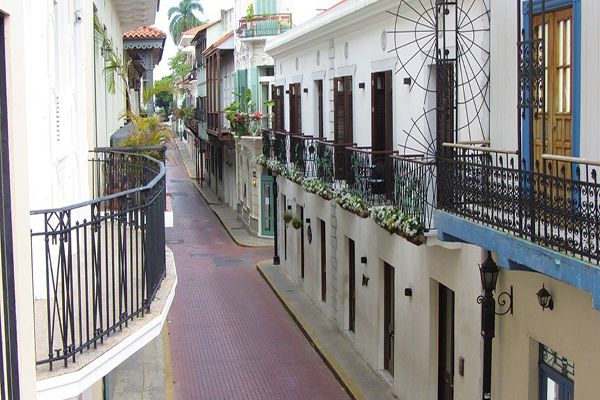 Casco is Panama City's historic district. Once the country's capital, it fell into decline in the 20th century, its grand and stately buildings crumbling and decaying. It was not a safe place to live or visit. It certainly wasn't desirable from the perspective of most real estate buyers.
In 1997, gentrification kicked off. The government introduced tax incentives and lower mortgage rates for those that bought and renovated property in Casco.
Today, the streets are lined with candy-colored buildings in shades of pink, cream, and orange. There are little plazas, a church with a golden altar, and signs of the Casco's heritage everywhere you look.
It's now a hipster haven that tourists flock to, and the place for locals to gather in the evenings to eat, bar hop, or people watch.
Casco probably has the highest density of eateries anywhere in the city. It's a tiny area, but home to more than 80 restaurants, cafes, and bars (at the last count!). You can eat sushi…French croque monsieur…wood-fired pizza…and upscale Panamanian cuisine in Casco. You can also catch a pop-up movie, live jazz, art, and fashion shows…or just soak up the (very) cool atmosphere.
The downside to all of this? Traffic and noise. There's a lack of parking in Casco, the streets are very narrow…and at weekends and when there's a special event on, traffic gets backed up. You need to pay attention, too, when buying—make sure you're not within earshot of a noisy bar or club which can impact your property's value.
Property Samples in Casco Antiguo:
A 96-square-meter (1,033 square feet) one-bed condo. The condo features exposed stone walls and pasta floor tiles. It's in a good, central location. List price: $295,000.
A luxury condo with three bedrooms, three bathrooms plus a guest bathroom, with a single-floor open-plan layout. The building features a pool, gym, and social area. It's almost 2900 square feet in size. List price: $785,000.
Santa Maria Golf & Country Club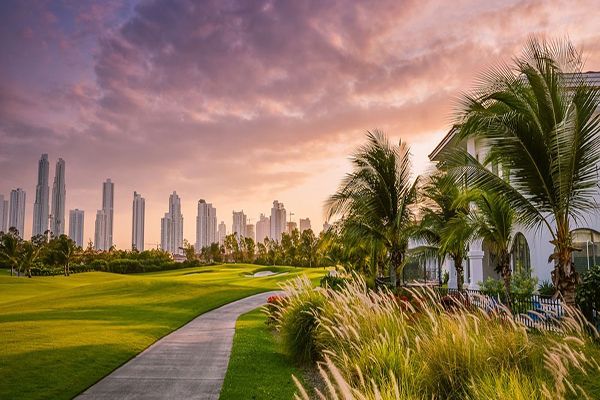 Santa Maria is one of the most premium neighborhoods in Panama City. It is master-planned and nicely landscaped. It boasts a Nicklaus Design golf course, a planned country club, and a 5-star hotel with a gourmet restaurant.
It's a self-contained, green, and walkable neighborhood, with parks, bike lanes, and plazas. It's the kind of place where a healthy lifestyle comes with the address. And, it's very exclusive.
There's a commercial side to Santa Maria, where businesses like banks and insurance companies have set up offices. It's also close to the business park in Costa del Este, home to offices of multinationals like Halliburton, Samsung, Proctor & Gamble, and Adidas.
Folks who work in these companies are the potential buyers and renters in Santa Maria…along with those seeking a desirable home address.
Property Samples in Santa Maria:
A huge three-bed three-and-a-half-bath condo with almost 3,000 square feet of living space. It has luxury finishes—granite counters, German kitchen appliances, wood panel ceilings, and marble floors. The upgrades on standard finishes run to almost $200,000, the seller says. The home has pool and golf course views from the balconies. List Price: $699,000.
A three-bed three-bath townhome with almost 3,000 square feet of living space. Community amenities include an infinity pool, tennis court, fitness center, and mini-golf. List price: $690,000.
How to Buy Property in Panama
Purchasing property in Panama is similar to buying back home…but there are some important differences. Here are the steps you need to follow:
Step 1: Agree a price. Panama does not have a Multiple Listings Service, where you can check listings prices by neighborhood, or a website like Zillow that allows you to check recent sold prices. You should talk with local real estate agents to get an idea of current market values. You can also look at websites such as www.encuentra24.com, where sellers, agents, and developers all list property for sale—it's a good way to get a ballpark figure on the fair market value for the property you're buying. And, never go in at full list price. Most of the time, there's wiggle room in the asking price, so negotiate the best possible price (or have your real estate agent negotiate on your behalf if you're shy about doing this).
Step 2: Confirm the title. Your attorney in Panama can check in the public registry to make sure that the property you're buying has good, clean title. The attorney can also verify the size of the property, the boundaries, if there are any liens or mortgages on it, or any restrictions (such as the property being zoned as residential rather than commercial). Your attorney needs to check that the registered owner is the person selling you the property…it's a big red flag if they're not! And, make sure you're getting titled (also known as fee simple) property, which is the most complete and secure form of ownership.
Step 3: Enter into a promise to buy/sell agreement. Once you're satisfied your property is titled and free of encumbrances, you can sign a promise to buy/sell agreement, which should lay out the terms and conditions of the sale and set a date for closing/transfer of title. At this stage it is typical to pay a deposit to the seller. Normally, the agreement calls for a penalty if either party backs out (which means forfeiting your deposit—so ask that the seller faces an equal penalty if they back out). At closing, both parties should sign a final buy/sell contract.
Step 4: Transfer the title. For the final buy/sell contract, your attorney should conduct an additional search to ensure that no liens or mortgages have been filed since they first researched the property. The contract in final form is then drawn up as a public deed, and all parties must sign in the presence of a notary.
Step 5: Transfer the funds. The top tip here is never paying the seller directly. There is an easy, established, and safe way to pay in Panama. It's called an irrevocable letter of payment. You pay the funds to a local bank in Panama and they issue a letter to the seller telling them they have the money and will release it when certain terms and conditions are met (such as title transferring and any mortgages or loans on the property being paid off). Your attorney can help you to set this up.
Step 6: Record your purchase at the public registry. This can be done in as little as 10 days if your attorney files the documents in Panama City. It can also be done even more quickly, using a next-day service, if you pay an additional fee (and provided all your documents are in order). Once the registration process is complete, your attorney will give you the registered title deed. Finally, have a copy of the deed filed with the tax records department: this is a vital step, as only then is the property transfer complete and the property truly yours.
Get Your Free Real Estate Report Now
Sign up for our free daily Postcard e-letter and get a valuable free report on the The 5 Best Places to Buy Real Estate In 2023.
Other facts you should know about buying a property in Panama:
Real Estate Agents & Their Fees
Real estate agents in Panama must be licensed by law, so check that the agent you are using has a valid, active license. The typical agent fee in Panama for a property sale/purchase is 5%. This is paid by the seller.
There is no real concept of a buyer's agent in Panama. If you ask a real estate agent to show you some listings, they will usually first show you their own listings…and then perhaps listings from other agents (where your agent will split the 5% fee with the listing agent).
Escrow & Title Insurance
There are no escrow services in Panama, but there is a good alternative—the irrevocable letter of payment outlined in Step 5 of the steps for buying property in Panama above.
Title insurance is also not available in Panama, so you really need to get a good attorney on board to ensure the title of the property you buy is good and clean.
Some Ownership Issues You May Come Across in Panama
Panama welcomes foreign real estate buyers. You have almost the same rights as Panamanians…with a few exceptions.
There are some restrictions on foreign ownership of waterfront and island property.
And, untitled land must be owned by a citizen of Panama for a minimum of two years before it can be sold on to a foreign buyer. After the two-year period, the land can be titled and resold without restriction. (Note: Some untitled land can never be titled, so get professional advice before you decide to buy.)
Under Article 286 of the constitution, foreign ownership of property within 10 kilometers (6.2 miles) of an international border is forbidden. Panama borders Colombia and Costa Rica. You'll see lots of property advertised (often by fellow foreigners) in these exclusion zones, in places like Puerto Armuelles, so do your homework and find out if you can legally own what you're planning to buy.
Then, there are some issues that apply equally to foreigners and locals alike.
By law, all beachfront properties must provide a public right of way starting from the highest tide to the property line, so the public can walk along the beach.
Permits to build over the water or for a marina can take a long time, a lot of red tape, and a lot of money to get.
Getting clear title to property in some parts of Panama can be tricky, too. A good portion of the country lies in comarcas (Indigenous reserves), which are independent, sovereign states. Don't even try to buy property in these zones; many before you have already tried…and failed!
In areas like Bocas del Toro much of the land is not titled. It's derecho posesorio, possession rights…and many foreign buyers who have purchased this type of property have come unstuck, losing the property and the money they paid for it. Our advice: stick to titled/fee simple property.