Santa Fe is an authentically Panamanian town. Up in the highlands of the province of Veraguas, here you'll find lush-green hills staggered across the horizon while rainbows streak the powder-blue skies. People are friendly—they will greet you nonchalantly as you pass by—and the houses are traditional style—angled wooden roofs, pastel-colored walls, and small rooms. From up here you can enjoy vistas of rolling green country and looming mountains.
There are only about 3,200 inhabitants and the industries are preserved from past times. Master craftsmen make mejoranas—handcrafted Spanish guitars that you can pick up for under $100. Santa Fe is known around Panama for its orchids and you can visit gardens to see over 300 varieties of exotic flowers. In August of each year there is even a festival for the celebrated orchids.
Wildlife is varied and abundant here. Iridescent toucans are to be seen. The 70,000-hectare Santa Fe National Park is loaded with pristine rainforest which you can explore with a guide or on horseback. Hire an inner tube for just $5 and take an exhilarating journey down the Rio Bulabá. Stroll around the numerous rivers, streams, and waterfalls and soak up the purity of the air and richness of the scenery.
Coffee is part of the local culture and you can see how they grow the rich, steaming brew on a tour of a coffee plantation. For budding ornithologists, bird watching is a joy in this lush, forest-laden wilderness and Cerro Tute is a perfect place to take in the stunning valley panorama.
Retire in Santa Fe, Panama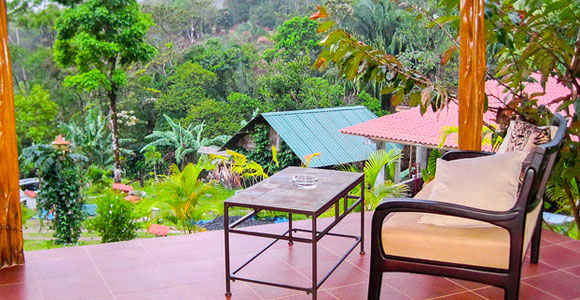 Retiring in Santa Fe is soon going to become more popular. This is because life here has the ideal balance between tradition, heritage, nature, and modernity.
The modern conveniences of the internet go hand in hand with old trades of guitar-making and coffee growing. Life here is also affordable and you'll see your money go farther. A couple could live comfortably on $800 a month if they own their home, and furnished homes rent for as little as $475 a month. You can grab a warm breakfast for $3 or a beer for just $1.
The temperate climate is a bonus, too. Warm in the day and cool in the evening. This is because Santa Fe is located at around 1,400 feet above sea level. In the morning you can see the wispy mist settling over the jungle-clad hills before the sun evaporates it.
Life here is more holistic and in tune with nature. The coffee is fresh and intense, the fruit and vegetables are more flavorful, and the people are friendlier. Days here are meant to be spent strolling along river banks, lazing around, watching diverse flora and wildlife. Plus a Pensionado Visa will grant you discounts on meals (15% to 25%), hotels (30% to 50%), medical check-ups (20%), and prescriptions (15% to 20%)…as well as many other benefits.
Retirees here enjoy a low cost of living, a friendly community, and a relaxed lifestyle in a lush, unspoiled tropical setting. Nature lovers hike the mountain trails. Gardeners harvest their home-grown vegetables. Artists are inspired by the beauty that surrounds them. Animal enthusiasts explore on horseback and spot exotic birds. It's country-living at its best!
Lifestyle in Santa Fe, Panama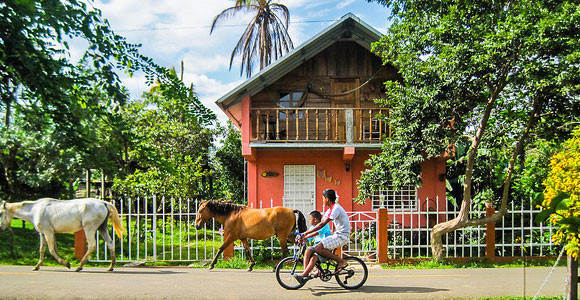 Life in the secluded yet vibrant town of Santa Fe is mellow and serene. The warm, moist climate of the highlands and the mind-boggling biodiversity that envelopes this place are relaxing and exciting all at once.
You'll be charmed by how effortlessly kind and welcoming the locals are. Their timeless culture remains intact and they are happy to see new faces. A few dozen expats have made their homes here, from all over the globe. Some have built their dream retirement homes and others have created small businesses, from farming to freelancing via internet to hosting guests at a B&B.
The town has many of the amenities you might desire without having a developed feel. You will find restaurants, bars, and shops here. Internet service is reliable. The city of Santiago is just an hour's drive away if you need a trip to the metropolis, and you don't even have to own a car. Buses run between Santa Fe and Santiago frequently, providing safe and affordable transportation.
The fresh coffee is heavenly and the organic local produce will make for a healthier lifestyle in Santa Fe. There are plenty of activities to pass the time: Meanders through the hills, by the rivers and waterfalls, nature-spotting trips to the Santa Fe National Park, white-water rafting, inner tubing, bird-watching, and visits to the coffee plantations and orchid gardens.
Real Estate in Santa Fe, Panama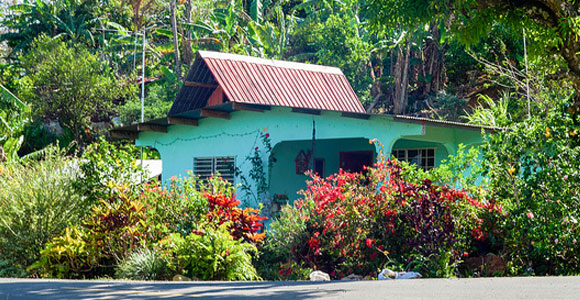 Real estate in Santa Fe is reasonably priced. You can rent or purchase on a limited budget. Here are some examples of properties that we have found:
A remodeled house on a nearly 1.5-acre lot in the El Alto neighborhood. The 1,200-square-foot home is very private and has 360-degree views of the mountains, along with two bedrooms, two bathrooms, and a large terrace. Price: $99,000.
A new two-bedroom, two-bathroom home just off the main highway in a development on a 2,600-square-foot lot. Its "backyard" is the Santa Maria River and its banks…one of the most soothing wooded settings you could possibly have. Price: $175,000.
A two-bedroom, two-bathroom, furnished house is available to rent. The home is in a quiet neighborhood a five-minute walk from the town center. There's a small thatched "gazebo" to hang hammocks and the property is enclosed by a pretty stone wall. Monthly cost: $500.
A fully-furnished house (featuring the caña blanca or white cane) in the heart of the village of Santa Fe. It's on the "expensive" side because it has artistic mosaic work on the floors, three large bedrooms (one has a balcony), two bathrooms, and flower gardens with terrace and fountain. Monthly cost: $650.
Cost of Living in Santa Fe, Panama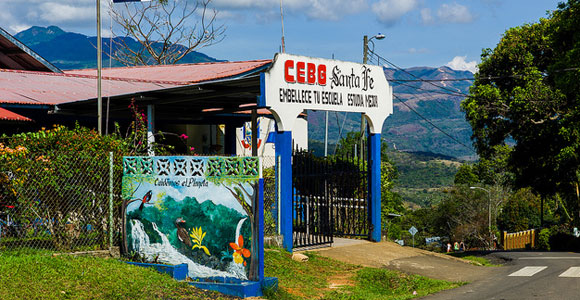 The cost of living in Santa Fe is very affordable. A couple could live comfortably on a monthly budget of $800 to $1,000. About 200 miles west of Panama City, Santa Fe is the kind of place where you don't need a car…a horse will do. Don't have a horse? No worries… buses and taxis are close by and inexpensive.
In this rural town, bottles of water are still 75 cents, $2.50 will get you a glass of wine, and $3 will get you lunch. A large bag crammed full of the freshest produce costs $5. One pound of the rich locally grown coffee, Café Tute, will set you back $5.50.
And as for utilities, you'll never need to pay to heat or air condition your home, and monthly water bills rarely exceed $3. Reliable internet service runs about $30 and furnished homes rent for as little as $475 a month.
Enjoy a Better Quality of Life in Santa Fe, Panama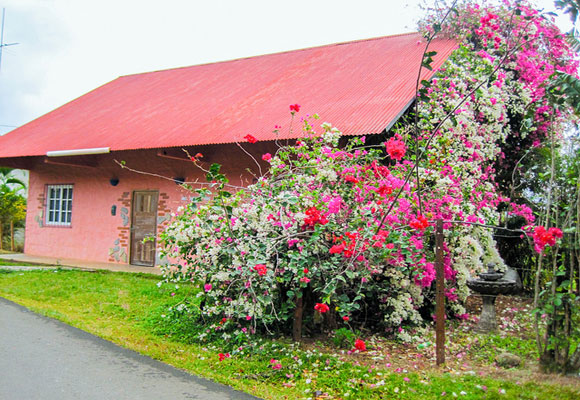 Mitzy and Bill Martain moved to  Santa Fe, Panama from North Carolina in search of a simpler, yet better lifestyle. "Our standard of living had deteriorated," says Mitzy. "We lost our pensions and our medical, and were going to have to survive on Social Security."
In contrast to these stark words, Mitzy today is the picture of contentment, shelling peas on her tidy, sun-washed porch as she shares her story (and her fresh brewed coffee).
Not the type to surrender to a grim fate, Mitzy thought a move might be the solution.
They were no strangers to exploring overseas; Mitzi lived in Ecuador during her time as a Peace Corps volunteer and trainer, while Bill had traveled extensively in Mexico. Both had learned Spanish and were familiar with—and much enamored of—Latin culture. And both heard good things about Panama.
"We bought some land in Capira (about an hour west of Panama City), but it was a remote piece of land without even any electricity. We realized that the lifestyle…frontier living…wasn't exactly what we wanted," says Mitzy. So the couple sold the property and set out to find a region in Panama that would better suit them. "We considered the beach areas around Coronado and even stayed for a few months," says Mitzy. But she wanted something quieter and smaller.