David, Panama: Everything You Need to Know
David, the capital of Chiriquí province in western Panama, is becoming more and more popular as expats discover its convenience and affordability. David is Panama's third largest city, with a developed infrastructure, but a much lower cost of living than bustling Panama City. It serves as the commercial, business, transportation, education, and healthcare hub for all of western Panama. Yet, with no skyscrapers and easy access via the Pan-American Highway, it's a very manageable and pleasant city in the midst of the country's "breadbasket" agricultural region. Without any polluting industry in the city, the skies are always clear, and the air is fresh and clean.
Getting from one side of the city to the other takes less than 15 minutes by car. There aren't many downsides to life here, according to the locals and expats, though if you don't like high temperatures, David may not be for you. With a daytime high in the 80s F and low 90s F, it's known as Panama's warmest city during the dry summertime season. But the nights invite you to be outside enjoying the temperate evenings under the stars without a sweater.
In David you can visit the old town with its stone cathedral, and stroll to the central park with its volcano-shaped fountain in the middle of the downtown business district. You'll find spacious shopping centers, college campuses, and middle-class neighborhoods. Relax at a sidewalk café where you can sip on a cold beer or a cup of highland-grown coffee for about a buck and people watch.
Retire in David, Panama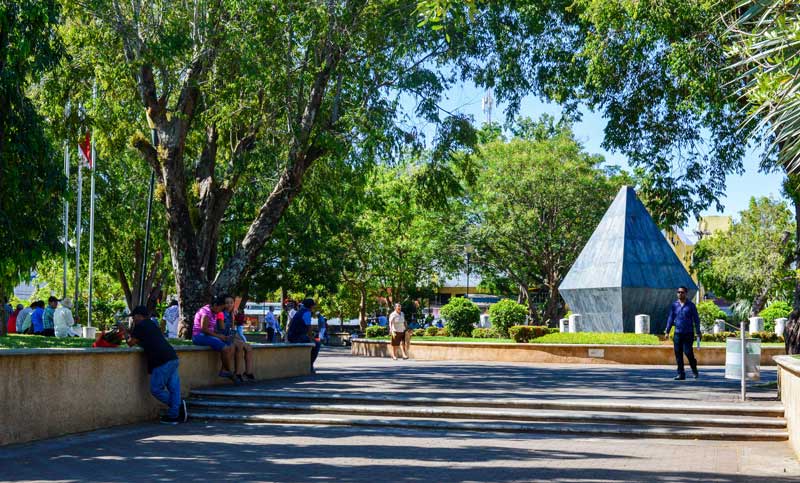 David has a lot to offer as a retirement destination. As the main city in the province of Chiriquí, it has a solid infrastructure with all the amenities you might want, such as high-speed internet, cable TV, and excellent cell phone coverage. Water and electricity are exceptionally reliable in David compared to other areas nearby. You'll find plenty of shopping options for food, clothing and home furnishings, as well as services including banking, insurance, and auto care.
Healthcare is accessible and affordable here, with two full-service private hospitals, and two public facilities. The international airport has daily flights to and from both airports in Panama City.
Compared to other popular retirement communities in Panama, David has an attractive cost of living, and with the discounts afforded by the Pensionado Visa, couples report living here comfortably on $1,400 a month.
Expats have been settling in and around David for a number of years and sometimes gather informally. Rather than a highly organized group, expats around David tend to socialize with close friends on a more personal level.
Lifestyle in David, Panama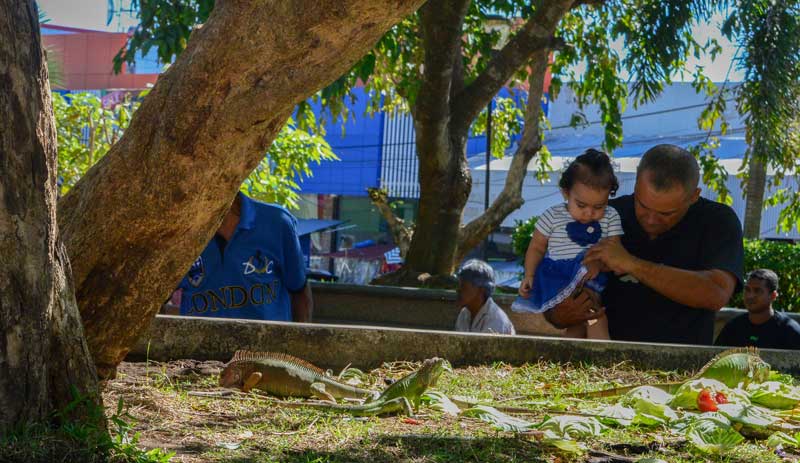 A fulfilling lifestyle awaits you in Chiriquí Province, and David is at the center of it all. Here you can go out to eat at a family-owned eatery and spend $5 for a home-cooked meal, or as much as $25 for a chef-prepared dinner. There are three multi-cinemas and several casinos in town for a fun evening out. Often you can find entertainment in Cervantes Park in the evenings with local bands playing.
Outdoor activities abound in and around David, from bicycling and hiking, to bird-watching and deep-sea fishing. You're only 40 minutes from the cool highland rainforest, where you can zip through the canopy or trek to the top of a volcano. Or go 30 minutes in the opposite direction to the sunny, unspoiled Pacific shoreline for kayaking or beach-combing. Take your pick!
One advantage of David is its proximity to Boquete, the cultural mecca and expat haven of western Panama. With a weekly market, art and photography exhibits at the public library, a busy community theater, and lots of great restaurants, there's always something to do in Boquete, and it's just 30 minutes from David.
Cost of Living in David, Panama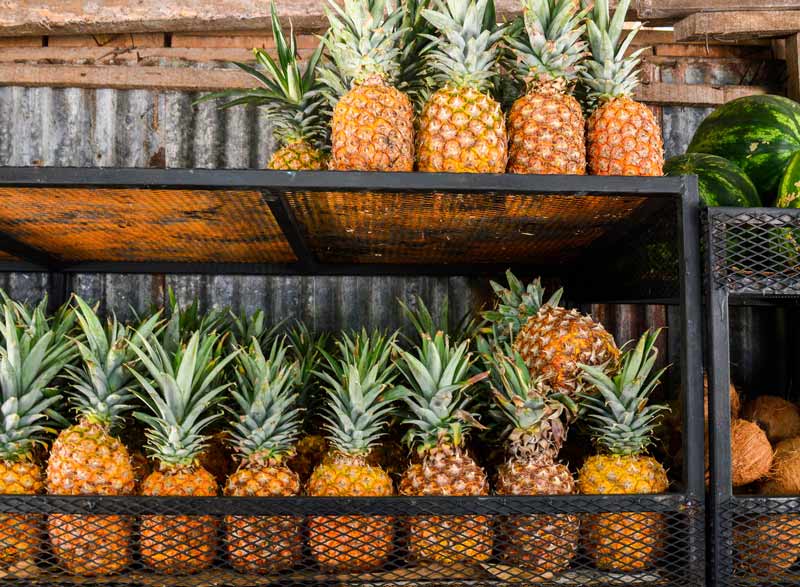 It's a simple fact—your money goes further in Panama, and especially in David. With no heating expense and optional A/C, your utility bill may be as low as $25 a month. Internet, cable TV, and phone service may total about $150 a month depending on your choice of plans.
Living in this agricultural region assures access to fresh produce, year-round. A week's supply of assorted locally grown fruits and veggies from the produce stand runs about $10. Meats, eggs, and local dairy products will cost less than in North America. Canned goods, staples, and bakery goods all cost less if they're not imported. A couple might spend $300 to $450 a month on groceries and household items if eating locally produced foods.
Most expats have their own vehicles, and the cost of insurance and tags is very low. However, note that gassing up your car in Panama tends to cost about the average in the U.S. You can expect to be handing over up $2.62 per gallon of gas. Others choose to rely on public transportation, which is easy to do with frequent, reliable buses and taxis. The bus from David to Boquete costs all of $2, and taxis in town are about the same. Local buses servicing David run 35 cent for a one-way ride.
Lawn care and maid service are so affordable many people hire both, giving them more free time to enjoy life! A full-time, live-in maid can cost you as little as $250 a month, while a part-time maid will charge about $20 per visit for six to eight hours. Their services usually include cleaning, laundry (no ironing), and can include cooking and babysitting, too.
Monthly Budget Breakdown for a Couple in David, Panama:
| | |
| --- | --- |
| Expense | U.S. $ |
| Rent (two-bedroom apartment unfurnished) | $350 to $1,000 |
| Rent (two-bedroom apartment furnished) | $650 to $500 |
| Electricity (depending on air conditioning use) | $25 to $150 |
| Water (often bundled with trash pickup) | $0 to $20 |
| Gas for cooking, hot water heaters, dryer, etc. | $2 to $7 |
| Supermarket (local and imported food and household items) | $400 to $450 |
| Entertainment for two (dinner four times a month) | $160 to $275 |
| Phone (cell phone, mostly local use) | $10 to $50 |
| Internet (high-speed package with cable TV) | $59 to $85 |
| Transportation (taxi or fuel/maintenance on a compact car) | $50 to $200 |
| Monthly total: | $1056 to $2,737 |
(Note: This does not include health coverage)

Get Your Free Panama Report Here:
Learn more about Panama and other countries in our daily postcard e-letter. Simply enter your email address below and we'll send you a FREE REPORT — Panama: Easy, First-World Living and the World's Best Retiree Program.
This special guide covers insider advice on real estate, retirement and more in Panama. It's yours free when you sign up for our IL postcards below.
Things to Do in David, Panama
By Nanette Witmer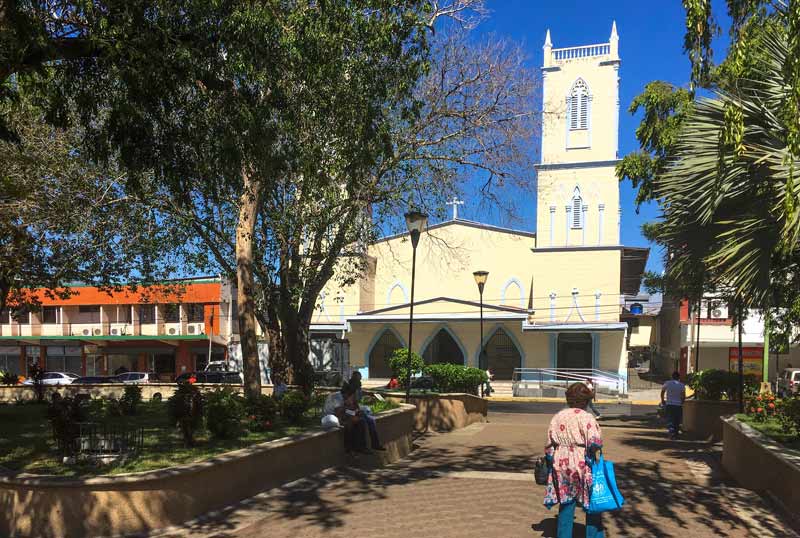 The province of Chiriquí offers so many things to see and do. David, its capital city, has a population of over 165,000 people and is the biggest city in western Panama. Located on the Pan-American Highway, it is also the commercial hub for the area. Centrally located within the province, the beach and Boquete are only half an hour away from David.
At first glance, David may look like any other city in Panama, but it has some great sites and experiences worth checking out.
Cervantes Park
The Parque Miguel de Cervantes Saavedra is in the center of the city amid stores, restaurants, and hotels. The park is a busy place where shoppers rest and relax sitting on concrete park benches under the stately old trees. Vendors selling drinks and snow cones called raspados are always on hand. If you hang out long enough you might spot one of the huge iguanas that live in the trees. Located on one end of the park and across the street is the Sagrada Familia Catholic church dating back to 1810. If you are looking for a great spot to people watch and enjoy a cold one, check out Hotel Iris across from the park. The second floor has a balcony bar overlooking the park, here you can grab a beer for $1 and enjoy a delicious meal. This is a particular favorite amongst local expats.
Historic Neighborhood of El Peligro
This neighborhood is also referred to as Barrio Bolivar. Not many travelers take notice or even know about this historic neighborhood, but just a few short blocks east of the park is where David had its beginnings. There was a restoration project in 2011 emphasizing historic homes. Placards, street signs, and statues identify the small neighborhood. The Cathedral San Jose Catholic Church, whose tower dates to 1891, is at the heart of the area. This church is a registered National Historic Landmark.  Unfortunately, the museum located in this area has closed, but it's worth a short walk around to see the founding place where David started.
Baseball
The new Kenny Serracin baseball stadium was inaugurated in 2018. The people in this part of Panama love and support their major league Chiriquí team. Every year 12 Chiriquí teams take part in the Panama Championship. The new stadium holds 8,500 fans who proudly wear the green and red colors of their team when attending the game. It is a great way to spend an evening being caught up in the excitement. The season lasts from March until the end of April. Entrance fees vary depending on who is playing but it's never more than $5 to get in the door. Vendors sell everything from hot dogs to pizza, beer to water, and will deliver it right to your seat so you won't miss a minute of the game. If you want to see the schedule, keep an eye on https://fedebeis.com.pa.
Playa La Barqueta
The beach at La Barqueta is the closest beach to David. In under 35 minutes, you can escape to the sun and surf. Most times of the year you will find this black-sand beach without many visitors. Swimming is not recommended, though, because of riptides but if you want to stroll for miles along the shoreline, this is the place. Public access is available. The road to the beach ends at the Las Olas Resort. Las Olas provides day passes for under $15 where you can use the pools, sauna, changing rooms, and lounge chairs. I love going for the day and having my lunch served poolside with a beverage. It's like a mini vacation. If you want to stay overnight, they have ocean-view rooms too. Occasionally the resort puts out 50% off room coupons on Oferta Simple making an overnight stay a must. If you don't have a car, local buses do service the resort.
Saturday Market
Vendors in shaded stalls set up early at 7 a.m. to sell fresh produce, plants, flowers, baked goods, and more. It's a tradition among the locals and expats who find it a nice place to socialize, meet up with friends, shop, and then head to one of the local restaurants or fondas (small local restaurants) for coffee or breakfast.
Locals get up early to get to the market and the block is barricaded off in the area of David where the government offices are. Here is a Google map to help you find it: David's Saturday Market.
Also, worth checking out is the new Mercado Publico in David. It is a large indoor farmers' market featuring local vendors in addition to fish markets and beef products such as locally made sausages. In the middle of the vendors' stalls is a nice food court with several restaurant options from seafood creations to ice cream treats.
The Federal Mall
New to David is the Federal Mall. Currently, only two anchor stores are open, Stevens and Felix, as well as a new cinema, Cinepolis David. You can see first-run movies at the same time they are playing in the U.S. and Canada for half the price. For under $5  you will have a great seat in an air-conditioned theater. Most movies are shown in both English and dubbed in Spanish.
Feria de David
Held in March each year, the International Fair in David is not to be missed. It draws thousands from around Latin America. You can see vendors from Latin countries selling their crafts, take in a rodeo, stroll through the agricultural building to view flower arrangements, stop by the dog show, or just people-watch. Admission is under $2. There is lots of nightly entertainment, too, from local bands to folkloric dancing. Coinciding with the 10-day fair is the Cabalgata Horse Parade held each year on March 19 which celebrates the patron saint of David, Saint Joseph. The parade is made up of over 5,000 horses and is attended by thousands who line the streets for the celebration.
Soccer
Up for watching a lively soccer game? Then get to Estadio San Cristóbal stadium to see the Chiriquí team, Atlético Chiriquí play. You can find the schedule at Futbol Chiriqui.
Is it Safe to Live in David?
By Nanette Witmer
David has its share of crime, like many North American cities of the same size, but violent crime is rare.
David continues to attract new residents who easily fit in right away. As a single woman that has lived in David for nearly eight years, I never have any problems going anywhere in the city by car or on foot during the day. I personally don't drive or walk around the city at night alone but then I never did that when I lived in Denver either. I feel safe no matter where I walk around the city and I find that the Panamanians who live in David are friendly, considerate, helpful, and kind.
As a precautionary measure, most homes are gated but thieves tend not to target homes and cars that have alarms or theft protection.
Is Drug Use Allowed in David?
No. Drugs are not legal or tolerated anywhere in Panama. There are stiff penalties if you are found with drugs. There is also no legal medical marijuana in Panama.
Is Prostitution Legal in David?
Yes, prostitution is legal throughout Panama. Prostitutes are registered with the government and can be found at many establishments in David, usually local bars.
What Areas of the City Should You Avoid?
As in all cities, there are problem areas in David. Some examples include the eastern side of the city, the airport road, etc…
Rent in David, Panama from $400 a Month
By Nanette Witmer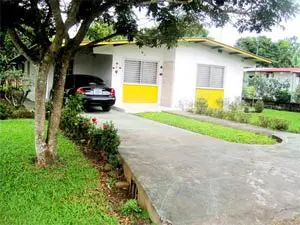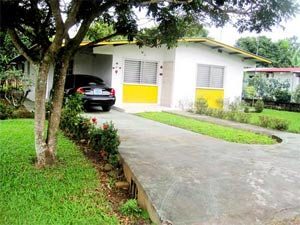 David is a city of over 164,000 people, providing a large diversity of housing options for renters. Living in David affords you all the amenities needed as an expat—great restaurants, shopping, healthcare, and entertainment are all within a 15-minute drive. The city is also centrally located within the province of Chiriquí, allowing for an easy 30-minute drive to the beach and the Boquete region.
The downtown area has several apartment complexes and smaller homes for rent. You also have the choice of renting in one of the many urbanizacións (neighborhoods) just outside of the city, which have a more relaxed, country feel. All areas of the city, including surrounding subdivisions, have access to city bus routes and taxi services.
You can find homes and apartments to rent in David for as little as $400 a month. These are typically unfurnished Panamanian-style homes within walking distance of shopping, medical, and transportation, which can make them ideal. They usually have two bedrooms and one or two bathrooms. The kitchens in these homes are designed to accommodate smaller-sized refrigerators and stoves. The living rooms open to small dining areas. Washer and dryer hookups may be inside or on the back porch area. The lots themselves are generally large with shade trees and most have carports. These types of rentals generally will not have air conditioning. Most homes in this price range will give you around 1,000 square feet of living space.
In Panama, unfurnished means there are also no appliances with the rental. However, many expats find unfurnished rentals more appealing if they have shipped down their own belongings or prefer to furnish a home themselves.
Furnished rentals of condos, apartments, and homes start at $650 a month, depending on where they are within the city. David now has two gated communities of condos, one of which specializes in furnished rentals for expats. These condo rentals have two bedrooms and two bathrooms, covered parking, and swimming pools.
You can also find upscale neighborhoods that have larger homes for rent for upwards of $750 a month. These homes tend to have air conditioning in addition to larger kitchens, back porches, and private landscaped yards.
It is common in David for your lease to also cover garbage and water. The electric bill will be in the name of the owner and the rental agent or owner will send you the electric bill every month to pay. You will need to set up your own account for cable, phone, and internet.
Generally, rentals will not have alquiler (rental) signs posted. The easiest way to find rentals in David is by talking to other expats or locals. You can also contact local real estate offices, get on expat forums where rentals are listed, or find rental agents who work with expats and know what they are looking for.
The rental market in David does not have a low season or high season of occupancy so it is always easy to find a good selection of rentals in your price range.
5 Reasons to Move to David
By Nanette Witmer
Location, Location, Location
One of the biggest reasons why people move to David is its location. It just does not get better than David. The manageability of the city, as far as traffic, can sometimes be problematic during rush hour but most expats have figured out that it's better to avoid being out during those times. From one end of the city to the other only takes about 15 minutes, making anything you need quick and easy to find. Hospitals, shopping, doctors' offices, and restaurants are an easy few minutes away.
It's an easy drive to the nearest beach in 30 minutes and Boquete is also a half an hour's drive away. You could say that David is smack in the middle of so many things that expats love to do; it makes an excellent home base.
The climate, too hot for some… is a dream for others. While residents of the highlands go inside in the evenings because it's too cold, Davidians are outside in the evenings enjoying the perfect tropical temperatures, often strolling in the city parks, eating outside at fashionable restaurants, or having friends over to just enjoy sitting outside.
Transportation
Another upside to David is the excellent local transportation system. Taxis are available anywhere in the city for around $2.50 for a one-way ride. Local buses service neighborhoods and outlying areas for just 35 cents one way. You never have to walk far from where you are to find a way to get around and cheaply. So, it's not necessary to own a car if you live in David and many expats don't.
If you find it necessary to rent a car there are several car rental businesses throughout the city in addition to those at the airport that charge a nominal fee for a day rental. Davidian expats always like to take trips up to Boquete. A bus ride from the David terminal will only cost you $1.75.
The well-paved four-lane Pan-American highway runs through David to Panama City and in the opposite direction, to Costa Rica. So, you can easily hop on a bus at the David bus terminal to go to Costa Rica or Panama City for under $17 one way.
The local David airport is centrally located in the city. At the Enrique Malek International Airport, you can park for free and fly to Panama City to either the Albrook Gelabert Airport or the Tocumen International Airport where you can connect to international flights.
Infrastructure
Living in David offers you more reliable services than many other areas nearby. Electricity outages are minimal in David with a more stable, reliable upgraded system. The same holds true for cable and internet services which have improved dramatically in the past few years, now offering faster internet and more choices. IDAAN the water company has been implementing updating of pipes and systems in David. Currently, David rarely has water outages compared to the highland areas in Chiriqui.
You won't lose a phone signal in David either. All the cell phone carriers have top-notch reception.
One other note worth mentioning is that all the services you use have offices in David making it very convenient to start and stop service without traveling to a nearby city to take care of any concerns.
Convenience
You can ask any expat or local and they will tell you for most things they have to come to David to either buy it or get it done. While that may not sound important, depending on where else you live in Chiriquí, you will need to set aside a day to get things done.
If you live in David however, you can easily accomplish all your errands in an afternoon whether that's banking, rotating tires, or looking for that elusive brand you want in your pantry.
David is where the large hardware stores are, chain grocery stores, big-box Pricesmart, car dealerships, car repair, furniture stores, delivery pizza, and some great restaurants.
David is where you will get and renew a driver's license, deal with immigration, pay traffic fines, and get documents notarized. It's where your specialized doctors will be. The two private hospitals, Mae Lewis and Hospital Chiriquí, and the Regional Hospital Dr. Rafael Hernandez (the public hospital) are the only hospitals in the province where you will be able to get certain medical services such as mammograms, cat scans, MRIs, and X-rays done. It is also where you will be taken to for most emergencies if you live in Chiriquí. David offers an ambulance service too, unlike many of the nearby areas.
Also, David is where you find several optical shops, dentists, pharmacies, and physical therapy offices.
Cost of Living
Your budget in many ways may determine where you live. One of the great things about a city and David, in particular, is the amount of housing available and the diverse range of housing or accommodation you will find.
Generally, you will find that housing costs are at least $200 to $300 less in the city of David than in other areas of Chiriquí. The more population the more competition so the prices are lower.
In David and surrounding outlying areas, you will find newer subdivision homes with three bedrooms, one or two bathrooms, kitchen, living room, and laundry area with covered carport. These tend to rent unfurnished for $500 to $700. Older more Panamanian-style homes run about the same to perhaps less. You can also find apartments that have more square footage but run less, $400 to $600. Since rental costs are the biggest part of a budget, you are already saving by living in David.
Entertainment can cost less too because there is more variety. Restaurants in David are numerous. David has many of the chain restaurants from North America along with great Chinese restaurants, Italian, Sushi, Mexican, Pizza, local fish restaurants, Panama-style food buffets, burger joints, and more. All are reasonably priced for the local's budgets.
You can easily find a good flick to watch at one of the three movie theaters for under $2, join in yearly festivals and parades, attend the annual International Fair in March, and much more.
The lifestyle David provides is drawing more and more expats who find their necessities for living and having fun easily and comfortably met in David.

Get Your Free Panama Report Here:
Learn more about Panama and other countries in our daily postcard e-letter. Simply enter your email address below and we'll send you a FREE REPORT — Panama: Easy, First-World Living and the World's Best Retiree Program.
This special guide covers insider advice on real estate, retirement and more in Panama. It's yours free when you sign up for our IL postcards below.
Day Trips From David
By Nanette Witmer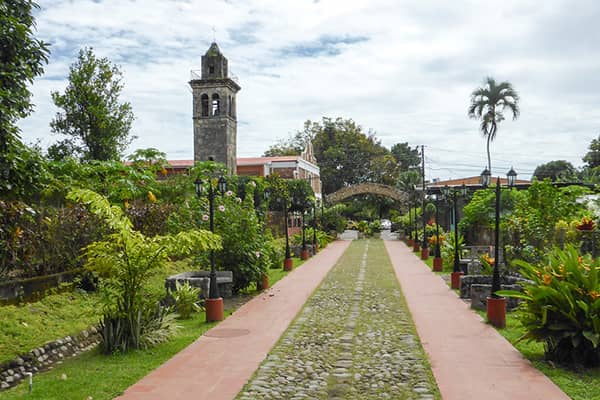 One of the best reasons to live in David is the availability of several day trip adventures you can easily do within two hours of home. There are always new places to see and lots to do in the Chiriquí province. The roads are excellent, signs are well marked, and you won't get lost. Just use Google Maps, a Waze app, or a GPS to easily find your way around.
There are dozens of cool places to check out and many you will undoubtedly return to once you find out how much you enjoyed them. So, strike out, bring some water, a lunch, a camera, and prepare for fun!
Los Cangilones de Gualaca
For a pleasurable summer day out when you want a little cooler escape not far from home, check out the swimming hot spot, Los Cangilones de Gualaca. It's located on Highway 10 in the town of Gualaca if you are coming from the Boquete side and Highway 21 if you are coming from the Pan-American highway. It's about a 45-minute drive from David on a rambling country road that meanders through fields with great views of the surrounding countryside. When Highway 21 ends in the town, to your left you will see a Terpel gas station. Here you turn right and then turn left just past the stadium for another quarter of a mile drive until you see the parking area.
The river here narrows as it flows downhill entering a narrow canyon where the locals love jumping from the cliffs above into the narrow channel to test their skill. For those choosing a less intensive experience, the force of the narrowed channel opens into a deep wide shallow pool where people swim and lounge with tubes and other floating devices. The banks of the river are lined with flat lava rocks that make perfect places to have a picnic under shade trees hanging over the river in a beautiful setting. It's a great place to spend a nice afternoon.
Boca Chica
Boca Chica is a seaside town about one hour's drive from David. It sits overlooking the ocean and year-round offers great outdoor activities. Do not let the small population of only 440 discourage you from thinking there isn't anything to do there. Boca Chica is the access point to the Parque Nacional Marino Golfo de Chiriquí, a national marine park that covers almost 57 square miles and protects 25 islands and 19 coral reefs. For starters, you can take a water taxi on the short five-minute ride to the island of Boca Brava where you can hike, rent kayaks, or eat a nice lunch at the Hotel Boca Brava Lodge—all while hearing howler monkeys and experiencing the wildlife on the island. The views are breathtaking. Make sure you bring binoculars to catch sightings of dolphins and native birds.
If you want something more exotic you can always take a day trip to Isla Bolanos or Isla Gamez, both small deserted islands lined with palm trees, a sandy beach, and excellent ocean waters for snorkeling or just soaking in the warm water. If you have your own transportation to Boca Chica, water taxis are available at the pier for a reasonable price or you can use one of the tour groups such as Boquete Outdoor Adventures to put the whole day together for you including transportation, lunch, beverages, and pick up in David if more than three people are going.
Humpback whale watching season here is from July through October and is another fun outing that you should not miss. Make sure to pack your camera, wear sunscreen, a hat, and have fun!
In addition, this is a great area for deep sea fishing where you can always find tour operators and fishing charter boats available to take you out. Sportfishing catches include Yellowfin Tuna, Black Marlin, Sailfish, Striped Marlin, Mahi Mahi, Wahoo, Roosterfish, Grouper, and Snapper. A day out usually eight hours with provided gear, bait, lunch, and drinks start at around $1,150 for a professional private charter service.
Volcán/ Cerro Punta
Birdwatchers, hikers, lovers of archaeology, fishermen, orchid fans, and those who love beautiful scenery will enjoy a day trip or several day trips to the areas surrounding Volcan and Cerro Punta. Just over an hour away from David the difference in climate and scenery is dramatically noticed. Volcan with a population of just 12,000 has always been a tourist destination for those living in Panama City and is a popular vacation spot. So, Volcan has its share of quaint bed and breakfasts, small lodges, great restaurants, and a view of Volcan Baru that can't be beaten. The highlands of Volcan with a much cooler climate are covered with flowering trees, bushes, and tall stands of evergreens that you won't see elsewhere in Chiriquí.
Volcan sits in the shadows of Volcan Baru, Panama's only volcano at 11,398 feet and as such provides a haven for wildlife and birds. The popular Quetzal Trail goes from Cerro Punta to Boquete where hikers enjoy the six hours and 15 miles of some of the most breathtaking views in Panama.
Fishermen and women find the refreshing small river, Rio Chiriquí Viejo running alongside the road from Volcan to Cerro Punta an ideal place to put in a pole to catch some trout.
The amazing archeological site just outside of Volcan, Sitio Barriles is open most days for a private tour of the dig site that has revealed pottery from as far back as 300 to 900 AD. The covered pit once excavated remains open for viewing along with a small museum where artifacts line the walls. Petroglyphs are found on large boulders within the site suggesting further investigation is needed to uncover more secrets underground. The entrance fee is small as the place is run by the owner who enthusiastically gives guided tours.
If you love orchids, there is a place you must visit in the Cerro Punta area, Finca Dracula. Only open for part of the year, January through April, this orchid farm hosts over 2,000 orchid species and thousands of hybrids. The owners have opened up their farm for tours of their most famous species. Their tour now includes a cactus garden, a garden pond with native plants of the area, and an inside tour of their hothouse where they grow orchids. The entrance fee is $10 for a tour in English, other options are available so check them out at Finca Dracula.
Las Lajas
All locals know the best beach in the province is Las Lajas. Notice I did not say best beach town because, in reality, Las Lajas is just a very small quaint village about five miles from the beach. However, the road past the town of Las Lajas continues to the beach where you will find miles of white sand and the shoreline dotted with small homes. The road from the Pan-American highway ends directly at the beach. Turning left you will immediately see a line of thatched awnings where you can park your car, get out, and enjoy strolling or swimming on the expansive shoreline.
There are only two small boutique hotels here. The Las Lajas Beach Resort and Show Pony Resort where at each you can buy a great lunch with fresh fish and local cuisine. Generally, you won't see many people enjoying the beach, and more than not, you will have the place to yourself so you can enjoy boogie boarding and swimming to your heart's content.