Panama Real Estate: Get More Bang for Your Buck
If you're considering buying a property in Panama, you'll be happy to hear that Panama welcomes foreign buyers.
And, you get a lot of choice: from cosmopolitan city living…to a cool getaway in the coffee-growing highlands…to a swish Pacific beach retreat.
You'll find that your real estate dollar gets you more bang for your buck in Panama. You can bag a luxury beachside condo…or an amazing city pad…for less than you'd expect to pay in a modern, thriving, tropical country.
If that's got you interested, let's take a look at three of the most popular locations in Panama for overseas buyers.
Where to Buy Property in Panama
The first thing you need to figure out when you're buying a property in Panama is where you want to buy.
Panama is a small country, with a landmass smaller than the state of South Carolina. But, it offers a diverse range of settings, three of which top most property buyers lists: the vibrant capital city; the cool, green highlands; and the sun-splashed Pacific coast.
Let's start with the capital city, Panama City. It is a growing city with a metropolitan population that tops 1.5 million. It's a true capital city—home to great shopping, nightlife, dining and entertainment…with a tropical flair.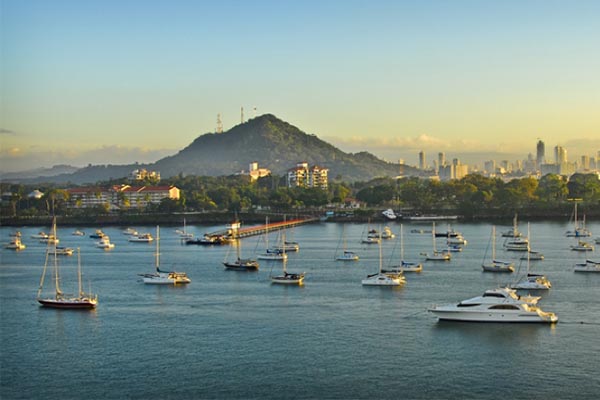 The downtown city core is relatively compact, with lots of skyscrapers, big commercial centers and shopping malls, hotels and high-rise condo blocks. In neighborhoods like El Cangrejo, you're so central that you can walk to everything…but the tradeoff is the hustle and bustle.  Betania, on the other hand, is quieter—but you'll really need to own a car (or take taxis, which is very cheap) to live comfortably here.
Get Your Free Real Estate Report Now
Sign up for our free daily Postcard e-letter and get a valuable free report on the The 5 Best Places to Buy Real Estate In 2023.
Our Top Three City Spots to Live in Are Cerro Ancon, Casco Antiguo and San Francisco.
Cerro Ancon is an amazing neighborhood that's a 15-minute drive to downtown. It's popular with both expats and Panamanians. A "cerro" is a hill, and Cerro Ancon is just that. It's lush and green and filled with wildlife.
Many homes feature large, covered patios and terraces, overlooking forest and greenery. You can sit with a cool drink and watch the wildlife go by. I've seen parrots and toucans; Geoffroy's tamarins (a tiny monkey found only in Panama and Colombia); coatis (like a raccoon); and even sloths.
Most of the properties here are single-family homes, sometimes split into apartments. The feel is relaxed and suburban. It's very appealing to families and those who want somewhere that's close to the city, but a little quieter, with plenty of outdoor space.
Property Samples in Cerro Ancon:
A seven-bed plantation-style house. It's got some nice original features (such as doors and wood floors) but it could do with a makeover. It's got a very large covered terrace and parking for two cars. The asking price is $370,000.
A more modern four-bed four-bath house with two studies and plenty of storage space. There's parking for three cars and two terraces including a large, covered terrace which is great for entertaining. The asking price is $875,000.
Casco Antiguo. This is Panama City's historic district. For many decades, its grand and stately buildings fell into disrepair…and it was not a safe place to live or visit.
Government tax incentives introduced in 1997 kick-started its gentrification. Today, candy-colored buildings sit around leafy plazas, visitors flock to sights such as the San Jose church with its golden altar…and folks gather in the evenings to eat, bar-hop, or people-watch. It's a tourist must-see and hipster haven.
Casco probably has the highest density of eateries anywhere in the city. It's a tiny area, but home to more than 80 restaurants, cafes, and bars (at the last count!). You can eat sushi…French croque monsieur…wood-fired pizza…and upscale Panamanian cuisine in Casco. You can also catch a pop-up movie, live jazz, art and fashion shows…or just soak up the (very) cool atmosphere.
Property Samples in Casco Antiguo:
A 96-square-meter (1,033 square feet) one-bed condo. The condo features exposed stone walls and pasta floor tiles. It's in a good, central location. The asking price is $295,000.
A much larger two-bed condo on the market has a private roof terrace, and parking (a big plus in Casco). The asking price is $650,000.
San Francisco boasts a good central location but is a bit lower density and greener than other city center locales. It's got big supermarkets and shopping malls, nice restaurants and wine bars, pharmacies, beauty parlors, banks, and casinos.
And, it's got Parque Omar, one of the largest city parks. You can join regular yoga or Zumba classes in the park…walk your dog…or jog on the long trails or running track.
San Francisco feels a little more residential than more downtown neighborhoods while still being very close to everything you want or need to do.
Property Samples in San Francisco:
A two-year-old condo with two bedrooms and bathrooms covering 70 square meters (753 square feet), close to amenities and a metro station. It's fully furnished. The asking price is $155,000.
A huge penthouse condo in a luxurious building. The condo has 340 square meters (3,658 square feet) with three bedrooms, four full bathrooms plus a guest bathroom, and two large terraces with panoramic city views. The building has a swimming pool, gym, and two social areas. The asking price is $470,000.
Outside Panama City, your real estate budget will go further. Panama's Chiriqui province is a highlands haven…with rippling streams, waterfalls, mountains, meadows, and a fresh climate.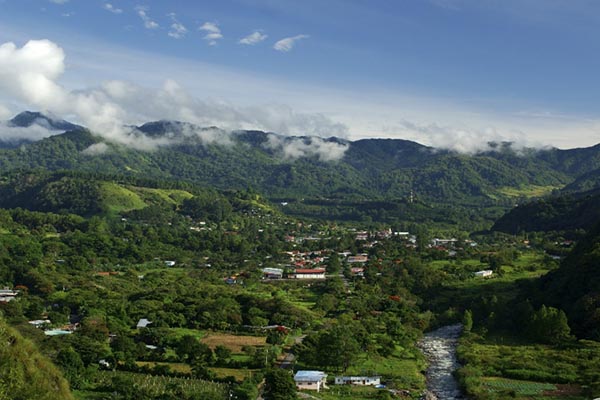 This region is known as the breadbasket of Panama, producing most of the country's milk, coffee, fruit, vegetables, and flowers. Little roadside stands sell fruit and vegetables fresh from the farm.
You'll come across lots of farms and ranches. There's even a famous orchid farm with one of the largest collections of rare orchids in the world.
It feels like a slice of pastoral paradise. North American retirees and second-home buyers started coming to the highlands more than 15 years ago. They came for the climate, the low cost of living, and the quiet rural charm. Most settled in and around the town of Boquete.
Boquete hosts jazz, flower, and coffee festivals. There are great restaurants and cafes and bakeries in town. The expats run a Lions' Club; a Rotary Club; a public, bilingual, lending library; a spay and neuter clinic; and language and handcraft classes.
Property Samples in Boquete:
A two-bed two-bath single-family home on a quarter acre of land. The home has lots of outside space and patios, a gazebo, covered grilling porch, fruit trees, and parking for six cars. The asking price is $199,000.
A one-bed one-bath condo in a quiet neighborhood which is walking distance to downtown is on the market for $147,000.
In Volcancito, a home has been reduced from $350,000 to $299,000. It has four bedrooms and three bathrooms with a remodeled kitchen, wood floors, and high-end finishes. The mountain views from the home are gorgeous.
Panama's Pacific coast is the most developed coast, especially the stretch that runs west from Panama City to Farallon. It's got excellent highway access from the city and its international airport, so it's a popular destination for locals and tourists alike for weekend getaways and longer vacations.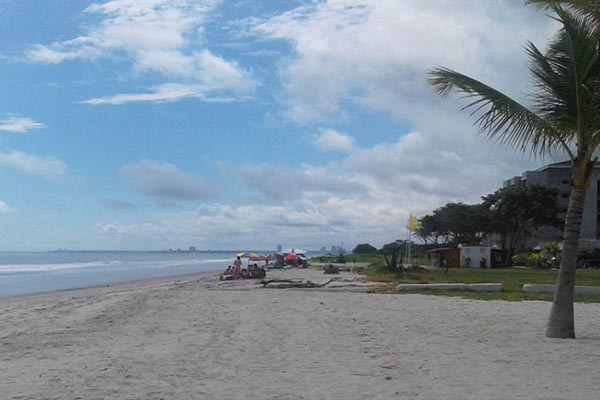 There aren't any large beach towns in this area but you will find golf courses, big resort hotels, well-stocked supermarkets, and restaurants and cafes.
Coronado is the largest and most established community on this piece of Pacific coast. Panamanians have been building beach homes in Coronado since the 1940s. Today, it's got a mix of single-family homes and condo blocks—and boasts a couple of hotels, a golf course and equestrian center, a clinic, plus restaurants and cafes. Outside the gates of the community are big supermarkets, a wine store, a hardware store, a bank, and a beauty parlor. Some folks live here all year, and others spend part of the year in Coronado, escaping the winter snow and ice back home.
The beach at Coronado isn't the prettiest on this coast (it's got black sand and isn't the safest for swimming). The best beaches are at San Carlos, around an 80-minute drive from the city, and in Punta Chame, which is less than an hour from the city.
Punta Chame is much less developed than Coronado but boasts beautiful white-sand beaches and views of the city skyline in the distance from some parts of the peninsula. There's one big hotel, as well as some inns and B&Bs. Lots of well-heeled Panamanians have beach homes in this area.
Property Samples on Panama's Pacific Coast:
A four-bed four-bath house in Coronado on a quarter-acre lot. The home has lots of outside space, a barbeque area, and a plunge pool. The asking price is $310,000.
A condo in a beach and golf resort in San Carlos. The three-bed condo has ocean and golf course views. The condo comes fully furnished. It's in a private community with a swimming pool, gym, beach club, and restaurant. The asking price is $299,000.
How to Buy Property in Panama
Purchasing property in Panama is similar to buying back home…but there are some important differences. Here are the steps you need to follow:
Step 1: Agree a price. Panama does not have a Multiple Listings Service, where you can check listings prices by neighborhood, or a website like Zillow that allows you to check recent sold prices. You should talk with local real estate agents to get an idea of current market values. You can also look at websites such as www.encuentra24.com, where sellers, agents, and developers all list property for sale—it's a good way to get a ballpark figure on the fair market value for the property you're buying. And, never go in at full list price. Most of the time, there's wiggle room in the asking price, so negotiate the best possible price (or have your real estate agent negotiate on your behalf if you're shy about doing this).
Step 2: Confirm the title. Your attorney in Panama can check in the public registry to make sure that the property you're buying has good, clean title. The attorney can also verify the size of the property, the boundaries, if there are any liens or mortgages on it, or any restrictions (such as the property being zoned as residential rather than commercial).  Your attorney needs to check that the registered owner is the person selling you the property…it's a big red flag if they're not! And, make sure you're getting titled (also known as fee simple) property, which is the most complete and secure form of ownership.
Step 3: Enter into a promise to buy/sell agreement. Once you're satisfied your property is titled and free of encumbrances, you can sign a promise to buy/sell agreement, which should lay out the terms and conditions of the sale and set a date for closing/transfer of title. At this stage it is typical to pay a deposit to the seller. Normally, the agreement calls for a penalty if either party backs out (which means forfeiting your deposit—so ask that the seller faces an equal penalty if they back out). At closing, both parties should sign a final buy/sell contract.
Step 4: Transfer the title. For the final buy/sell contract, your attorney should conduct an additional search to ensure that no liens or mortgages have been filed since they first researched the property. The contract in final form is then drawn up as a public deed, and all parties must sign in the presence of a notary.
Step 5: Transfer the funds. The top tip here is never pay the seller directly. There is an easy, established, and safe way to pay in Panama. It's called an irrevocable letter of payment. You pay the funds to a local bank in Panama and they issue a letter to the seller telling them they have the money and will release it when certain terms and conditions are met (such as title transferring and any mortgages or loans on the property being paid off). Your attorney can help you to set this up.
Step 6: Record your purchase at the public registry. This can be done in as little as 10 days if your attorney files the documents in Panama City. It can also be done even more quickly, using a next-day service, if you pay an additional fee (and provided all your documents are in order). Once the registration process is complete, your attorney will give you the registered title deed. Finally, have a copy of the deed filed with the tax records department: this is a vital step, as only then is the property transfer complete and the property truly yours.
Get Your Free Real Estate Report Now
Sign up for our free daily Postcard e-letter and get a valuable free report on the The 5 Best Places to Buy Real Estate In 2023.
Other Facts You Should Know About Buying Property in Panama:
Real Estate Agents & Their Fees
Real estate agents in Panama must be licensed by law, so check that the agent you are using has a valid, active license. The typical agent fee in Panama for a property sale/purchase is 5%. This is paid by the seller.
There is no real concept of a buyer's agent in Panama. If you ask a real estate agent to show you some listings, they will usually first show you their own listings…and then perhaps listings from other agents (where your agent will split the 5% fee with the listing agent).
Escrow & Title Insurance
There are no escrow services in Panama, but there is a good alternative—the irrevocable letter of payment outlined in Step 5 of the Steps for Buying Property in Panama.
Title insurance is also not available in Panama, so you really need to get a good attorney on board to ensure the title of the property you buy is good and clean.
Some Ownership Issues You May Come Across in Panama
Panama welcomes foreign real estate buyers. You have almost the same rights as Panamanians…with a few exceptions.
There are some restrictions on foreign ownership of waterfront and island property.
And, untitled land must be owned by a citizen of Panama for a minimum of two years before it can be sold on to a foreign buyer. After the two-year period, the land can be titled and resold without restriction. (Note: Some untitled land can never be titled, so get professional advice before you decide to buy.)
Under Article 286 of the constitution, foreign ownership of property within 10 kilometers (6.2 miles) of an international border is forbidden. Panama borders Colombia and Costa Rica. You'll see lots of property advertised (often by fellow foreigners) in these exclusion zones, in places like Puerto Armuelles, so do your homework and find out if you can legally own what you're planning to buy.
Then, there are some issues that apply equally to foreigners and locals alike.
By law, all beachfront properties must provide a public right of way starting from the highest tide to the property line, so the public can walk along the beach.
Permits to build over the water or for a marina can take a long time, a lot of red tape, and a lot of money to get.
Getting clear title to property in some parts of Panama can be tricky, too. A good portion of the country lies in comarcas (Indigenous reserves), which are independent, sovereign states. Don't even try to buy property in these zones; many before you have already tried…and failed!
In areas like Bocas del Toro, much of the land is not titled. It's derecho posesorio, possession rights…and many foreign buyers who have purchased this type of property have come unstuck, losing the property and the money they paid for it. Our advice: stick to titled/fee simple property.