By Gabriele Walkow
Once a well-kept secret, Playa Venao is coming into its own with a welcoming beach buzz, attracting younger expats and international visitors alike. A leisurely five-hour drive from Panama City, Playa Venao is on the southern tip of the Azuero Peninsula, 30 minutes south of bustling Pedasi, on the Pacific Ocean.
Rolling hills spill down to a sparkling crescent-shaped bay ringed with marbled black and golden sand. A colorful cluster of restaurants, cafes, and beach bars; laidback resorts and charming hostels; and busy surf shops stretch along the gently curving beach.
Retire in Playa Venao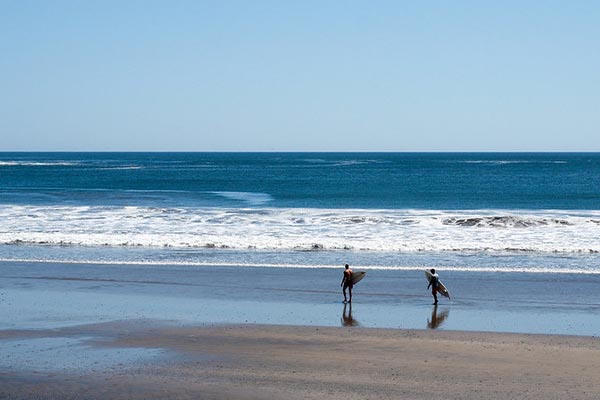 Primarily a vacation destination, Playa Venao is home to about 350 full-time residents, with numbers that swell on weekends and during national holidays. These residents are mostly comprised of younger international, pre-retiree expats who own or work at businesses; or work remotely—creating a tight-knit, friendly expat community that is certain to grow in the years to come.
Playa Venao is located in the driest part of Panama, known as the Dry Arc. Dry season runs from December to April and wet or green season runs from May to November. With temperatures averaging between 75 F to 88 F, residents can enjoy their sun, sea, sand, and surf playground year-round.
With its consistent waves, active surf culture, and warm waters, Playa Venao beckons to locals and visiting surfing enthusiasts of every skill level. Board rentals and surf lessons are offered at many of the hotels, hostels, and surf shops that dot the beach. Locals have their own boards, of course!
While surfing is the biggest attraction in Playa Venao, there are many other things to do, including deep-sea fishing, snorkeling, diving, hiking, bird watching, yoga, and horseback riding.
Kayak and stand up paddle boarding eco-adventures are also popular, as are humpback whale watching (late June to mid-October) and turtle hatching (July to November) opportunities.
Best of all, during the week it's not uncommon for residents to have the beach and surf all to themselves. Although visitor numbers increase during national holidays as Panamanians flock to their beloved playas (beaches) to enjoy family time, the expansive beach never feels crowded.
Playa Venao is a relatively young community, less than 15 years old, and as such draws younger, working expats in their 30s, 40s, and 50s. And reliable fiber optics is a draw for digital nomads seeking a laidback beach vibe
Expats in Playa Venao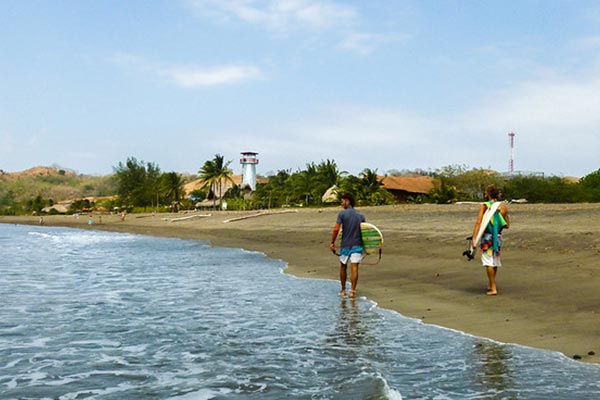 "The residential development of Playa Venao is too recent for the area to have much of an established expat community," explains Ted Tennis from Panamá Equity Real Estate, who is also a long-time Pedasi/Playa Venao expat originally from Michigan. "Venao is primarily a vacation destination and the folks who call it home full-time tend to be younger than in other communities, where the expats are primarily retirees, and they either work in the area or work remotely online."
Julie Cortesi and husband Jules Van Godtsenhoven, both 43 years of age, are perfect examples of this demographic. They have lived in Lomas de Playa Venao, a residential development in the hills overlooking Playa Venao, for nine years. A family melting pot of Belgian, Swiss, American, and Panamanian, they found their way to Panama through friends.
"Life really is often shaped by the choices you make," says Jules. "After living in the U.S. for five years we wanted a change and friends of ours had just moved to Panama. We wanted to travel around Columbia at that time and stopped over in Panama to visit with them. We met a developer through them and bought a parcel of land sight unseen in Playa Venao.
"We returned to the U.S. to finish some business and when we came back to Panama to finally see the land, it was a nice surprise and we said, 'let's try this!'"
And they haven't looked back since. Shortly after arriving they started building their home, which led to the creation of their own business Balsamo Builders, offering quality, custom homes. While Jules is busy managing four projects in the hills in nearby Canas, Venao, and El Ciruelo, Julie is the mastermind behind the company's operations. In addition, she also does property and rental management and home schools their three children, ages 6, 10, and 13.
"There is a good mix of cultures here in Playa Venao," adds Julie. "Currently about 30 families are living here but I think there will be more moving here in the near future because it's a great place to raise a family. Our kids have many international friends. They speak English, French, and Spanish, with a few words of Hebrew."
Although there is a healthy mix of generations in Playa Venao, older retired expats tend to live in El Ciruelo, a quick five-minute drive from Venao. This small fishing village with its own picturesque beach offers affordable long-term home and apartment rentals. Many of the retirees own oceanfront homes or homes with breathtaking coastal vistas. This lower-cost area is now also drawing younger expats who live in El Ciruelo but work in Venao.
Lifestyle in Playa Venao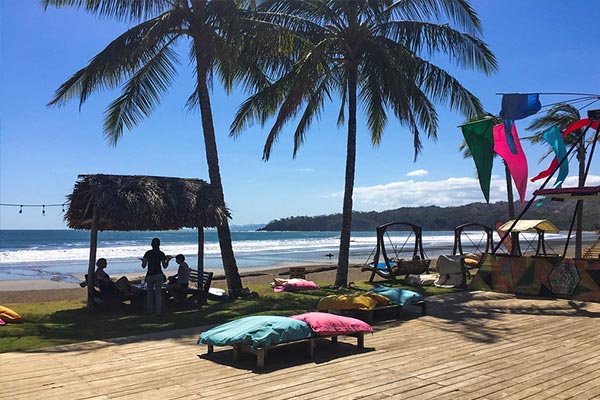 This vibrant surfing community has a growing roster of amenities which include: a mini-market; bakery; full-service laundromat; tour company, which also offers scheduled shuttle service to Panama City and Tocumen Airport; a few clothing boutiques; over 20 restaurants, bars, and coffee houses; and a range of accommodation from upscale resorts to eco-friendly hostels.
As the population of Venao grows, additional shops and restaurants are opening. A gas station complex is a welcome addition and a large supermarket is also in the works for the beach village.
Another recent addition, this one right on the beach, is Wao Venao, a collection of 12 food kiosks and a lively bar, offering enticing cuisine options and comfortable seating areas.
Venao has a lively ambiance in the evenings with many of the beach bars offering music, often featuring expat bands, or DJs. Residents from Pedasi come to Venao for a night out and to mix and mingle. The action here continues long after sunset!
Expats seeking something quieter head to a secluded beach bar and watch the perfect sunset with a drink in hand.
Pedasi, about 30 minutes away, has several well-stocked stores, three gas stations, and a hospital. For more serious shopping, expats travel to Las Tablas, an hour and 10 minutes from Venao, and Chitre, an hour and 45 minutes away. Both are much larger centers and offer a host of amenities and professional services.
"We never tire of where we live," says Jules. "We have exceptional views and our place is soothing. This is a beautiful, natural environment to raise children and we always find time to surf. We also have some animals and a garden. For us everything happens outside."
Cost of Living in Playa Venao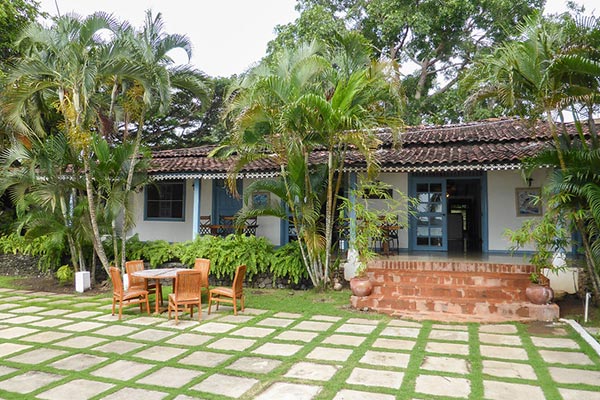 Although not inexpensive, Playa Venao does have a range of furnished, long-term rental options, offering unforgettable toes-in-the-sand experiences. Currently, a longer-term two-bedroom, two-bathroom beachfront rental during coveted high season (December to April) or during holidays runs at between $3,000 to $4,000 per month. This drops to $1,800 to $2,000 per month during the low season (May to November), with somewhat more availability.
More affordable options include the area hostels with long-term rentals at $600 to $1,000 per month. This accommodation tends to be more dormitory-style with a shared kitchen.
With only 500 or so finished homes and condos and about 100 freestanding homes, it is worth noting that long-term rentals in Playa Venao are limited, especially during high season.
A handful of developers are building homes for sale on the beach and in the steep hills just behind Playa Venao. Both areas offer a rich lifestyle. A house on the beach gives easy access to the sand and surf while homes in the hills come with stunning vistas.
Properties range from a luxurious two-bedroom, two-bathroom home in a popular gated beach community for $249,000, with access to exclusive resort amenities, to a sprawling six-bedroom, seven-bathroom beachfront villa for $1.35 million.
View lots in this tropical paradise, found in the lush hills behind Venao, start at $100,000 and up, with building costs running around $900 to $1,000 per square meter.
In nearby El Ciruelo, long-term rental costs range from $450 to $1,300 with a stronger roster of year-round rentals available.
Monthly Budget Breakdown for a Couple Living in Playa Venao:
| | |
| --- | --- |
| Expense | U.S. $ |
| Rent (two-bedroom apartment during low season) | $2,000 |
| Electricity (with AC at night) | $150 |
| Cell phones | $70 for two phones |
| Internet | $60 |
| Groceries | $450 |
| Cleaning lady for twice a month | $50 |
| Gardener for once a week | $100 |
| Private healthcare | $15 for two people |
| Monthly total: | $2,895 |
The Takeaway
The growing expat population in Playa Venao enjoys an active, healthy lifestyle in a spectacular natural setting. Whether relaxing oceanside with sand, sea, and surfboard close by or in the verdant hills scattered with grazing cattle and horses, young expats and retirees alike savor a rich and picturesque rural lifestyle.