Weather and Climate in Panama
Known for its lush, verdant landscapes, Panama has a tropical maritime climate. It is warm and humid at sea level, with slightly cooler weather in mountain areas.
In the Americas, the Pacific hugs the west coast while the Atlantic borders the east…with one exception. In Panama—thanks to its unique east-west orientation—the Pacific rims the southern coast and the Caribbean Sea (a suboceanic basin of the Atlantic Ocean) sits to the north.
As a result, this is the only place in the world where you can see the sun rise over the Pacific and set over the Caribbean. At certain high elevations, you can see both oceans at the same time. That's because Panama is an isthmus, measuring less than 40 miles at its narrowest point.
Unlike North America, Panama doesn't have four seasons. Here, you get the wet or "winter" season and the dry or "summer" season. Summer usually starts in December and ends in April. On the Pacific coast, in places like Panama City and Coronado, rains start gradually with frequent showers. From May through July these tend to happen in the afternoon, and they tend to last an hour or two at most. People here simply adjust their day accordingly…hanging the laundry out to dry early in the day, for example. It is often sunny before and after an afternoon rain. Truly gray days are very rare on Panama's Pacific coast. Even on the much rainier Caribbean coast, you're likely to see the sun in the morning or late afternoon.
The Pacific coast of Panama receives 50 to 70 inches of rain a year, while Caribbean and mountain regions get 100+ inches. Temperatures at sea level tend to average 88 F during sunlight hours and about 78 F after sunset/before sunrise. The highlands tend to be 10 to 15 degrees cooler.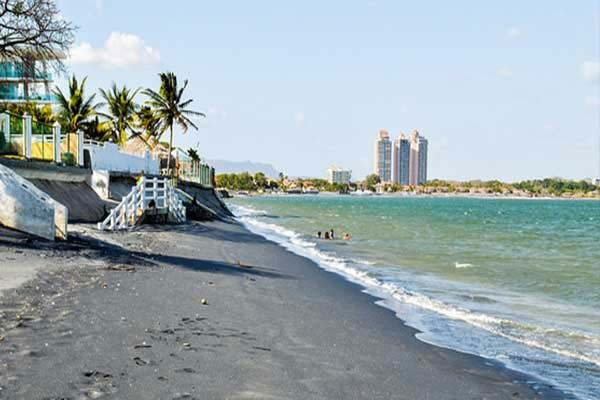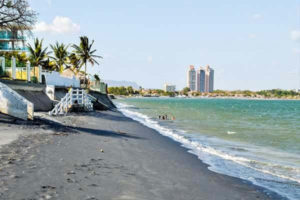 The Caribbean coast typically gets about 130 inches of rain a year…nearly double the average on the Pacific coast. Arco Seco or "Dry Arc" areas like the Coronado region and Azuero get even less, with places like Las Tablas and Pedasí often registering fewer than 40 inches. Lush Boquete, meanwhile, can get anywhere from 115 to 200 inches of rain per year.
Though flooding and major storms do occur, Panama is southwest of the hurricane belt and thus does not experience tropical cyclones. The country sits on its own tectonic plate—the Panama Plate—and tremors are common. In 1991 an earthquake measuring 7.6 on the Richter scale resulted in the loss of 28 lives in Panama's mainland Bocas del Toro region. The quake's epicenter was in Costa Rica and it is to date the only seismic activity on record to have caused such major damage in Panama.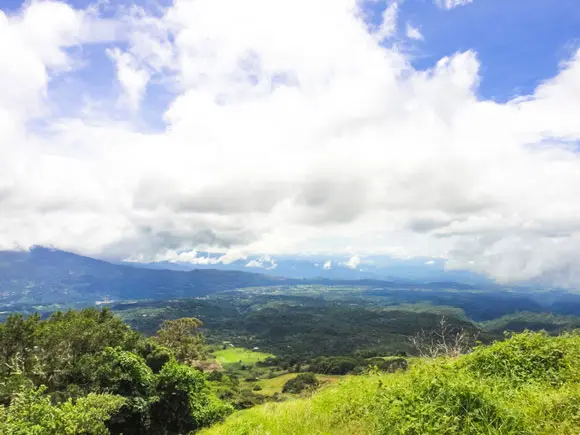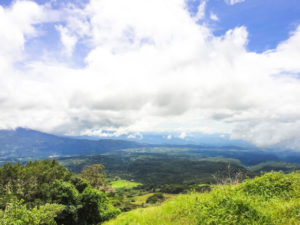 Panama's highest peak is the Barú Volcano (nearly 11,400 feet), which last erupted some 500 years ago. The mountain is part of the Volcán Barú National Park, one of about 50 national parks and reserves countrywide. There are only two other volcanoes in Panama: La Yeguada and El Valle. Both had their last eruptions thousands of years ago.
With trade winds early every year, two coasts, and a string of mountains along the Continental Divide, Panama is known for its microclimates. Winds and rainfall can vary drastically from one neighborhood to the next.
Despite the prolonged wet season, Panama is very sunny. Often mornings are sunny, with an hour or two of rain between 2 p.m. and 5 p.m. Even during the wettest months (August through November on the Pacific coast and in the mountains), there are rarely more than a few gray days in a row.
Many of Panama's national parks and reserves protect rainforest or cloud forest areas. In fact, Panama has preserved a greater percentage of its forests than any other country, and it's the only country in the world to boast a rainforest right in its capital city. Though humidity is high throughout Panama, there are "Dry Arc" regions that appeal to expats who prefer drier weather.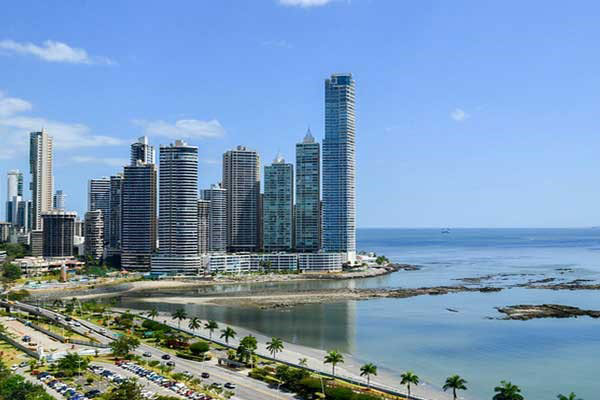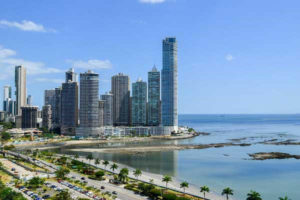 However there are many—like IL Panama Editor and Panama City resident Jessica Ramesch—who prefer the humidity. "It helps your skin retain moisture…it's one reason why Panamanians tend to look so much younger than their years. Plus, the rain helps keep the air clean and sweet and the scenery lush and green."
Below are Some Average Temperatures for Panama:
| | |
| --- | --- |
| | Summertime and Wintertime Temperatures |
| Panama City | 75 F to 91 F in summer/73 F to 86 F in winter |
| David | 73 F to 88 F in summer/ 73 F to 86 F in winter |
| Boquete | 61 F to 83 F in summer/61 F to 81 F in winter |
Best Time to Visit Panama
How I Came to Love Panama's Rainy Season
By Nanette Witmer
In Panama, we only have two seasons—wet and dry. Moving here to live my life as the fair-weathered girl I am, I was unprepared for my first rainy season. The change from hot summer days to thunderstorm-filled nights was literally an overnight occurrence.
At first, I was disappointed that I had lost my evenings of sitting outside, enjoying the night air with friends…but after a while, the rainy season became something I looked forward to. It's all about preparation and enjoying the beauty of the greenery that the season brings.
The first thing the rainy season did was make me more organized. Anything I must do or want to do, I plan to make happen early in the day. So, going out for dinner becomes going out for lunch. Day trips begin before eight in the morning. I find I get more done during the rainy season, because I am up earlier and go to bed earlier. The cooler nights and the sound of rain together make it easy to fall asleep.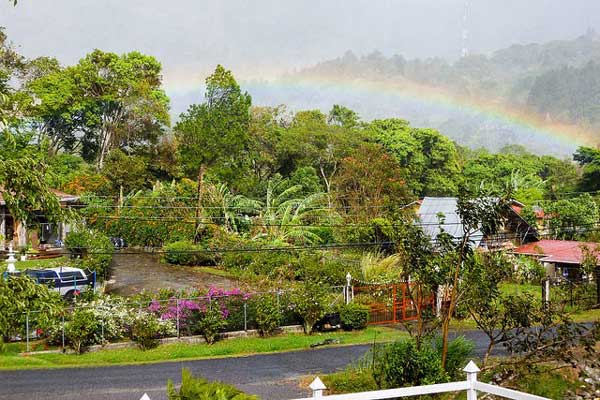 I trade in my fancy sandals for waterproof ones during the rainy season. Often, I find it easier to walk barefoot in downpours, saving my footwear altogether. After all, it's just water…and warm water, at that.
I always make sure to have my cellphone and tablet charged for those times when a storm knocks out the electricity supply. I also have two LED emergency lights that I keep charged so I can carry on when it's dark.
Lax as I am with my car at other times, at the beginning of the rainy season I fill my washer fluid, check the windshield wipers, and make sure my tires are at the correct pressure. I have had experiences of being caught in downpours where the wipers can't go fast enough. Cool and calm is the name of the game when I get caught in storms, once I know my vehicle is in top shape.
The great thing about Panama is that the weather is completely predictable, and that comforts me. In Panama, the rainy season starts usually in late April or May. The mornings are beautiful, with big, puffy clouds, and by late afternoon you can see thunderheads forming as they move down from the mountains towards the Pacific Ocean. Then magnificent light shows occur around dusk, with copious amounts of rainfall. Moving through the months leading up to October, the rain starts earlier in the day and the amount of rain increases. October is the rainiest month, with November having less, and by mid-December all the rain ceases until the following April.
Almost without exception, every afternoon or evening will see the sky turn black, with rolling thunder followed by lightning. Generally, you can hear the rain coming from far away, moving towards where you are, gaining strength and momentum until the roar of it closes in. It is truly awesome to see, and I never get tired of watching it happen.
Rainy season is beautiful too. Everything grows exponentially. I have never seen so many shades of green as I have while living here. The cane toads come out at night, and crickets chirp away. Friends and I gather inside, and sip wine while watching the light show that Mother Nature gives us at this time of year.
Feature image: ©iStock/SimonDannhauer