Many expats and retirees are attracted to the mountainous areas of Panama, known as the highlands. From west to east, these are the towns of Volcán, Boquete, Santa Fe, Sorá, El Valle, and Cerro Azul. While each has its own distinctive features, they all share common traits that benefit those who live there. Here's a look at the top five advantages of life in Panama's highlands:
Beautiful Scenery
Probably the most obvious benefit to living in the highlands of Panama is the scenery. All of the highland towns are situated in the Cordillero Central, a series of mountains that stretch across the center of the country from west to east. Whether at 1,500-feet elevation or 6,500 feet, they're all nestled among the peaks and valleys of these mountains, with stunning views wherever you look. Unspoiled rainforest covers the slopes, in some cases protected by national parks, with fresh mountain streams and waterfalls aplenty. The variety of vegetation is mind-boggling, from palm to pine trees, and hibiscus to heliconia. You simply won't ever get tired of gazing at the beautiful natural surroundings.
Perfect Weather
What draws many residents to the mountain towns is the climate. For many, it's just about perfect…never too hot and never too cold. Temperatures typically range from 70 to 85 F in the daytime and 60 to 70 F at night, which means you won't need heating or air conditioning. The highlands get plenty of rainfall, but usually in the afternoon or evenings, so mornings are often sunny and bright. A gentle mist called bajareque sometimes falls, keeping everything green and lush, while frequent rainbows paint the sky. Many residents will tell you this year-round spring-like weather is what they love about living in the highlands.
Healthy Lifestyle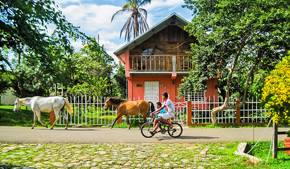 The near-perfect weather and natural surroundings both contribute to the next benefit of mountain living—the healthy outdoor lifestyle. With no snow or ice and lots of tropical sunshine, you can be outdoors all year round if you like. The highlands offer so many activities: hiking, bicycling, rock climbing, river rafting, kayaking, and bird watching to start. Too strenuous for you? How about photography, painting, gardening, yoga, or just relaxing in a hammock with a good book? Add clean, unpolluted air, farm-fresh eggs and dairy goods, and a wide assortment of locally grown fruits and vegetables and you'll understand why many who settle in the highlands say they enjoy better health and take fewer medications. It all adds up to a prescription for a healthier, more active way of life.
Affordable Cost of Living
No doubt another factor that contributes to better health is a reduced stress level that comes with highland life, thanks to a reduced cost of living. Not all of the mountain towns are equal in this category. Some are super-affordable, where a couple can live comfortably on $1,200 a month, including Santa Fe or Volcán. In the more popular destinations such as Boquete or El Valle your monthly expenses may run $1,500 to $2,000 depending on rent. Still, with low utility bills, affordable medical care, minimal transportation costs and well-priced grocery and household items, you'll have funds left over for entertainment and travel.
Location, Location, Location
Another benefit of the mountain towns in Panama is their locations. The towns dot the map in Chiriquí, Veraguas, Coclé and Panama Provinces, all across the country, so you can pick the one that suits you best. So even if you choose a highland home, you can still easily enjoy big city life and the beaches. In Cerro Azul, for instance, you'll only be about half an hour from all the amenities of Panama City. From El Valle and Sorá you're less than an hour from the Pacific beaches in Coronado, Santa Clara, or Chame. The growing provincial capitals of Santiago and David are a short drive from Santa Fe and Boquete, respectively. And the beaches of Chiriquí are within easy reach of Volcán and Boquete for a day of sun and sand. Yes, you really can have it all in Panama's mountain towns!
Get Your Free Panama Report Here:
Learn more about Panama and other countries in our daily postcard e-letter. Simply enter your email address below and we'll send you a FREE REPORT — Panama: First World Convenience at Third World Prices. 
This special guide covers insider advice on real estate, retirement and more in Panama. It's yours free when you sign up for our IL postcards below.
Get Your Free Report Here