Next week I travel from Ireland to Portugal…
I'm going to be scouting the hill towns of the Alentejo and getting back to my base on the Silver Coast.
Before that, however, I'll be getting boots on the ground in the Algarve.
Our opportunity there is super urgent, real estate deals are incredibly limited…and I don't want to miss a beat.
Yesterday, I told you about a report I've put together report detailing some of the best opportunities available in the Algarve right now.
Including a chance to lock down a discount of more than $53,000 on stunning luxury condos in the Algarve's best beach town…
This is a hot and urgent opportunity right at the heart of Lagos. The kind of deal that just doesn't come around, maybe ever again.
If you haven't gotten a copy of this report, Hot Opportunities on Portugal's Sunny Algarve, yet, here's how you can get your hands on it.
The report not only includes the details of the best deals I know in the Algarve, it also gives you the contact information you need to act on them…
Two of these deals are in the historic beach town of Lagos, where I've uncovered some of the most exciting opportunities on the Algarve in recent years…
This is the town where one member of my Real Estate Trend Alert (RETA) group bought and rented two condos that each brought in a 7% gross yield. Then, when he sold one, he turned a €180,000 profit.
I expect the deals in my report, that you can act on today, will see similar yields along with powerful capital appreciation. In fact, on the two-bed luxury condos you can lock down with a discount of more than $53,000, I figure you'll see 7% annual appreciation (that's after your 10% discount) and a 7% gross yield from rental income for the medium terms—and that's being conservative.
But there's more to the Algarve than pure profit plays…
In the eastern Algarve, what you'll find is much less "resortified." It's local, traditional, and offers incredible bang-for-your buck.
One opportunity I've come across gives you front-row, ocean-view condos on one of the last remaining lots within steps of the water you'll find anywhere on the Algarve.
Own here and just 10 steps from your condo you can be dipping your toes in warm, lagoon-protected waters…
Fuseta (also known as Fuzeta) is a white-washed fishing village that sits right in the heart of the Ria Formosa, a pristine system of deserted islands, white-sand beaches, and crystal-clear waters. It's a protected habitat of international significance.
And best of all, you can own here for a fraction of what similar properties sell for on the secondary market.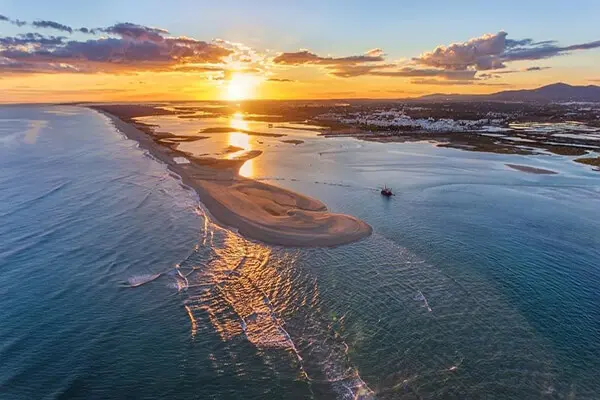 In fact, just a couple of hundred feet from this opportunity, is a place called Del Mar Village. The community is super high-end, and units sell here for upward of €1 million…if you can find any on the market. But owners simply aren't selling because what they have here is so rare.
In the same incredible location as Del Mar—just a couple of hundred feet away—you can own for half the cost.
And the cherry is a 10% discount on top. So, you can lock down spacious, luxury two-bed condos for €516,200 or about €1,500 per month using low-cost Portuguese bank financing.
Include the 10% discount and your price is €464,580 ($545,498)…
In the Algarve, that's unheard of for something this rare.
You can get the full details of the deal, along with a direct line to my contact in the Algarve in my report, Hot Opportunities on Portugal's Sunny Algarve. Like I said, I expect the deals in this report to go fast…so you don't want to wait too long if you're interested in reading this report.
To get a copy of Hot Opportunities on Portugal's Sunny Algarve, you must be a member of my Real Estate Trend Alert group…join today, and I'll send you my report, with all those actionable deals plus the contact details of those who can help you act on them, immediately.
Your Comments and Questions
Debbie says: Hi Ronan. Greetings to you from Philadelphia! I toured Portugal in May 2018 and absolutely loved every aspect of the experience, visiting Porto (so appealing to me), Bucaco National Park, Castelo de Vide (best meal here), Evora, Tomar, Coimbra, Fatima, Obidos, Alcobaca, Cascais, Nazare, and the beautiful countryside in between (completely enthralled with Portugal).
I've not been to the Algarve; however, I know a couple who moved there from Oregon in January 2021 (yes, during the pandemic)—they are extremely happy they made the move. At present, I am starting to educate myself about properties you've highlighted in Portugal. Many thanks to you for all the hard work gathering the information. At the moment, I am intrigued by Evora and the Silver Coast (where you apparently have your own apartment).
So, I am starting to plan a little bit ahead for my retirement, possibly in five more years, if all goes well. I work as a nurse consultant/trainer for the state's Office of Child Development and Early Learning (as a Pediatric Nurse Practitioner). No longer a clinician, I've worked from home for 15 years. I thrive on international travel and have visited 35 countries,14 as a solo traveler. Given my Irish roots, I took a two-week road trip along the Wild Atlantic Way and Connemara; stayed two nights on Inis Oirr (spectacular) enjoying the wind and ocean spray! Sounds slightly optimistic (or possibly crazy), but I have three trips planned in 2022: India/Nepal, South Africa/Zimbabwe/Victoria Falls, and Spain. I spent a week in Barcelona in 2019.
I am not a real estate investor. At this point, I am entertaining the thought of finding and buying a property with rental potential for most of the year (except when I want to stay there, maybe for a month?). The Silver Coast sounds really appealing to me—I truly want to be near the sea and prefer locations with beautiful natural landscapes. I prefer peace and quiet rather than hustle and bustle.
Upon my retirement, I think it would be ideal to own a condominium in Lewes, Delaware (where my brother lives) and a property in Portugal along the Silver Coast, not too far from Lisbon (to make the transatlantic travel easier).
Anyway, all this to say, I am learning a great deal from you! Not sure what I should do next about making this dream a reality, but at least I wanted to reach out to make a connection. Perhaps I should speak to a mortgage specialist to determine what I could afford. I was pleased to learn that one could get a mortgage on a property in Portugal with a very low interest rate, and with minimal money down—and then of course renting the property for leverage to pay the mortgage and expenses, etc.
Thanks so much for sharing your expertise!
Ronan says: The Silver Coast has a much shorter rental season than the Algarve. But, it's a place where you can cover almost all costs of ownership including mortgage by renting during the peak summer months. Essentially, this means you could live there for free for nine months of the year. I can't wait to go back in a couple of weeks. I haven't slept as well anywhere in my adult life as I do there…the light, the fresh sea air, the outdoor living, the lack of busy congestion that increases my stress levels…
Get Your Free Real Estate Report Now
Sign up for our free daily Postcard e-letter and get a valuable free report on the The 5 Best Places to Buy Real Estate In 2023.
Related Articles
Which Golden Visa Is Right for You—Spain or Portugal?