"I love everything about Spain," declares retired American Steve Aronberg. "I love the culture. I love the food. I love the wine. I love the beautiful weather with 300 days of sun a year. There are just so many wonderful things here."
Best of all, according to Steve, is the quality of life on the Costa del Sol. "It's very easy to live here."
Steve has lived in charming Benalmádena Pueblo, just west of Málaga, since 2017. He says, "Our little Pueblo has around 3,000 year-round inhabitants, but it is very close to the much larger cities of Fuengirola and Arroyo de la Miel.  It has traditional white homes, all within walking distance of the beautiful Plaza España." The Plaza, which features a fountain with a statue of a young girl known as "La Niña," is surrounded by many fine restaurants and shops, including the beautiful La Fonda Hotel designed by the Spanish artist and architect César Manrique. Just down from the Plaza is the Church of Santo Domingo with sweeping views of the coast and the Alboran Sea.
He was introduced to the area by a friend who lived there. "I had visited Spain a number of times. I was just here on vacation in 2016, and my friend asked, 'What would you like to do?' I said, 'Why don't we have a look at real estate, just to see?' She said, 'I have a friend who is a real estate agent.' We went out looking, and three days later, we found our home."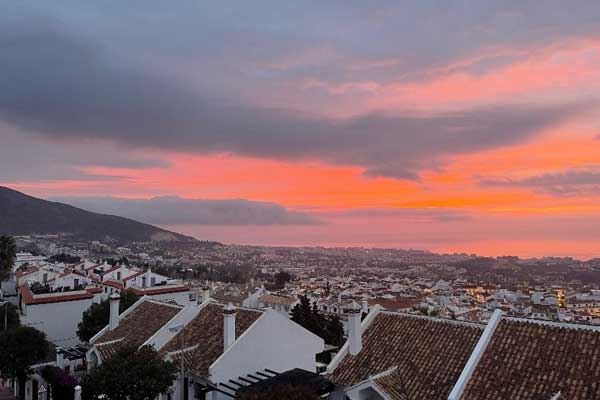 For less than $219,000, they purchased a penthouse with ocean views. Their home has three bedrooms and two baths on two floors and includes an assigned covered parking space. Their large balcony provides an expansive 180-degree view of the Mediterranean Sea. They are just a short 10-minute walk from the inviting restaurants and shops of Benalmádena Pueblo. Steve says, "You would be very lucky to find a small studio condo in the Washington D.C. area for that price in a not-so-nice neighborhood."
At the time, Steve was living in Alexandria, Virginia, doing consulting and teaching for the U.S. government. His Danish-born husband works as a flight attendant for an American airline. "At first, we just wanted to get a place here that we would eventually retire to. It turned out that we decided that I would fully retire and live here full time. He is still working, and he commutes back and forth." As the spouse of an EU citizen, Steve was able to get residency immediately without having to apply for a visa.
"When we were in the process of buying our house, they wanted to know what our relationship was. We said, 'We're married!' It didn't seem like it made any difference at all. I have found people to be quite accepting. It's a very gay-friendly place."
Get Your Free Spain Report Here:
Learn more about Spain and other countries in our free daily postcard e-letter. Simply enter your email address below and we'll also send you a FREE REPORT - Live the Good Life in Sunny, Affordable Spain.
This report covers real estate, retirement and more in Spain and is yours free when you sign up for our IL postcards below.
The neighboring community of Torremolinos is internationally known as a LGBTQ+-friendly resort. Steve observes, "Even though Torremolinos has a lot of gay-friendly restaurants and hotels, it's sort of just OK to live among everyone else. I don't focus on surrounding myself with LGBTQ+ people, but instead to have LGBTQ+ friends and straight friends. It's not something we even think about."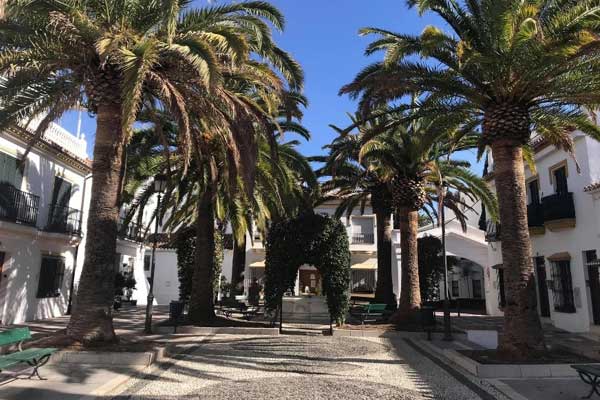 Steve finds living on the Costa del Sol very affordable. "We have a local restaurant that offers three tapas and a glass of wine or beer for $8. The food is excellent, and the tapas are easily enough to fill you up.  You can order a very nice bottle of wine in most restaurants for $20 or less. If you spend more than €50 ($54.73) per person for dinner here, you are eating in a very posh restaurant.  Fresh produce is plentiful and cheap, especially in the local markets.  In season, you can buy a kilo (2.2 lbs.) of avocados for $1. Wine is also a bargain.  You can find a nice bottle of red or white in the supermarket for $5 or less. You can hire a housekeeper easily here for $10 to $12 per hour." Gasoline and electronics are the only expensive items.
After living in Spain for five years, Steve still speaks very little Spanish. "I think part of the reason is the area where I live. There are a lot of British expats on the Costa del Sol. This is a problem as well because you don't really need to learn Spanish to survive. You won't be immersed. Even in restaurants, when I say, 'Agua, por favor,' they say, 'Would you like ice?' It makes it difficult. You really have to be dedicated to learn Spanish. One of my goals is to become, if not fluent, at least able to conduct conversations in Spanish."
Life in Spain does have some challenges. For Steve, one of the biggest was getting a driver's license. "Because there is no reciprocity between the U.S. and Spain, you basically have to start from scratch. I had to sign up with a driving school, and I took about 12 one-hour classroom lessons. Then you have to do practice exams for the written test. You can take it in English. However, it's translated directly from Spanish to English, and they use a lot of British terms, so I had to familiarize myself with the British terms. You have 30 questions, and you can only get three wrong to pass. The questions are tricky. All the multiple-choice answers might be right, but one is most right. It makes it very difficult. I was fortunate that I passed it on my first attempt. Then I found the practical test to be even more difficult because I had been driving for 47 years, and I had my ingrained habits. It took me three attempts before I finally passed."
Steve advises other North Americans who are considering moving to Spain to come and visit, "Travel to different places in Spain and get a taste of what it would be like. Take some time and go to places that sound interesting. See what is right for you."
Watch Marsha's full interview with Steve below:
Expat Bio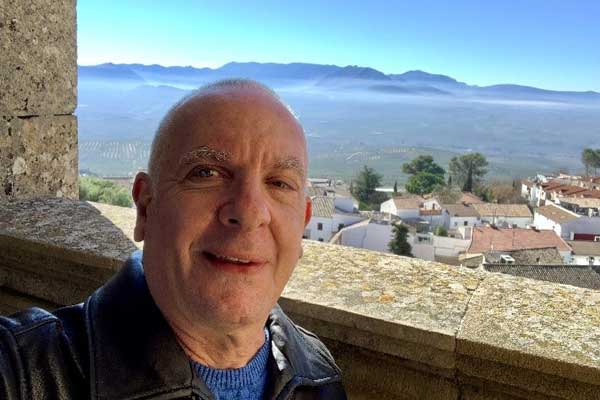 Born in Germany, where his father was stationed with the U.S. Army, Steve Aronberg grew up in New Bedford, MA, and graduated from the University of Massachusetts in Amherst with a degree in Business Administration. He spent his career working for the U.S. government in Washington DC and San Diego, CA, where he met his future husband. He worked for the Equal Employment Opportunity Commission for 25 years, "I am a strong proponent of equality.  I am fortunate that I could spend the majority of my working career supporting civil rights.  I was also fortunate to be able to retire at the young age of 55."
Get Your Free Spain Report Here:
Learn more about Spain and other countries in our free daily postcard e-letter. Simply enter your email address below and we'll also send you a FREE REPORT - Live the Good Life in Sunny, Affordable Spain.
This report covers real estate, retirement and more in Spain and is yours free when you sign up for our IL postcards below.
Related Articles
Video: A Tour of Benalmádena, Spain
My 5 Favorite Seaside Towns in Spain
Five Places to Live in Spain; Two to Avoid
Upcoming Conferences
Live Better, Spend Less, Retire Sooner
IL's Retire Overseas Bootcamp
October 21-23, 2022 in Atlanta, GA

In safe, warm, welcoming communities abroad, as little as $1,700 a month can bankroll a good life... this fall, our experts will show you where—and how.
Early Bird DISCOUNT—Save $100 When You Register by Sep. 29
Details Here IL's Retire Overseas Bootcamp
---
Registration Now Open for the Best of Europe Private Screening

In the Right Spots in Europe, You Can Retire in Style—in an Historic, Sun-Drenched Locale—for as Little as $2,300 a Month or Less—Especially Now With the Dollar and Euro at Parity for the First Time in Two Decades.
And We'll Show You How, October 1-2, During the Special All-Online Best of Europe Private Screening.
---
The Income Revolution Forum
What if You Had the Freedom to Enjoy the Good Life Anywhere in the World You Wanted to Be...and Get Paid While You're There?
We'll show you how—with hands-on guidance—you could beat inflation...secure your retirement...ditch your commute...and turn a skill you already have into a portable side income of $300, $600, even $3,000 or more a month.
Popular Articles You May Also Like