The lively coastal city of Benalmádena is situated on Spain's Costa del Sol, sandwiched between Torremolinos and Fuengirola, just seven miles from the well-known city of Malaga. With a population of more than 61,000, visitors flock to its beaches that can easily be accessed by the tiled promenade lined with shops and restaurants. Besides the usual amusement parks, aquariums, casinos, and tourist hangouts, Benalmádena offers tourists some special finds.
Are you interested in retiring abroad? Yes | Not Sure Yet
The impressive mariposario, or butterfly house, features more than 1,500 exotic butterflies from around the world. Encompassed in a lovely tropical garden with an area of 10,000 square feet in a 26-foot-high enclosed area, butterflies are free to fly, eat, and interact with visitors.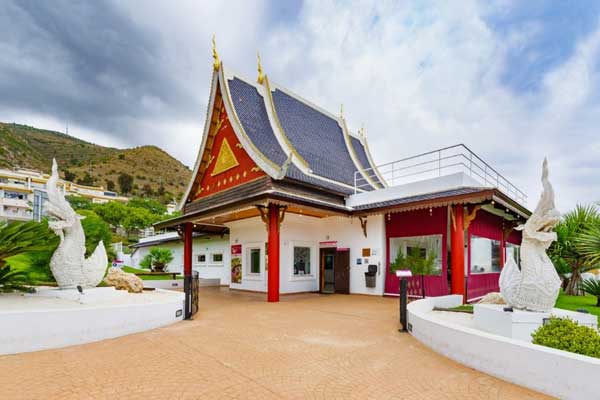 Lush, green tropical plants and fruit trees are set among bridges, streams, and water features that are home to exotic birds, turtles, fish, chameleons, and even a tammar wallaby. With more than 150 different species of butterflies present, the center has a reproduction center where 70% are born in-house while the other 30% are imported from their natural habitats. Butterflies are imported from tropical countries such as the Philippines, Malaysia, Belize, Costa Rica, and Kenya. During transport, butterflies are still in the pupa or chrysalis stage and then are put into hatching cages where visitors can witness them hatching right in front of their eyes. The admission price is $8 to $12 with discounts offered to those over 65 and children.
Nearby the butterfly house is the magnificent 108-foot-tall Buddhist temple and stupa set in a natural garden with paths for reflection. Although a bit unusual to find in a Spanish coastal tourist haven, the temple was the brainchild of Buddhist master Lopon Tsechu Rinpoche from Bhutan and supported by the local government. Once inside the tiny temple visitors are advised to walk in a clockwise direction while making a wish, and hopefully, it will come true. Entry to the temple is free.
A short drive from the temple and butterfly house is yet another spectacular gem that should not be missed.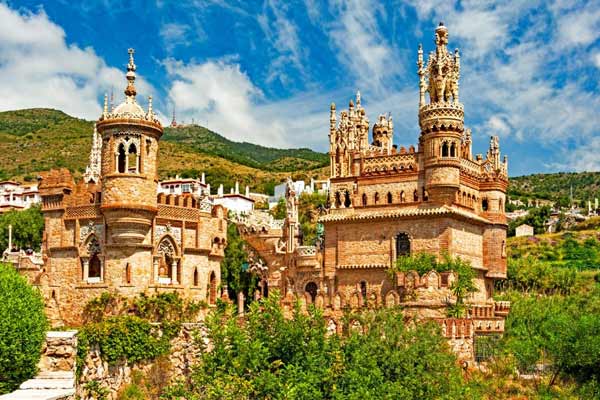 The Castillo de Colomares is more of a massive, ornate complex of wonder than a castle since it's certainly not ancient but is nothing if not magnificent. Dedicated to the life and discoveries of Christopher Columbus, this fairy tale-like complex was meticulously carved in the most minute detail using symbolic representations of the discoveries including the three ships that made it to America. Visitors can stroll through every different section, climbing in, out, and onto each one. When purchasing a ticket to enter the complex, visitors are given a printed brochure describing each section for more information in almost every language, including English.
It was an American physician named Esteban Martin along with two bricklayers that the doctor hired who designed and paid for this entire project which took seven years to complete. Construction began in 1987 and the last stone was laid in 1994. Using a combination of stone, brick, and wood the monument tells the story of how Columbus discovered America. Various architectural styles were incorporated including Byzantine, Gothic, Roman, and Mudejar.
Castillo de Colomares is the largest monument in the world to honor the explorer and his accomplishments. Yet despite its immense size at over 5,000 square feet, it features the smallest church in the world, at just 21 square feet, which has been recorded with Guinness as a world record. Next to the tiny church is an empty mausoleum and there is hope that one day it will hold the remains of the explorer. Although the elaborate tomb of Christopher Columbus is proudly displayed in the cathedral of Seville, it is said to hold just a few ounces of his remains while the rest have been relocated to the Dominican Republic, yet no one really knows for sure. Ticket prices are a mere $1.30 for seniors and kids and $2.36 for the general public.
For the best views overlooking Benalmádena and the gorgeous Mediterranean coast take the cable car up to the top of Mount Calamorro. Once you reach the summit hikers will enjoy following trails or enjoy nearby horse or bird shows. A round-trip ticket to the cable car runs around $23.
Across from the cable car station visitors can visit Tivoli World, a large amusement park with rides, entertainment, and shows for a full day of family fun. The cost for general admission is $19.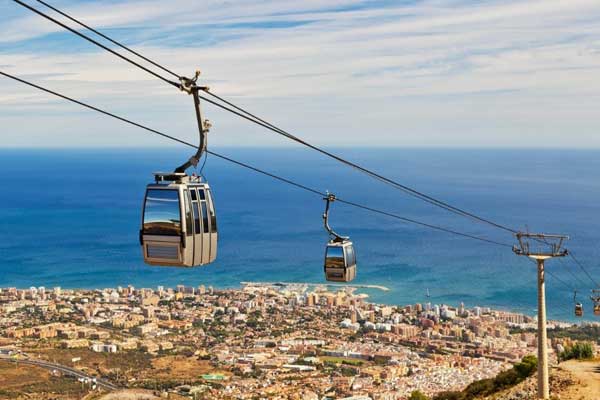 Of course, no visit to the Costa del Sol of Spain would be complete without some fun in the sun on one of the many gorgeous beaches. Sink into the supple sand, cool off in the fresh, blue waters of the Mediterranean Sea, or sip cocktails from your sun lounger.
The largest and most popular beach in the area is Playa Malapesquera, with a Blue Flag distinction that makes it the perfect spot for everyone. With sheltered, shallow waters, lifeguards on duty during the high season, nearby bathroom and shower facilities, and chair and umbrella rentals it has something for everyone. Nearby green areas with playgrounds are perfect for the little ones, while teens may delight in playing beach volleyball in designated areas to get away from the grownups. At the south end of the beach, stand-up paddleboards and kayaks can be rented for a nominal fee.
Situated on the beach itself is a chiringuito or beach bar that serves drinks, tapas, and small meals to satisfy your tummy when it grumbles. Whether it's fresh fish you crave, meat dishes, or even vegetarian, this beachfront bar is happy to accommodate. A portion of fried calamari can be had for around $9 or try some scrambled eggs with shrimp for around $10, with a glass of freshly made gazpacho for another $3.
Watch Terry's video tour below:
Get Your Free Spain Report Here:
Learn more about Spain and other countries in our free daily postcard e-letter. Simply enter your email address below and we'll also send you a FREE REPORT - Live the Good Life in Sunny, Affordable Spain.
This report covers real estate, retirement and more in Spain and is yours free when you sign up for our IL postcards below.
Related Articles
My 5 Favorite Seaside Towns in Spain
Five Places to Live in Spain; Two to Avoid
The Best Places For Every Budget in Spain
Upcoming Conferences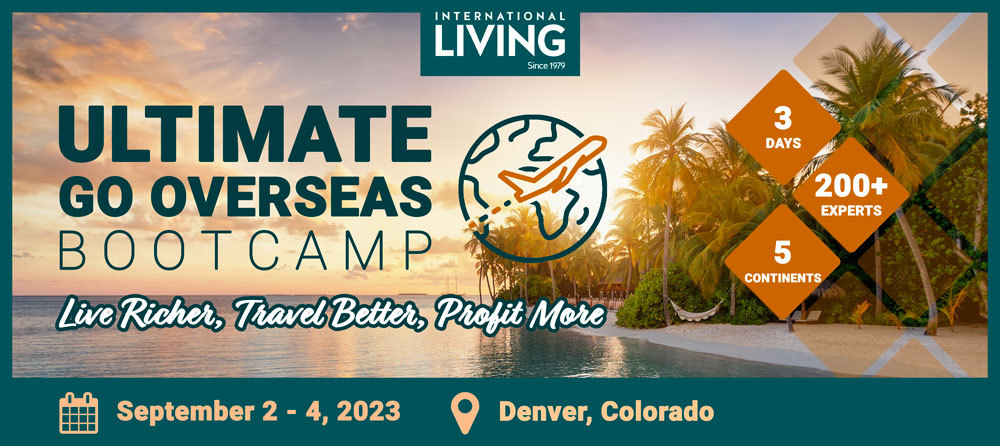 Most Popular Products
Popular Articles You May Also Like