Who doesn't love a seaside ambience? The tang of salt on the air, the cries of seagulls, and sailboats rocking at their moorings… And in Spain, where seaside locations so often come with plentiful sunshine, sandy beaches, warm days, and sea breezes, they can be especially appealing.
Here are five of my favorite seaside towns in Spain. They're lively enough—with shops, restaurants, and more—to appeal even in winter, when it may be too cold to dip your toes in the water. And they're a good base for non-beach outings, as well.
Castelldefels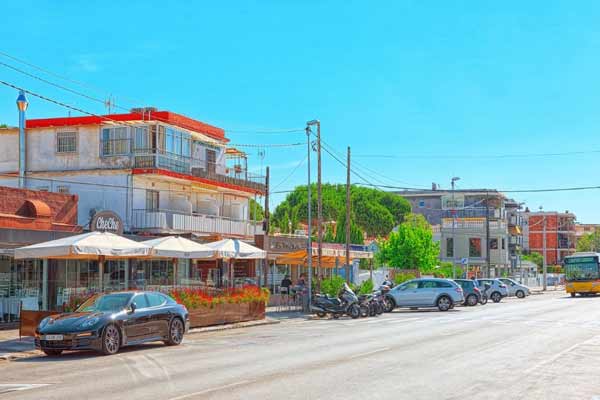 Just 20 minutes south of Barcelona on a convenient suburban train line, Castelldefels is known by locals as "the beach of Barcelona." The town sits along a long, wide, sandy beach that is lined with pleasant seaside restaurants and bars, many with outdoor seating where you can enjoy a drink and tapas or even a full seafood meal. Castelldefels is not as famous as Sitges, the next stop on the same train line…but it is less frequented by tourists, especially in high summer.
Castelldefels proper, with its shops, businesses, and many apartment buildings, sits slightly inland. As a result, residents in town can enjoy the mild seaside weather, but aren't surrounded by bathing suit-clad beach fans. Walk less than half a mile, though, and you're back at the beach and its full-on beach vibe. Expect it to be hopping in summer, but even in winter the weather can be mild enough to enjoy sitting at an outdoor café.
If you're coming from Barcelona, you have two train stops to choose from. You can get off at the town of Castelldefels itself. Or, if your main interest is sandy beach and blue Mediterranean waters (with a lunchtime break at an outdoor café, or terraza), then get off at the stop for Castelldefels Platja, or beach.
Though Barcelona has its own urban beaches, Castelldefels, with its low-key vibe, makes a nice seaside day-trip from the metropolis. But don't expect to have Castelldefels to yourself: Locals know how good they've got it—you'll find plenty of them enjoying the beach year-round.
Sanlúcar de Barrameda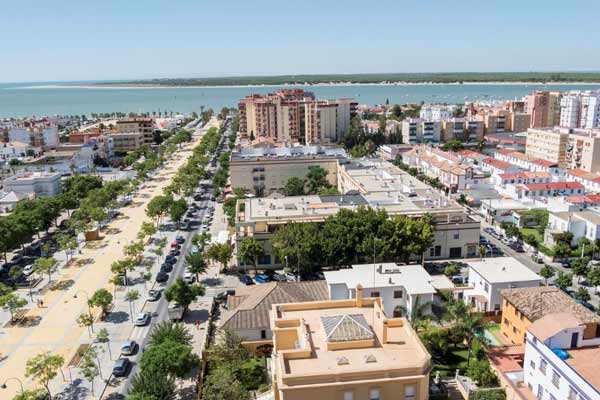 This seaside town in far southern Spain graces the country's Atlantic coast. The third leg of Spain's Sherry Triangle, Sanlúcar is home to the sea-salty sherry variety known as manzanilla.
Technically speaking, this town of about 66,000 people is not on the sea. Rather, it's on the left bank of the Guadalquivir River, right at its mouth. But the shore is sandy, the river is tidal, and the sea is nearby. Another plus: Right across the river is the Doñana Nature Preserve, whose salt marshes are a key breeding ground for migratory birds—over 300 varieties can be spotted here.
Sanlúcar is easy-going and laidback. Stroll through the town and you may stumble upon a sherry bodega, as I did. If so, get a tour of the facilities, with its sherry-aging barrels that are often hundreds of years old.
My tour cost just €4 ($4.64) and included samples of three different sherries. I stayed on in the bodega's little restaurant for a lunch of the area's plate-sized tapas and another sherry. By the time I'd finished, the bodega's shop had closed. But, not wanting me to leave empty-handed, the restaurant obligingly filled an empty liter Coke bottle with sherry from the tap in the bar—an old-fashioned custom that has died out now in many parts of Spain.
In addition to sherry, Sanlúcar is known for the horse races that take place every August…on the sandy beach along the Guadalquivir River.
Sanlúcar is slightly difficult to reach, as it's not on the main train line between Madrid and Cádiz. To get there, simply take the train as far as Jerez de la Frontera, the best known of the sherry towns, and take a bus from there. The trip is about an hour. Or it's an easy drive.
Santander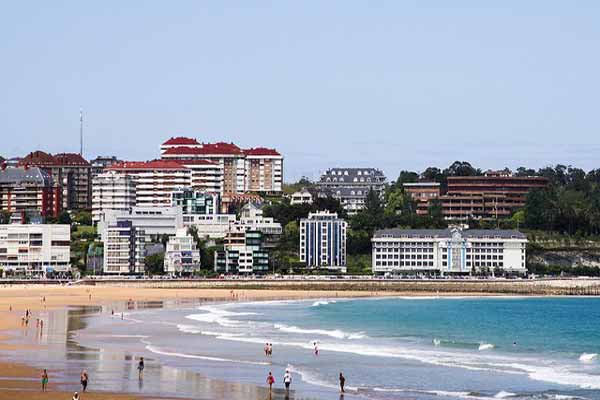 Santander, the capital of the province of Cantabria, lies on Spain's green, northwest coast. This port city of about 178,000 people still manages to maintain a bit of a small-town feel. It has several beaches, but the most famous is the long expanse known as El Sardinero, right in town.
You may not always get sunshine in Santander, as its climate is much like that of the U.S.'s Pacific Northwest. (In fact, Santander actually gets less sunshine than destinations farther west along Spain's north coast.) But if the day clouds over, it's a great opportunity to enjoy the city's fabulous wealth of seafood: shrimp, razor clams, sardines, squid, and more. And when the sun shines, Santander's broad avenues and the sea beyond El Sardinero are spectacular.
The city is also a great base for exploring the Cantabrian coastline. This province—one of Spain's loveliest—is little known among North Americans. Here green mountains often run right down to the sea, and much of the coastline is a series of small coves. The sea water can be cold—this is the Bay of Biscay, after all—but it's spectacular hiking and exploring.
Just half an hour from Santander, and slightly inland, is the village of Santillana del Mar, considered one of the most beautiful villages in Spain. Stone houses, many with flower-filled balconies, and cobblestone streets are the norm here. Santillana may be packed with tourists in high summer, but come off season and you can enjoy its bucolic charm.
And near Santillana is the cave of Altamira, famous for its 35,000-year-old cave paintings. The original cave is closed to the public, but the museum is worthwhile and the grounds are green and lovely.
After a busy day in Cantabria—whether you're enjoying the beach, the mountains, or villages like Santillana, end the day with some seafood tapas and perhaps a glass of fizzy hard cider, a regional specialty in Cantabria and nearby Asturias.
The Resorts: San Sebastián and Sanxenxo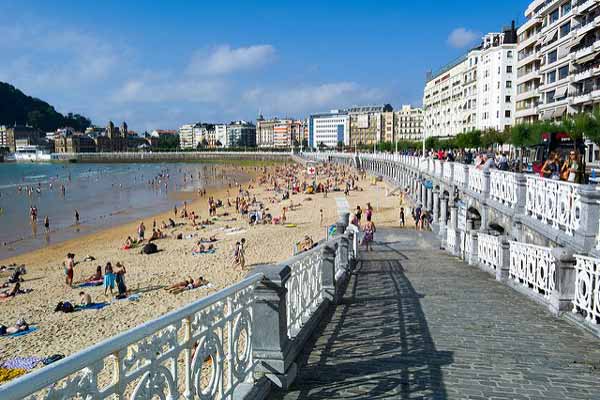 Hankering for a touch of glamor, Spanish style? Then take a squint at San Sebastián or Sanxenxo.
San Sebastián may need no introduction. This city on Spain's north coast, just a 10-minute drive from the French border, has been a chic resort since the late 19th century. The half-moon arc of Playa de La Concha, with its golden sand, is famous for its beauty. And San Sebastián's Belle-Epoque architecture lends an elegance all its own. Swim in the sea, shop in the boutiques…and thrill your taste buds with San Sebastián's sublime cuisine: Half of Spain's 3-star Michelin restaurants are in San Sebastián, and the tapas bars are a foodie's dream. This isn't a cheap destination—at least for accommodation—but it's a great place to treat yourself.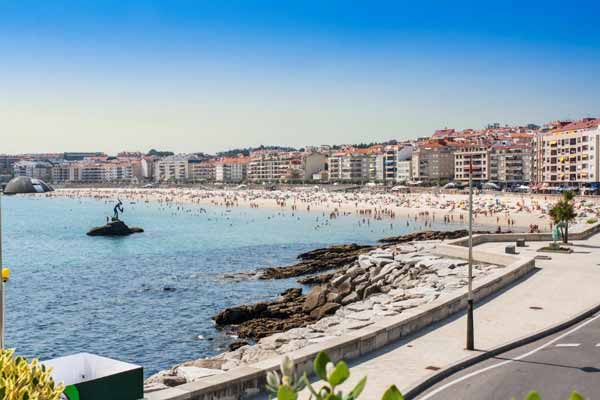 Sanxenxo is less well known outside Spain. On the coast of Galicia, the far-western province that lies just above Portugal, Sanxenxo is Galicia's most exclusive—and expensive—beach resort. The white-sand beach is attractive and the town itself is clean, modern, and prosperous. Sanxenxo is very popular with the locals, called Gallegos, and you may see fewer foreigners than on Mediterranean beaches.
Two big attractions to Sanxenxo for me are its proximity to the lovely city of Pontevedra, with its well-kept, medieval historic center and Gallego cuisine. This seaside province, with its mild climate and abundant rain, offers succulent seafood, a wealth of fresh vegetables, and crisp white wines. (Albariño is the better known of the local wines, but Ribeiro is making great strides.)
So if Sanxenxo's prices are too steep for your wallet, enjoy its beach…then head home to Pontevedra for fabulous food and a good night's sleep.
Get Your Free Spain Report Here:
Learn more about Spain and other countries in our free daily postcard e-letter. Simply enter your email address below and we'll also send you a FREE REPORT - Live the Good Life in Sunny, Affordable Spain.
This report covers real estate, retirement and more in Spain and is yours free when you sign up for our IL postcards below.
Related Article
Where is Spain on a Map of the World?
Everything you Need to Know About Living in Spain
Upcoming Conferences
Live Better, Spend Less, Retire Sooner
IL's Retire Overseas Bootcamp
October 21-23, 2022 in Atlanta, GA

In safe, warm, welcoming communities abroad, as little as $1,700 a month can bankroll a good life... this fall, our experts will show you where—and how.
Early Bird DISCOUNT—Save $100 When You Register by Sep. 29
Details Here IL's Retire Overseas Bootcamp
---
Registration Now Open for the Best of Europe Private Screening

In the Right Spots in Europe, You Can Retire in Style—in an Historic, Sun-Drenched Locale—for as Little as $2,300 a Month or Less—Especially Now With the Dollar and Euro at Parity for the First Time in Two Decades.
And We'll Show You How, October 1-2, During the Special All-Online Best of Europe Private Screening.
---
The Income Revolution Forum
What if You Had the Freedom to Enjoy the Good Life Anywhere in the World You Wanted to Be...and Get Paid While You're There?
We'll show you how—with hands-on guidance—you could beat inflation...secure your retirement...ditch your commute...and turn a skill you already have into a portable side income of $300, $600, even $3,000 or more a month.