The Dominican Republic: Easy Caribbean Living
The Dominican Republic is becoming increasingly popular with North Americans. It's easy to see why. The climate is tropical, the lifestyle is easy-going and the beaches are beautiful. The residency process is straightforward, too. And property is affordable. Only a two-hour flight from Miami, this is one of the Caribbean's busiest tourist destinations.
Some of the most popular tourist destinations in the Dominican Republic are found along the southern coast between Santo Domingo and La Romana. Here, you'll find Boca Chica, where you can wade 100 yards from shore in crystal-clear waters, and still be only waist-deep with nothing but soft clean sand underfoot.
On the eastern tip of the island is the upscale Punta Cana area, with blinding white-sand beaches and emerald-green Caribbean waters. Punta Cana is quickly eclipsing the rest of the country in terms of luxurious digs and high prices.
On the northern Atlantic Coast, the 30-mile stretch from Puerto Plata to Sosua and Cabarete is where you'll find most tourist attractions. This area has long been popular with expats, too, and still offers attractive property prices.
10 Best Things to Do in the Dominican Republic
By Noreen Kompanik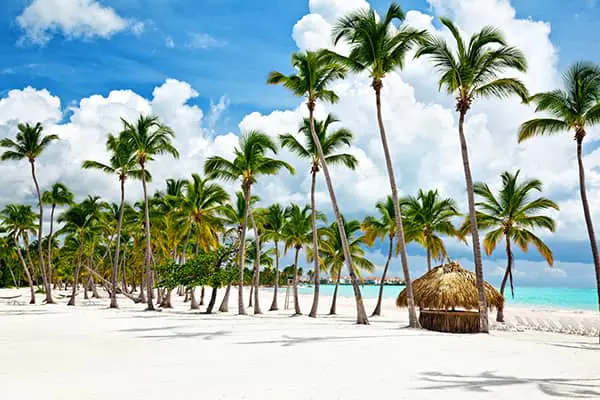 I love destinations that surprise.
Traveling to the Dominican Republic was always on my bucket list. But when a good friend of mine visited there a few years back and raved about it, I moved it to the top of my wish list of travel destinations. And when an opportunity presented itself late last year, I jumped on it. I'm so happy that I did.
Occupying more than half of the Caribbean island of Hispaniola, the Dominican Republic is only a two-hour flight from Miami. The island is known for its spectacular beaches, history, adventure, golf, and ecotourism. But this idyllic Caribbean escape is also renowned for the beloved and rhythmic Merengue dance and its talented baseball players. The tantalizing Dominican cuisine is amazing. And its people are some of the friendliest you'll find anywhere.
The bottom line, the Dominican Republic is full of delightful regions and unexpected surprises. Here are 10 of the many things to do on this island paradise:
1. Discover Historic Santo Domingo
The heartbeat of the Dominican Republic is undoubtedly its vibrant capital, Santo Domingo. Every visitor should plan a few days in this fascinating town. Designated a UNESCO World Heritage Site, the captivating city was the very first European settlement in the Americas.
Santo Domingo oozes history from its pores, especially in the Colonial Zone where narrow, well-preserved, and easily-walkable cobblestone streets are surrounded by rows of ancient walls. One of the most popular spots in the old city is Parque Colón (Columbus Park), the pedestrian-only central square where families and friends gather. As the sun sets, magic descends over the city, the historic square becomes livelier, filled with the sounds of music from street performers that locals love to sing and dance to. Add in the amazing local restaurants, cigar shops, charming boutiques, and amazing art galleries and you have one unforgettable Caribbean experience.
2. Explore Underwater Caverns
Five miles from the city center lies one of the most visited tourist attractions on the island—Parque Nacional Los Tres Ojos, or Three Eyes National Park. Here are ancient caverns fed by an underground river that was once used for refuge and rituals. There are four lakes in the caverns, including one that was only discovered after the caves had been named!
Surrounded by majestic stalactites and stalagmites, the cold, clear waters of the lagoons are reached down 692 steps. Is it worth the climb? Yes, it's so worth it to see this magnificent geological masterpiece. The farthest cave can only be accessed by a small hand-pulled ferry raft.
3. Immerse in Dominican Cuisine
The Dominican Republic's cuisine is simply incredible. There's no better way to learn about its foods than in a cooking class surrounded by history and culture using island-grown produce and meat products.
Hodelpa Nicolas de Ovando is a tropically-porticoed boutique property dating back to 1502. Chefs here prepare traditional island cuisine. Guests can participate and then dine on the fabulous offerings (and accompanying wine pairing!) at a sit-down lunch on its picturesque patio.
Delectable dishes included chicharrones de pollo (chicken with rum and Dominican spices) and other island accompaniments. But my hands-down favorite was the plátanos al caldero (caramelized ripe plantains)—one of the best plantain dishes I've ever had.
4. Make Your Own Chocolate
As a foodie who loves to know the history of what I'm eating, I have to say that one of my most memorable experiences was making my own chocolate. It's bean to bar at Choco Museo.
Chocolate, derived from the cacao bean, was one of the greatest gifts to the world from Native American cultures. With step-by-step guidance from an expert chocolatier, workshop participants not only learned the process from start to finish but left with chocolate bars containing our favorite hand-selected ingredients. It's quite an amazing process and certainly opened my eyes to the amount of work that goes into making top-quality craft chocolate.
5. Learn How Cigars are Made
Havana has nothing on this island. Some of the world's most esteemed blends of cigars are handcrafted in the Dominican Republic. Whether it's visiting a larger cigar factory in Santiago or entering a quality cigar shop in town and talking with the owners, it's an educational experience.
Tobacco is one of the top products produced on the island and there are several shops in the Colonial Zone and other parts of the city selling high-quality, hand-rolled cigars. It was a pleasure to watch workers skillfully rolling cigars in the shops, allowing customers to see just how they are made. Some shops even offer free samples.
6. Visit the Larimar Museum
The Dominican Republic is famous for amber and larimar, two beautiful ancient island semi-precious treasures used to produce stunning locally-made jewelry. Amber is formed when the bark of a prehistoric tree is pierced or broken before it was fossilized. It appears as a clear, golden yellow hardened resin stone known for its mystically captivating beauty.
Larimar is a stunningly beautiful stone found only in the Dominican Republic. Appearing in a myriad of blue hues, the darker shades are more sought after than the more common lighter colors. The Larimar Museum in the Colonial Zone allows visitors to learn the process of gem creation and admire the jewelry and artwork created by Dominican craftsmen.
7. Bask on Boca Chica Beach
Boca Chica is not only the nearest beach to Santo Domingo, but it's also one of the island's most beautiful. The sand is white and soft, the water calm and crystalline, and the shallow bay forms a lovely picturesque inlet.
About 500 yards offshore, a reef in the shape of a semicircle frames a large protected pool and acts as a natural breakwater to the Caribbean Sea. Boca Chica is one of the most popular family beaches in the Dominican Republic, ideal for swimming and water sports.
8. Explore La Romana
After a two-hour picturesque drive from Santa Domingo, we arrived in the stunning resort and residential community of Casa de Campo in La Romana. This tropical playground has it all: 7,000 acres of magnificent white sandy beaches, an expansive marina, tennis and polo facilities, and the best golf in the Caribbean.
Awe-inspiring Altos de Chavón is an authentic recreation of a 16th-century medieval Mediterranean village nestled above the picturesque Chavón River in the heart of the Dominican countryside. This enchanting hamlet has also become the renowned cultural center of the region. It even sports a spectacular 4,000-seat Roman amphitheater that attracts a myriad of top-world entertainers.
With its cobbled streets and buildings constructed of coral and terracotta stone, as well as charming boutiques and galleries, this City of Artists is amazing.
9. Captivating Cap Cana
Punta Cana on the eastern side of the island is a popular and busy tourist destination. But there's a quieter, more laidback part of this area that's both charming and mesmerizing. I fell in love with Cap Cana at first sight.
The adults-only, all-inclusive Sanctuary Cap Cana is a resort hideaway located in a gated community inside Punta Cana providing the ultimate luxury and relaxation experience. Resembling a Spanish colonial town clinging to an oceanside cliff, the resort even boasts a castle surrounded by a moat.
Suites and villas feature balconies or terraces. Guests have access to a private sugar-white sand beach, six tropical pools, a host of dining options, and one of our favorite features, the tranquil privacy of an off-the-beaten-path island paradise.
10. Adventure at Scape Park Cap Cana
For those seeking more adventure, Scape Park in Cap Cana is a spectacular adrenaline-packed eco-park offering snorkeling, ziplining, ancient caverns, and underwater limestone caves.
The lush tropical landscape showcases jaw-dropping topographic diversity, like enormous sea-facing cliffs, dense jungle interiors, pristine golden shorelines, and crystal-clear waters teeming with fish. Visitors to the park can also choose other activities like sailing, kayaking, and horseback riding. For kids, there's even a petting zoo.
Conclusion
When all is said and done, the Dominican Republic proves to be an unexpected, often-overlooked Caribbean treasure filled with one surprise after another. From its historic capital city to its breathtaking beaches, unforgettable cuisine, and friendly, engaging locals, this is one destination begging to be discovered and rediscovered time and time again.
La vida es buena—life is good in the Dominican Republic. And I for one can't wait to get back to this surprising and amazing Caribbean island paradise.