Indulging in a destination's local dishes is probably the best part of every vacation. Not only do you meet the locals and visit their tourist spots, but you also get a taste of what the area has to offer. And what better place to taste Spanish specialties than in Barcelona, Spain?
As the capital and largest city of the Catalonia community, Barcelona is home to stunning monuments, one-of-a-kind museums, breathtaking theatres, historical cathedrals, and Spain's wide variety of local cuisine. Both your eyes and taste buds are in for a treat when you spend your holiday in Barcelona. Make sure not to miss these 10 delicious dishes!
Are you interested in retiring abroad? Yes | Not Sure Yet
1. La Bomba (The Bomb)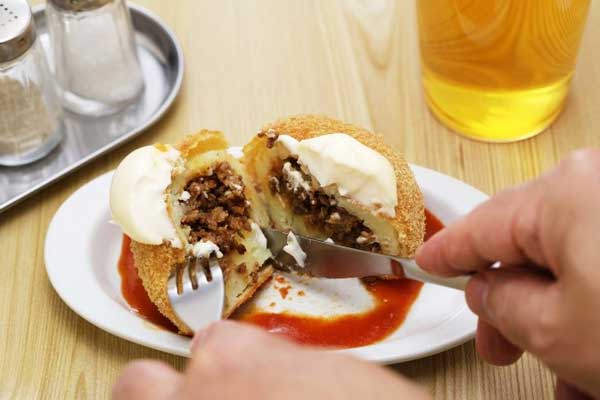 La Bomba or "The Bomb" is a fried ball of ground meat and mashed potato, commonly served with white garlic aioli, and spicy red sauce. This famous dish is perfect as a quick afternoon dish, a shared meal with family and friends, or a tasty snack with your alcoholic drink. However, its explosive flavor is not the reason behind its name. La Bomba represents a time in history when revolutionaries fought against fascists during the Spanish Civil War.
Each dish's composition is a reminder of the homemade grenades they threw as an act of resistance: the fried ball as the grenade itself, the white aioli as the string lit to activate the bomb, and the red sauce as the explosion caused by the bomb. La Bomba is proof that history doesn't have to be remembered with only books and artifacts. Sometimes, delicious food can do the same trick. That's why trying this tapas dish is a must in Barcelona! Fortunately, you can get them in many restaurants. Just know that each place serves the dish differently, but its meaning and components remain the same.
2. Patatas Bravas (Spicy Potatoes)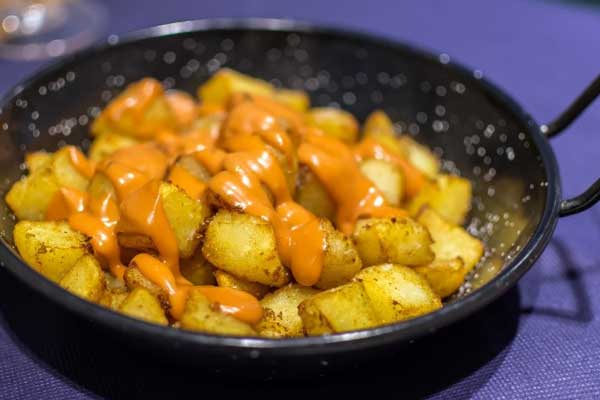 Patatas Bravas consists of fried potato wedges with spicy sauce, creamy aioli, and other spices. This cheap simple dish is great as a light afternoon snack, a tasty appetizer, or a partner to your beer. Patatas Bravas became a staple in every restaurant, from its origins in Madrid, to the rest of the country. You can enjoy this popular dish in almost every restaurant in Barcelona. Every place serves them a little differently, with different sauces, so you can enjoy them more than once and find your favorite.
3. Pimientos de Padrón (Padrón Peppers)
Pimientos de Padrón is a tapas dish consisting of blistered green peppers with a pinch of salt to taste. These peppers were initially grown in the municipality of Padrón in northwestern Spain; hence, the name "Padrón peppers." Other regions like southern Spain have also started cultivating them. But before you try this dish, you must know the famous Galician line, "Padrón peppers, some are hot, some are not." Your plate of peppers can vary in temperature depending on the water and sunlight received during growth. Some are mild in strength, while others are on the extremely hot end. Play a fun game of chance with friends, and see who gets the hottest one.
4. Pa amb Tomàquet (Catalan Tomato Bread)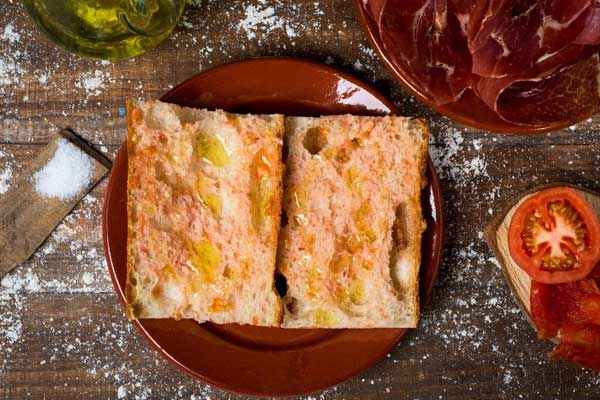 Translated as "bread with tomato," Pa amb Tomàquet is a slice of bread rubbed with ripe tomatoes, raw garlic, olive oil, and seasonings. The simplicity of this dish is what makes it a staple in Spain. It can be eaten as is or as an accompaniment to any meal. The fresh rustic bread can also be served with chunky tomatoes, deconstructed ingredients, and cheese and meat platters. Originally from the Mediterranean coast of Spain, almost every restaurant in the country has this dish on its menu.
5. Esqueixada de Bacallà (Salted Cod Fish Salad)
As a city on the coast of Spain, Barcelona is well-known for its immense love and respect for seafood. One of their sought-after dishes is the Esqueixada de Bacallà. The dish consists of a bed of raw salted cod topped with sauce, tomatoes, onions, black olives, and other garnishes. This traditional Catalan salad can be loosely translated as shredded codfish. Including this component results in the light, rustic texture of the salad. While fish preparation should be the same for all Esqueixada de Bacallà, the recipes, ingredients, and presentations can vary depending on who prepares them. Rest assured that you'll be getting fresh and vibrant flavors with every bite. It's no wonder this salad serves as the perfect complement to the strong, fried dishes Barcelona offers. Don't miss the opportunity to try one of Barcelona's authentic seafood cuisines!
Get Your Free Spain Report Here:
Learn more about Spain and other countries in our free daily postcard e-letter. Simply enter your email address below and we'll also send you a FREE REPORT - Live the Good Life in Sunny, Affordable Spain.
This report covers real estate, retirement and more in Spain and is yours free when you sign up for our IL postcards below.
6. Jamón Ibérico (Iberico Ham)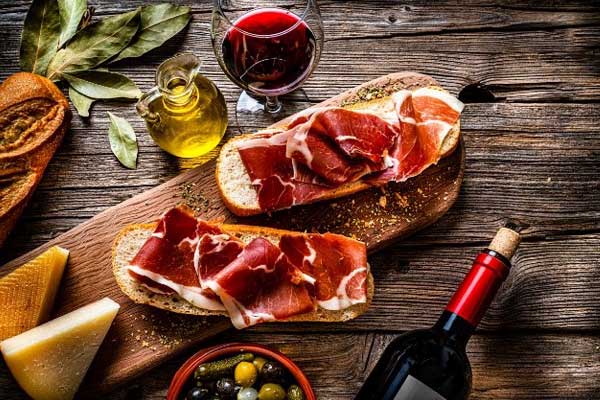 Dubbed as the finest ham globally, Jamón Ibérico is meat worth traveling to Barcelona, Spain. The dark red, marbled ham can be eaten on its own or served as an ingredient in many Spanish dishes. Its smooth, rich, and savory flavor is achieved through years of ensuring quality and lineage. As early as the cavemen era, the Iberico hogs were raised and tamed in Spain to become the exclusive meat it is today. Their diet consists of olives, chestnuts, and acorns to change the flavor of their meat. However, there are Iberico pigs fed with acorns alone. Their meat usually costs twice as much as regular Jamon Iberico because of its higher meat quality. The meat of these pigs is then heavily salted and dry-cured for an extended period of up to 48 months. Finding this exquisite ham is no chore in Barcelona!
7. Paella
Known as the most famous delicacy from Spain, Paella is served globally in almost every Spanish restaurant. This classic meal consists of rice, spices, vegetables, meat, or seafood cooked over a wide, shallow traditional pan. However, its original recipe from the Valencia region differs from what restaurants serve today. Centuries ago, Paella consisted of beans and meat, not the usual rice and other protein. It was only after other areas started changing the recipe and putting their own spin on it that the Paella soon evolved into its many versions. Their authentic Catalan Paella typically consists of seafood, rice, vegetables, and different spices for Barcelona. This aromatic, flavorful main course is available in every corner of the city. Just be sure You have plenty of time since Paellas takes a very long time to cook.
8. Gazpacho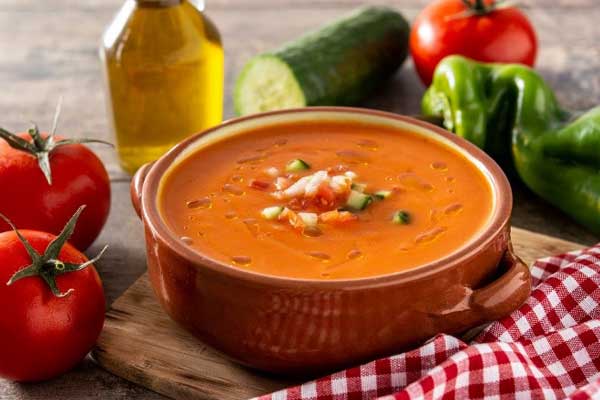 Nothing beats the summer heat than a cold drink—or maybe, a cold soup. Gazpacho is a chilled soup consisting of raw and blended tomatoes, cucumbers, peppers, onions, and other ingredients. Depending on the restaurant, the dish can be served with croutons, avocado toppings, or Pa amb Tomàquet sides.
Gazpacho is a simple refreshment created in Andalusia to beat the hot summers they experience. Originally, due to its low price and locally available ingredients, it was considered peasant food. However, these characteristics are the reasons why it rapidly grew in popularity across Spain. The affordable meal made from fresh ingredients serves as a great way to cool down. If you're in Spain during the summer, don't miss this delectable dish!
9. Mel i Mató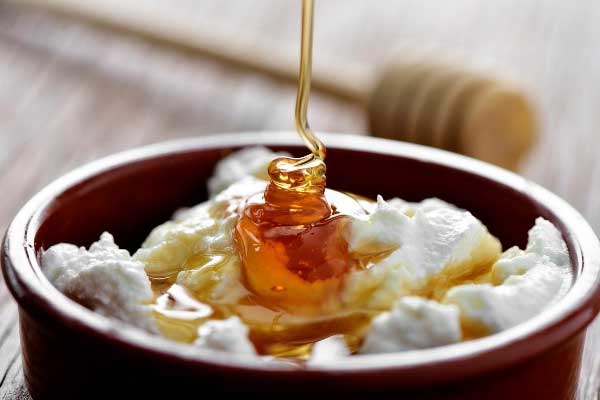 Spain has its fair share of exquisite local cheeses dating back to the Middle Ages. The Mató is a ricotta-like unsalted cheese produced from cows or goats from the Catalonia region. It is used in the traditional Catalan dessert, Mel i Mató. The cheese can be eaten as a molded cheesecake slice, a mousse crumble, or a platter drizzled with sweet honey and crunchy walnuts. It is a smooth, creamy texture, delicious dessert.
10. Tortilla de Patatas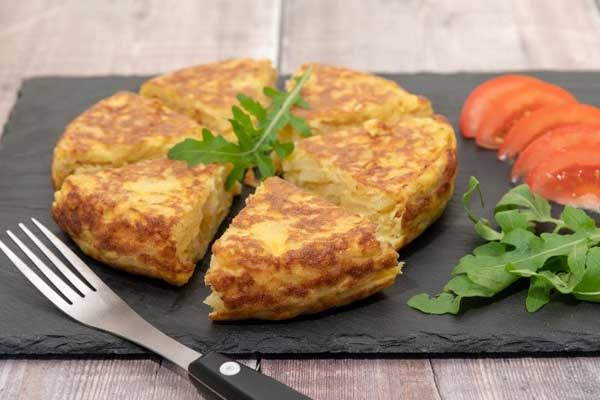 This popular dish is also known as a Spanish tortilla or Spanish omelet. The traditional dish is a fundamental part of Spanish cuisine. The simple omelet is made with potatoes, eggs, and usually onion. The dish is served cold, and you can get it at most restaurants. If you are meeting with locals at any event or party that has food, homemade Tortilla de Patatas will be on the table.
Bonus: Cava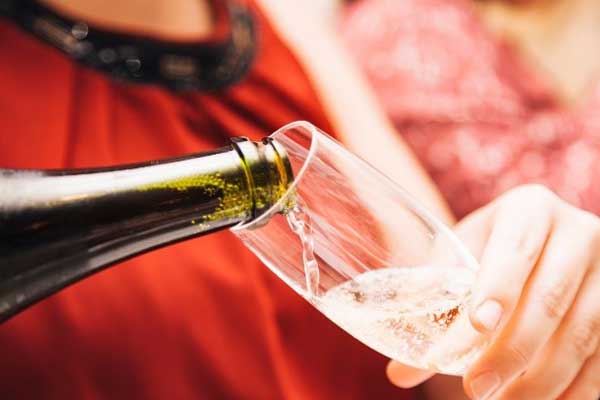 What better way to elevate your food experience than with a glass of Cava? Order a Cava and feel closer to the Barcelona experience! This sparkling white wine is a local drink of choice. It has a lot of sugar, so every sip tends to be on the sweeter side—perfect for most of the tapas you can order in the area.
Best Areas to Dine

Although you find these dishes in almost any area of Barcelona, some areas are better than others. Some of my favorites are in barrio Poble Sec. More specifically, the street Calle Blai. Calle Blai is a lively street full of tapas bars with outdoor seating. Another fantastic street full of excellent restaurants is Carrer d'Enric Granados in L'Antiga Esquerra de l'Eixample. The Gràcia neighborhood is a popular area with countless cafés, restaurants, and boutique shops. You can enjoy many of these dishes there. If you are closer to the beach, then the neighborhood of El Poblenou is a hip area with cafes and tapas bars along Rambla de Poblenou.
Get Your Free Spain Report Here:
Learn more about Spain and other countries in our free daily postcard e-letter. Simply enter your email address below and we'll also send you a FREE REPORT - Live the Good Life in Sunny, Affordable Spain.
This report covers real estate, retirement and more in Spain and is yours free when you sign up for our IL postcards below.
Related Articles
Popular Food and Eating on a Budget in Spain
An Overview of Traditions and Culture in Spain
Two Beautiful Small Towns to Live in Spain
Upcoming Conferences
Make 2023 Your Best Year Yet. Discover Panama with International Living

Panama has it all: beaches, mountains, a world-class capital city, top-notch, low-cost healthcare and the "World's Best Retirement Program" that makes the already low cost of living even more affordable.
Join us for International Living's Fast Track Panama Conference to see all that Panama offers. There's no better place to be and no better way to make 2023 your best year.
Most Popular Products
Popular Articles You May Also Like