Most people who travel to Bali are familiar with tourist-orientated beaches such as Kuta and Seminyak but you may be pleasantly surprised to know there are still some not so well known beaches to discover. The beaches are a great escape from the hustle and bustle of Bali life; most have sun lounges for hire, so you can relax with a good book in-between a cooling ocean dip. Whilst many have soft white sand, there are also many featuring striking black sand around the northern and western coastal areas. Hotels and homestays have popped up all over the island so overnight or longer stays are easy to organize. Some are off the beaten track but well worth the effort.
Are you interested in retiring abroad? Yes | Not Sure Yet
Balangan Beach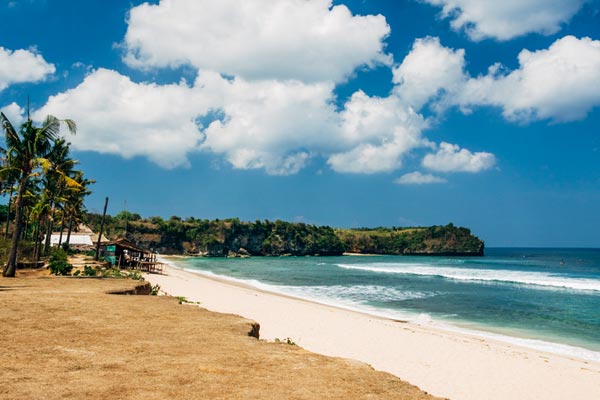 Just nine miles away from Kuta, located on the southern tip known as the Bukit Peninsula, Balangan Beach is known for its waves amongst the surfing crowd with a reef not far off the beach and is one of the most scenic spots on the island. Locally referred to as Pantai Balangan, soft sand, clear waters all surrounded by vegetated limestone cliffs, and a reef just off the coast, it's a great find. There's only around a dozen steps down the cliffside so it's easy to get to, and from the top, the panoramic vista makes an ideal photo.
In high tide, the aqua waters are perfect for a refreshing dip. In low tide, the seaweed-covered rock formations and rock-pools are dramatic against a setting sun.
Around the sands, there's a few local warungs serving traditional food and icy cold beer, and many sun lounges with parasols for shade available for hire at around $5 for the day. The beach is accessible by bike or car, making it one of the easier ones to get to on the peninsula.
Pantai Pandawa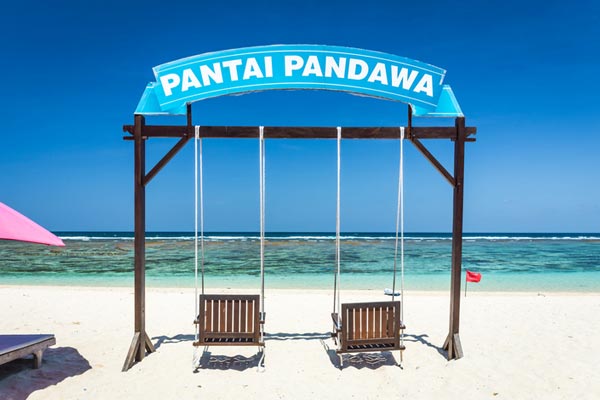 For years I'd read about this Hidden Beach as it was then called and had no idea where it actually was. It's only recently that the roads have been carved through the limestone cliffs that once concealed Pandawa beach, revealing white sands and blue waters. Last year, rainy season even saw a waterfall appear as the rainwater cascaded down the cliff face. As you drive in, there are deeply carved arches with large statues inside. They each depict the characters from an ancient Balinese story, Mahabharata. The five pandawas are also how the beach got its name.
The beach is a long stretch of sand with sunbeds and colorful parasols lining the shoreline. The area can be a little rocky, most likely residue from prior road constructions. The waters are a combination of blue and green, as seaweed farmers still tend to their patches in this area. You can hire a sea-kayak, grab a surfboard, or just sit back and enjoy the views. There are many local warungs offering everything from satay and local seafood, to western-style sandwiches and burgers.
Sanur Beach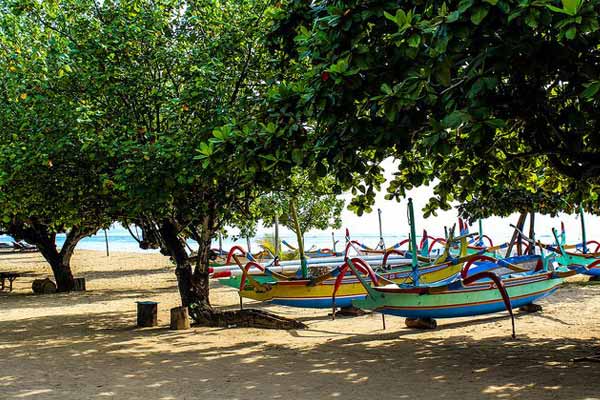 It would be remiss of me to not include this as one of the best beaches, nowhere else in Bali will you be able to stand with your toes in the sand and watch the most amazing sunrise with Mount Agung in the background. With the traditional boats lining the oceanfront, it's probably one of the most recognized beaches in Bali. There's also the added protection from an outer reef, Sanur's calm waters are great for swimming and many water activities. There's nothing better than floating in the tranquil waters and looking up to a bright blue sky. For the adrenaline junkies there are booths with jet-ski hire, banana boat rides, and parasailing.
Low tides are great to walk out towards the reef, don some reef shoes and you can make it all the way out, just be sure to turn back before the high tide. There are many sun lounges to hire at $5 a day, enjoy a beachside massage ($8), or a cold drink. The three-mile pathway is lined with quality restaurants and local warungs. It's one of the best places to enjoy a good meal with ocean views.
Sundays Beach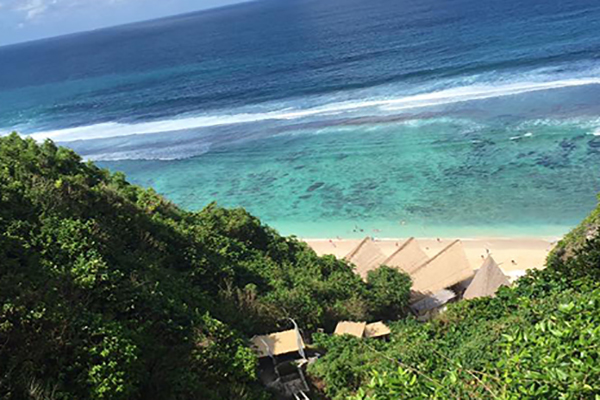 This is my ultimate beach, one I travel to for special occasions, and any day can be one of those. Nestled below the cliffs of The Ungasan Clifftop Resort, you'll be transported down the cliff face in a travellator, and the stunning views of the Indian Ocean will take your breath away—every single time. There's a $30 fee, but this includes $15 credit for food and drinks, and the restaurant has a great menu. My favorite being the Tuna Poke Bowl.
Once at the bottom it's as if you're isolated from the rest of the world. From the alang-alang grass roofed pavilions to the beautiful crystal blue water. Stand up paddle boards are available to use once the tide is right or pamper yourself with a treatment at the on-site spa. Stay and watch the sunset and sit around the bonfire after dark. Truly a magical place to indulge in world-class cocktails.
White Sand Beach (Virgin Beach)
About 10 minutes past the town of Candidasa on the east coast of the island is this beautiful cove known as Virgin Beach or White Sand Beach. Getting here is half the adventure, but as you come down the hill and catch your first glimpse of the crystal blue waters, you soon realize why it's worth your while finding this spot. The sand itself isn't actually white, more like a pale grey, but it's so soft and fine which is not a common sight in Bali.
The allure of this beach is the serene setting and calmer waves compared to some other areas in Bali. The bay is surrounded by rocky cliffs and boulders in the sand, making it quite sheltered, and the three small rocky islands off Candidasa are visible from the shore. Due to the beach's new popularity, there are a few local beach warungs offering fresh food and cold beer, and the aromas of fresh fish cooking will soon have you craving for your own meal. You just have to choose your sun lounger ($5) then your beer and food is delivered with a smile. Nasi goreng for $3 and a beer for $2.50, it's the perfect way to while away an afternoon.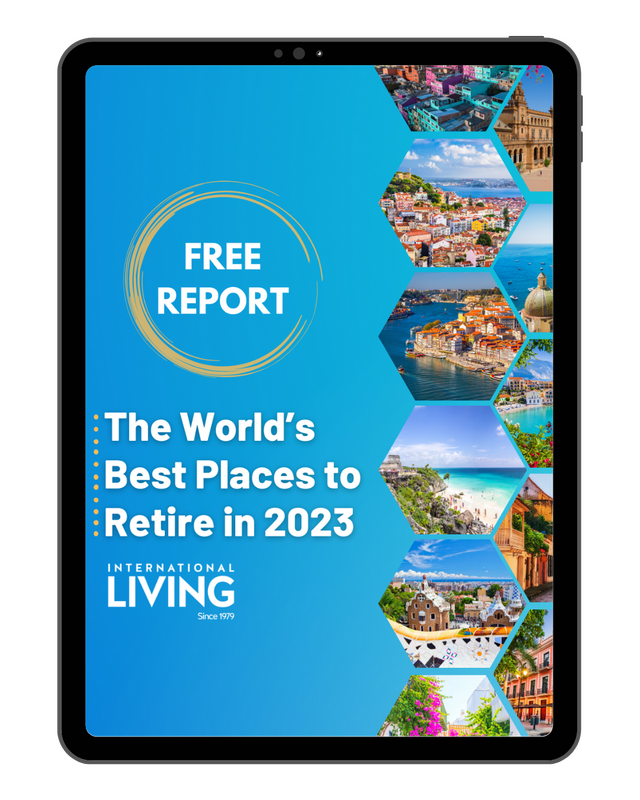 Get Your Free Report on the World's Best Places to Retire:
Learn more about the best places in the world to retire in our daily postcard e-letter.
Simply enter your email address below to sign up for our free daily postcards and we'll also send you a FREE report on The World's Top 10 Retirement Havens, plus access to over 10 more free reports. Our gift to you, on our favorite destinations.
Related Articles
7 Things to do in Bali…Big Adventure on a Paradise Island