If you really want to understand a French city, visit its markets. That's particularly true of Toulon, the understated gem of southern France. Residents of this colorful naval town are simply happy to be alive, and they're going to let you know it. Loud, outspoken, and with a passion for their beloved region of Provence, any visit to the city should start at the boisterous community market on Cours Lafayette—a pedestrian-friendly boulevard that leads directly from the downtown area to the Mediterranean Sea.
Be ready to live in the moment, become friends with the spicy underbelly of Provençal cooking, and marvel at how an extra dose of Mediterranean sunshine can change your whole outlook on life.
Discover the Tastes and Colors of Provence at the Cours Lafayette Market
Sandwiched between the splashy resort towns of Hyeres, Bandol, and Sanary-sur-Mer, Toulon is France's most important naval port. While France's snowbirds habitually flock from their petite Parisian apartments to generous villas along the Côte d'Azur, Toulon has been spared the tourist gaze—until very recently.
After an ambitious revitalization effort, spearheaded by the city's four-term mayor, French residents, and their European neighbors, have started putting Toulon on the tourist map. The city's ample port has become a popular stop on Mediterranean cruises—with day-trippers often choosing private wine tours or guided boat trips to nearby islands off the city's coast.
The ones lucky enough to find their way to the Cours Lafayette outdoor market are in for a special treat. Less than a five-minute walk from the docks, visitors have a direct view of the sea from the entrance to the market. A favorite with residents and travelers alike, the market takes place from Tuesday to Sunday every week. Opening hours are from 8 a.m. to 1 p.m.
Although there's no "bad" time to travel to the south of France, visits in spring, summer, and early fall will ensure that you experience the market in its full splendor. Summertime is particularly enchanting. Carefully stacked fruits and vegetables sit beneath the yellow and red awnings protecting each vendor's precious cargo from the sparkling Provençal sunshine. Plump honeydew melons from Cavaillon nestle among piles of apricots, peaches, and rich cherries. Vats of green and black olives sit alongside specialty tapenades and anchoiade spreads. Infused with lemon, or with a sprinkle of herbes de Provence, they need only a crusty baguette to make a perfect mid-market snack.
This combination of vibrant stalls, white-washed village houses, and towering plane trees—with the glistening Mediterranean in the background—is mesmerizing. But, be prepared for a loud, and very interactive, experience during your visit. While sellers belt out announcements of last-minute deals, ("Three avocados for €2, they're going fast!") shoppers will engage in what feels like heated debates about the weather, local politics, construction sites, the quality of this year's melons. Like many southern spots around the world—blessed with endless sunshine and rich, seafaring traditions—the residents of Toulon are exuberant, passionate individuals who embrace life and all its eccentricities.
The best thing you can do is try to join in. Vendors are used to speaking with travelers, and love to chat about their products. Whether it's the self-proclaimed "Cade Man", who cooks chickpeaflour flatbread (known as cade in Toulon, socca in Nice) in his mobile red-brick oven, or Ms. Salad, an outspoken romaine lettuce and leafy herb expert with a flair for green showmanship, you won't find many wallflowers lurking along Cours Lafayette.
Take Le Petit Train to the Caribbean-Like Beaches of the Mourillon
After a morning at the market, a quick U-turn to the port will take you to the Le Petit Train (Little Train) departure point. Don't be fooled by the Universal Studios tramway-car appearance of this star tourist stop, the train is a great way to get a comprehensive overview of the city's main attractions, in an attractively short amount of time. (See: Traintoulon.com)
The guided visit, in English or French, lasts 50 minutes and costs €7.50 ($9). Around 24 different sites make up the tour which ranges from important military installations to charming fishing ports and enchanting squares in the historic center of town.
Rugby fans will be particularly taken with Stade Mayol (Mayol Stadium), as Toulon has one of the top rugby teams in France—having garnered several national titles and three championship wins in the Top 14 European Cup (2013, 2014, 2015). Dedicated loyalists come from far and wide to watch the team in training, and the culture of rugby plays a vital part in the lives of many Toulonnaise (Toulon residents).
As Le Petit Train departs from the stadium, the landscape changes from the creaky buildings of downtown Toulon to the sublime beaches of the Mourillon neighborhood. If you've come to the south of France to recharge, refresh, or just lounge around, this is your spot. Known as the "village within the city" the Mourillon is a collection of hip boutiques, stately stone houses, trendy cafés, and restaurants. Bordered on one side by its own farmers' market (on Emilie Claude square), and by a collection of sandy beaches on the other, many visitors set up their base camp in Toulon's slice of SoHo by the sea.
If you've come to recharge, this is your spot.
Several Airbnb rentals operate, as well as short-term apartment lets and smaller-size hotels. Hotel Deux Voiles has a rooftop bar with panoramic views of the Mourillon bay and beaches. The bar hosts Sunday brunch during the winter, and happy hours on Wednesday evenings during the summer—with signature drinks prepared by local personality, Monseiur Cocktail. (See: Monsieurcocktail. com)
The neighborhood also provides more formal dining options, from classic French bistros (Le Petit Instant), to vegetarian-fusion (Emeline Dans Sa Petite Cuisine), and the undisputed best Thai street food in town (Banthai Express).
The Mourillon is easily accessible by bus from the port or the city's train station, and Le Petit Train offers a hop on/ hop off stop along the beach at the Plage de la Source stop. Here, you can pause for dinner at any of the seaside cafés and restaurants, many offering "pieds dans la sable" (feet in the sand) wine and cocktail service.
Indeed, witnessing the Mourillon's sunset views, framed by the gently swaying palms and the balmy blues of the Mediterranean, will leave you questioning if Le Petit Train took a massive wrong turn somewhere around the Bahamas. As my travel companion remarked on our final evening in Toulon—inclined on a lounge chair, chilled mojito in hand, "Is this France or the Caribbean? And why did we wait until the last day to come here?"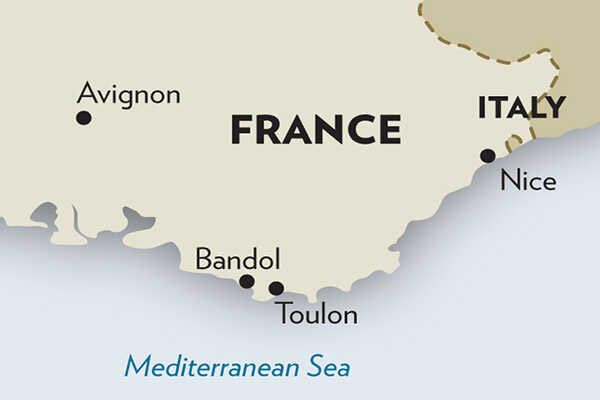 Experience the Old World Charm of the Historic Center
A tour of the downtown area of Toulon, known as the historic center, can be covered in a full morning or afternoon visit. An orderly maze of village-style homes (maison de village), restaurants, and boutiques, this area is a great spot for shopping or grabbing a bite to eat.
Several picturesque squares, like Place Puget, are lined with traditional bistros and cafés. Grab an espresso and an éclair from pastry shop Maison Sarroche and enjoy some southern sunshine next to the square's 17th-century fountain, Fontaine des Trois Dauphins—a quirky structure from which leafy trees and vines sprout atop a trio of sculpted dolphins.
The Toulon tourist office provides walking tours of the historic center, including "Nature in the City," "Unusual Toulon," and "The Fountain Circuit." (See: Boutique.toulontourisme.com)
Toulon's impressive opera house (the second-largest in France), just past Place Puget, merits a visit, as does and the artistic quarter, La Rue des Arts. The latter is a collection of art galleries, permanent installations, and artisanal jewelry makers. The souvenir shopping in both areas is likely to be the best you'll find in the city. Comtesse du Barry sells gourmet fare like truffles and pâtés, while La Cure Gourmande is a delight for dessert-lovers, featuring buttery caramel candies, rich chocolates, and regional cookies like navettes from Marseille and calissons from Aix-en-Provence.
Finally, no trip to Toulon, or the south of France, is complete without an authentic Provençal meal. Head down any of the downtown area's side streets for a portside lunch or dinner. Be sure to sample some of the region's local fish, like red mullet, sea bream, or the rockfish that make up the south's most famous dish: bouillabaisse. You won't find any fresher than the catch-of-the-day along the port, with many seafood plates served with a side of ratatouille (a flavorful vegetable stew) or a stack of potato gratin. A glass of local rosé, from Bandol or La Londe les Maures, makes for a perfect finish.
Why Toulon?
Toulon is certainly not the top destination on the French Riviera, and its outspoken, somewhat brash residents, aren't for everyone. Far from the Provence of lavender fields, dreamy hilltop villages, or lush vineyards, the city sticks out a bit from its posh and proper neighbors.
What you will find though, is a 100% French experience—language struggles, faux pas, and cheap glasses of rosé included. Toulon has remained unspoiled by the tourist crowds farther up the coast, so the Toulonnaise are still very welcoming to foreign visitors. You'll be greeted, most likely in heavily-accented English, with respect and enthusiasm.
The budget savings are also attractive. From the Cours Lafayette market, to seaside bistros and downtown cafés, travelers will pay the same prices as the locals. Sacks of olives, tapenades, and baguettes for €1 ($1.21); a coffee and croissant at €2.50 ($3), or a sit-down, three-course lunch along the port for €29 ($35). A decent glass of rosé will set you back €5 ($6) and a bus ticket to the beach comes in at €1.30 ($1.58). A 20-minute drive to neighboring Bandol will see some prices jump two-fold. And, I can assure you, those sunset views along the Mediterranean Sea are quite as inspiring—wherever you choose to put your "pieds dans la sable."
Related Articles
The Best Places to Live in France From $2,000 a Month
5 Best Cities and Towns to Live and Retire in France
5 Places to Live in France; 2 to Avoid
Upcoming Conferences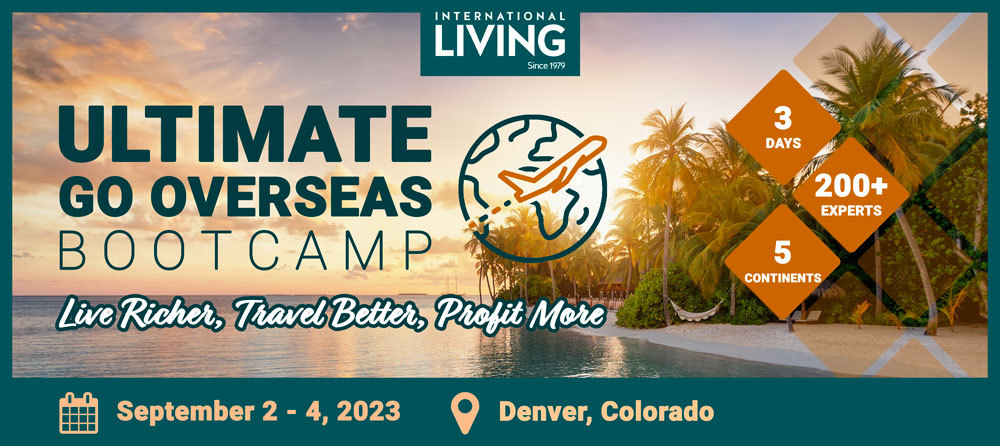 Most Popular Products
Popular Articles You May Also Like