Whether you imagine yourself in a cozy village tucked away in the vineyards of Provence, or in a sleek, ultra-modern apartment steps away from the legendary Champs-Élysées, France offers lifestyle options for every taste and budget. While utilities tend to be cheaper in France (the country has one of the lowest electricity rates in Western Europe), the real budget savings come from housing costs.
If you'd like to hear the waves lapping along the French Rivera, be prepared to stake a pretty penny into an apartment or villa in the cities of Nice, Cannes, or Antibes. The more budget-conscious can head northward to the rugged, lost-in-time coastlines of Brittany and Normandy where hearty, cream-rich cuisine and maritime traditions seduce expats and residents.
For destinations that combine affordable real estate with sunny skies, look no further than the castle-filled Dordogne region or the pastoral, inland corner of southern France known as the Var. Whatever your taste, or retirement budget, France has opportunities for everyone's dream of living la belle vie.
Are you interested in retiring abroad? Yes | Not Sure Yet
Lower End Budget ($2,000 to $2,400 a month)
Brittany
Residents of this windswept stretch of coastline in western France are a fiercely proud, independent lot with a passion for their region's history and traditions. With 800 miles of cliff-side beaches, dotted with idyllic fishermen's villages and eye-catching ports, they have good reason to be. Brittany contains four different départements (French counties), with the Côtes-d'Armor (22) being one of the more retirement-friendly destinations. Dinan, a port city lined with old-stone houses and waterside restaurants, is thought to be one of the prettiest towns in the region. Homes in Brittany start at under $100,000.
Normandy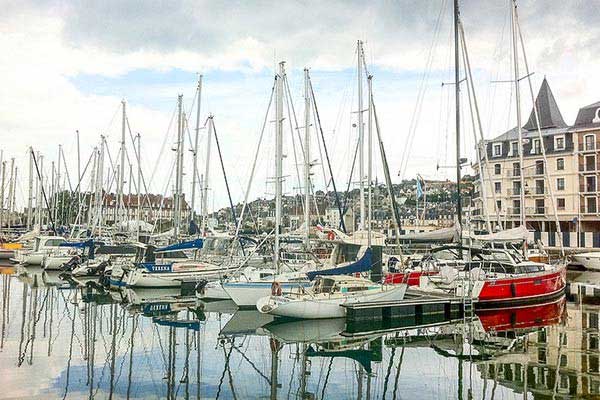 As Brittany's next-door neighbor, Normandy shares similar geographical features, including a fairly soggy climate for many months of the year. If you can overlook the rainy weather, you're in for a cultural treat, as well as some great savings on real estate. The region boasts some stunning coastal cities, like Dieppe, and captivating cultural enclaves like Calvados (14)—a département rich in culinary traditions. Fans of the City of Light can look to settle near Rouen, an elegant city whose cathedral was a favorite subject of the artist Monet.  Residents can reach Paris, by train, in about an hour-and-a-half. Although you can find homes for sale for under $100,000, the average is closer to $160,000—with certain areas (the coast and Rouen) climbing to around $220,000.
Medium Budget ($2,400 to $2,800)
The Dordogne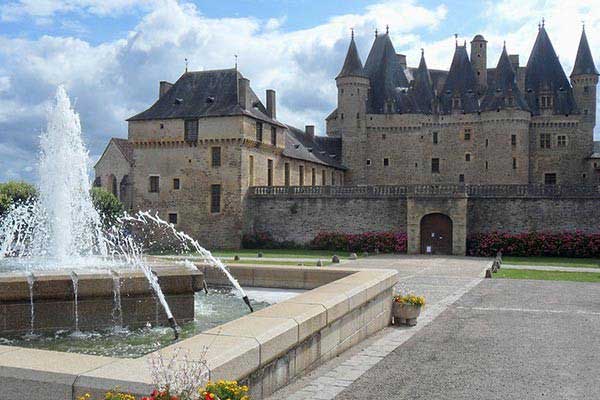 France's land of 1,001 castles, the Dordogne is the name for both the region and the picturesque river which flows through it. Pockets of this sun-laden, sunflower-filled area in southern France could easily fall into the lower budget category as several villages have homes for sale under $150,000. You'll want to save your extra euros for gourmet meals out, and visits to picture-perfect hamlets like Domme, La Roque Gageac, and Beynac-et-Cazenac (whose cliff-side castle dominates the river valley). The region has great value-for-money on homes and apartments, with more popular areas commanding higher real-estate price tags. Count on spending a bit more near the dynamic expat hub of Sarlat-la-Caneda, with the payoff of a vibrant English-speaking community at the ready. Two-bedroom homes in Sarlat start at around $228,000, and two-bedroom apartments in the town center average about $175,000.
Montpellier and Occitanie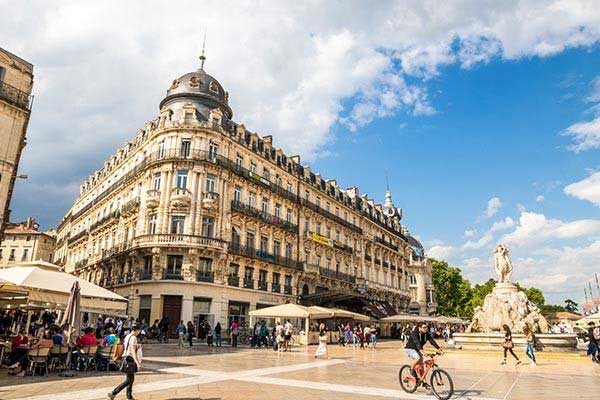 As the fastest growing metropolitan area in France, the city of Montpellier has a lot to offer those seeking endless entertainment opportunities on a manageable budget. A larger city, by French standards, the historic center is a maze of theatres, bars, cafés, restaurants, and bistros —all dominated by one of the country's most iconic urban squares, Place de la Comédie. Here, life is meant to be lived outdoors, on any of the city's romantic terraces, or at a local beach. The beach towns of La Grau-du-Roi, La Grande Motte, and Aigues-Mortes are a 30-minute drive away.
Apartment-style living is the best way to save money when thinking of settling in Montpellier —either by renting or buying. The city is awash in new developments, with several others being built on the outskirts of town. You can count around $240,000 to purchase a two-bedroom apartment, with the same size apartment averaging around $1,200 a month to rent (furnished).
Other lower-cost destinations in the Occitanie region (also referred to as the Languedoc) can be found in cities like Sète, Béziers, and Perpignan.
Inland Provence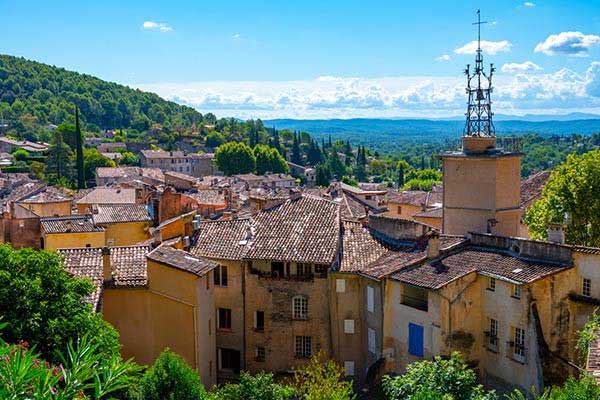 While the southern France region of Provence, and neighboring Côte d'Azur, can run high in terms of living costs, there are very attractive budget options in the inland section of the Var (83) département. A wide stretch of territory that reaches the Mediterranean Sea, villages like Cotignac, Carcès, Lorgues, and Villecroze offer the sunny Provençal lifestyle at an affordable price. Quaint, sun-washed villages lost among the vineyards, village houses can start as low as $180,000, with detached homes ranging from $290,000 to $350,000, on average.
High-end Budget ($2,800+ per month)
Paris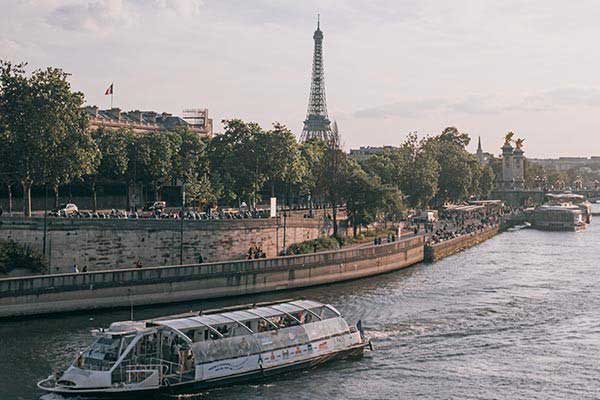 The ski's the limit in France's glamorous capital. Although pricey, Paris can be an option with the right budget, or if you're willing to compromise on size. Small studio apartments (290 square feet) can be found for $340,000, while larger, two-bedroom apartments start at around $638,000 and up. With real estate prices remaining notoriously high, many look to rent in nearby cities (Ivry-sur-Seine, Saint-Ouen, Saint-Denis) and take advantage of train connections to enjoy the City of Light.
Sought-after arrondissements, like Le Marais, are more expensive than those not directly in the city center. If price is an issue, it's best to get in touch with a qualified Parisian real estate agent who can help you navigate the market.
Nice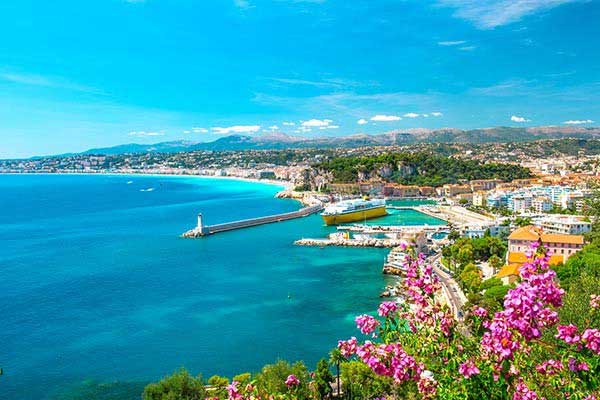 Paris's sunny cousin, Nice, may be an even better choice for those with ample means. With the Mediterranean Sea at your doorstep, top-notch dining and cultural activities, and an international airport within the city limits, it checks all the right boxes for Rivera-style living. Recently touted as the best city for expats in France, eclectic Nice isn't as high priced as Paris… but it's not far off either.
As with the capital, the name of the game is location, location, location. You'll pay much more for an apartment near the fabled Promenade des Anglais, than elsewhere in the city. A two-bedroom, furnished rental can be found for about $1,560. If you're looking to buy, prices start at around $300,000 for two-bedroom apartments.
Annecy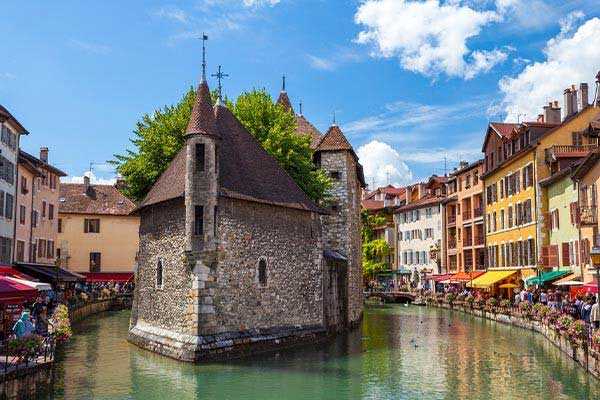 While Nice was selected as the best location for expats, this gem of the Haute-Savoie (74) département was ranked as the most desirable place to live in France by a national survey in the newspaper Journal du Dimanche. In the shadows of Mont Blanc, and surrounded by a majestic lake of the same name, Annecy is a haven for nature-lovers and purveyors of fine-living. From world-class ski resorts to Michelin-star dining, this picturesque town of half-timbered homes and flower-lined canals is one of the best spots to experience la belle vie.
For this top-notch lifestyle, real estate prices are on the higher end. Expect to pay comparable prices to Paris and Nice for a pied-à-terre in this enchanting corner of France.
Related Articles
Moving to France Will Be the Best Move You've Ever Made
Is France a Safe Place to Live?
5 Best Cities and Towns to Live and Retire in France
Upcoming Conferences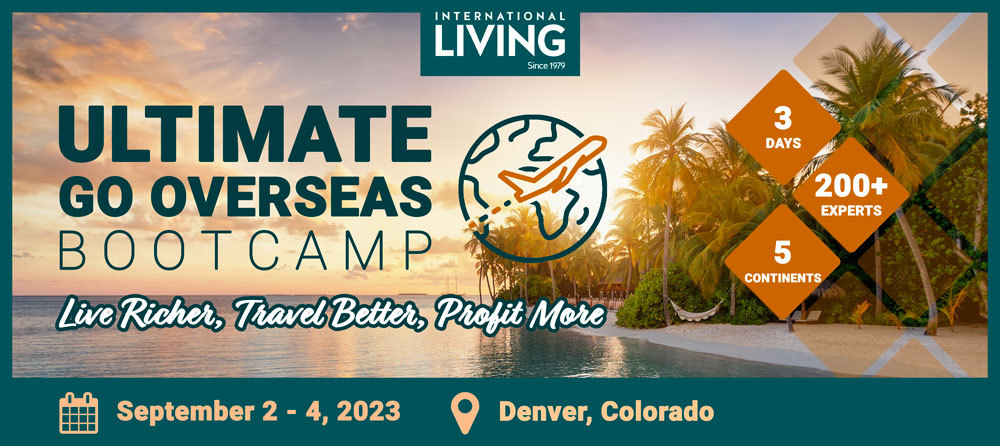 Most Popular Products
Popular Articles You May Also Like