I had been traipsing around the jungles of Southeast Asia for so long that my adventure cup overflowed. Too many weeks in the forests and temples of the Golden Triangle had me feeling like Colonel Kurtz from Apocalypse Now. It was time for a change of scene, so I booked a flight to Bali for some R&R.
I figured that an unobstructed view of the sun setting into the ocean would bring me back to normality. A week of beach barbecues, cold beer, and breezy afternoon hammock naps would hit the spot. This was the straightforward tropical vacation I had imagined months before boarding the wrong boat up the muddy waters of the Mekong. I love Laos, but I also love lazing around by the sea. It was time to break out my snorkel and sunscreen.
I caught an early flight to Kuala Lumpur and then on to Bali for under $200. By midday I was walking through a sea of taxi drivers. Each insisted that they would take me to the best hotel in Kuta Beach with the hottest nightclub in town. To their vexation I ignored them. I still had Mekong mud under my fingernails. The Miami Beach glitz and frat-party clamor of Kuta would have thrown me into a reverse culture shock I didn't feel ready for. Instead, I approached a man leaning quietly against his taxi. I asked if he would take me 10 miles in the opposite direction, to the serenity of Bingin Beach.
A minute later, we were zipping south along the palm-lined isthmus to the Bukit Peninsula. Scooter riders honked and smiled at me through the open windows. Signs for Jimbaran, Honeymoon, Balangan, and Dreamland beaches blurred past. New Kuta Golf (18 holes, $160), the championship-rated golf course, lay in the distance like a mirage.
Ten minutes later, a sign for Padang Padang Beach pointed us right. After another sharp turn, the car slowed through a residential neighborhood and stopped.
"Bingin Beach," the driver pointed through the window. "Very beautiful. Very quiet. Not like Kuta. Very smart." I gave him $20 and began my search for an apartment.
Unlike Kuta and its web of anonymous hotels, charmless restaurants, jangling traffic, and thumping techno music, Bingin Beach is a laidback paradise. The Indian Ocean creates postcard-perfect views: crystal water, swaying palms, and the throbbing rumble of surf. But it's no ghost town. After five minutes of exploring the cliffside hamlet, I counted a dozen guest houses perched above the powder-sand beach. After choosing one with an ocean view (Inn Possible Cliff House, $26), I spotted heads bobbing in the water. The surf was up.
After a mahi mahi burger and a dragon fruit smoothie for lunch at Surya House Bingin (mains $5, juices $1.50) the lure of the water finally got the better of me. I marched across the hot sand and plunged in. I swam deep and had a look at the coral through blurry eyes (I should have bought a snorkeling mask) and then lay on my back beyond the breakers until the day melted into dusk. The sky turned a brilliant violet and the water an inky, metallic orange.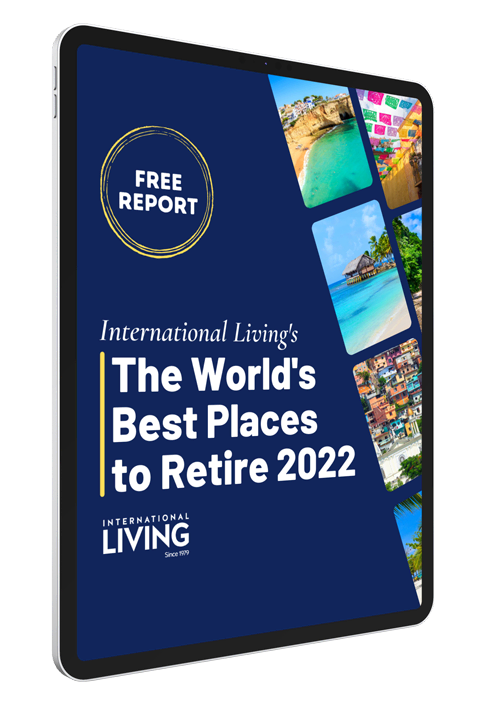 Get Your Free Report on the World's Best Places to Retire:
Learn more about the best places in the world to retire in our daily postcard e-letter.
Simply enter your email address below to sign up for our free daily postcards and we'll also send you a FREE report on The World's Top 10 Retirement Havens, plus access to over 10 more free reports. Our gift to you, on our favorite destinations.
When the sun disappeared over the horizon, I drifted to shore. A troop of young waiters carried barbecue grills onto the sand in front of palapa bars. All along the beach, tables were being set, and tiki torches licked the salty air. Barefoot, I climbed up the steps to my room for a shower.
Grilled shrimp. Pork. Chicken. Octopus. Jackfruit. Flaky red snapper bigger than my plate. Bottomless bottles of crisp Bali Hai beer and chilled white wine. A slightly-below-warm sea breeze. I could have stayed all night at my candlelit table ordering plate after plate of Balinese culinary gold while the sand caressed my toes.
But this wasn't Kuta. There was no late-night spot on the beach with happy hour two-for-ones and a dreadlocked D.J. Instead, after vanilla ice cream and pisang goreng (banana fritters), I reclined on my terrace and took in the scene.
Out to sea, stars were the only light except for an occasional lantern from a one-man fishing boat. I realized with a jolt that Madagascar, the nearest landmass due west, was over 4,000 miles away. I soon fell asleep to the sound of waves crashing 150 feet below the limestone cliff.
You could easily spend your entire trip to Bali at Bingin Beach, swimming, napping, and eating like a king. There's nothing wrong with that. But some people, me included, would suffer a nagging doubt. I'd worry that if I didn't explore the peninsula, I could end up missing out on an even more idyllic beach.
Don't set yourself up for this life of what-could-have-been. Jump on a scooter and whizz down the coast for a day.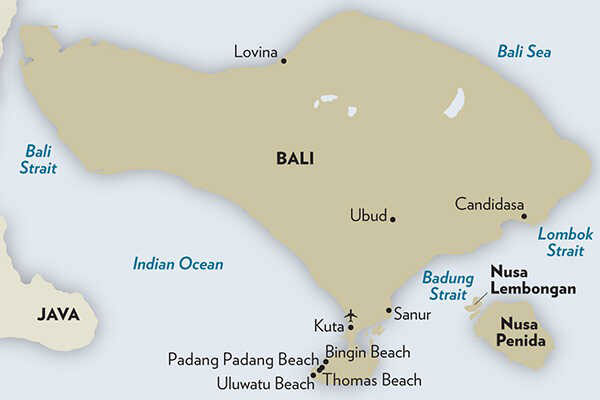 Your first stop should be the popular and beautiful Padang Padang beach ($1 entrance, including parking). Park your scooter before you get to the high bridge and then take a look over the side to get an idea of the walk you're in for.
A long, narrow staircase, seemingly chiseled into the cliff, leads you through a sea cave to the sand. There, tanned families lounge on beach towels, sipping sweet water from fresh coconuts. Farther down, long-haired Aussies rest next to their surfboards, gulping cold beers. For southern hemisphere surfers, Padang Padang is almost a pilgrimage site.
For the mere mortal water lover, the waves are a bit intense out beyond Padang Padang's offshore reef (they're the site of an annual Rip Curl Cup professional surfing competition). Swim closer to shore, where the water is clear and calm. If you decide to stay for a while, rent a chair and an umbrella and spend the day watching professionals wipe out while you snack on fresh mango and grilled seafood.
If you feel like beach hopping, hike back up the mountain of stairs and scoot over to Thomas Beach.
Another steep staircase brings you to a long strip of sand that's perfect for spending an afternoon soaking up the sun and wading in the gentle waves. Thomas Beach isn't as popular as Padang Padang, so if you're lucky, you could have the beach and the warung (single-pot restaurant) to yourself.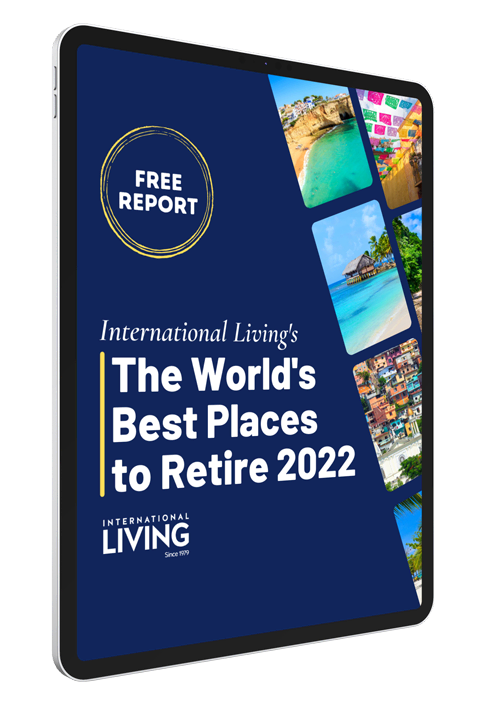 Get Your Free Report on the World's Best Places to Retire:
Learn more about the best places in the world to retire in our daily postcard e-letter.
Simply enter your email address below to sign up for our free daily postcards and we'll also send you a FREE report on The World's Top 10 Retirement Havens, plus access to over 10 more free reports. Our gift to you, on our favorite destinations.
After putting off the staircase for a couple of hours, you should think about heading farther south to Uluwatu beach. It's a choice spot to watch some late afternoon wave action from the comfort of a café. One of the most revered surf breaks in the world rolls 200 feet below the cliff as you sip your condensed-milk-infused iced coffee.
Before long, the sugar coursing through your veins will trigger you to run down the staircase and have a swim in one of the most enviable chunks of water on the planet. If the tide is out, you can wade around to the hidden Suluban Beach and feel as if you've discovered an unknown geological wonder. But don't linger too long. When the sun begins to set, take one last hike up the stairs to the café. Refuel with a cool drink and a bowl of gado gado (mixed vegetables in peanut sauce) and then saddle up for one last stop on your coastal tour: sunset at Uluwatu Temple.
Built in the 11th century at the very edge of the peninsula, and dedicated to the Supreme God of Indonesian Hinduism, Sang Hyang Widhi Wasa, Uluwatu Temple is dramatic in every sense of the word. Intricately cut limestone arches adorned with cartoon-like elephants welcome you down a stone pathway. The way leads to a three-story, thatched-roof, stone temple that feels as if it's perched at the edge of the world.
It's older than Cambodia's Angkor Wat, and it's definitely in a more impressive setting. It would be a shame to visit Bali and not seek some sort of personal moksha (enlightenment) at Uluwatu Temple. Just be sure to keep an eye out for the klepto macaques, who won't hesitate to riffle through your backpack or purse.
You could stay right where you are for sunset, as there aren't many places in the world with a better view, and the monkeys are entertaining.
Alternatively, you could stroll farther down the stone path and watch the entrancing Kekac dance. It's performed by 150 shirtless Balinese warriors chanting a ritualistic exorcism around a bonfire, while monkey warriors reenact a famous battle between good and evil. You could do that, and watch an epic sunset. Your choice. (Tickets $10, purchase onsite.)
Scooter home in the warm twilight and finish the day with another stellar dinner at Bingin Beach. Take tomorrow off.
WHERE TO GO WHEN YOU'RE BEACHED OUT
If such a person exists who desires more than Balinese beaches and bonfire tribal dances, there is a region in the heart of the island calling their name. Ubud, 90 minutes by bus from the airport ($5; departs every two hours. See: Kura2bus.com), is a world away from your salty Shangri-la, but what it lacks in waves it makes up for in atmosphere.
Temples; jungles; waterfalls; rice paddies; terraced gardens, the biggest art scene in all of Indonesia…there's a reason Ubud is the second-most popular destination in Bali, so be sure to give yourself more than just an afternoon to fully soak up the magic dripping from the banyan trees.
I suggest staying for a night and splurging on a room with a view and a pool (Jannata Resort and Spa; $50). Maybe even go for that massage you regrettably skipped at Bingin. Spend your morning strolling through the misty jungle along the Campuhan Ridge as monkeys and birds rustle in the dense canopy. Stop along the way for coffee and fresh fruit, and count how many different flowers vibrantly burst in front of your eyes—acacia, hibiscus, frangipani, and bouganvilla, to name a few.
Days get hot in the jungle, so be sure to hydrate as you shop for locally made silk scarves, hats, handmade bags, and other souvenirs in the Ubud Art Market. And don't forget to eat whenever the slightest urge arises—you're on vacation after all.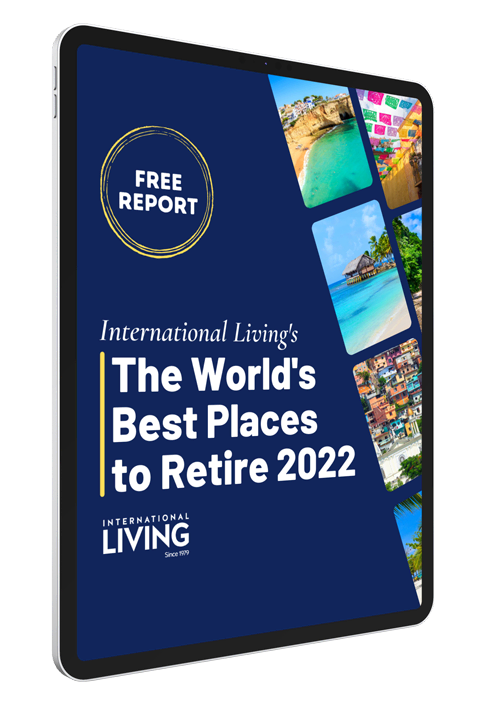 Get Your Free Report on the World's Best Places to Retire:
Learn more about the best places in the world to retire in our daily postcard e-letter.
Simply enter your email address below to sign up for our free daily postcards and we'll also send you a FREE report on The World's Top 10 Retirement Havens, plus access to over 10 more free reports. Our gift to you, on our favorite destinations.
Related Articles
7 Things to do in Bali…Big Adventure on a Paradise Island
Upcoming Conferences
Live Better, Spend Less, Retire Sooner
IL's Retire Overseas Bootcamp
October 21-23, 2022 in Atlanta, GA

In safe, warm, welcoming communities abroad, as little as $1,700 a month can bankroll a good life... this fall, our experts will show you where—and how.
Early Bird DISCOUNT—Save $100 When You Register by Sep. 29
Details Here IL's Retire Overseas Bootcamp
---
Registration Now Open for the Best of Europe Private Screening

In the Right Spots in Europe, You Can Retire in Style—in an Historic, Sun-Drenched Locale—for as Little as $2,300 a Month or Less—Especially Now With the Dollar and Euro at Parity for the First Time in Two Decades.
And We'll Show You How, October 1-2, During the Special All-Online Best of Europe Private Screening.
---
The Income Revolution Forum
What if You Had the Freedom to Enjoy the Good Life Anywhere in the World You Wanted to Be...and Get Paid While You're There?
We'll show you how—with hands-on guidance—you could beat inflation...secure your retirement...ditch your commute...and turn a skill you already have into a portable side income of $300, $600, even $3,000 or more a month.
Popular Articles You May Also Like