A European river cruise is a must for all those who take their travel seriously. Let me tell you why.
One of the most popular and rewarding cruises currently available is Amsterdam to Budapest, a 15-day cruise along the Rhine, Main, and Danube rivers traversing the villages, towns, and cities of Holland, Germany, Austria, and Hungary. A wonderful journey to enrich your memories and travel experiences.
After hearing from friends for years about how enjoyable river cruising is, and having put it on our list of things to do, my wife, Sue, and I finally decided to do it.
We had chosen Scenic for this journey, an Australian founded company offering a variety of 5-star luxury itineraries. Three nights in Paris followed by a train trip north to Amsterdam, as an optional extra of the package,  had well and truly put us in holiday mode and eager to commence our journey down some of Europe's iconic waterways.
Arriving ship side, we were warmly welcomed aboard and ushered to our cabin by our assigned butlers. The Scenic Ruby was 10 years old, and was recently refurbished, with 80 cabins for 159 guests, and crewed by a team of 59 people. A beautiful modern spacious cabin awaited us including a private balcony. We chose a cabin with a balcony as it offered the opportunity to soak up the sounds, and scenery from you own private space. On a river cruise there is always something to look at. It was time to unpack, meet fellow passengers, and familiarise ourselves with the ship's amenities.
One of the pleasures of cruising, whether it is ocean or river cruising, is the ability to unpack, put the suitcases under the bed, and then be wined and dined, entertained, and transported from place to place without having to lift a finger. But as we quickly found out, European river cruising had even more to offer.
Around every bend in the river a different landscape would be revealed, quaint towns and villages, green fields, steeply sloped vineyards, castles, churches and cathedrals, a rich tapestry of beautiful landscapes.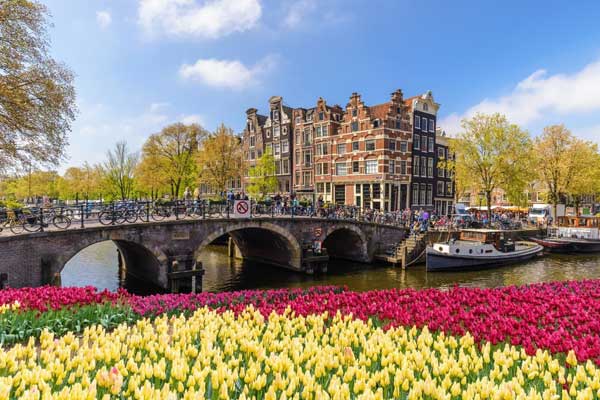 But first, a day in Amsterdam before setting sail, and there's no better way to see Amsterdam than with an expert guide for a walking tour and then a canal cruise, all inclusive. Beautiful old homes and buildings, canal crossings, drawbridges, cobblestone streets, and bicycles, more bicycles…bicycles everywhere. Not to mention every second shop seems to be selling something infused with marijuana. Coffee, lollipops, cookies, sweets, butter, chocolate, drinks, pills, snacks, spreads, the list goes on.
Back on-board the Scenic Ruby, it was time for the welcome dinner and to set sail down the Rhine to the first port of call, Cologne. Arriving mid-afternoon, it's on a bus and off to the Schloss Burg Castle for a medieval style feast and entertainment. We ate a hearty chicken broth and drank some local wines, while enjoying the ambience with our fellow passengers. Next, it's on through the Rhine Gorge to Rudesheim, well known for its Riesling wines, and the famous Siegfried's Mechanical Music Cabinet museum, with its 350 mechanical instruments from three centuries.
By now we are on the Main River, a tributary of the Rhine, the scenery remains spectacular, the sun is shining, and the June temperature is just perfect. Arriving in Wurzburg, it's time for a 75-minute bus ride to Rothenburg, famous for its well-preserved medieval town. Hundreds of years of history in buildings and museums in cobblestoned lined streets that have survived generations.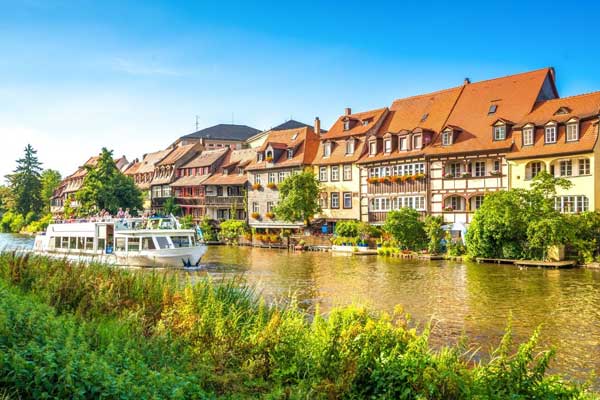 The World Heritage medieval town of Bamberg in Northern Bavaria, Germany is the next stop. A university town famous for many old buildings and barely damaged by the bombings of World War II.
By now we are about half way through the river cruise itinerary and the days just roll on full of rich sights and sounds. We are becoming well accustomed by life on board. As you would expect the day starts with breakfast, any time after 6.00 a.m., with three choices of venue from light and casual to a full hearty buffet or "cooked for you" menu selection. It's impossible not to find something to tempt you, including champagne on ice every morning. Lunches are available on board for those not onshore sightseeing, and those onshore are either dining in local restaurants or partaking in a lunch as part of an excursion.
Late in the afternoon there is usually on-board entertainment from local entertainers during the cocktail hour prior to dinner. We enjoyed this time of the evening as we got to catch up with all our new friends and discuss the days activities. Pianists, zither players, violinists, and of course singers. The Cruise Director will usually fit in a quick half hour port talk prior to dinner, detailing the next day's activities and what to expect. Schedules are always kept tight and things run like clockwork.
Dinner is always spectacular, with a buffet or cooked- for-you-option, and a great drinks menu, the best part is its all-inclusive. We particularly enjoyed having our own butler for our cabin. The  5-star rating is completely justified.
When not in port but just sailing, time would be spent on the roof top Sun Deck, lounging around sipping wine admiring the wonderful scenery and chatting with newly made friends. Locks, 37 on this cruise, are also a feature of river travel, engineering marvels raising and lowering ships between different river levels.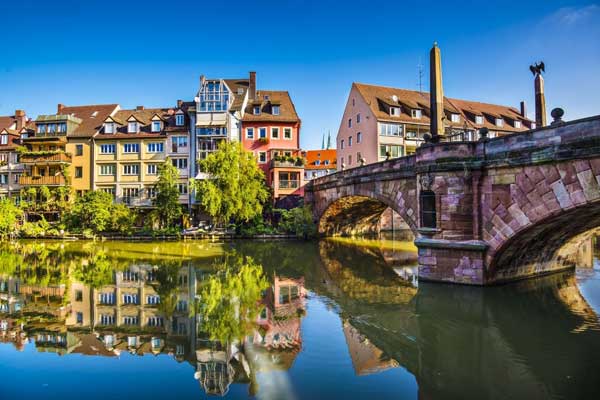 Next, the historic towns of Nuremberg and Regensburg, then it's time for Salzburg, Austria, home of Mozart and famed for its medieval and baroque buildings. A bus and walking tour and then up in to the mountains to Zistelalm for lunch and a "Sound of Music" show. We are greeted by four gents in full "Lederhosen" trumpeting a welcome, and then on to lunch whilst entertained by a 10-piece orchestra, singers, dancers, and performers.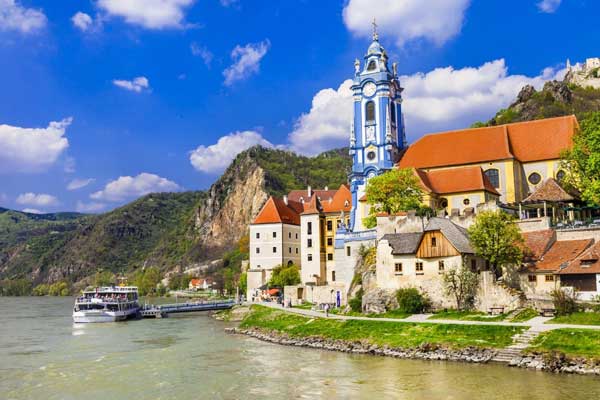 Now to Durnstein on the Danube in Austria and known for tourism and wine growing, and in particular the Abbey of Melk, a Benedictine abbey on a rocky outcrop above the town of Melk and overlooking the Danube.
Vienna's next with a 4-hour city tour, plenty of free time in the afternoon, and an evening private Mozart and Strauss concert at Palais Liechtenstein. A unique entertainment experience even for those not familiar with classical music.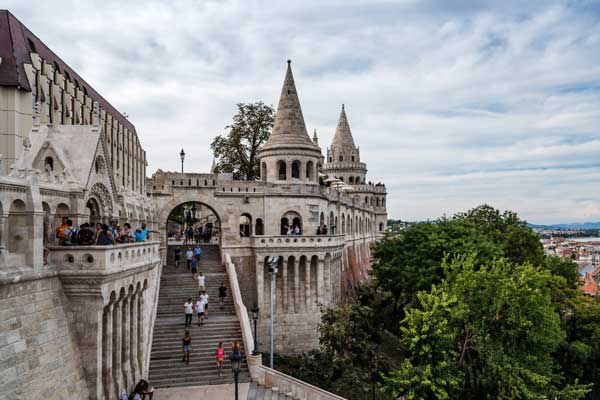 Finally, we are in Budapest, the two weeks is drawing to a close and it's all gone by in a flash. A morning drive around the city and then a couple of hours at The Hospital in the Rock—Nuclear Bunker Museum. A hospital created prior to World War II in caverns beneath Buda Castle. Then on to the famous Chain Bridge", a suspension bridge connecting the east and west of Budapest.
So much to see and do in two weeks, all from our floating hotel. No daily packing and un-packing, all-inclusive dining, nightly entertainment, arranged sightseeing tours, a truly marvelous way to see the sights and sounds of Europe.
Cruising, whether it is by sea, ocean or river, is an absolute delight. We plan to do another one, this time in Portugal and Spain.  2020 here we come.
Get Your Free Report on Europe Here:
Learn more about countries in Europe and other countries from around the world in our daily postcard e-letter.
Simply enter your email address below and we'll also send you a FREE report - All the Charm and Romance of Europe…at a Price You Can Afford.
Related Articles
Europe's Top 5 Affordable Retirement Havens
5 Places in Europe Where You Can Retire on $35,000 a Year
The World's Best Places to Retire