If it's culture, history, and variety you're after, Europe has it all. From idyllic rural retreats to cities where history is thickly layered with stunning architecture and grand museums, rich in romance, Europe has long had a strong appeal for North American retirees.
Many people who would love to retire to the Old World wrongly assume that it's beyond their budget. But, the reality is you can have a European retirement and at a cost much lower than you may think.
Read on to discover 11 locations where you can enjoy a perfect European retirement on just $35,000 a year.
1. Aix-en-Provence, France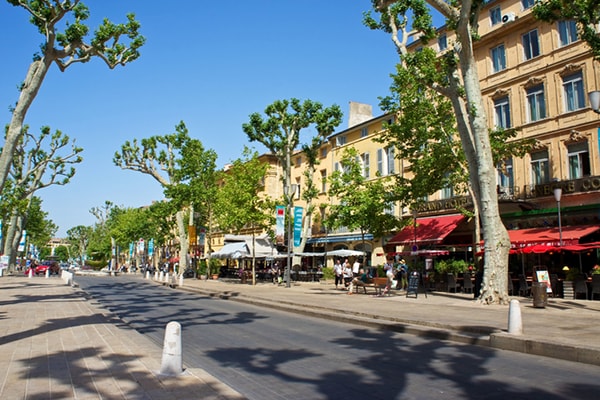 Provence is a sweeping area at the center of the Alps-Provence-Cote d'Azur region of south-eastern France, bordering Italy and the glittering waters of the Mediterranean Sea.
France's second-largest city, Marseille, is its capital but visitors tend to gravitate to smaller popular towns such as Aix-en-Provence—a wildly romantic little city of fountains and medieval streets that was once the Provençal capital.
This region takes all of the best parts of France and wraps them up in a pretty bow: fascinating history and culture, beautiful weather, excellent food and wines, laidback atmosphere, and, of course, the glittering waters of the Mediterranean Sea. It's also close to the Italian border—less than an hour away in certain areas—so it's the perfect starting point if you're looking to travel around the region.
With a population of just 140,000, you might expect Aix to be a traditional Provençal town…but this city has a buzz that far exceeds the relatively small population. It is the essence of French style, coupled with the colorful chronicled past, captured by artists such as Van Gogh, Matisse, and Picasso for generations. The locals move through the city with purpose but without appearing hurried.
A couple can live well renting a one-bedroom apartment in Aix-en-Provence for $2,695 per month—$32,340 a year.
2. Alicante, Spain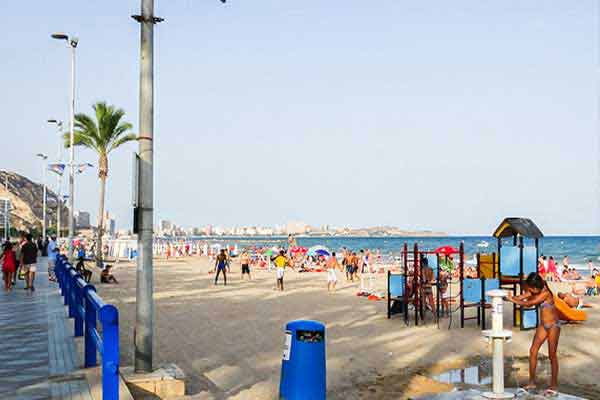 Alicante is a port city on Spain's south-eastern Costa Blanca. Home to about 330,000 people, Alicante offers an unbeatable combination of comfortable city living and relaxed country friendliness. There's always something to do here, whether it's dressing up for fiestas and concerts or getting fancy at the theatre or a Michelin-starred restaurant.
The city has two distinct rhythms. In the summer, Alicante transforms into a sunshine playground where gelato shops spring up on almost every street, men walk the beaches selling ice-cold cans of beer, and a myriad of languages bubble through the streets.
Things slow down as the weather grows colder and the tourists head home. Yet winter is entirely pleasant as the temperature rarely drops below 50 F. Most days the sky remains a crystal clear blue and the wide beaches become yours alone to wander on.
The seafood from the fish hall was incomparable—a pound of fresh red tuna cost me $7.50 and a pound of tasty prawns could be had for $4.
Like so much of Spain, living here is affordable. A couple can live well in Alicante on $1,985 per month—$23,820 a year.
3. Granada, Spain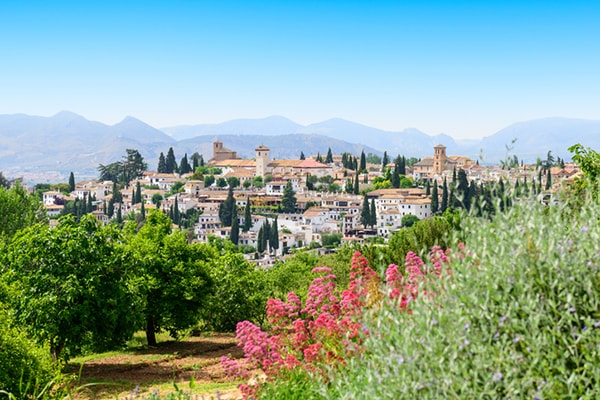 The climate and weather of Granada justify why so many peoples have sought to be here. Set at the foot of the Sierra Nevada mountains, humidity is low, which makes it comfortable to be out and about on foot. Winters can have a chill, but snow rarely lasts in town for more than a day. The hot summers remain dry and humidity-free, nothing that a shaded café and a cold tinto de verano (iced summer wine) can't counter.
Today, Granada remains a mid-sized town (235,000 people) that you can walk the length of, though the city transit system is so easy, regular, and accessible, it is second to none. Everyone uses it, which makes it both convenient transportation and a social meet-up.
Surrounded by gently rolling foothills, mountains streams, and open meadows filled with olive and fruit trees, Granada is a hiker's paradise. You'll find villages situated in valleys that have been occupied for 5,000 years, and with each new generation, a new layer (and outdoor wine/tapa café) is added to the area's vivacity.
A couple can enjoy all Granada has to offer for $2,476 per month including rent—$29,712 a year.
4. Seville, Spain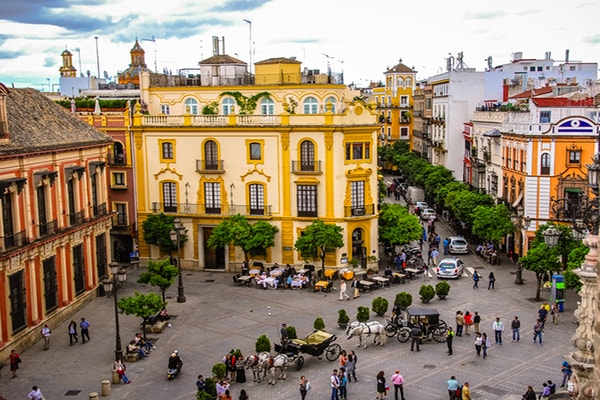 Seville (population about 700,000 in the city and 1.5 million in the greater metro area) is a mecca for those who love gracious living, southern Spanish style. Located on the Guadalquivir River, the largest navigable river in Spain, Seville is about 50 miles from the Atlantic Ocean.
Winters are relatively mild, with average highs in the 60s F and lows in the 40s F. But summer temperatures, especially in July and August, can soar well over 100 F, with next to no humidity. How better, then, to spend the hot days than in a house with thick stone walls to keep out the heat and a placid central patio, perhaps with a tinkling fountain in the center, and masses of flowers around it? This lifestyle has appealed to Sevillanos for centuries…and in this city, tradition runs strong.
The city is justly famous for its Moorish architecture, bullfighting, flamenco dancing, and lively culinary scene. Seville's Holy Week (Semana Santa) processions are widely considered the most solemn and impressive in Spain, drawing millions of visitors each year. And its feria (fair) in April, with its wealth of street activities, is also a highlight of the year.
In the right neighborhood, a couple can live well in Seville on $2,319 per month including rent, or $27,828 a year.
5. Basilicata, Italy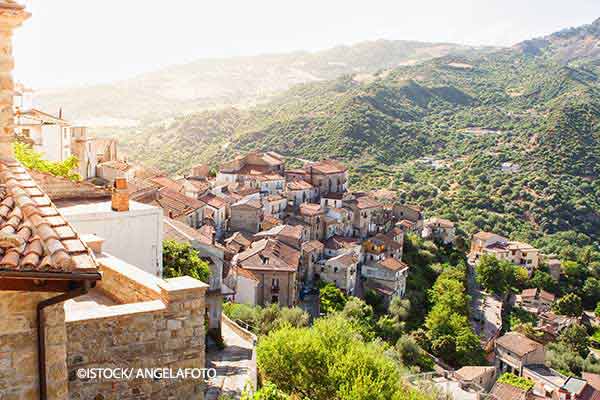 Italy is full of classic postcard landscapes that appeal to all the senses. Living in Italy can be as expensive or as low-cost as you want it to be—it all depends on location and lifestyle. Sure, the big cities like Rome, Milan, and Florence are expensive. But get outside these popular areas and prices drop significantly.
Take Basilicata, a hidden gem tucked into the ankle of "the boot", speckled with verdant valleys, deep forests, rolling hills, and alpine peaks. Nestled in the Apennines in southern Italy, Basilicata is almost entirely encircled by its neighboring regions except for two short stretches of coastline. Cuddling up to Puglia, Calabria, and Campania, it is the most sparsely-populated part of the country.
Basilicata offers a laidback, enjoyable lifestyle that can be affordable, where you'll be welcomed and well-fed. "The boot" garners top honors in cuisine; prosciutto, parmigiano, pizza, porcini, and pasta…they're famous because they're so delizioso.
Life here, as with so much of Italy, is relaxed, and there is a history of hospitality that will make you feel at home and help you settle in.
Basilicata exemplifies the lifestyle that draws most expats and travelers to Italy. A monthly budget for a couple in Basilicata comes to $1,600, or $19,200 a year.
6. Modena, Italy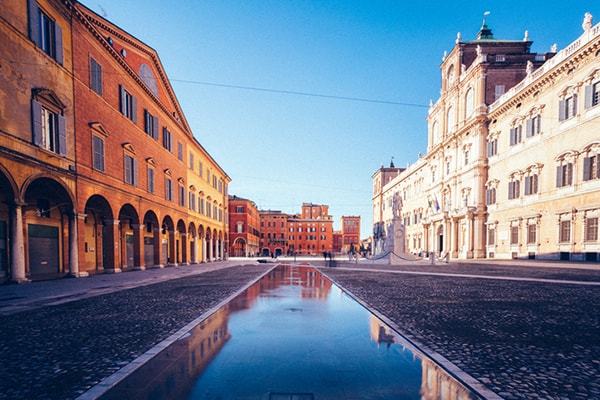 Sitting prettily on the ancient Via Emilia, roughly 80 miles north of Florence, Modena is well-connected and well-heeled. This city is one of the most underrated in Italy—a well-to-do city without being stuffy (or over-priced).
Its classy historic center packs a cultural punch with its monuments, museums, art, and entertainment. No wonder Modena consistently ranks high on Italy's quality of life index ratings.
The university draws young people from around Italy to study law, medicine, and mechanical engineering—not surprising, given the number of automakers in the area. You can visit Ferrari, Lamborghini, Maserati, and Pagani.
Outside town, vineyards swath the hills and plains, turning out frothy Lambrusco and its lively white equivalent Pignoletto.
Maybe it's the sparkling wines produced here that gives Modena a bubbly demeanor, or maybe the light-hearted pastels of the buildings. Whatever it is, the ambiance of this city of 175,000 residents is pleasant and somewhat reminiscent of Florence with Renaissance influence.
It is well maintained and well-endowed with parks and culture, thanks in part to Ferrari and other local industrialists whose philanthropy keeps Modena green and clean.
The lifestyle here is relaxed, like most places in Italy, but with a touch of class and culture. In the right spot in Modena a couple can live well for as little as $1,617 per month including rent, or $19,404 a year.
7. Sorrento, Italy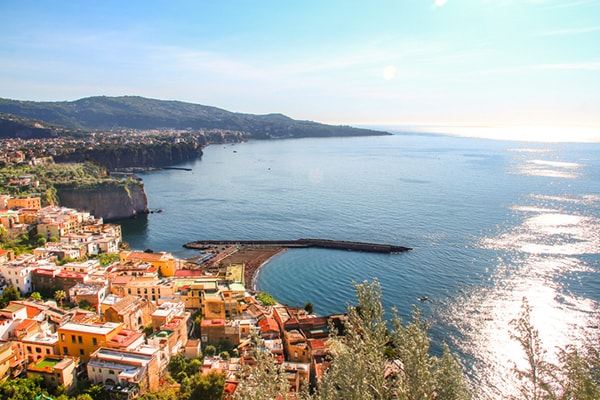 A dignified large town resting on a bluff, Sorrento is a sun-splashed energetic place. Its position on the Sorrentine Peninsula gives it stunning views of Vesuvius looming over Naples as well as the magical rocky island of Capri. There are relaxing cafes, plenty of shops from posh to practical, and a sheltered shoreline below the cliffs.
The city is sort of divided into three parts—the centro old town, the waterfront marinas below the cliffs, and the newer town beyond the ancient city walls. Despite the summer crowds it draws, Sorrento isn't merely a beach resort; it enjoys a vibrant year-round life. There is a "cultural university" that offers a range of adult cultural classes and volunteer opportunities, along with the University of Mediterranean Cuisine.
The climate is pleasant with hot, dry summers and mild, moist winters. The average temperature in summer is 85 F tempered by sea breezes, and in winter the average temperature runs around 50 F. Expect some rainy days from November through February, but there are theater shows, cinemas, and museums to get you out, and the train to Naples and big city amenities takes just an hour.
Renting a one-bedroom apartment, a couple can live well in Sorrento for $2,817 per month—which comes to $33,804 a year.
8. Porto, Portugal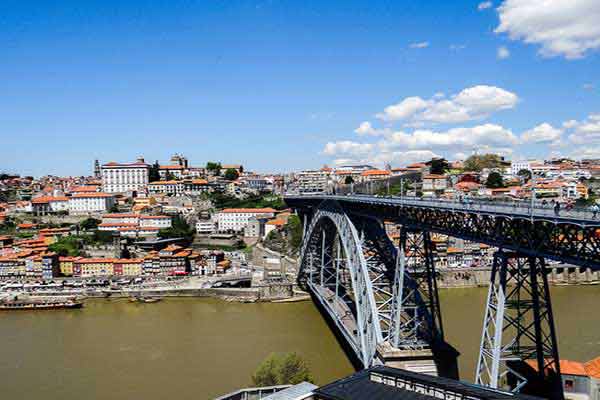 Many European cities have been sought out by expats from the U.S. and Canada in recent years. But what Porto offers, is an enchanting combination of Old World charm and First-World convenience wrapped in a consummately affordable and attractive package.
The second-largest metropolitan area in Portugal after Lisbon, it is located on the Douro River where it flows into the Atlantic. The city center is home to less than 240,000 people and has a small city's feel and friendliness. But it's also a thriving international business city with an international airport.
Still something of a hidden gem, Porto isn't overwhelmed by the crowds of Lisbon and has escaped from the overly touristy feel of certain parts of the country's southern coast, while still ticking all the boxes for scenic grandeur and vibrant culture.
Porto is known for its vibrant restaurant and café scene. The scenic riverfront provides the perfect backdrop for an evening stroll. Elegant parks with fountains, statues, and exotic plants, leafy boulevards, and cobbled streets lined with historic buildings all invite easy exploration.
For all Porto's natural and architectural beauty, fine food and wine, and pleasurable pastimes, it's surprisingly affordable to live here—a monthly budget for a couple runs at $1,550, or $18,600 a year.
9. Lagos, Portugal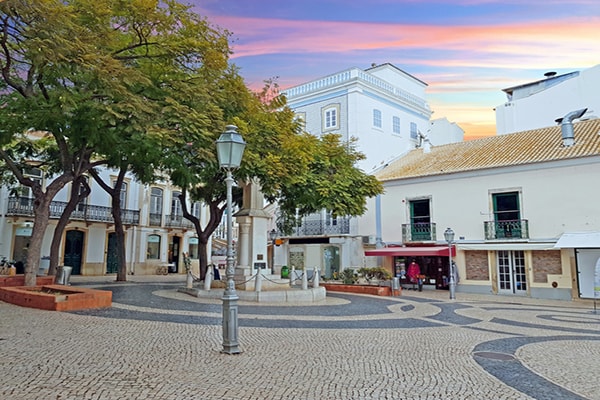 In Portugal's southern Algarve region, Lagos is blessed with a year-round moderate climate—average temperatures range from 52 F in winter to 75 F in the summertime, when the normal average population of 22,000 swells with visitors from Europe and elsewhere. While landlubbers enjoy golfing, tennis, horseback riding, and hiking, the ocean offers the best of conditions for kayaking, paddle boarding, surfing, kite surfing, windsurfing and more in the area's tourist-based economy.
It's easy to get around Lagos on foot. Much of the city is fairly flat, especially around the lovely marina. Buses and taxis are plentiful, and trains go to other regions of the Algarve and even up to Lisbon and beyond.
Despite the tourist-oriented nature of Lagos, particularly during the peak season of July and August, prices are surprisingly reasonable. Including rent, a couple can live well in Lagos on $2,080 per month, or $24,960 a year.
10. Nazaré, Portugal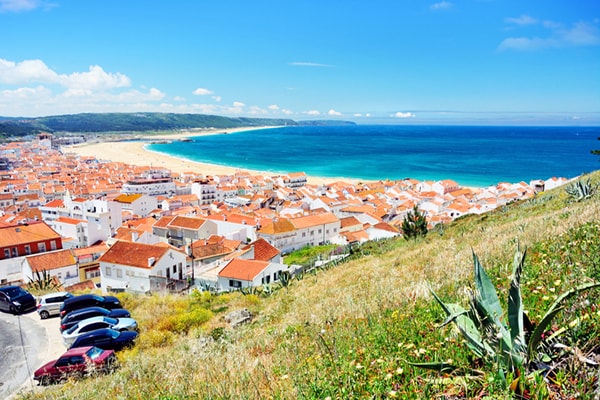 Just 32 square miles in area, Nazaré is a livable city on the coast between Lisbon and Porto. While it's delightful to explore on foot, reliable bus and taxi service is available. There's a local market in town as well as supermarkets, more than 100 restaurants and cafés, and other amenities.
There's already an established expat presence here, although the city is not overrun, as some popular places are, like the southern region of the Algarve, for example.
Nazaré's climate is temperate, with highs reaching toward 85 F in summer, dipping to averages around 50 F in January, the coldest month. It might not suit those who are looking for year-round sun, but even in November, for example, rainfall averages only three-and-a-half inches compared to the five inches the capital, Lisbon, receives.
The town's market is within easy walking distance from the center, where locals and visitors alike can purchase fresh fruit and vegetables, meat, fish, and bakery items like fried pumpkin cake. Perhaps the most attractive part of Nazaré is Sítio, a primarily residential area. Perched high on a cliff above the coast and town, this suburb offers magnificent views and can be reached by walking (for hearty souls), driving, or taking the funicular from below.
And best of all, a couple can rent a large apartment close to the beach and live well on $1,845 a month, or $22,140 a year, in Nazaré.
11. Valletta, Malta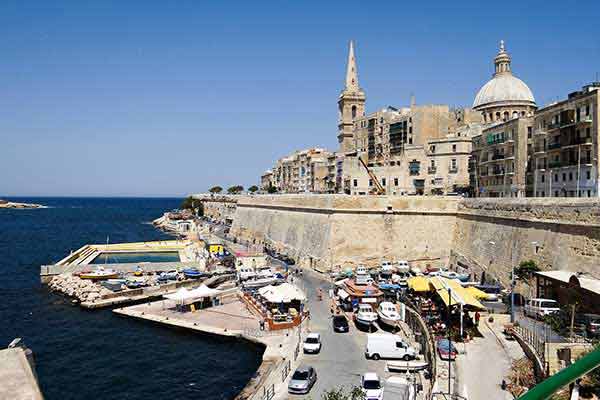 From countryside farmhouses to ancient walled cities and breath-taking coastal pathways to quirky, hidden-gem restaurants, the tiny island nation of Malta has a little something for everyone.
At only 122 square miles, making it one of the smallest nations in the European Union, Malta packs a real punch. It's home to a number of UNESCO World Heritage Sites and over 155 miles of coastline. Built in the 16th century, it is a well-preserved ancient city, a popular tourist destination, and a busy port town. At the height of summer, its docks play host to two cruise ships a day.
With rolling hills reminiscent of San Francisco, Valletta offers incredible views of ships entering and leaving its harbors. Here, the English-speaking population—a legacy of British colonization—makes it easy for North Americans to adjust to life.
Valletta is also renowned for being the warmest capital in Europe. Average daytime temperatures are in the 60s F, with at least five hours of no-cloud-in-sight sunshine per day, in the "winter" months of January and February. And temperatures average in the 80s F during the hottest part of the summer.
Dollars can go surprisingly far here, with couples living comfortably on $2,600 per month—$31,200 a year.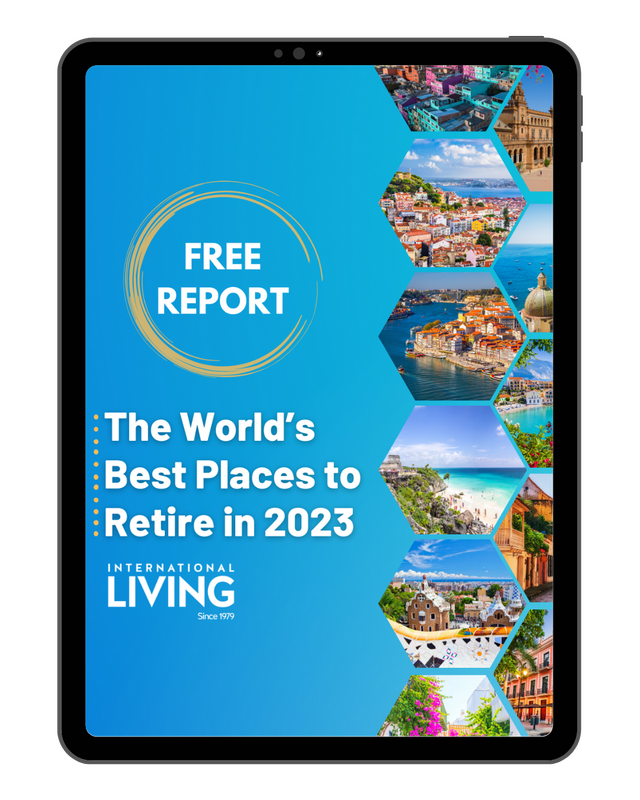 Get Your Free Report on the World's Best Places to Retire:
Learn more about the best places in the world to retire in our daily postcard e-letter.
Simply enter your email address below to sign up for our free daily postcards and we'll also send you a FREE report on The World's Top 10 Retirement Havens, plus access to over 10 more free reports. Our gift to you, on our favorite destinations.
Related Articles
The World's Best Places To Retire In 2019
The Cheapest Places In The World To Live In 2019
Explore the Old World in Laidback Portugal
Upcoming Conferences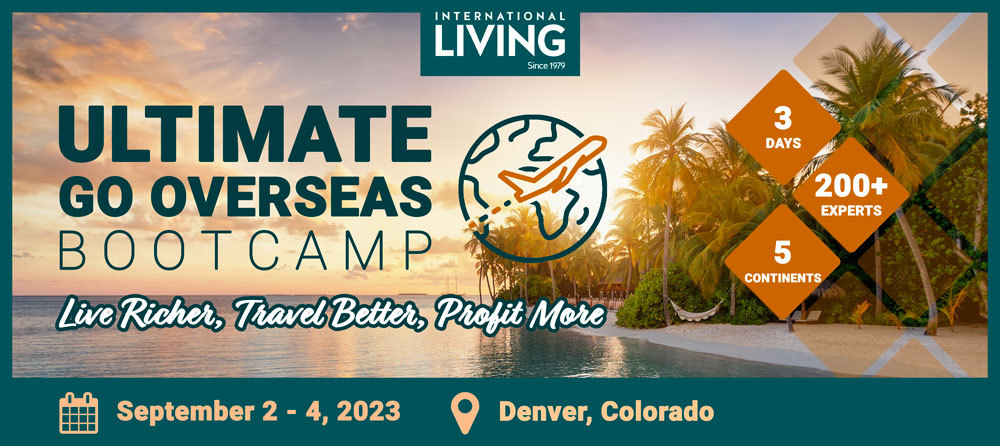 Most Popular Products