Sorrento, Italy: Everything You Need to Know
A dignified small city resting on a bluff, Sorrento is a sun-splashed energetic place. Its position on the Sorrentine Peninsula gives it stunning views of Vesuvius looming over Naples as well as the magical rocky island of Capri. There are relaxing cafes, plenty of shops from posh to practical, and a sheltered shoreline below the cliffs.
Sorrento is well-connected by rail, bus, and ferry lines, providing access to southern Italy and beyond. It is a beach resort that doesn't wholly focus on the beach. It also has that Neapolitan "gioia di vivere" (joie de vivre), excellent food, and that sunny southern liqueur, limoncello.
Retire in Sorrento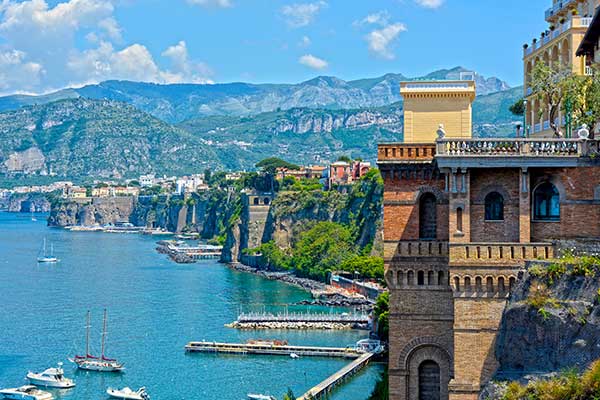 ©yanta/iStock
Sorrento is a colorful and vibrant place, not quite a city but not a small town either. Maybe it's the famed limoncello liqueur that infuses a high-octane sweetness, but the people just seem to radiate a self-satisfied happiness. If you want a dose of liquid sunshine, just stroll down Via San Cesareo where artisanal shops make the liqueur and dole it out liberally. This is also where you'll find handmade leather goods and plenty of restaurants and gelato shops, too. You won't go hungry here; there are loads of restaurants around Sorrento, serving up mozzarella-laced pasta and fresh seafood, and of course that famous Neapolitan pizza.
The city is sort of divided into three parts—the centro old town, the waterfront marinas below the cliffs, and the newer town beyond the ancient city walls. Despite the summer crowds it draws, Sorrento isn't merely a beach resort; it enjoys a vibrant year-round life. There is a "cultural university" that offers a range of adult cultural classes and volunteer opportunities, along with the University of Mediterranean Cuisine.
The climate is pleasant with hot, dry summers and mild, moist winters. The average temperature in summer is 85 F tempered by sea breezes, and in winter the average temperature runs around 50 F. Expect some rainy days from November through February, but there are theater shows, cinemas, and museums to get you out, and the train to Naples gets you to big city amenities in an hour.
There are hospital and medical facilities in town, and nearby larger towns, too.
The Lifestyle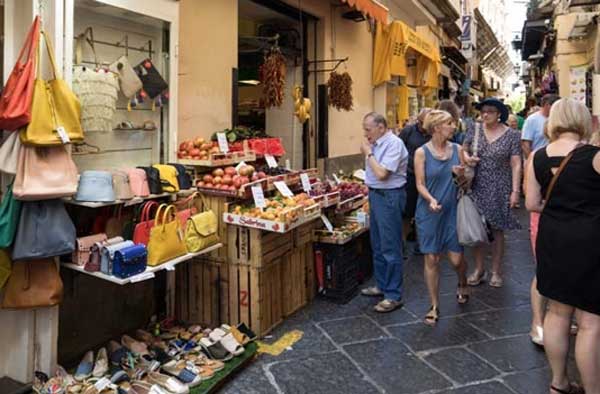 © wjarek/iStock
Sorrento is just plain beautiful, there's no denying it. It draws lots of tourists to see the views, bask in the sun on the fashionable beaches, many of which put lounge chairs on piers over the water like you've seen in old movies. The town offers all the services and amenities you'd expect, while giving you access to some of the world's most renowned sights such as Capri, the Amalfi Coast, Pompeii, and Naples. A day outing could include a trip up Mount Vesuvius with a stop at a winery, or hiking on the Sorrentine hills suspended over the sea with close-up views of Capri. Or maybe go for a boat trip along the coast, or jump on a ferry to the color-splashed but less-known island of Procida. Explore hidden coves, shop on the Corso, or attend a concerto.
There are interesting surrounding towns to explore and more than 150 miles of walking trails on the Sorrentine peninsula alone. The town doesn't neglect the nightlife or cultural offerings, though. From concerts, festivals, and shows to dance clubs and beach parties, there's always something to do.
With outdoors activities, fantastic food, wine bars, sidewalk cafes, and vibrancy, Sorrento is certainly alluring. The only two downsides? Summer traffic and real estate prices.
Real Estate in Sorrento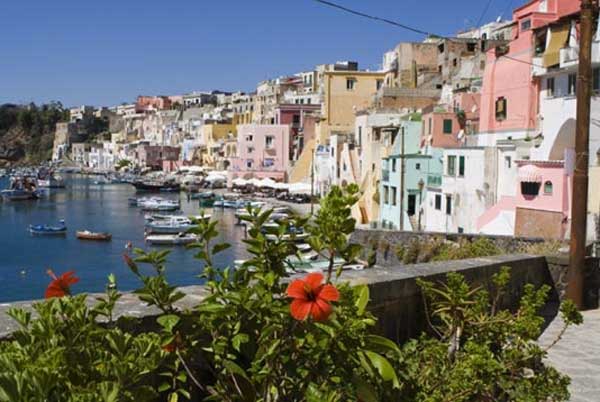 ©AngelaFoto/iStock
 All this beauty and accessibility does come at a price; Sorrento isn't cheap. Far from it. The average home purchase price is €531 ($594) per square foot, while the average rental price runs almost $2.04 per square foot. There are many listings in the millions of Euros; don't expect to find much for less than $560,787. A nicely renovated 969-square-foot apartment with two bedrooms and a roof terrace in the city center is on offer for $605,650.
But you don't have to cross it off, yet, because fortunately the surrounding towns offer lower prices or at least better value, for example, a 484-square-foot apartment in Sorrento is currently listed for $448,630 but that same price in nearby Massa Lubrense will buy you a 1,324-square-foot hilltop home with a spectacular view of the gulf, just ten minutes from Sorrento. Or, a 538-square-foot one-bedroom with a stunning sea view balcony that lets you see Vesuvius and Naples is listed in Massa Lubrense for $179,452.
The pretty pastel seaside town of Vico Equense is like a mini-Sorrento in atmosphere and just a few miles along the coast. Here a beach-front house of 1,184 square feet with two bedrooms, two bathrooms, a tended garden, and private parking space is less than a tiny apartment in Sorrento. The house is on two levels, is in perfect new condition, and is right on a sandy beach, with a negotiable price of $618,866.
Cost of Living in Sorrento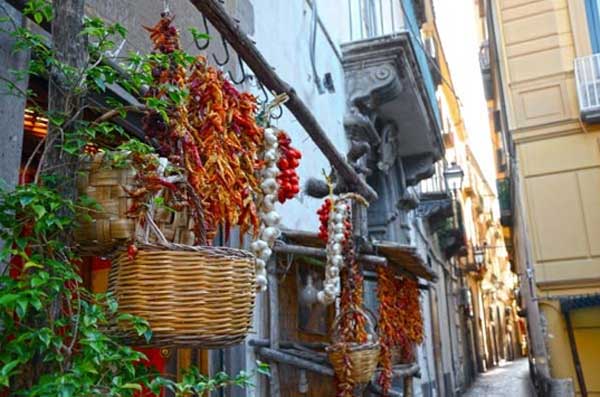 ©Madzia71/iStock
As noted, real estate prices are hefty, as are rentals. Don't expect to find anything for under $2,240 a month. Lower rental prices, like real estate sales, go down when you branch out to the surrounding towns.
While you could easily spend $67 a person for a full meal, or more than $100 a head for a Michelin-starred restaurant, you can just as easily sidle into a homey trattoria for a plate of pasta that costs $7.29, a complete seafood menu that runs $28, or fixed-price lunch menus for only $17. It depends on what you crave. For special occasions, Sorrento has no lack of posh eateries with spectacular views. For a pizza and beer, expect to pay around $10.
Artisan shops offer handmade leather goods—belts, handbags, and more—at surprisingly low prices. If you go to a wine shop you might gasp at the prices, yet local wines can be found in the supermarkets for bargain prices, and if you know where to go you can find vino sfuso (bring your own jug) for €2.50 a liter. The tourist bars may charge $4.48 for a cappuccino, but your neighborhood barista would never gouge you, charging instead the standard €1.45.
Apart from tourist prices (which can be avoided when you are a local) and housing costs, the main expenditures are in line with the typical Italian living costs. Rent.
| | |
| --- | --- |
| Expenses | U.S.$ |
| Rent  (one-bedroom apartment) | $2,300 |
| Utilities | $250 |
| Cell phones (x2) | $50 |
| Groceries | $300 |
| Internet | $30 |
| Dining Out (two times a week) | $150 |
| Bus pass | $37.60 |
| Total | $2,817 |
Things to do in Sorrento
By John Morris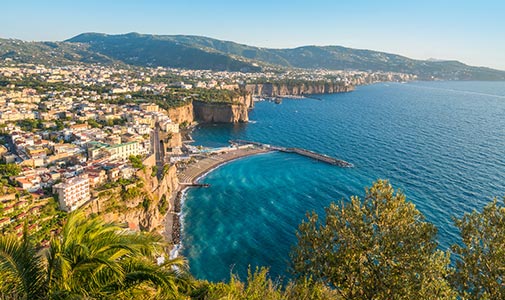 One of the most popular and beautiful tourist destinations in southern Italy, the ancient town of Sorrento is located on the Amalfi coast looking westward over the Bay of Naples. From terraces high on the cliffs above three marinas, views extend across the boat-and-superyacht-speckled Mediterranean to the distant sun-soaked islands of Capri and Procida. The urban sprawl of Naples and imposing Mt. Vesuvius dominate the northern skyline.
Sorrento is a small town where the main places of interest are all available by foot along ancient stone cobbles. It enjoys a mild climate, semi-tropical parks, and friendly, welcoming, people. Stylish main streets offer designer outlets, and intriguing narrow alleyways are crowded with a variety of fascinating shops, bijou restaurants, quaint cafes, and small bars.
Easily accessed by road, rail, or water, the Circumvesuviana rail line, connecting the town with Naples and Pompei, ends here. A ferry and hydrofoil service make regular trips to Naples and the islands.
Piazza Tasso and Bar Ercolano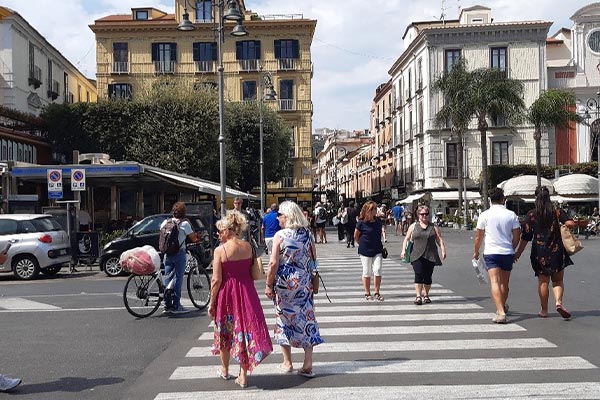 Piazzo Tasso, named after the renowned 16th-century poet, Torquato Tasso, is a popular café-lined square located right in the heart of Sorrento. Always full of life, buzz, and people, tall palms and sun-shades provide coolness, while orange-flower aromas scent the air. From here, take a trip in a horse-drawn carriage or the white road train to view the sights and places of local interest. Or wander the alleyways to find mouth-watering cannoli and gelato ice cream,
Bar Ercolano, an excellent café and meeting place, stands on the square. A wonderful spot for anytime drinks, and light snacks. It is perpetually busy and noisy from passing traffic, but it is fun to people watch from here.  Enjoy an Aperol Spritz—a refreshing prosecco-based cocktail.
Museo Bottega della Tarsia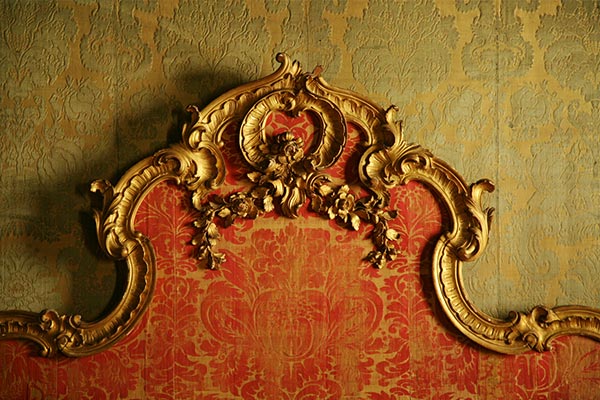 Near Piazza Tasso at 28, Via San Nicola, is the 18th century Palazzo Pomarici Santomasi—home to Sorrento's Wood Inlay Museum. Here you may discover the city's woodworking origins and see furniture inlaid with Roman bronze, silver, and mother of pearl.
Correale di Terranova Museum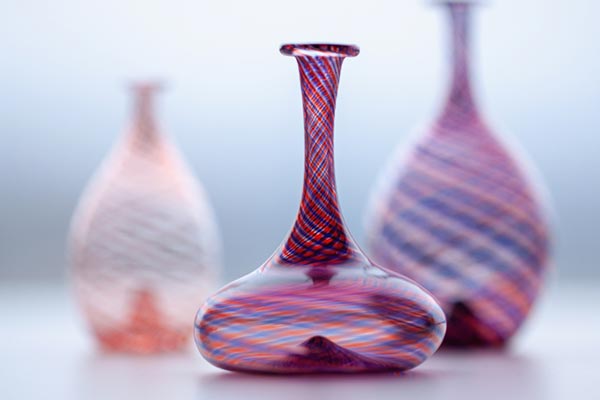 This center for the arts at 50, Via Correale, is considered to be the most beautiful provincial museum in Italy. Meissen, Sevres, and Capodimonte porcelain are displayed together with 17th and 18th-century paintings, Bohemian and Murano glass.
La Favorita Ristorante
At 71/73 Corsa Italia, you will find the "Wow" factor of all Sorrentine restaurants. Founded in 1868, this beautiful olive-tree and Romanesque-themed establishment is both astonishing and a delight to visit. The choice and quality of food offered is outstanding and reasonably priced. This is where—a hundred years ago—the world-famous dish of Cannelloni was born. Dishes are said to "exalt the aromas and the flavors of the Mediterranean and the Gulf of Naples," and they really do. Run today by the founder's descendent, elderly white-haired Enzo Manniello, likes to greet his guests personally.
Limonoro –"Filters the sun into wedges"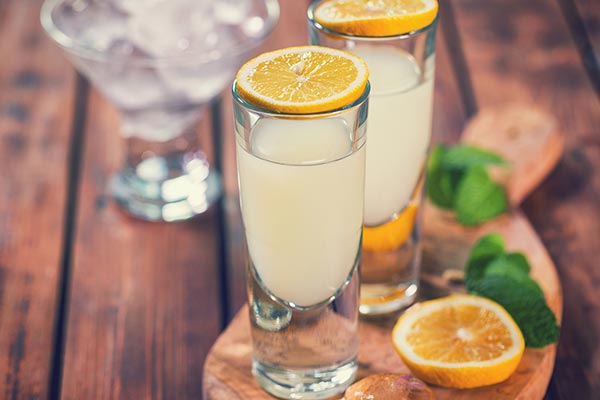 With a heritage dating back to 1905, the fourth generation of the D'Esposito family knows all there is to know about producing the classic Sorrentine liquor, Limoncello, which they describe as "the ultimate".  Whilst its origins are obscure, the drink is more than 100 years old, and they use only the best Femmineello lemons. These are harvested early in the morning and are hand-peeled to preserve the liquor's aromatic and flavorful characteristics.
Call at 49, Via San Caesareo, to sample the ultimate Limoncello. Close your eyes and savor the distinctive lemon aroma, then taste and enjoy the sweet, cool, citrus flavor.
Terrazza delle Sirene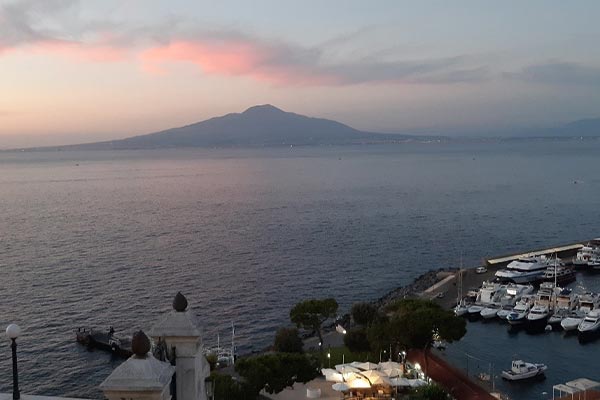 Popular legend has it that the three daughters of Achelous, a Greek God, sang to sailors in Italian waters, luring them to their deaths. Whether true or not, the Terrace of the Sirens above the Marina San Francisco at the Foreigners Club at 35, Via Luigi de Maio, has outstanding views across the Bay of Naples. It offers a simply superb lunch and dinner menu, and is not to be missed. It also serves tea, coffee, and alcoholic drinks mornings and afternoons, all at reasonable prices. Call in for a chilled Prosecco and take in the view.
Marina Grande and Soul & Fish Gourmet Restaurant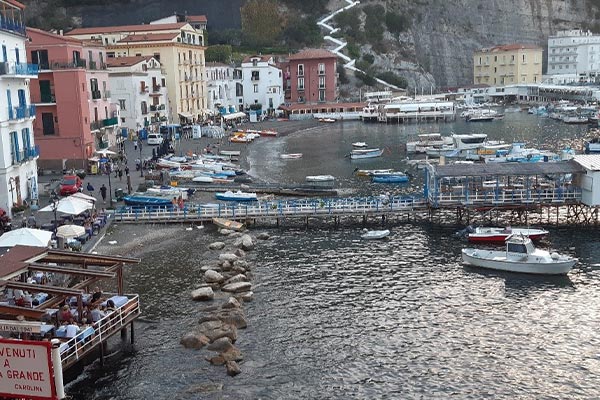 On a wall above the steps leading down to Marina Grande's waterfront, a plaque commemorates Italy's most famous and beautiful actresses—Sophia Loren. Here, in 1955, she starred as a fishmonger in the romantic comedy, Scandal in Sorrento. No better location could have been chosen for the timeless charm and beauty that this small harbor offers. Despite its misleading name, the harbor is smaller than its twin, Marina Piccolo. Rowing boats, speedboats, and surfboards are drawn up on the sandy beach. Several restaurants crowd together on the busy waterfront.
Soul & Fish Restaurant, at Via Marina Grande, is located at the far end of the harbor—a short walk along the waterfront. As its name suggests, this is primarily a fish restaurant, but it is simply superb. Established in 2014 by six hotheads (as they call themselves), all members of the same family, "they have just one beating heart." They have carved out a justified reputation for serving fine seafood dishes using daily fresh catches. An exceptional dining facility overlooking the small harbor, friendly, welcoming staff, reasonable prices.
Villa Comunale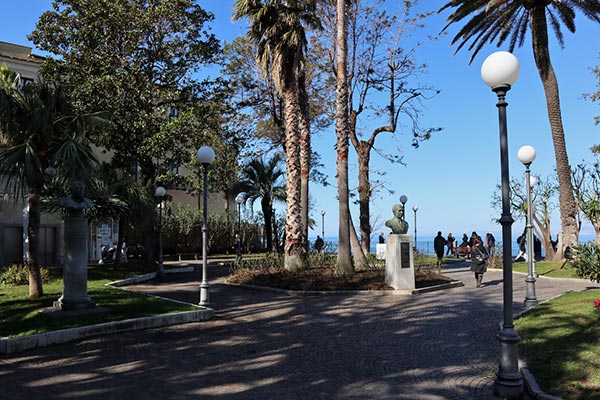 Located above Marina Grande is the large tree-shaded terrace of Villa Comunale. With sculptures and fountains, it's the ideal place to pause, maybe have a picnic, or just take in the amazing views; either down to the harbor or out to sea. Looking west you can see Capo di Sorrento where once a Roman villa stood. From here you can take a lift down to the harbor.
For me, Sorrento is one of the most beautiful, friendly, and alluring places on earth. I can't wait to go there again!