Sorrento, Italy: Everything You Need to Know
A dignified small city resting on a bluff, Sorrento is a sun-splashed energetic place. Its position on the Sorrentine Peninsula gives it stunning views of Vesuvius looming over Naples as well as the magical rocky island of Capri. There are relaxing cafes, plenty of shops from posh to practical, and a sheltered shoreline below the cliffs.
Sorrento is well-connected by rail, bus, and ferry lines, providing access to southern Italy and beyond. It is a beach resort that doesn't wholly focus on the beach. It also has that Neapolitan "gioia di vivere" (joie de vivre), excellent food, and that sunny southern liqueur, limoncello.
Retire in Sorrento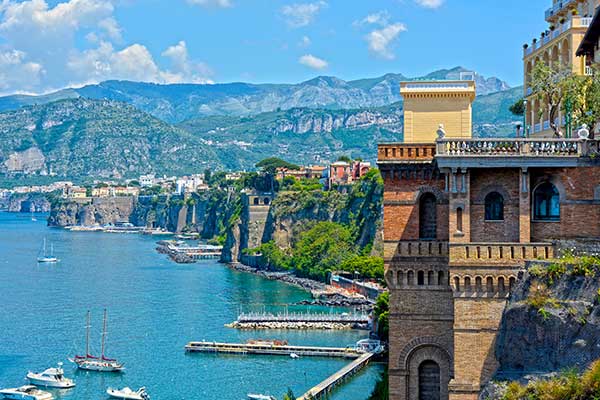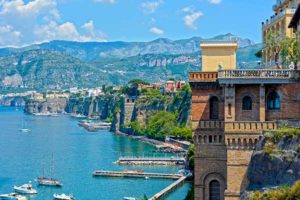 ©yanta/iStock
Sorrento is a colorful and vibrant place, not quite a city but not a small town either. Maybe it's the famed limoncello liqueur that infuses a high-octane sweetness, but the people just seem to radiate a self-satisfied happiness. If you want a dose of liquid sunshine, just stroll down Via San Cesareo where artisanal shops make the liqueur and dole it out liberally. This is also where you'll find handmade leather goods and plenty of restaurants and gelato shops, too. You won't go hungry here; there are loads of restaurants around Sorrento, serving up mozzarella-laced pasta and fresh seafood, and of course that famous Neapolitan pizza.
The city is sort of divided into three parts—the centro old town, the waterfront marinas below the cliffs, and the newer town beyond the ancient city walls. Despite the summer crowds it draws, Sorrento isn't merely a beach resort; it enjoys a vibrant year-round life. There is a "cultural university" that offers a range of adult cultural classes and volunteer opportunities, along with the University of Mediterranean Cuisine.
The climate is pleasant with hot, dry summers and mild, moist winters. The average temperature in summer is 85 F tempered by sea breezes, and in winter the average temperature runs around 50 F. Expect some rainy days from November through February, but there are theater shows, cinemas, and museums to get you out, and the train to Naples gets you to big city amenities in an hour.
There are hospital and medical facilities in town, and nearby larger towns, too.
The Lifestyle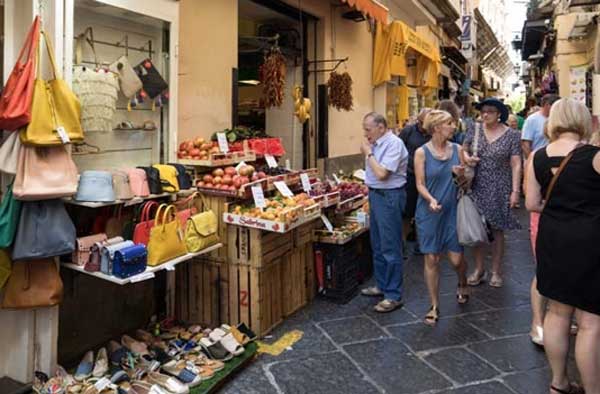 © wjarek/iStock
Sorrento is just plain beautiful, there's no denying it. It draws lots of tourists to see the views, bask in the sun on the fashionable beaches, many of which put lounge chairs on piers over the water like you've seen in old movies. The town offers all the services and amenities you'd expect, while giving you access to some of the world's most renowned sights such as Capri, the Amalfi Coast, Pompeii, and Naples. A day outing could include a trip up Mount Vesuvius with a stop at a winery, or hiking on the Sorrentine hills suspended over the sea with close-up views of Capri. Or maybe go for a boat trip along the coast, or jump on a ferry to the color-splashed but less-known island of Procida. Explore hidden coves, shop on the Corso, or attend a concerto.
There are interesting surrounding towns to explore and more than 150 miles of walking trails on the Sorrentine peninsula alone. The town doesn't neglect the nightlife or cultural offerings, though. From concerts, festivals, and shows to dance clubs and beach parties, there's always something to do.
With outdoors activities, fantastic food, wine bars, sidewalk cafes, and vibrancy, Sorrento is certainly alluring. The only two downsides? Summer traffic and real estate prices.
Real Estate in Sorrento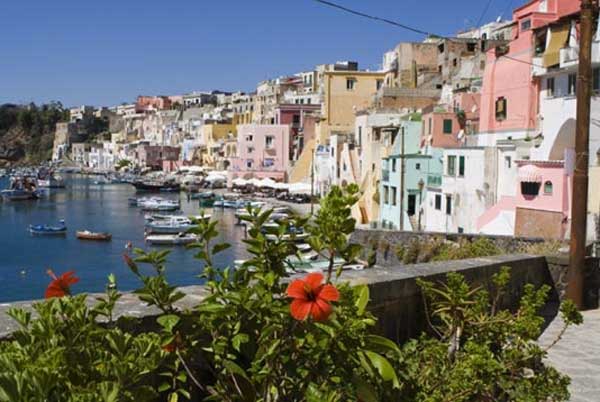 ©AngelaFoto/iStock
 All this beauty and accessibility does come at a price; Sorrento isn't cheap. Far from it. The average home purchase price is €531 ($594) per square foot, while the average rental price runs almost $44 per square foot. There are many listings in the millions of Euros; don't expect to find much for less than $560,787. A nicely renovated 969-square-foot apartment with two bedrooms and a roof terrace in the city center is on offer for €540,000 ($605,650) (See: https://www.immobiliare.it/65363028-Vendita-Trilocale-via-San-Paolo-Sorrento.html).
But you don't have to cross it off, yet, because fortunately the surrounding towns offer lower prices or at least better value, for example, a 484-square-foot apartment in Sorrento is currently listed for $448,630 but that same price in nearby Massa Lubrense will buy you a 1,324-square-foot hilltop home with a spectacular view of the gulf, just ten minutes from Sorrento. (See: https://www.casa.it/villetta-a-schiera/vendita/napoli/massa-lubrense-106mq-29105999/) Or, a 538-square-foot one-bedroom with a stunning sea view balcony that lets you see Vesuvius and Naples is listed in Massa Lubrense for $179,452. (See: https://www.immobiliare.it/61395930-Vendita-Bilocale-buono-stato-primo-piano-Massa-Lubrense.html)
The pretty pastel seaside town of Vico Equense is like a mini-Sorrento in atmosphere and just a few miles along the coast. Here a beach-front house of 1,184 square feet with two bedrooms, two baths, a tended garden, and private parking space is less than a tiny apartment in Sorrento. The house is on two levels, is in perfect new condition, and is right on a sandy beach, with a negotiable price of $618,866. (See: https://www.casa.it/appartamento/vendita/napoli/via-santa-maria-del-castello-vico-equense-110mq-35676988/)
Cost of Living in Sorrento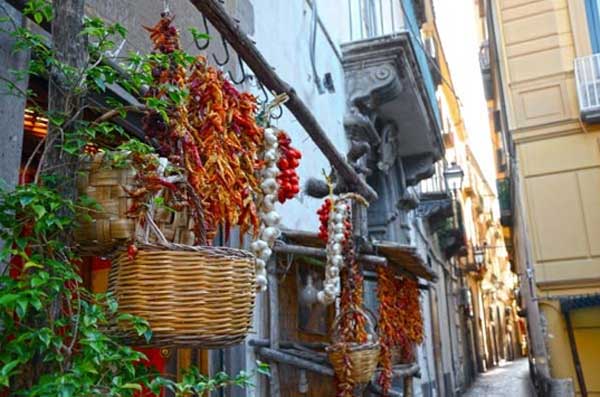 ©Madzia71/iStock
As noted, real estate prices are hefty, as are rentals. Don't expect to find anything for under $2,240 a month. Lower rental prices, like real estate sales, go down when you branch out to the surrounding towns.
While you could easily spend $67 a person for a full meal, or more than $100 a head for a Michelin-starred restaurant, you can just as easily sidle into a homey trattoria for a plate of pasta that costs $7.29, a complete seafood menu that runs $28, or fixed-price lunch menus for only $17. It depends on what you crave. For special occasions, Sorrento has no lack of posh eateries with spectacular views. For a pizza and beer, expect to pay around $10.
Artisan shops offer handmade leather goods—belts, handbags, and more—at surprisingly low prices. If you go to a wine shop you might gasp at the prices, yet local wines can be found in the supermarkets for bargain prices, and if you know where to go you can find vino sfuso (bring your own jug) for €2.50 a liter. The tourist bars may charge $4.48 for a cappuccino, but your neighborhood barista would never gouge you, charging instead the standard €1.45.
Apart from tourist prices (which can be avoided when you are a local) and housing costs, the main expenditures are in line with the typical Italian living costs. Rent.
| | |
| --- | --- |
| Expenses | U.S.$ |
| Rent  (one-bedroom apartment) | $2,300 |
| Utilities | $250 |
| Cell phones (x2) | $50 |
| Groceries | $300 |
| Internet | $30 |
| Dining Out (two times a week) | $150 |
| Bus pass | $37.60 |
| Total | $2,817 |