By Valerie Fortney-Schneider
Settled in a valley at Le Marche's border with Abruzzo, the historical and vibrant city of Ascoli Piceno has an aura of elegance and of lived-in comfort. Built in travertine stone, the buildings and piazzas gleam of marble-like glory, giving the whole centro storico a refined dignity with palazzi-lined streets and glorious churches. It is an art city that would be crowded with tourists if it were in Tuscany, yet remains almost a secret except to those in the know. The proud residents populate the place with their enthusiasm, keeping Ascoli as an active and animated city.
First a Roman settlement, then a medieval center, the city retains street plans of both epochs, giving it a pleasing mix of open piazzas and grid-like shopping streets, and narrow, sinewy lanes punctuated with tall stone towers. Ascoli, as they usually refer to it, is between the Tronto River and Castellana stream, and situated between the Sibillini Mountains and the Adriatic Sea, providing the best of both worlds, but in a level setting where walking is pleasurable and bikes are a preferred mode of crossing the city.
Retire in Ascoli Piceno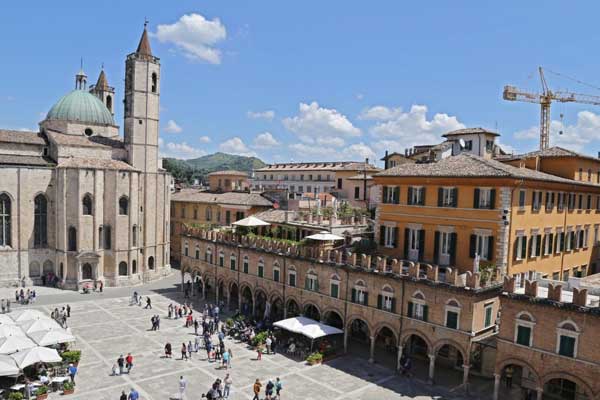 Le Marche is said to encapsulate all of Italy in one region, with hills, mountains, and sea; Ascoli Piceno is between all three, with vine-striped hills just beyond the city, producing some of the region's most noted vintages. It is also equidistant between mountains and sea, for hikes or water fun (or both, even on the same day!).
It is three hours along the ancient Via Salaria road to reach Rome, a half hour to the Riviera delle Palme (the Palm Riviera coast), with expanses of sandy beaches, and one hour to Ancona, the regional capital where an intra-Europe airport is found. Just a few minutes to the south is Abruzzo, another wonderful region to explore, and about 45 minutes puts you in Umbria, making Ascoli Piceno a strategic location for exploring. The rail line that runs up and down the Adriatic gives you access to all the coastal cities, heading up to Venice, and down to Puglia.
There are two golf clubs about 40 minutes from the city, and trails right at the edge of town along the Castellana stream, with cooling swimming holes along the way. Paths lead up Colle San Marco, to the south of Ascoli, all in reach without a long drive. In town, Ascoli has a rich cultural life, a growing expat community, and historic sites along with museums.
The climate gives four seasons. Summers tend to be hot, spring and fall are mild, and winters bring chilly days and a few snowfalls annually, too. Summer highs average in the upper 80s but with much cooler nights; winter daytime temps will be upper 40s and low 50s, with nights going down to upper 30s or low 40s. The rainiest months are October, November, and January.
Lifestyle in Ascoli Piceno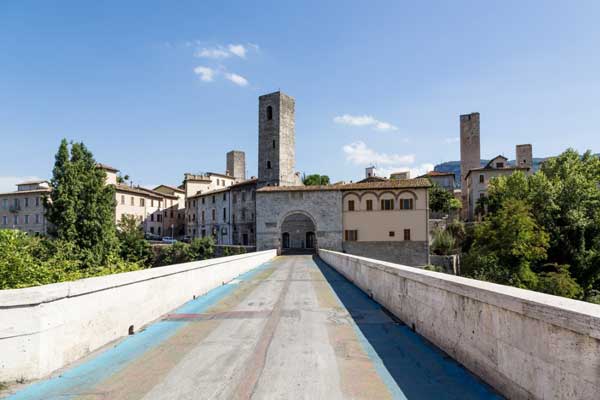 Ascoli Piceno is an active city with lots of events and art exhibits, a trio of theaters for music, opera, and plays, as well as galleries and gathering spots. The evening passeggiata is still a time-honored ritual, with friends strolling arms linked or meeting up for drinks in one of the magnificent piazzas. The art-decked churches are highlights for visitors, and the theaters provide cultured evenings of music or plays. Life is lived in the streets, with people milling between Piazza Arringo, formerly the site of the Roman Forum, and Piazza del Popolo, named among the most beautiful squares in Italy.
Around town are plenty of restaurants in every price range, from take-away pizza to homey trattorias to upscale refined fare. This is a city that loves its café life, and there are many to choose from, though the most beautiful and famous is Caffe Meletti, the pride of the Ascolani, and a great place to enjoy a drink while people watching on the piazza.
Ascoli Piceno is also famous for its annual Palio event called La Quintana, which puts the six districts, called sestieri, against each other in various medieval contests, culminating in a rollicking, high-energy jousting match, all of it done in full regalia and authentically detailed period costumes. It is something spectacular to see!
The old town center is good sized and offers plenty of shops, services, restaurants, and diversions, while the periphery has big box stores and shopping malls. The area's beautiful hill towns offer lots of places to explore—both in Marche and Abruzzo, as well as Umbria. Buses run to Rome directly, and smaller towns, plus a train line connects Ascoli to San Benedetto del Tronto on the coast, where high-speed connections can be found. It is one hour to airports in Ancona and Pescara to go farther afield in Italy and Europe.
Cost of Living in Ascoli Piceno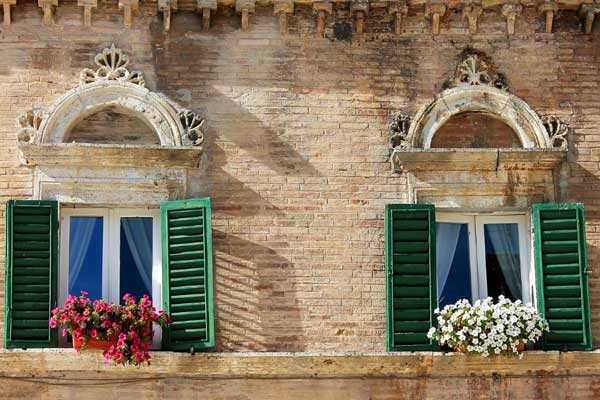 Ascoli Piceno is a provincial capital city but the cost of living is reasonable. Enjoy a cone of the area's famous olive all'ascolane, giant olives that are stuffed with meat and fried, for $6. Be warned: they're addictive, as are the cremini, fried custard cream squares.  A plate of tagliatelle or other pasta will run between $8 to $12, depending on the restaurant, a thick grilled steak will cost $17 to $23, while some trattorias offer a fixed-price lunch deal that costs $17 to $20). A cappuccino is $1.42 and you can add on a fresh-baked cornetto for the same amount. A pizza goes from $5.31 to $8.80, depending on the toppings; a beer to go with it is $3.50.
Real estate prices are in reach, too. Prices have steadily declined overall, to an average of $147 per square foot. Rental costs have increased over the past two years, to $0.74 per square foot, still not a bad rate. There are some excellent apartments for sale for under $170,000 in the city center, and some spectacular homes in palazzi for $200,000 and up. Nice furnished rentals can be found from $650 to $850 a month.
Sample of General Monthly Costs in Ascoli Piceno:
| | |
| --- | --- |
| Items | Cost |
| Rent | $650 |
| Utilities | $250 |
| Cell Phone Plans | $50 |
| Groceries | $300 |
| Internet | $35 |
| Dining Out | $230 |
Featured Image Copyright: ©iStock/RinoCdZ