By Valerie Fortney Schneider
In Italy's south, Basilicata is relatively unknown, even by Italian travelers. Resting between Puglia, Calabria, and Campania, it is at the geographic ankle of the boot, an area that has remained largely agricultural with small industry, and holds tightly to its centuries-old traditions.
With only 10% of the region occupying level plains, the majority is a landscape of breathtaking beauty comprising rolling hills staked out with vineyards that produce world-class wine, dramatic mountains with national and regional parks, and two slices of sea coast for beaches and summer fun.
This is a land of extraordinary hospitality where our neighbors bring us baskets of figs and pears, sack-loads of lettuce, beans, and tomatoes, and more zucchini than we know what to do with.  They still jar their tomato salsa di pomodoro for the year and make their wine and salami. They cling to a way of life that is quickly fading in other regions.
Retire in Basilicata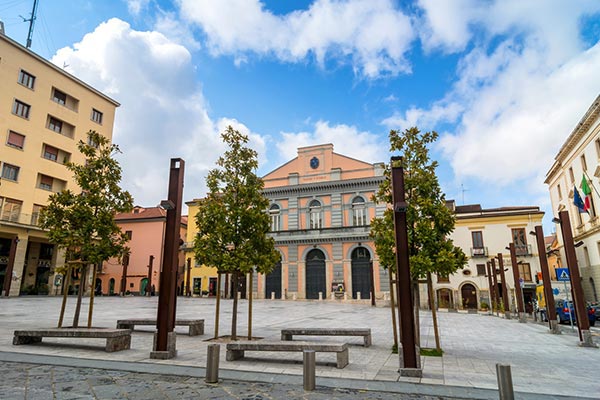 Basilicata does not embody the typical Mediterranean image one may have of Italy. The landscape has a unique and raw beauty. In the northern part of the region, rolling hills are punctuated with olive groves and grape vines, where world-class wine is made from ancient Grecian grapes, brought here when southern Italy was part of Magna Grecia. In the loftier heights, the mountains are almost primeval, where eagles and falcons are a regular sight from our balcony; brilliant starry skies mark the evenings.  Here, time-worn towns rest on their hilltops, seemingly stopped in time, except for high-speed internet and better roads nowadays.
There are only two bona fide cities in the region: Potenza, the regional capital, with just 67,000 residents, and Matera, the most famous city and a UNESCO World Heritage Site, with 60,300 residents.  At 2,687 feet above sea level, Potenza bears the distinction as the highest regional capital in Italy. This is a region of small towns and tiny villages where you get to know practically everyone and where neighbors help each other.
History crossed through here on many occasions: Holy Roman Emperor Frederick II kept several castles and issued the first set of written laws of the Middle Ages at his castle in Melfi, a document still considered advanced and forward-thinking. Spartacus and Hannibal both tromped through with their troops. The ancient and modern meet seamlessly.
Despite its southern location, Basilicata doesn't have a balmy year-round climate. It enjoys all four seasons, with hot and dry summers, though in the mountains the temperatures are more moderate and nights can be chilly, even in August. Winters near the coasts are milder, while chillier in the hills, and the upper mountains can see a good accumulation of snowfall. When the mercury is in the 90s F in Matera in the summer, it registers in the 80s F in the higher elevations. Of course, it is milder there in the winter, though you'll still need a good coat and umbrella. Daytime brings temperatures in the 40s F generally, but a dusting of snow sometimes happens (and makes it even more beautiful). Other hill areas may also enjoy 40s F for daytime but can dip to the 30s F in the mountains. Nighttime is colder and can go below freezing in those zones. Snow can pile up in the mountains, a blessing for skiers.
Lifestyle in Basilicata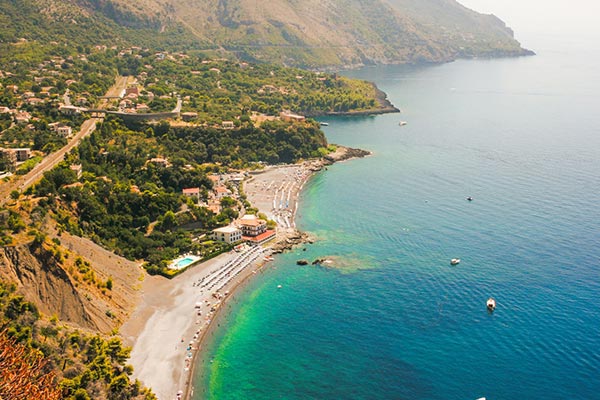 Basilicata's most famous city is Matera, a UNESCO World Heritage Site and an ancient rock city like no other. Its jumble of houses is breathtaking and also the scene for many period films, like the recent remake of Ben Hur and 007's No Time to Die. The city is elegant and simple at the same time; down-to-earth, but with cultural events, a music heritage (especially jazz), and loads of great wine bars and restaurants all over town. Museums, concerts, and art exhibits are frequent diversions.
Overall, the region is low-key, which is what makes it so appealing for a laidback lifestyle. The locals love their time-honored festivals and parties in the piazzas that bring out both young and old. The food is home-grown and mostly organic, and vegetarian friendly, too. The cuisine is mouthwatering, with wine grapes brought by the Greeks, sausages that were renowned even in the Roman world, and one of Italy's most decadent cheeses, caciocavallo podolico, made from an ancient breed of cattle that graze the mountains. Here they love their homemade pasta (egg-free), lots of legumes, locally-raised meat (try the lamb!), and have a penchant for grill parties. It is the joy of simple pleasures, easy-going lifestyle, gorgeous scenery, and hospitable people that make Basilicata a wonderful place.
There are two pieces of coast to enjoy: a 36-mile stretch on the shallower, sandy Ionian Sea, where woods back the beaches; and the glittery sun-drenched seaside of Maratea on the Mediterranean side.  This is our piece of paradise, a spectacular 19-mile long piece of the Mediterranean coast. Its old town has a carefree air while the black sand beaches below are kissed by turquoise waters, the ideal place to relax.
Outdoors activities are abundant here—from horse riding to mountain biking to hiking, and more extreme pursuits like climbing, canyoning, river trekking, and zip-lining. It's a good place to stay active. The relatively small size puts the neighboring regions of Puglia and Campania in pretty easy reach. There is one golf course, lots of fun festivals, some even dating back more than a millennium, and a strong musical heritage in southern folk music as well as a love of jazz.
Basilicata doesn't have an airport-the closest are in Bari and Napoli. Train connections are not great, and while most towns have bus service, it can be limited; a car is necessary if you're going to live here.
Cost of Living in Basilicata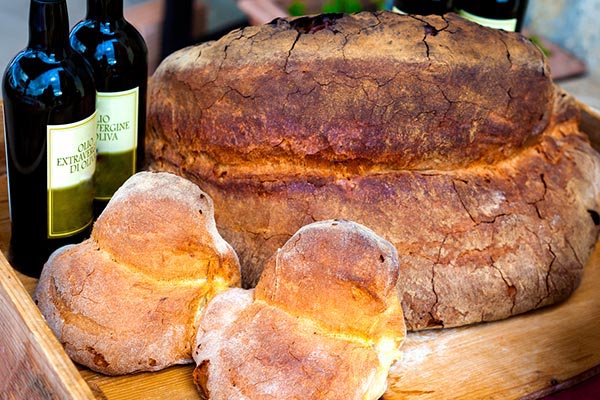 The area has lost residents in the past half-century so there are lots of properties available, but you have to put forth a bit of effort to find them. Many towns don't have realtors; we found our little 300-year old casahere in Trivigno thanks to the village's former mayor.
Prices in Matera rose in recent years with increased tourism and international press attention, due to movies and its year in the spotlight as Europe's Culture Capital for 2019. If you want to live in the coveted Sassi district, expect to pay a lot for something among those shiny, stepped pedestrian lanes. There is a 538 square foot home for sale with a beautiful loggia balcony and a view of the ravine and the Sassi. It's been partially restored but needs some finishing work. It's listed at $159,248.
In the centroabove the Sassi, convenient to everything, there is a 1,614 square foot home for sale, with four bedrooms, two bathrooms, two balconies, and skylights. It's on offer for $230,025.
Northwest of Potenza is the pretty pastel town of Muro Lucano, which is lucky enough (and big enough) to have a real estate agency. Here houses line up along a steep ridge in an orderly jumble, looking more like a sunny coastal town than a hill town. Mount Vulture looms up behind as a dramatic backdrop, where Aglianico, the region's most famous wine, comes from. Muro Lucano's historic center is a lovely warren of narrow lanes that unfold below the 13th-century castle. Here homes start at $35,000.
Pisticci is a sunny town with lots of services, friendly folks, and a location in the hills surrounded by olive groves and low canyons. It's just 45 minutes from Matera and only 15 minutes from the sea. Indeed, a section called Pisticci Marina sits on the Ionian seafront. In town, a two-bedroom, three-bathroom 1,120 square foot apartment is on offer for $53,083. It is perfectly habitable. If it's a country home you want, there is a newly-built two-bedroom house outside town in the hills with its own olive trees and lovely views for $93,189.
Down at Marina di Pisticci, there is a two-bedroom, two-bathroom condo for sale in a pretty resort village with tennis courts, swimming pools, and an amphitheater, a short bike ride to the beach. It's all new and Mediterranean style with a private porticoed covered terrace. The price is almost laughable for a sea location at €133,000 ($156,889).
Across the region on the west side, Basilicata claims a small but spectacular piece of coastline on the Mediterranean Sea, wedged between the regions of Campania and Calabria. The glittery sun-drenched seaside resort of Maratea can claim all the beauty of the more famous Amalfi Coast but without the crowds or the staggering price tags.  The old town is cradled on the hillside above the Mediterranean while the port of Maratea is a waterfront village with a colorful marina, great restaurants, and hidden coves for swimming.  Exotic black sand beaches highlight the turquoise water.  The historic center is filled with vivid ceramics, a bustling piazza with outdoor cafes, and a carefree air. Here in the classic hill-town streets, you can find habitable homes from $85,000. One newly-renovated loft home that keeps some rustic touches is right off the piazza and listed for $117,961. Down by the picturesque port, a sun-drenched pastel home with two levels of outdoor terraces is listed at $175,762. It's in perfect condition with two bedrooms and a modern bathroom. A private villa with a pool is listed at $293,724.
But Basilicata's best bargains are found in its smaller towns; you'll need to take some time and effort to locate them, but habitable homes start at just $23,000 or so in many of the villages, making the prices well worth the effort!
The overall cost of living is fairly low here, with food prices and utility costs running on par for Italy as a whole. Dining out can be a bargain: a full four-course meal with wine may run just $26 to $29 a person at many of the country restaurants (agriturismo), which uses local ingredients, often the produce they grow themselves. In Matera or Potenza, a plate of pasta and a glass of wine will cost you around $15. A wood-oven pizza and beer anywhere will set you back about $10 to $12. I get a sack full of fresh produce for around $6 when my neighbors haven't already supplied me with goods from their gardens. My morning cappuccino costs $1.50 while my husband's caffe macchiato is just 80 cents.
Rents can be ridiculously low—from $250 a month in villages, up to $800 a month in larger towns and cities.
Here is a sample monthly budget for a couple living in Basilicata:
| | |
| --- | --- |
| Rent | $500 |
| Electricity | $65 |
| Gas (heating/stove) | $50 |
| Groceries | $300 |
| Cell plan | $20 |
| Internet | $25 |
| Car (maintenance/fuel) | $140 |
| Health insurance | $35 to $100 (if national system or private insurance) |
| Dining Out | $150 |
| Total | $1,285 to $1,350 |
10 Things to Do in Basilicata Italy
By Valerie Fortney-Schneider
It's hard to narrow down all the sights and activities you'll find in any Italian region, and Basilicata is no different. From enchanting towns to historical places to fun festivals, there is lots to do. Add in the less-obvious "attractions" like a simple walk along a country lane, or a drive through ever-changing landscapes, and you'll find this small but wild region offers plenty to see and do.
Visit Europe's Oldest City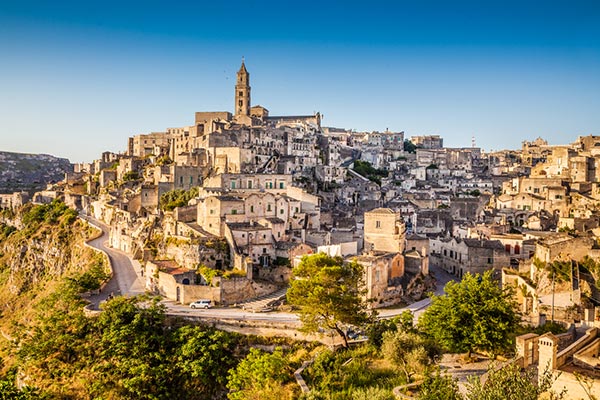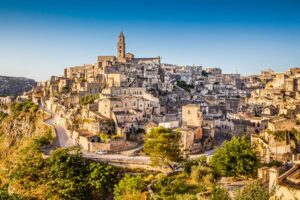 Matera is, in a word, breathtaking. It is captivating, and worth your time to visit for a few days. Matera doesn't just look ancient—it's been the screen stand-in for the Holy Land in several films—it is, in fact, the oldest continuously occupied city in Europe and the third oldest in the world. The Sassi district is the intricate network of caves and buildings, sprawling along the folds of the ravine, fascinating to wander and especially magical at night. You can sleep, dine and imbibe in the caves. The city center on the plain above offers upscale shops, piazza bars, and vibrant local life.
Unleash Your Adventurous Side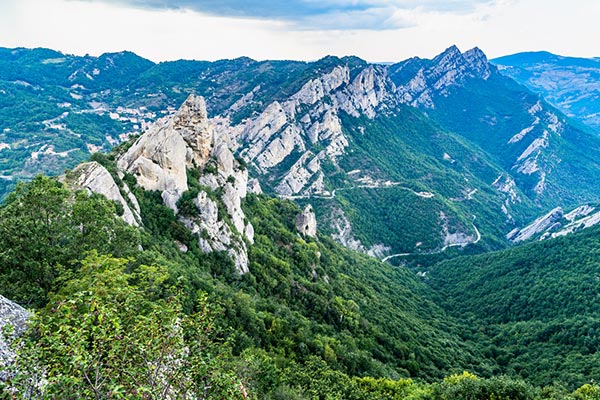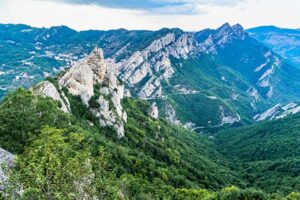 This region of mountains and hills, canyons and seaside, is also an adventure destination for those who like outdoor thrills. The Volo dell'Angelo zip line flies at 74 miles an hour across a deep ravine, connecting two towns—Castelmezzano and Pietrapertosa—in a one-minute flight of exhilaration. It's a round-trip outing, so you get two fly-overs to take it in. The Ponte alla Luna is a 984-foot long Tibetan bridge in Sasso di Castaldo at 393 feet up in the air; but in 2022 a new one is opening at Castelsaraceno—more than 500 meters long, making it the longest and most challenging in the world. AVT and jeep outings, horseback riding, mountain biking, river trekking, and sea kayaking -they're all some of the thrills to be had here.
Pig Out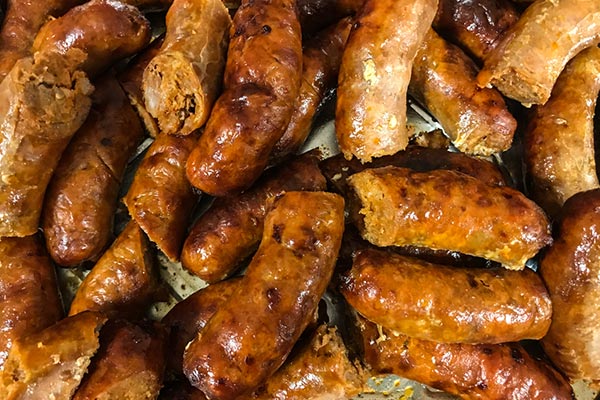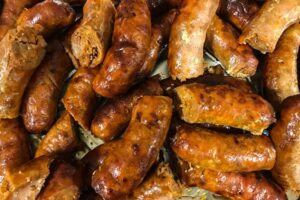 Basilicata has a claim to pork-treat fame that dates way back and enthralled the ancient Romans when they arrived here. The sausage called Lucanica is still made the same way it has been for several millennia, since the area was called Lucania. The sausage comes in fresh and cured versions and is found everywhere, so be sure to give it a try. Whether it's grilled, cooked in wine, or crumbled into pasta sauce, it's the pride of Basilicata. Don't overlook the cured meats—namely soppressata and capocollo, perfect for picnics during your outings, with some of the region's excellent bread. (Check out Traditional Foods of Basilicata)
Drink and Be Merry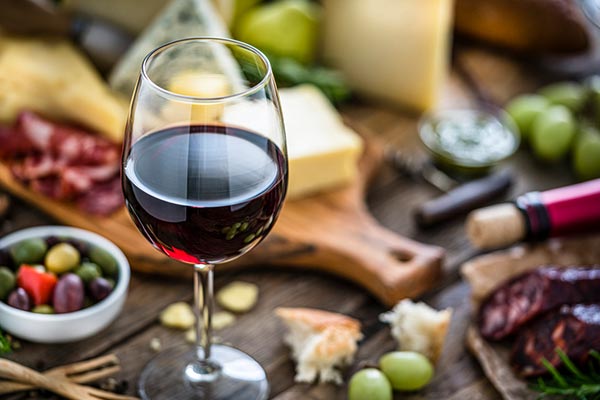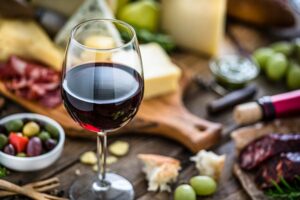 Basilicata has one of Italy's most ancient grapes, brought by the Greek colonists (see below) and perfect for the region's foods. Aglianico del Vulture soaks in the volcanic minerals at the foot of Mt. Vulture and produces a world-class wine, so visit a winery (or three) for a tasting. It was heralded by the Roman writers and historians, so you can justify your swigs as historical research.
Go Greek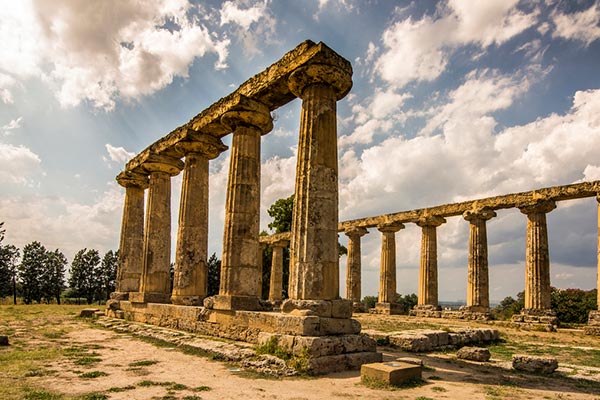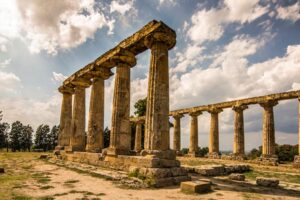 The Greek colonists may now be lauded for the wine grapes they brought, but they also brought their enlightened culture and institutions to mainland Italy, too. We have evidence in the remains of the temple at Metaponto, called Le Tavole Palatine, which is not to be missed. Not only is it beautiful, but it's also usually mostly deserted, giving you a great glimpse without any distractions. Visit the excellent archeology museum that holds the artifacts. Metaponto was home to Pythagoras after he fled from Crotone with his followers; he re-established his mathematical and philosophical school here, and it's also where he died. Greek names and culture are still intertwined in modern Basilicata, all these millennia later.
Enjoy Sun and Surf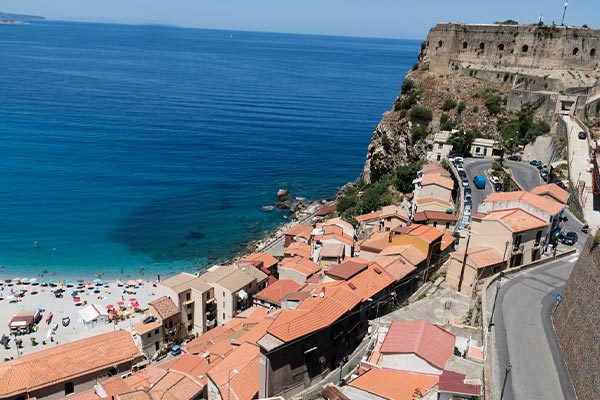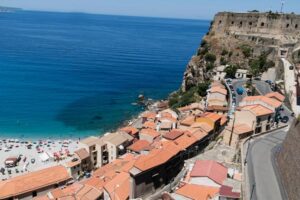 While the region is mostly mountainous and hilly, there are two small but spectacular pieces of coastline, so take in some sun and surf. There's a beach for every taste—whether you prefer the shallower water and fine sand along the Ionian shore, or prefer the more dramatic seascapes where the hills tumble right down to the water at Maratea. The best part of all? Few crowds. The vast swaths on the Ionian give loads of room between umbrellas, and huge pieces of free beach for those who want some solitude, and the beaches are backed by pinewoods. On the Mediterranean side, Maratea is a true paradise, beautiful in every sense, and few crowds to contend with. It's topped by a towering statue of Christ (like Rio De Janeiro), has a pretty piazzetta (like Capri), and plenty of different beaches and coves (like the Amalfi Coast).
Explore the Hill Towns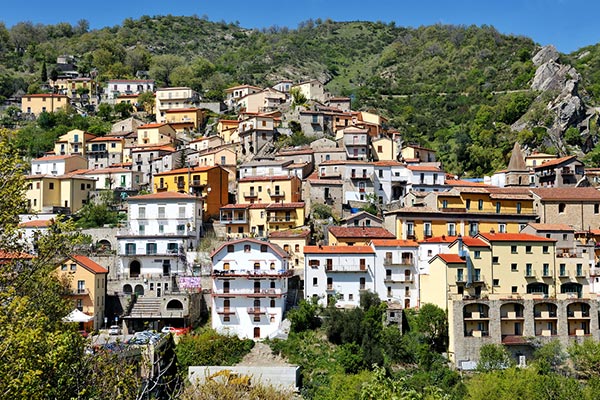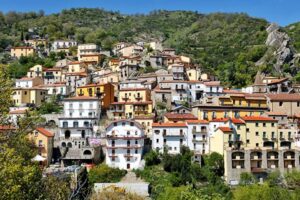 With the largest city, Potenza, counting just 66,000 residents, and Matera topping out at 61,000, this is a region of small towns. Each one is different and intriguing. Some are rustic, old-time country hamlets. Others are dignified and hold historic sights and art treasures. Set out for the joy of discovery and exploration. There's Pisticci with its quaint Dirupo district of lined-up white houses with red peaked roofs; and Venosa with its Roman street plan, dominating castle, and interesting sights. Castelmezzano and Pietrapertosa are facing mountain towns that look like they've grown spontaneously from the peaks of the Dolomiti Lucane mountains. Tricarico will surprise you with its Norman tower, abandoned Arab quarter, and the palaces and churches that beautify the place. Rivello, Guardia Perticara and Montescaglioso are all named among the "prettiest villages in Italy" and you'll certainly see why.  Charming is the word you'll use at any of them. But there are 131 towns in the region, so you won't run out of options.
Go Castle Hopping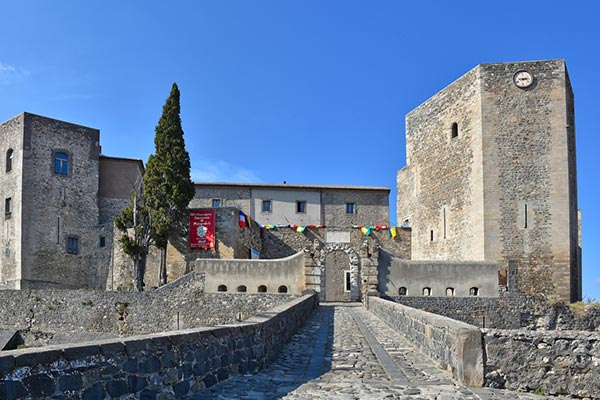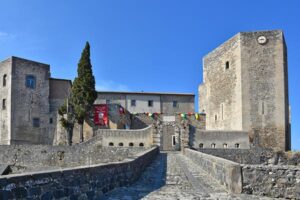 Frederick II, the Holy Roman Emperor, loved castles, as evidenced by the many structures he built or expanded during his reign over southern Italy. His most famous is just across the border in Puglia, Castel del Monte, but here in Basilicata, there are four Federico castles to visit. The easiest and best-known are those at Castel Lagopesole and Melfi where historic happenings occurred, and now host interesting museums.
Another is the Palatium Regium in Palazzo San Gervasio, where the emperor raised a breed of horses, called Murgesi. It was a favored manor of Frederick's son, Manfred. More difficult to visit is the remote and lonely Monteserico castle, open a few times a year as part of Italy's "culture weeks."
Beyond Frederick II, there are castles (or beautifully-crumbling remains of them) in Brindisi di Montagna, Brienza, Venosa, Miglionico, Laurenzana, and others. Who doesn't love these fascinating and mystical-looking structures?
Hit a Festival or a Sagra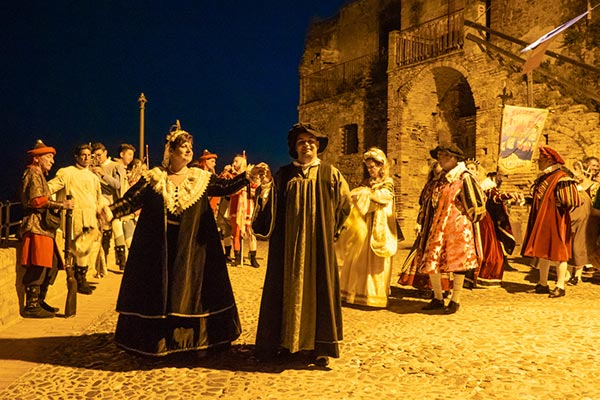 There are lots of annual events and folk festivals to enjoy, and they are mostly unique to Basilicata. Whether it's anthropomorphic Carnevale celebrations, the unusual arboreal rites that play out in several towns, the riotous Madonna della Bruna festival in Matera, or the Parade of the Turks in Potenza, there are many unusual events that you won't find anywhere else. A sagra is a food festival (also tied to a saint day). A few to savor: Vaglio Basilicata has a town-wide sagra with more food than you could sample. The Baccala (salt cod) feast in Avigliano draws folks from neighboring regions, and the potato festival in Muro Lucano and the sausage festival in Cancellare are but a few to look out for.
Live Like a Local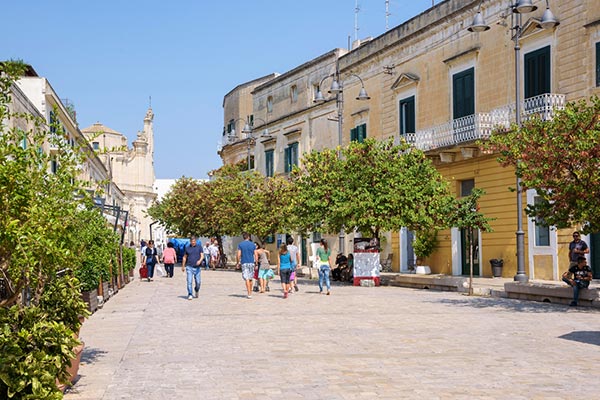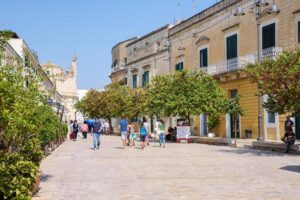 Part of the allure of a region like this is the chance to slow down and immerse yourself in its local life. So, go ahead; sit at a piazza bar and watch the town's daily life unfold. Visit the weekly mercato. Enjoy an aperitivo before dinner, and chat with others. Take a country walk along the quiet roads; you may encounter some sheep grazing or a field of wildflowers. You might also get the chance to forage, another favorite pastime in these parts, be it chestnuts, asparagus, berries, or herbs. Shop in the small local stores. (While you're there buy some caciocavallo or pecorino cheese to take home. Dine in an agriturismo (country farm restaurant), where you can sample the region's specialty foods.
Day Trips From Basilicata
By Valerie Fortney-Schneider
Located at the ankle of the boot, it may seem remote, but there are plenty of day trips from Basilicata that can take you to some of Italy's spectacular sights and intriguing towns, reachable in two hours or less.
Amalfi Coast and Salerno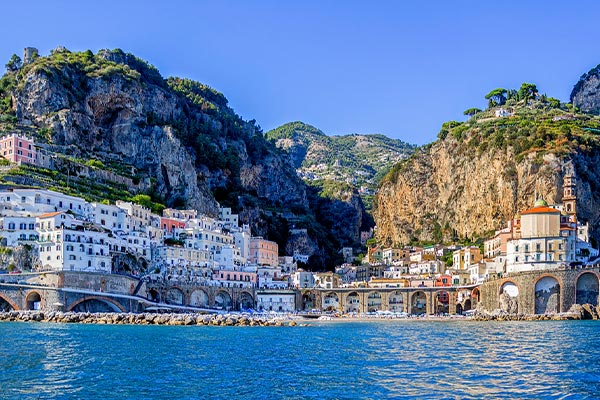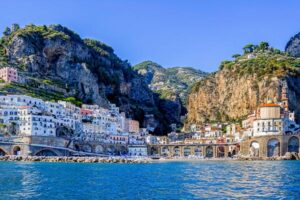 From the Potenza area, you can get to Salerno in less than an hour-and-a-half, from Melfi it's two hours. There's a long waterfront, city attractions, and a mile-long shopping district, along with a glorious cathedral that holds the remains of St. Matthew. But Salerno is also known as the gateway to the Amalfi Coast, so grab one of the ferries along the glittery and famous coastline for a day of exploring or just for enjoying the sun and scenery. Most ferries run to Amalfi and Positano, but some also stop in smaller towns, like Cetara and Maiori. Better yet book a private boat tour from Salerno that stops where you want, and lets you swim in hidden coves and access places the ferries can't.
Another awesome option is a ferry to Capri. You'll need to get up early to get there on time, it leaves from Salerno at 8:40 a. but it's doable, and it's a luxurious-feeling to sail past the Amalfi Coast and have lunch on the infamous Isle of Capri. (There are private boat options to there, as well.)
Italy's Largest National Park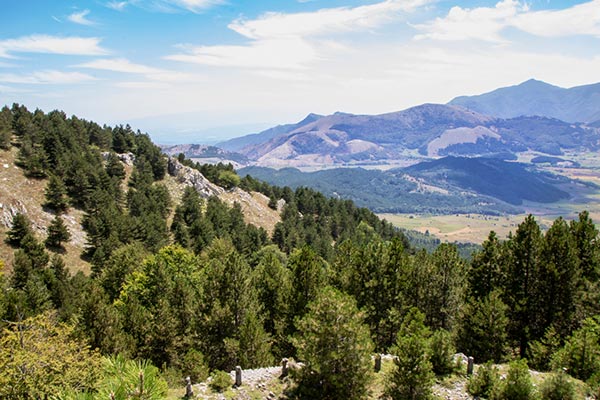 The Pollino National Park is so vast it spreads across parts of two regions—Basilicata and Calabria. It offers what you'd expect from a national park, breathtaking, undisturbed nature, mountain peaks, valleys, rivers, and canyons. Whether you just want some time in the silent woods, enjoy some hiking, or indulge in some outdoor sports, you'll find it all here…and more. There's rafting, river trekking, mountain biking, horse riding, skiing, climbing, and hiking trails. Be sure to seek out the "gentle giants" that are the symbol of the park—the Bosnian pines, many of them are hundreds of years old, and this is the only place in Italy where they are found.
The park has a cultural attraction, too: open-air modern art installations in several locations, called Arte Pollino. The headquarters is in the spa town of Latronico, where you'll find art as well as hot springs. From there, you can choose the contemporary pieces that you most want to see.
Another unique cultural feature are the two Albanian towns in the Pollino Park—San Costantino Albanese and San Paolo Albanese. Founded by refugees fleeing the Ottomans in the 1400s, they still retain the costumes, customs, and ancient dialect of Albania, like a living time capsule.
Castel del Monte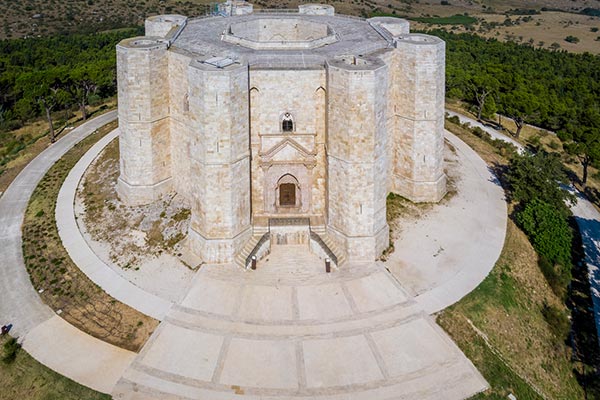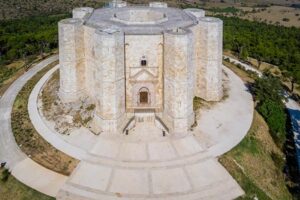 Holy Roman Emperor and King of Sicily, Frederick II was called the Stupor Mundi, the wonder of the world, for his forward-thinking, and the culture he espoused. He had a penchant for castles, which demonstrated his interest in architecture and his whimsy, too. Castel del Monte doesn't disappoint; in fact, it still fascinates architects and historians all these centuries later with its mysterious design and numerology. Constructed in the 1240s, the enchanting and mysterious citadel was a hunting lodge and demonstrated Frederick's mathematical mind. The number eight is constantly repeated here (octagonal shape, eight octagonal towers, eight rooms on each floor). It is an architectural marvel worth seeing. It brings together elements of northern Europe, as well as Islamic and classical details, and is a UNESCO World Heritage Site. From Matera it's just over an hour drive; from Potenza, an hour and forty minutes.
The castle sits on a low hill among the so-called Murge karstic plains of Puglia, in view of the Adriatic Sea, so pop down to Trani and stroll along the picturesque waterfront, or visit Bisceglie where there's another castle dating to the Norman and Swabian period.
The Valle d'Itria towns in Puglia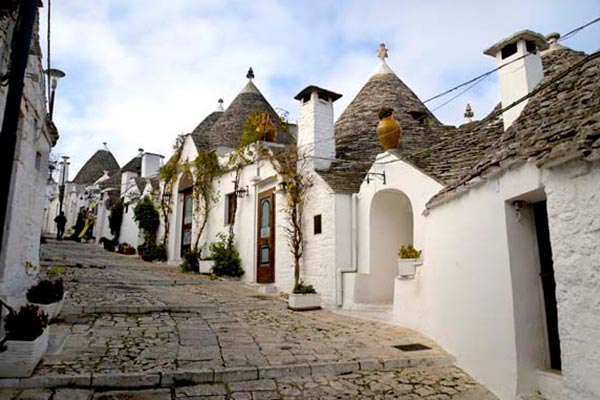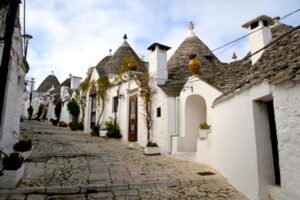 Some of Italy's most fanciful architecture is found in this part of Puglia, from conical-roofed gnome-like trulli to white-washed towns that spiral around the hill. These places are alluring, and doable as a day trip. Alberobello is famous as the epicenter of the trulli, the entire town is built of unusual dwellings. It's really a must-see when you're in southern Italy because it's unlike anywhere else and is a UNESCO World Heritage Site. The trulli are scattered around the countryside all over the Valle d'Itria, as well.
Locorotondo is a circular town that wraps around a low hill, gleaming white and totally charming. Here the houses are tall and narrow with peaked roofs, called cummerse.  The shiny-smooth streets and tended old town center spiked with brilliant-colored flowers will certainly win you over. The streets are always adorned beautifully for every holiday—fancifully festooned for Christmas, Valentine's Day, and more. Martina Franca is an elegant place of baroque details and ornate wrought-iron balconies, an upscale town with a pretty piazza, art, and cultural attractions, and the perfect blend of genuine hospitality and attractive ambiance. Nice boutiques, a huge weekly mercato on Saturdays, and a great selection of restaurants make it a winner. A day in any of these towns is well spent and rewarded with fantastic food.
A Dolphin or Whale Watching Excursion from Taranto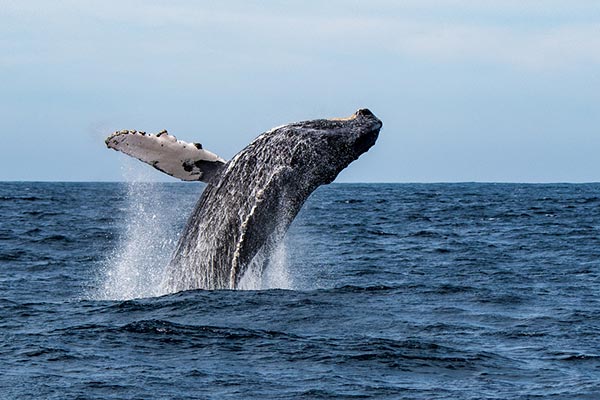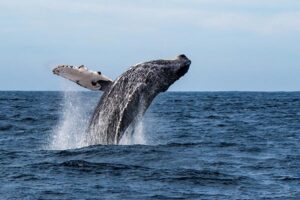 The Ionian may be small, occupying the instep of the Italian boot, but its expanses of soft sandy beaches attract families who like the shallow water. The Ionian also attracts dolphins, and even whales! The Jonian Dolphin Conservation lets you board a catamaran for a closer glimpse of these graceful marine mammals. You'll be with expert marine biologists and as a guest "researcher for a day" will get to hear and record the animals' vocalizations, keep track of sightings, and of course photograph them at play. Or, just observe and soak in the sun and enjoy the views. Prices are reasonable, and it's a fun and educational outing. The excursions leave from the Port of Taranto, only an hour from Matera.
Afterwards, enjoy a seafood dinner at one of the many restaurants dotted around the port and old town, like the excellent Risto' Fratelli Pesce or Trattoria del Pescatore, a homey restaurant that is also a fish market.