Guide to Expat Living in Agropoli, Italy
By Valerie Fortney-Schneider
With its stone-built old town crawling up a bluff suspended over the sapphire bay, a bustling atmosphere, and loads of sunshine, Agropoli is a small seaside city with a lot going for it. Sitting along the Bay of Salerno, it is the gateway to the less-known Cilento Coast, a swath that sweeps down the Mediterranean to the Cape of Palinuro. The Cilento is a large national park and a UNESCO World Heritage Site.
The newer part of Agropoli occupies more level terrain and wraps around the historical old town, ending at the port where fishing boats, pleasure craft, sailing vessels, and ferries dock. At the opposite side of the bluff is the mile-long lungomare (seafront) with sandy beaches, unobstructed by construction to impede the view of the water.
Low-key and lively, Agropoli has a population of 21,600 but feels bigger, with its plentiful services, summer tourism, and year-round activity.
Retire in Agropoli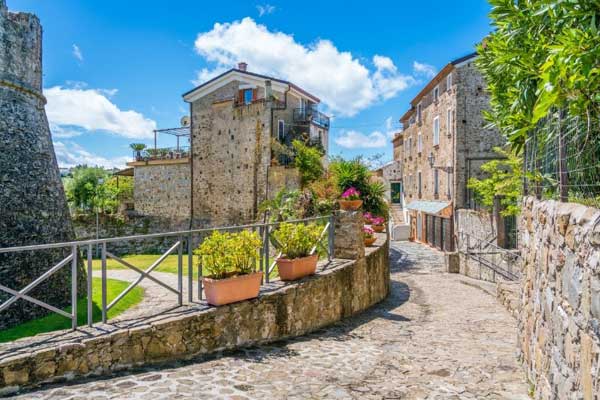 South of Salerno, after the flat, wide expanses of sand around Paestum and fertile fields where artichokes grow and prized mozzarella di bufala is produced, you find Agropoli at the beginning of the curvaceous coastline, where bays and fishing villages dot the shore. The sizable port provides harbor to many sailboats and motorboats, with several companies that rent them by the day, week, or month for water fun. Here, the sea is crystal-clear, a Blue Flag zone for its cleanliness and marine protected areas.
Those wanting a mix of mild weather, seaside location, and hills for hiking and exploring will be happy in Agropoli. The Cilento National Park covers both the coast and a large expanse of inland hills and mountains, where wild orchids abound, waterfalls tumble over rocks and form into pools, where stellar wines are produced, and prized products like mozzarella di bufala and luscious white figs come from.
There are tons of shops and services, along with restaurants and cafes to enjoy, around town, at the port, and up by the castle in the old town, where the steep climb is rewarded with gorgeous views and some great pizzerias and bistros. You don't have to go to that effort every day, though, because the wide pedestrian piazza is speckled with outdoor cafes, and good restaurants and take-away joints abound in Agropoli's streets.
Enjoy the level lungomare with fellow townspeople for a nice walk along the waterfront, with sandy beaches (both free and serviced with umbrella and chair rentals), or head to the pretty Baia di Trentova bay to swim in the shadow of the promontory.
The climate is Mediterranean coastal with fairly mild winters and hot, dry summers. Winter daytime temperatures average around 57 F, going down to the low 40s at night. Summers bring temps in the mid and upper 80s but cool down in the mid-70s at night and can get some nice cooling breezes blowing down from the hills. The rainiest days are between October and December. The downside to a seaside location is the humidity, which can be milder in the summer and notable in winter.
Lifestyle in Agropoli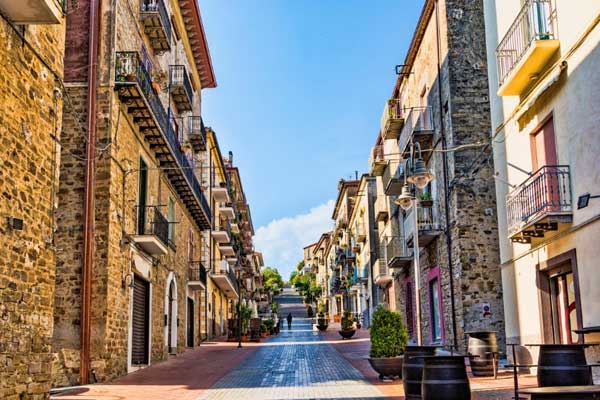 Southern Italy is laid-back and hospitable, and Agropoli is no different. There is a sense of an unhurried lifestyle and a "don't stress yourself" attitude. A stop in the piazza for a chat and maybe a drink, a stroll among the shops and boutiques, a walk along the port to admire the boats, and a spot on the sand to watch the colorful sunsets are simple joys the Agropolesi enjoy daily.
The dominating Angevin-Aragon castle at the top of town hosts exhibits and concerts, and holds a small but impressive archeological museum. Le Fornaci and Acropolis museums also show off the town's ancient history, dating back to the Greek colony and Roman take-over, along with succeeding epochs.
They put on a rollicking Carnevale festa with elaborate allegorical floats, and annual events and concerts keep things lively year-round. It draws tourists in summer, mostly Italians and northern Europeans, but maintains its community activity throughout the year (meaning it doesn't close down in winter as some seaside towns do).
With a train station, you can arrive in the city center of vibrant Salerno in just a half-hour. High-speed trains get you to Naples in one hour and to Rome in two-and-a-half hours. Or, take the slower regional trains down further into the Cilento to explore other attractive seafront towns like Pisciotta, Sapri, and Maratea.
There are several wineries at the edge of Agropoli producing notable vintages, where you can stop by for a tasting and to buy directly from the producers. Vini Marino and Azienda Botti both organize excellent food and wine tastings, but there are several wineries outside town to seek out. The food here is a mix of mare (sea) and terra (land) so everyone is happy, and vegetarians won't go hungry with the area's produce, either. The Cilento is also home to the heralded Mediterranean Diet, called a "fountain of youth" so your retirement years should be healthy around here.
The national park offers hiking paths that lead to panoramic overlooks, waterfalls, historical ruins, or wildflower-infused valleys. Boat trips along the nearby coast, ferries to the Amalfi Coast and Capri, and timeless towns all over will keep you from being bored. The spectacular temples of Paestum and the Greco-Roman remains at Velia are both UNESCO-designated sites, both only a half-hour away.
There are shops, grocers, some boutiques, and artisanal goods in town along with furniture stores and craftsmen (woodworkers, stone masons), while larger big-box stores and super-sized supermarkets are located at the upper edge of Agropoli in the zona industrial, ensuring you find what you need right there.
Real Estate and Cost of Living in Agropoli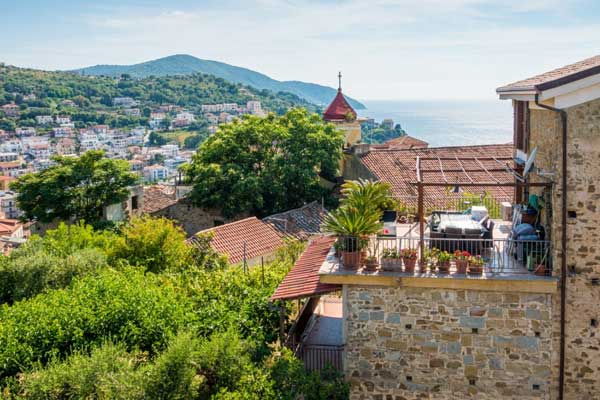 While coastal towns further up beyond Salerno are mostly astronomical in prices, Agropoli presents some astonishing real estate deals for a seaside city. Many properties are condos in modern buildings, though stone-built homes in the old town are available, too. Even independent homes (villas) aren't going to cost a royal fortune-unless you want to really go all out.
A few examples are appealing properties currently for sale:
Above town in a panoramic position with sweeping views of the sea and town itself from the spectacular, spacious terrace, a two-bedroom condo home on one level is for sale, with low maintenance. The terrace has a covered dining area but plenty of space for sunning, a barbecue grill, and an outdoor shower to wash off the sand from your days at the beach. Price: $114,395
There is a smart one-bedroom home in the charming old town center, newly renovated with hand-painted tiles in the kitchen, modern fixtures in the bathroom, a small balcony, and lovely cobbled lane outside. It is near the castle, and with pizzerias and restaurants in the immediate area. Price: $155,945
A three-bedroom stone-built villa just five minutes outside of town enjoys a country setting without being isolated. It has a garden with palm trees and olive trees, views over the hills, a two-story spacious floor plan with paved terraces, a roomy, open great room plan with fireplace, and about 1,800 square feet of well-planned living space. Price: $294,563
If you want luxury living right at the port, there is a brand-new, sleek, contemporary home for sale with walls of windows looking at the boats in the harbor and old town on its rocky hill. Views take in the sea beyond; on a clear day, the outline of the Amalfi Coast is visible. The designer home boasts three bedrooms, two bathrooms, a huge terrace, a private garage, solar panels, and furnishings. Price: $1,016,532
Furnished rental homes average €500 ($577) a month, though some one-bedroom apartments can be found from €300 ($346) a month.
Featured Image Copyright: ©iStock/IvanoDS