Move to Italy and Enjoy La Dolce Vita (the Sweet Life)
There are many appealing reasons that inspire expats to move to Italy. The country has given us Michaelangelo, Raphael, and Botticelli. Pizza, gondolas, and scarlet Ferraris. Opera, ice cream, and Prada handbags. OK, it's given us the Mafia, too, but who wouldn't want to move to Italy, Europe's most intriguing and seductive country? Just think of its warmth, style, and wonderful food…its excitable people and their zest for life…its art treasures and the architectural glories of its magnificent past…
Even if you've never been there, Italy is one of those places that tugs at the heartstrings. And once you have been there, you'll start looking for an excuse to move to Italy.
Move to Italy for the Climate
When it comes to the weather, Italy really is a land of contrasts. In general, it has one of the best climates in Europe, but conditions can be quite varied. In winter, the Italian Alps are likely to be cold with crisp, blue skies and enough snow to keep skiers satisfied. On the other hand, Milan is often fog-bound and the Po Valley can be quite cold and damp, too. For the best winter weather, look to the Italian Riviera, the Amalfi coast, and the islands of Sicily and Sardinia. All enjoy a mild winter climate. Obviously, the farther south you go during the summertime, the hotter it will get…and the deep south can be very warm, indeed. In Apulia, the heel of Italy, even the sea temperature averages 82 F in August.
Residence in Italy
If you're planning a move to Italy, there are some bureaucratic issues you'll have to take care of first. Citizens of the U.S. and Canada do not need a visa to enter Italy for up to 90 days if the purpose of their trip is tourism- or business-related. Italy has a multitude of visas; the most common ones are for business, family reunion, independent work, religious reasons, study, tourism, and transit.
If you're planning on staying longer than 90 days, but aren't yet sure about permanent residence, you'll need a visa. If you are moving to Italy and can afford to live there without working, you may want to apply for an elective residence visa. This type of visa is generally used by foreigners who are retired and can collect income from a retirement or pension plan. The family visa is applicable when the whole family is moving or returning together and staying in Italy longer than three months. Besides the usual documents, you will need proof of familial relations.
Italian Customs Duty
Italian customs will grant you duty-free entry of your household effects, as long as they are imported within six months of you moving to Italy and registering as a resident. Those holding resident status may also import a motor vehicle duty free, providing it has been owned for at least a year.
Moving your household goods: Household goods may be imported duty free within six months of receiving the certificate of residence. An experienced and reliable shipping agent can simplify customs-free importation of household effects.
A motor vehicle may be imported duty-free within six months of receiving the certificate of residence and if owned for a period of less than one year. Imported vehicles must be registered and Italian license plates obtained. For more detailed information, contact the vehicle registration office, Pubblico Registro Automobilistico (PRA).
Moving with your pets: Animals from the USA and Canada may enter Italy if they have:
A valid Veterinary Certificate (stating owners details, a description of the animal, details of identification and vaccinations)
A tattoo or a microchip (compatible with standards ISO-11784)
Once in Italy, an Italian vet can issue an EU Pet Passport allowing travel within Europe.
---
How to Move Out of the U.S.
(and Where to Escape to)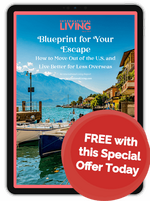 In lots of safe, warm, friendly spots abroad, a couple can live well for around $2,000 a month. Hundreds of thousands of Americans have already escaped—and you could, too. International Living shows you—step-by-step—how (and where) to go. You may be stuck at home right now—but it's the ideal time to put your escape plan in place.
Subscribe to International Living with this special discount offer today—and we'll give you a blueprint for your own escape.
Claim Your FREE copy of this Special Report now when you subscribe to International Living
---
Why I Moved to Italy
By Valerie Fortney Schneider
Transcript:
Why did you move to Italy? That's a question I get all the time and I wanted to take a few moments to explain to you why we made the move from the United States to Italy.
It wasn't just one revelation that brought us here. It was a series of things. So, I wanted to give you a little bit of an idea about why that happened and why we chose Italy specifically. We weren't unhappy in our lives in America. We were living in New Mexico, a little bit north of Albuquerque, with a very nice house and a nice mortgage to go with it. We had good jobs… and a good level of stress to go along with that.
We were enjoying a lot of the aspects of our lives in New Mexico. But we started evaluating what we really wanted from our lives. There were months of stress, and my husband had a very stressful job in particular, and we knew that we needed to make a change. We weren't quite sure exactly what that would entail at the time, but we started conversations about what we were doing, where we wanted to be, and how we wanted to live our lives. We started looking at how we were living, working 50 weeks out of the year so that we could enjoy two weeks of vacation time. We wanted to do more living and not put off everything until an unforeseen retirement in the future. At the same time, there were several things happening within our circle of friends and family that made us realize the brevity of life. So that was another big factor that made us accelerate the process. And we wanted more control over our job situations. We wanted to have a little bit more of our own destinies in our hands, so to speak.
In the meantime, we were also making our first trips to Italy. We traveled here and I fell in love with the country immediately, from the day our plane landed in Rome. I was smitten with Italy and its history. I have a degree in history so for me, this is better than Disneyland or any other place you could possibly imagine. To be able to see all of these historical sites in person, up close and personal. But my husband, it took him a little bit longer. He liked a lot of things about Italy, but he's a very outdoorsy kind of person. And so, he wanted to vacations more in the national parks. But we did start coming to Italy more and our trips started getting longer until we started making inroads in terms of what it would be like to live here. We started talking about it more seriously, spending time in one place, and evaluating what it was really like to live in a town in Italy. And we really liked what we saw. We liked the culture, the pace of life, the emphasis on social interaction, and how people gather in the piazza, and we liked the food, of course. So that really convinced us, along with these other things that were happening in our lives that we wanted to make that leap from the U.S. to Italy.
It was going to be just a year in the beginning. We just sold our house and we thought, okay we'll spend a year's sabbatical and then we'll decide what we're going to do with the rest of our lives. And that one year turned into two and then we went back to the U.S. for one year. That clearly wasn't going to work after living here. So we were organizing things yet again and came back to live here in southern Italy. We have been here for 10 years now.
So what keeps us here? It's not just the piazzas and the beauty that surrounds us. There are so many things about Italy that we really love. We love the old-world atmosphere. We like that Italy dwells on their history, that everywhere you go, there are historical sites that are currently still being used and that life and history collide, so to speak, here in Italy. We love the culture and all the different things you can do, the traditions that continue one for centuries, the festivals, artwork, and everything else that entails. You can go one hour from our home and have a completely different landscape, from mountain town down to the seaside, with different things to look at and completely different foods to taste.
Which brings me to the food, of course. Italian food is famous as one of the best, I think the best, cuisines in the world. And I know a lot of people will agree with me on that. It's the one kind of cuisine that most people can agree on when you decide to go out to eat. So to see how they prepare things, to take all of those fresh vegetables and all the produce and turn them into these works of art on the table is wonderful. It's also never boring because every region has its own specialties. So no matter where you go in Italy, you get to taste something different. So the foods that we have here as traditional fare in our region of Basilicata is different to what you're going to have in Rome, Tuscany, or in other regions. It's exciting when you're traveling around, to be able to taste all these different dishes and see how they prepare things and the different focus that they use in each region.
But for me, it's really the people. The Italian people are warm, welcoming, and friendly, and that is really what won us over and what keeps us here. We really love the community that we have found here. People are so welcoming to us in our region, in particular here in the south. They have a saying that "hospitality is sacred" and they really mean it. So they take you by the hand. They lead you into their houses. They offer you a coffee. They really want you to experience the best that the region has. But they just have this innate warmth to them that really make you a part of their family. So that's something that has really touched us. It's something that we find is so wonderful to be able to be a part of the community where we live. We've been included in weddings and different events and ceremonies. We're watching the children of our town grow up and go off to college. We just get to participate in the life here. And that's something we never really had in the places we lived in the U.S.
So that's why we moved to Italy and why we stay here.