Arezzo, Italy - The Best of Old and New Tuscany In One Elegant City
Elegant yet unhurried, the city of Arezzo brings together the best of old and new Tuscany with an easy-going lifestyle and fewer tourists than you'd expect in a culturally-rich and attractive city.
It's hard not to draw parallels to Florence as you walk around Arezzo. The pleasant pastel and stone buildings along cobbled lanes blend many similar Medieval and Renaissance styles as the more famous art city that is just about an hour away. Arezzo also fell under the realm of the Medici's grand duchy for a time, and shades of Florence abound in its public buildings, aristocratic palaces, churches, and artwork.
Ground-breaking artwork by Renaissance masters are scattered in museums and churches all around Arezzo. With just under 100,000 people, it's a good size to offer everything you want while still being manageable and personable. Even better, it doesn't have the millions of tourists traipsing through its streets every year like Florence.
The historic center is the dazzling drawing room of Arezzo, still partially enclosed by protective walls with its monumental gates intact. At the summit of town, the ruins of the Medici fortress survey the panoramas of picturesque Tuscan countryside awash with olive groves and vineyards. The lower, newer town has its charms and services, keeping the city from stalling in the Middle Ages and making Arezzo both modern and historic—a fine mix for everyday life.
Retire in Arezzo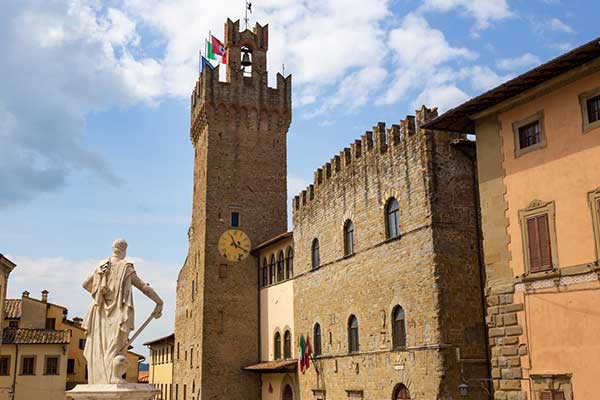 With a beautiful ambiance, a rich cultural line-up, and events throughout the year, Arezzo makes a perfect retirement destination. Arezzo is at the eastern point of a triangle formed with Siena and Florence, with the dreamy Tuscan countryside sprinkled with fairytale towns in the middle. In fact, it's at the eastern fringe of the Chianti wine zone, and the Val di Chiana valley where Arezzo produces notable wines as well as the famed Tuscan beef known as Chianina, for those decadent thick Fiorentina steaks.
The University of Arezzo lends a sense of youth and vitality to the city. Arezzo also has good rail and bus connections to surrounding cities and smaller towns. Equidistant between Florence and Perugia airports, about an hour away by car or rail, or Siena, also an hour away by car or bus, giving Arezzo great options for an active cultural life.
The climate here is like most of Tuscany's with relatively hot summers and chilly, damp winters. July and August can see temperatures around 90 F during the day, but evenings cool down for relief, and winter highs tend to be in the low 40s F with colder nights. Rainy season is from October through February, and the city is the occasional recipient of some snowfall.
Italy has one of the best healthcare systems in the world, ranked number two by the World Health Organization, and Arezzo has an array of medical options available. There are public and private hospitals and medical clinics in Arezzo, and other smaller hospitals scattered around the province for additional options.
Lifestyle in Arezzo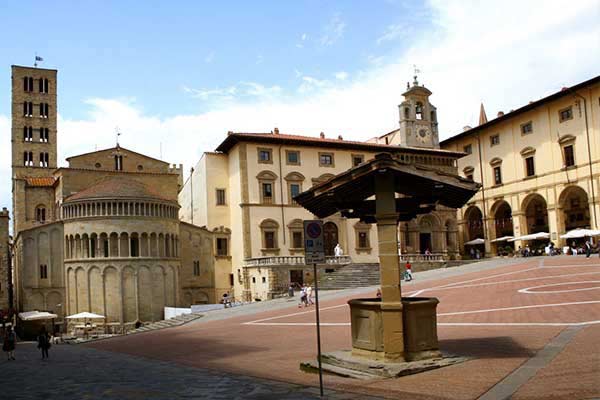 Life truly is beautiful in Arezzo, and it's easy to see why Roberto Benigni used his hometown as the set of his Oscar-winning film Life is Beautiful.
The sloping Piazza Grande is the central gathering spot that everyone passes through. It is the location for a rousing horse race, sort of like Siena's Palio, but with lances, held twice a year. The piazza is also the scene of a monthly antique market that draws people from around Italy for the 500 stalls and festival-like atmosphere.
Museums filled with art by Tuscan and Italian masters, archeology-dedicated museums, and edgy contemporary art galleries are to be found around town, along with churches and public buildings bearing breathtaking works, open for viewing. The Teatro Petrarch opened in 1833 and still puts on a full calendar of shows, musicals, classical concerts, and operas within its horseshoe-shaped auditorium, outlined with ordered rows of opera boxes, while the Mecenate Theater hosts modern and experimental dance and prose. There are multiplex cinemas, plenty of bars and cafes, and loads of dining options ranging from simple trattorias to Michelin-ranked restaurants, and everything in between.
City parks offer green space and the forested foothills of the Apennine Mountains start just outside of the city. Arezzo sits close to the Umbria and Le Marche borders, making it easy to launch off for explorative day trips around the area. And connections are great for getting further afield around Italy and Europe, too.
For all its quality of life and location, the surprise is that Arezzo isn't more "discovered" and higher priced. Being at the eastern fringe of Tuscany, it has stayed off many radars, providing one of Tuscany's real gems.
Cost of Living in Arezzo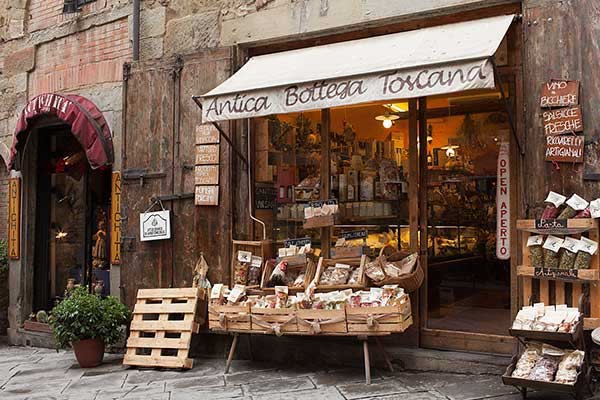 Overall, prices in Arezzo don't leave you gasping for breath despite being in usually costly Tuscany. In fact, you can find a spacious two-bedroom apartment close to everything for less than $110,000. A restored one-bedroom home with classic Tuscan touches like terra cotta floors and wood beam ceilings in the old town can be found for under $100,000. Prices in the city center will go from there up to more than a million, with the average price per square foot running $178. The average rental price in the city center is $624 per month. Country farmhouses close to the city can be found for close to $500,000.
Arezzo's cost of living is in line with the rest of Italy in terms of general prices for everyday goods and services. Enjoy a glass of wine aperitivo with snacks buffet for $8 in most of the wine bars and piazza cafes around town.  A plate of handmade pasta with a glass of wine will cost you $14.78 at a trattoria, while an upscale meal in an elegant restaurant will run about €130 for two people.
A cappuccino in your neighborhood coffee bar will cost about $1.50 while at the historic Caffe dei Costanti founded in 1804, you'll pay $4, but it has historic ambiance so it's worth the extra money.
You can see a show in the historic Teatro Petrarca, for $11.37, season tickets are typically $96 to $290 for the best seats. A movie costs $8. Hop a train to Florence for $19.40; to and from Perugia will cost $17. A bus ticket around town is $1.69 while a monthly pass is $39.
Utilities will cost in the same average as the rest of Tuscany—figure about $185 a month to cover electricity, heat, and water.
| | |
| --- | --- |
| Expenses | U.S. $ |
| Rent | $700 |
| Utilities (electricity, heat, and water) | $200 |
| Cell Phone (X2) | $50 |
| Groceries | $300 |
| Internet | $35 |
| Dining out | $200 |
| Bus pass | $39 |
| Total |  $1,524 |
Things to Do in Arezzo, Tuscany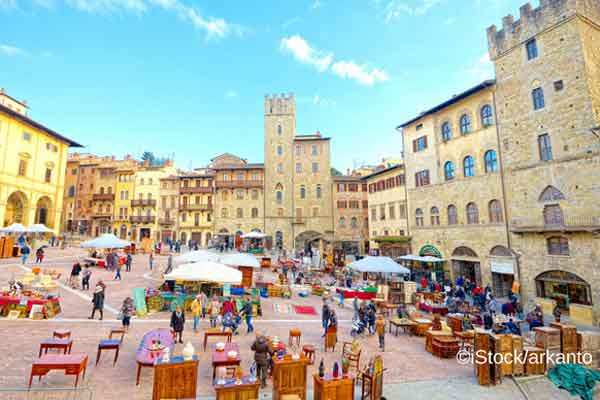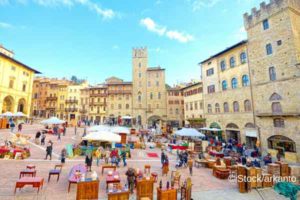 By Valerie Fortney Schneider
With a dazzling city center and a rich cultural life, it's amazing that Arezzo has managed to stay off the main Tuscan tourist trail. But that's good news for you, because you can enjoy its Old World ambiance and attractions without massive crowds or mediocre "tourist food". The powerful Medici family had a hand in Arezzo and their Florentine flair is seen on public buildings, aristocratic palaces, and churches around town.
There are many things to see and do in Arezzo, but here's my top 10 list to give you a good introduction to this charming Italian city.
Revel in Renaissance Art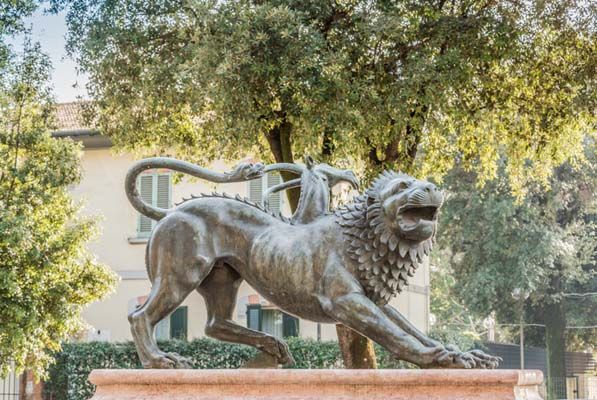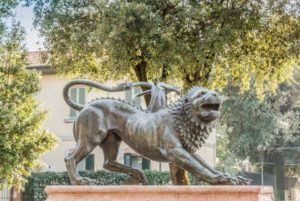 ©Pegasophoto/iStock
Like other Tuscan cities, Arezzo was lathered with Renaissance art. Hometown hero, Piero della Francesca, was one of the early Old Masters, a mathematician and pioneer in painting techniques like perspective, foreshortening, and three-dimensional modeling of his figures. His works influenced the later Renaissance period. Follow the Piero della Francesca trail and see how he revolutionized the art world.
The Basilica of San Francesco houses Piero's acclaimed masterpiece, The Legend of the True Cross. If you gaze at only one piece of artwork in Arezzo, it should be this one—a massive and detailed fresco cycle that took 20 years to complete. Next stop is the cathedral at the top of town where Piero's depiction of Mary Magdalene shows off his mastery of light and shadow. La Maddalena looks like she will walk right off the wall and into the church. The frescoes in the gothic vaulted ceiling and the delicately carved altarpiece are nothing to scoff at, either.
Nearby Sansepolcro was Piero della Francesca's birthplace, and several of his works are found in the civic building. His rendition of The Resurrection was deemed so beautiful that it stopped the Allies' bombing during WWII to spare it.
There's plenty of art beyond Piero della Francesco, though. Museo d'Arte Medievale e Moderna is housed in a Renaissance palazzo with gorgeous cloister and free admission, with works by Signorelli, Vasari, Margarito, and many others. The Diocesan Museum, in the Bishop's Palace across from the cathedral, is packed with paintings, and includes a room dedicated to works by Vasari. The $3.30 admission fee is a bargain.
If you've noticed Giorgio Vasari's name a lot here, it's because he was from Arezzo. You can visit his family home, Museo Casa Vasari, which he frescoed himself and the visit also includes the gardens.  The town's renowned Archeological Museum will definitely impress you with its collection of stunning artifacts from the Etruscan and Roman sites—bronze statues, stone sculptures, pottery, and much more. A highlight is the Chimera, a legendary lion in bronze dating to the 4th century BC, and a symbol of Arezzo.
Conquer the Castle
Hoof it uphill to the top of Arezzo to visit the Medici-built fortress on San Donato Hill. The five-pointed defensive structure by Sangallo the Younger was innovative for its time, completed in 1538. Roam the ramparts and the bastions for a glimpse of the architecture, and for the fabulous vantage point it gives you over the city and the surrounding countryside. The adjacent park, called Il Prato, is a favored spot for joggers and cyclists, and where kids play while their mothers chat. A white marble monument pays homage to Petrarch, who was from Arezzo. It's a nice place for a stroll below the umbrella pines.
Insider Bonus Tip: Walkers will enjoy the one-mile ribbon of country road that leads from the fortress to the historic San Fabiano winery, with a surprise. Ambling along a portion of the road is the Acquedotto Vasariano, a Renaissance-era rebuild of a Roman aqueduct, designed by Vasari. It terminates at the Piazza Grande and the fontana pubblica, with the last portion running underground through a tunnel to the fountain.
Park Yourself in the Piazza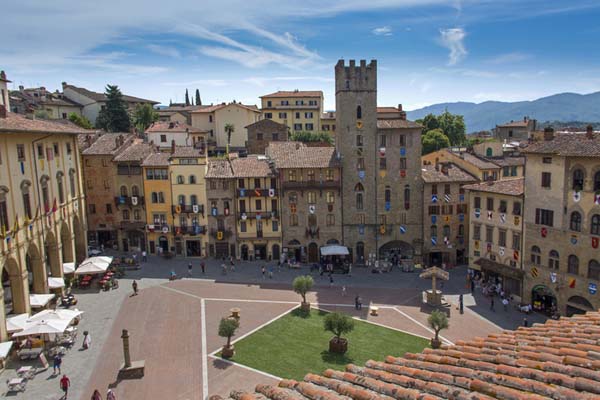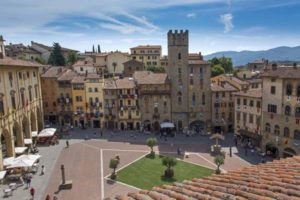 ©FrankvandenBergh/iStock
Arezzo's Piazza Grande is a grand public square that will knock your socks off. Reminiscent of Siena's Campo, the sloped space is encased by so much beauty you'll want to spend some time just looking at it. This sumptuous square is the site of a monthly antique market and the bi-annual jousting match, which rivals Siena's Palio in energy and civic spirit. You'll recognize where many of the scenes in the Oscar-winning movie Life Is Beautiful were filmed.
It is also the scene of some of Arezzo's most beautiful buildings—Renaissance palazzi and the tall "tower-houses" that outline the space, along with the bulging apse of Santa Maria della Pieve with its striking columns. They all give you something to ponder while you sit below Vasari's storied loggia and sip a glass of local wine, thinking how lucky you are to have discovered this gorgeous gem.
Mangia
It's Italy, and "mangia" is the word, always…which means eat. Enjoy real Tuscan fare, the superb olive oil, and the local specialties while you're here. Like most of Tuscany, the food tends to be hearty and rather meat-heavy. In fact, the famed Fiorentina steak is made with Chianina beef, so-named for the Val di Chiana valley that Arezzo is part of. Menus include truffles and mushrooms and game meat, but try the local tortelli di patate (potato-stuffed ravioli), the thick strands of bringoli pasta with rich duck sauce, and the boozy gatto' aretino cake steeped with alchermes liqueur. Whether you want a homey Tuscan trattoria or an upscale Michelin-star restaurant, you'll eat well here in Arezzo.
My pick? For an excellent sampling of Arezzo's traditional dishes, head to Ristorante Antica Fonte in Via Porta Buia, where the homemade pasta and fragrant stews and roasts are Tuscan through-and-through.
Sip Vino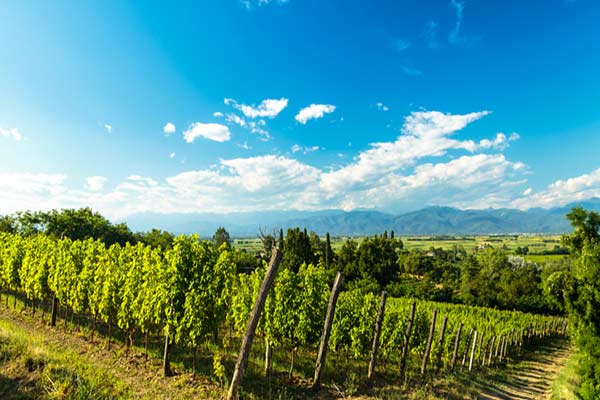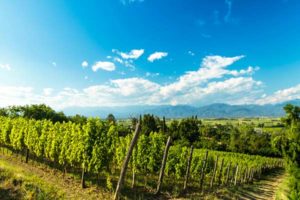 ©Zakas86/iStock
I wasn't kidding about sampling some local wine, because wine making has gone on here for more than two millennia. Arezzo sits at the edge of the Chianti zone, so try the Chianti Colli Aretini. They're also pretty proud of their own blends around here, though. The Valdichiana DOC designation is affixed to whites and reds, and locals insist that their white vintage known as bianco vergine was exported to France in the early 1900s to make champagne. True or not, you can sample the sparkler and see how it stacks up against France's famous frizzante.
There are many wine bars around Arezzo, from simple to upscale. Or, even better, hit one of the wineries outside town to sample right at the source. I recommend the close-by Tenuta San Fabiano, just outside the city.
Go Shopping
Arezzo has a lively shopping scene, with boutiques and big-name shops lined up along Corso Italia, occupying the ground floor storefronts of the pastel palaces. There are always plenty of people milling about, and the shopping spills into the cross-street of Via Cavour, where you should go at least as far as Piazza San Francesco to enjoy a drink in the historic Caffe dei Costanti, the oldest in town.
While you're shopping, take a look at the jewelry shops, as goldsmiths have been working in Arezzo since the Etruscans created their ornate adornments. Arezzo is called la citta' dell'oro (city of gold) and hosts a prestigious goldsmiths fair every year, OroArezzo.
The weekly street market is held on Saturday mornings in Viale Giotto, in the newer part of town outside the centro storico. The stalls brim with fresh produce, cheese, housewares, clothing items, and shoes; there's always something to capture your eye (and wallet).
If you've exhausted your prowling of the city's shopping streets and still haven't had enough, the Valdichiana Outlet Village, about a half-hour away, is for you, with its designer duds and nationally-known brands.
Get Back to Nature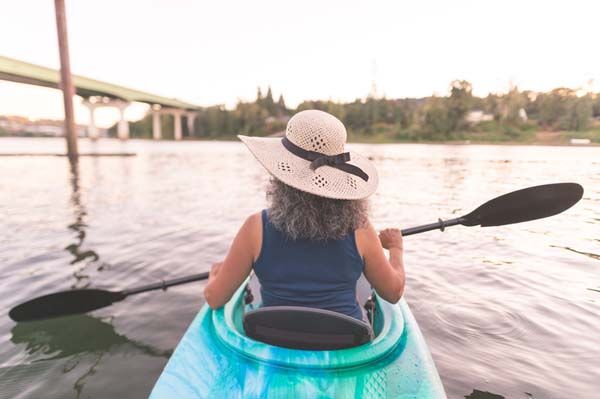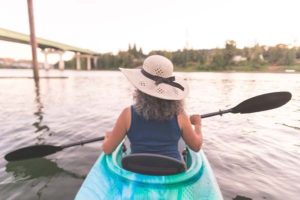 ©FatCamera/iStock
Arezzo has it all, but right at the doorstep are plenty of outdoor sports, too. Raft, kayak, or learn to stand-up paddleboard on the Arno River. Go horseback riding in the Tuscan hills, and mountain biking or ATV outings along the rustic roads. You can also take a boat ride to inferno, on the River Arno to the natural preserve Valle dell'Inferno e Bandella, said to have been so-named by Dante during a visit to the area. It's not hellish; on the contrary, it's a beautiful spot with a diverse aviary population and sections of low canyons.
Explore Ancient Arezzo
While the medieval lanes are thoroughly charming, the city actually dates to the 4th century BC, and has some monuments to prove it. Starting with the Etruscans, who flourished here as well as in nearby Cortona and Perugia, remains of their protective walls can be seen in Piazzetta San Niccolo. Up by the fortress are some traces of their temple, and the archeology museum contains plenty of artifacts to show their presence.
The Romans arrived a couple centuries later and named the city Arretium, then built an amphitheater for their enjoyment. The outline is still clearly visible, and their pieces forged in bronze, iron, and ceramic along with sculptures are found in the adjacent museum, housed in a former monastery that was built right on a curve of the old amphitheater's foundation.
Contemplate the Pieve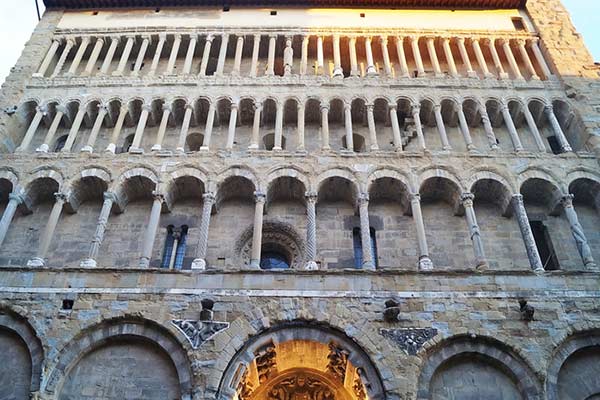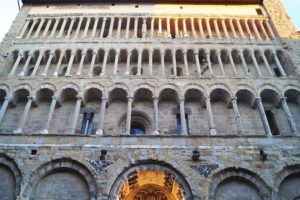 ©sansa55/iStock
The church of Santa Maria della Pieve backs up to the Piazza Grande and is one of the symbols of the city. It is like a sculptural piece. With its front facade's forest of closely-aligned columns and the 40 windows of the bell tower, it's known as the "tower of 100 holes". Look carefully and note that the columns are all different.
Above the door a lunette bears a bas-relief of the Madonna and angels, but look above that in the curve of the portal, which most visitors ignore, and you'll see a sculpted gem. Allegories depict each month of the year, represented by artisan and agricultural activities on the annual cycle. While the exterior is the star attraction, the spare, heavy Romanesque stone of the interior makes the showy altarpiece by Lorenzetti seem to gleam all the brighter.
Enjoy an Elegant Evening Out  
Arezzo oozes an elegant air, and its sumptuous theater is just the place to enjoy a dressy evening out. Teatro Petrarca opened in 1833 and was featured in the film, Life is Beautiful. Take in a ballet or opera in the velvet-draped theater, which is especially fun when you sit in one of the viewing boxes that line the horseshoe-shaped interior.
But it's not the only performance space in town. The mini Teatro Virginian in Via de' Redi is a community theater with a variety of shows, and the more modern auditorium Teatro Mecenate offers a host of music, dance, and theatrical events, too. Grab some tickets and enjoy a show.
Then, stroll to a post-show dinner at one of Arezzo's many noted restaurants to make it a perfect evening out.
My choice for an upscale meal is I 3 Bicchieri, where the unassuming exterior doesn't prepare you for the classy fare inside. Dishes are beautifully plated, the seafood dishes are a nice change from the meat-rich Tuscan menus, and they add innovative flair to local recipes, as well.
Insider's Bonus
Take a short drive outside the city and cross the Ponte Buriano, built over the Arno River in 1277. On the opposite side is a small park where you can get a good glimpse of the medieval structure and see how it figures in to the world's most famous portrait. Look at the Ponte Buriano and then take a good gander at the Mona Lisa and the bridge depicted in the painting on the right, above her shoulder.
Featured Image Copyright: ©iStock/FrankvandenBergh