Art, History and Culture Abounds in Ravenna
By Valerie Fortney Schneider
On the eastern side of Emilia-Romagna region, Ravenna gleams, with its brilliant mosaics and its location near the Adriatic Sea. This is the sunnier and brighter side of the region, where the famous fog of the Po River valley dissipates into the sea. Ravenna is a friendly and hospitable city, an urban space that is both refined and off-beat that instills a feeling of acceptance. Active, artsy, outdoorsy, literate, and low-key all describe this historic city of 165,000 residents.
Retire in Ravenna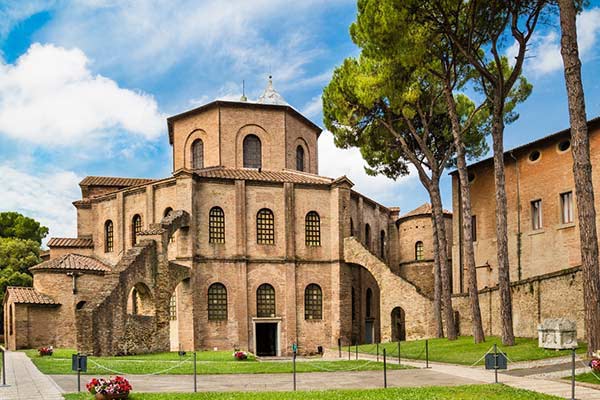 Colorful and vibrant, the pastel-painted buildings and the gleaming mosaic artwork give the city a light-hearted air and a pleasant atmosphere for your daily strolls. Patrician palaces blend with contemporary buildings seamlessly, and the Piazza del Popolo, Ravenna's central square, is a picture-perfect gathering spot for a coffee or glass of wine.
Ravenna was once an ancient seaport until the sea retreated. This is the Romagna part of Emilia-Romagna, and you'll see the food change from meat-laden dishes to lighter fare focused on seafood (though you'll not have to sacrifice the prosciutto, cheese, and pasta that the region is famous for, either)
The university injects a youthful vigor to the city, but there's plenty for the more mature population to enjoy, too. Ravenna is delightfully walkable, the store-lined streets like Via Cavour and Via Matteotti make shopping delightful, the upscale boutiques and mid-range stores keeping up with fashions in Italy's other stylish cities. But everyone gets around the city on bicycle, and you'll see dozens of bikes parked in piazzas and at designated stands around town.
Ravenna is user-friendly and visitor-friendly, so getting around and adapting is fairly simple. The old town center is the best and easiest location for those not wanting to keep a car, while the "first ring" of the periphery might be ideal if you want easier parking for your vehicle.
The city is just a few miles away from the Adriatic beaches and the sea helps moderate the climate. There isn't extreme cold, though winter is damp and chilly. Winter days average from 40 F to 48 F while summer daytime temperatures run between 77 F and 86 F. You'll definitely have a change of seasons here, though snowfall is rare.
Lifestyle in Ravenna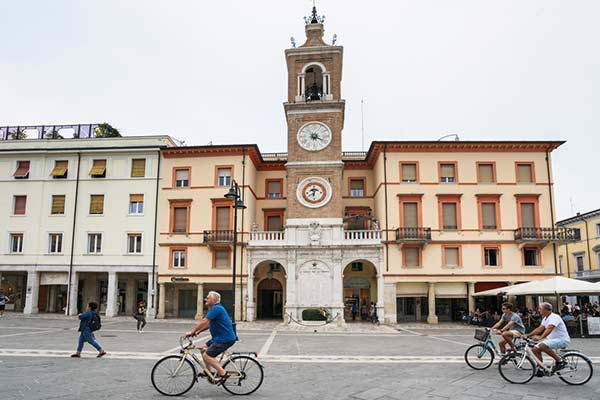 There's a lot to love about the city—art, history, culture, and beauty, Ravenna has it all. Named a UNESCO World Heritage Site for its stunning Byzantine mosaics, the city was a bridge between Europe and the eastern world, giving it an exotic tinge. There's plenty of green space, and outdoors enthusiasts will enjoy the Delta of the Po Park with its interesting excursions and walking path, as well as the seaside water pursuits. There are hot springs at Punta Marina Terme, and wetlands for bird watchers.
Around town, Ravenna hosts 13 museums and two theaters for live music and shows, modern art galleries, and city gardens. There are summer concerts, dance and symphony music, and festivals, too, including the Ravenna Festival that combines all cultural offerings under one annual umbrella. This is where Dante found refuge and where he died, so it's logical that there are also loads of bookstores and literary-themed events.
Trains take you to other parts of the region and beyond. Rimini with an inter-Europe airport is a half-hour by rail at a cost $14. Or you can spend an hour instead and pay just $5.35. Bologna is an hour away ($8.28) while Venice is a three-hour train ride ($16.28). Milan is less than three hours but the high-speed trains rack up the price to $51.
The airports in Rimini and Bologna take you around Europe. Or you can just enjoy the corner of Emilia-Romagna where the lifestyle is good, and so is the food. At Il Portolano Trattoria, a chalkboard menu announces the daily offerings, where you'll pay less than $22 for a carefully prepared of fresh-caught seafood pasta with a glass of wine. At restaurants around town, most pasta plates will run about $13.60, a main course of fish or meat is around €18. Wine flows easily, coming from the region but also from nearby Le Marche and Veneto, too.
This area loves its aperitivo ritual, a pre-dinner glass of wine or cocktail with snacks included; it's a great way to get to know the regulars at your neighborhood cafe, and some of the snack plates make a light dinner (for the price of the drink, for around $6.
Cost of Living in Ravenna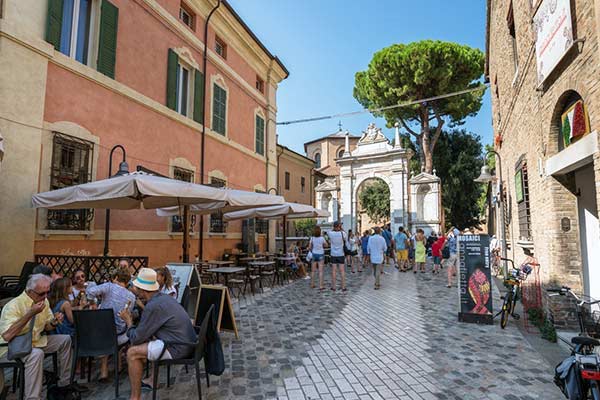 Ravenna is not a bargain destination, but it's not exorbitant, either. For example, a newer-built two-bedroom bright and airy apartment just outside the city center has 775 square feet but feels larger. It also has a wrap-around balcony. It is listed for $156,849
An urbane stylish one-bedroom apartment with parking and a convenient position at the gate of the old town is well-furnished and well-situated, and has two balconies for $211,746.
Prefer a country villa house? A 2,152 square foot two-story single home is on offer not far from the city, with three bedrooms, two bathrooms, a brick fireplace, a huge garden, a garage and cantina, and wine cellar. It is priced at $389,520
Rentals in the city center are surprisingly reasonable, with nice one-bedroom homes available from $550 and up. Two bedroom apartments start at $650.
The overall cost of living is on par with the rest of the region and northern Italy in general. Aside from housing costs, the grocery prices and utilities bills are in line with everywhere else. The difference is that you can partake in the regional specialties –prosciutto di Parma, parmigiano cheese, balsamic vinegar from Modena, for example, at reduced rates as you're closer to the source (and indeed can go and buy direct).
While you can find homey down-home type trattorias with fixed priced lunch menus or budget offerings, the normal range for a plate of pasta here will run between $11.30 to $13.50 and a main course averages $16 to $18. A bottle of local vino costs around $5.63, though you can splurge for well-aged vintages and pay between $12.20 to $13.50 and up. A cappuccino costs $1.35 and an espresso about 95 cents.
An evening at the theater is a reasonably-priced outing; tickets for an opera in the glorious theater start at $22.50 while other performances start at $16.90.
Electricity is the biggest monthly expense, and that, along with water and garbage bills, will set you back on average about $200 a month.
| | |
| --- | --- |
| Expenses | U.S.$ |
| Rent (two-bedroom apartment) | $700 |
| Utilities | $250 |
| Cell phones (X2) | $50 |
| Groceries | $300 |
| Internet | $30 |
| Dining out | $150 |
| Bus pass | $37.60 |
| Monthly Total: | $1,517 |
Featured Image Copyright: ©Francesca Cantone/iStock