Lecce: The Florence of the South
By Valerie Fortney Schneider
Lecce, the grand dame of Puglia, is a dazzling city all dolled up in baroque embellishments. The buildings of the city are built in local limestone, lathered with joyous ornate carvings and adornments done with such exuberance that it gives the city a sense of gaiety. Lecce is extravagant, even flamboyant. It is the cultural capital of Puglia, with so many monuments, churches, palaces, and museums that it has been given the nickname, "The Florence of the South." With its elegant city center and vibrant feel, it's impossible not to love Lecce.
Located in the sunny Salento zone of southern Puglia, Italy, Lecce serves up an exotic blend of Greek, Byzantine, and European elements, all soaked in sunshine and topped with genuine hospitality.
Retire in Lecce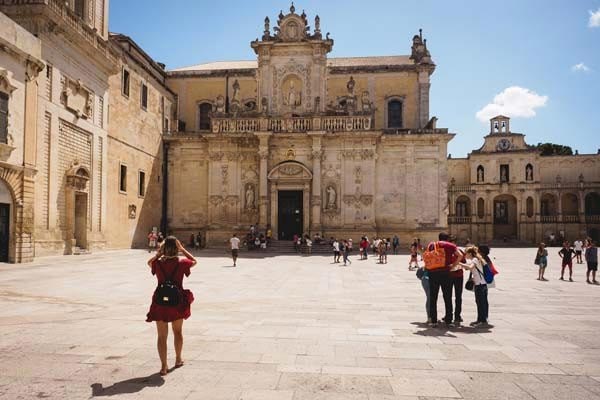 For mild temperatures, proximity to the sea, and cultural offerings, Lecce is a winning choice. With 95,000 residents it is large enough to have all the services and amenities of a city yet small enough to not be overwhelming. The Pugliesi are known for their vivaciousness and hospitality, ideal characteristics for retiring foreigners who don't want to sit apart but want to participate in the local life.
The city has a highly-ranked university with about 18,000 students, including international study programs. Around town, the streets are packed with monuments and art-filled churches, but even just the exteriors are gorgeous, and you'll find more than a dozen museums to enjoy, from ancient archeology to modern art to whimsical surprises.
Lecce is baroque heaven—everywhere you look, there are ornate doorways and ochre façades decorated with endless stone cherubs, leaves, birds, flowers, and monsters. It is the cultural capital of Puglia. Most of the old town streets are pedestrian and it's a safe place.
This part of Puglia offers mild winters, with daytime temperatures hovering around 48 F to 50 F, with nighttime lows rarely dipping below 42 F. There's abundant sunshine even through the cooler months, and golf courses nearby will keep you in practice year-round. Summers are hot and dry, with temperatures in July and August hitting around 90 F, making that nearby seacoast even more enticing.
The airport in Brindisi is just over a half-hour away, a convenient hub for flights around Europe and beyond. Regional buses provide transit to outlying towns, while trains can get you to Bari and along the Adriatic coast.
Lifestyle in Lecce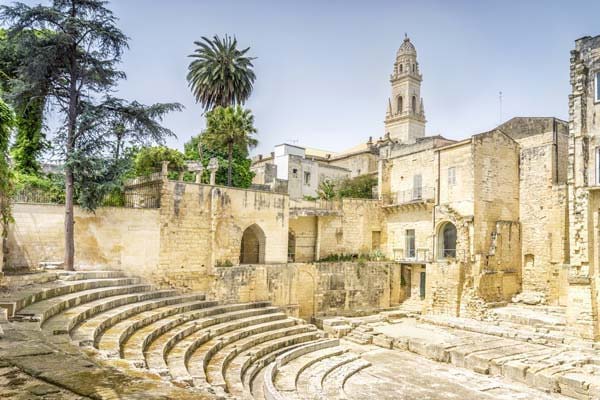 The streets are generously sprinkled with eateries and wine bars, while shopping streets Via Vittorio Emanuele and Via Palmieri are fun to roam. The Roman amphitheater, the cathedral, and the medieval castle are just a few of the things to see here. Four classy theaters presents a wide variety of operas, shows, and symphonic music, with single tickets starting at just $13 and a season tickets starting at $125, making it an ultra-affordable entertainment outing.
Museums by the dozen provide cultural and historical displays, especially great on those rainy days, while schools and associations offer classes from Italian language, cookery, and even wine making or craft beer. Lecce has plentiful restaurants serving locally-grown produce and fresh seafood, prepared in ways that burst with flavor. Puglia is known among Italians for its quality cuisine and wines, as well as olive oil.
The Adriatic coast is a mere seven miles from the city, just about 10 minutes away for a day of sun and surf. Marinas hold small craft, if your retirement dream includes a boat.
Traveling south along the coast here, you'll see dazzling whitewashed villages with bright blue doors and shutters. In some corners you'll hear a dialect that's not Italian at all but that, in fact, came from Greece.
Lecce is a stunning city with an active life, friendly folks, and a lot to explore in the nearby area, with hidden gems in unknown small towns around the region.
Cost of Living in Lecce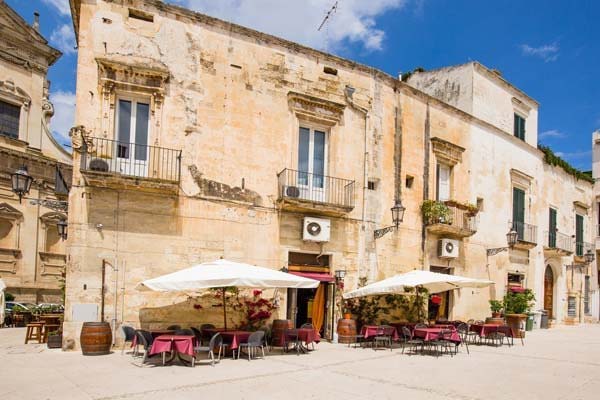 You'll find a range of prices in Lecce, starting from around $89,899 for a decent one-bedroom in the city center and going up from there. The modern apartment blocks in the suburbs are generally lower priced per square foot. The average in the beautiful centro storico is $135 per square foot, with all the conveniences in walking distance. Go outside the center and prices go down to $92 a square foot on average. You'll find rentals are reasonable here; an unfurnished one-bedroom in the centro starts at $393 per month, while furnished one-and-two-bedrooms run generally between $562 to $674.
A fully restored and nicely furnished one-bedroom apartment is for sale in the old town, with charming brick vaulted ceilings and a walled courtyard, for $110,127 See: https://www.casa.it/appartamento/vendita/lecce/corte-dei-mesagnesi-lecce-40mq-36834947/
A large, airy apartment of 2,120 square feet with an open floorplan, fine parquet floors, and four bedrooms and two bathrooms is located in a modern building at the edge of the city center and comes with air conditioning and parking. Price: $297,793 See: https://www.gate-away.com/property_detail.php?id=420595
But if it's a country villa you're dreaming of, you can find some lovely properties around the area. One example is a stone-built villa with three bedrooms and three bathrooms, on almost 10 acres of land planted with 600 olive trees and 600 fruit trees, surrounded by the characteristic Puglia dry stone walls. It is on sale for $505,686. See: https://www.gate-away.com/property_detail.php?id=115729
If you want to live near the sea, the prices invert, with lower purchase prices and higher rents (which may be an ideal investment opportunity for part-time retirees). There are apartments and townhomes listed starting at $65,177 around San Cataldo, the closest beach area to Lecce. Here, even stand-alone villas are affordable: a three-bedroom, two-bathroom house surrounded by park with a swimming pool in excellent shape is on offer for $280,937. See: https://www.immobiliare.it/annunci/66591641/
Fortunately, the overall cost of living in Puglia is low, and Lecce, aside from housing, is very reasonable. Shop in the fresh markets where the region's bounty of vegetables, fruits, and seafood can be found at great prices (and with a colorful ambiance).
Dining out is a pleasure because Puglia does amazing things with the area's produce; it's especially appreciated by vegetarians and fish lovers (but don't worry, you meat eaters will be happy, too). A couple can enjoy a trattoria dinner out with fish and wine for $56 or go to a more rustic down-home place like La Rusticana where a simple four-course meal with drinks costs just $17.42. Enjoy a pizza and beer for around $11 per person. A gelato is more than a simple ice cream here, it's a sensory experience. Enjoy two flavors on your cone for $2.25, and a frothy cappuccino for $1.35.
The Salento is known for its production of wines and olive oil, and you can go to the source for both and save money. Olive oil direct from the mill will run about $6 a liter. Wines vary by vintage of course, but many bottles of Puglia wine cost around $5; if you take your jug to the winery and fill it up from the barrels, the price is usually about €2 a liter.
| | |
| --- | --- |
| Expenses | U.S.$ |
| Rent (two-bedroom apartment) | $600 |
| Utilities | $250 |
| Cell phones (X2) | $50 |
| Groceries | $300 |
| Internet | $30 |
| Dining out | $150 |
| Bus pass | $18 |
| Monthly Total: | $1,398 |
Featured Image Copyright: ©Balate Dorin/iStock