Written by Valerie Schneider
Vivacious, outgoing, and laidback, there are endless facets to love about Puglia. The people here know how to live; it must be the sunshine, the food, and the wine that make them so friendly. The stiletto heel of Italy is itself a peninsula skirted by the Adriatic and Ionian seas boasting 500 miles of coastline, with a wealth of intriguing and exotic towns all along the way. Puglia offers some of the best beaches, best food, and best festivals that Italy has to offer; all tied up with an exotic feel.
While its southern peninsular position may look isolated, it's not remote. There are two airports (Bari and Brindisi) and a rail line that runs up the Adriatic coast. Puglia was a byway for colonizers, conquering invaders, and departing crusaders. It became a crossroads of culture, first with the Greeks, then the Romans who brought their version of a super-highway here, the Appian Way, followed by the Byzantines, Normans, Arabs, and Spanish. Each left a mark, giving Puglia a worldly exotic tinge.
Puglia produces a cornucopia of tomatoes, eggplant, peppers, figs, citrus, melons, and almonds, all ripening under that southern sun, and the region is a major producer of olive oil and wine. Add in the local seafood and meat specialties and you'll eat well here.
Retire in Puglia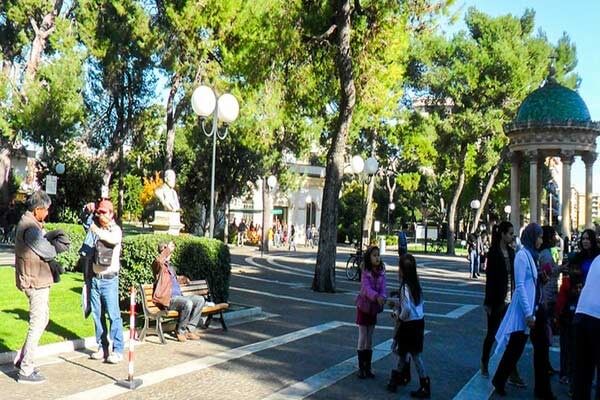 Puglia lounged quietly in its southern peninsula, largely overlooked until recently. It has seen bounding tourism growth—about 12% annually—along with a growing number of expats seeking a laidback, intriguing place to live. The region rambles for about 250 miles from north to south, and is the eastern-most section of Italy. At its closest point, Puglia is a mere 50 miles from Albania, while the tip is just 68 miles from Sidari on Corfu. That makes it not just a pleasing blend of cultures but gives residents some excellent getaway options.
Sun seekers will rejoice in Puglia, where the climate is semi-arid and mild year round, with fine weather stretching from April through November. With only 63 rainy days on average annually, there's plenty of sun to enjoy, and winter days rarely dip below 48 F. You can golf year round, enjoy a horse ride, walk along the dry stone wall-lined country roads, or even enjoy a seafront lunch in the winter months. Summers are hot and dry, with myriad water sports options and a vibrant line-up of events and festivals.
While much of Puglia comprises relatively flat olive-covered lands staked by dry stone walls, there is a hill region, and much less known, a range of low mountains in the north, where delightful towns sit waiting to be explored. The Gargano peninsula offers a more dramatic coastline, where cliffs dash to the Adriatic Sea. In short, there is a variety of landscapes and townscapes here.
The towns are scenic and intriguing with their blends of Greek, Roman, Byzantine, Arab, and Baroque influences melding together, while some are downright other-worldly, like Alberobello with its curious trullo structures. Life is never boring in Puglia. And life is affordable here, too.
Lifestyle in Puglia
Puglia's residents are exuberant, vivacious, and love a party. They're known to be friendly and welcoming, so you'll find friends easily, and the region has been quietly gaining a growing number of expats, too.
Time is leisurely here, where the daily pace keeps the rhythm of the ages. Long lunches followed by a siesta (called riposo here) are still the norm. An evening stroll and pre-dinner drink are practically obligatory, and a great way to catch up with friends, or just sit at a café and watch the people parade (passeggiata). Festivals are huge affairs, with giant arbors of colorful lights, food, music, and dancing until dawn. The cities offer bigger shopping opportunities and nightlife, but even smaller towns have theaters for plays and opera, cinemas, shops, and a good quality of life.
Golfers will love Puglia with its variety of clubs and outdoors pursuits include cycling, walking, and of course water sports of every kind. There are cultural events, historical sights, interesting towns to explore, beautiful countryside to enjoy, and excellent food and wine at every turn. Many Italians consider Puglia to have the best cuisine, for its fresh produce and abundance from both land and sea. They're creative in the kitchen, so dining out is never routine. Puglia's wines are noteworthy, and many cantinas (wineries) let you take your own jugs to fill up from the barrels, at a super-affordable price.
With lots of coastline, you're never far from the beach. There are low reefs and rocky shorelines intermingled with sandy beaches, some with archeological remains right at the swimming spots. Diving and snorkeling, boating, windsurfing, and more will keep you busy and sun-tanned.
Cost of Living in Puglia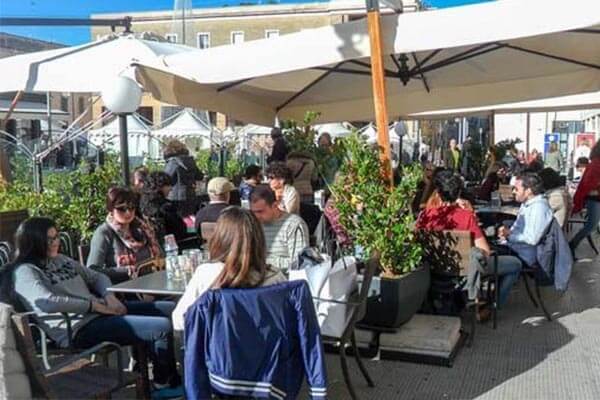 The surprise for many is that the overall cost of living is low in Puglia. Real estate can be very affordable, with homes starting at just $50,000. Of course, larger houses, country villas, and seaside homes run a premium but even so, some deals can still be found.
Dining out can be downright cheap: the locally-loved bracerie butcher shops that grill the meats you choose are an affordable and tasty outing, where dinner for two with wine can run just $25. A seafood feast can vary from upscale to home-style, with prices bounding from $25 a person to $100 a person but the fish is always super-fresh and well-prepared. A glass of wine at an outside café will set you back just $4 or $5 with snacks, while a cappuccino will cost you around $1.30. Of course, Puglia also offers upscale fancier restaurants for special evenings, and resorts that will cater to any whim while you lounge poolside or beachside. In essence, living in Puglia can be as affordable as you want it to be.
Where to Visit in Puglia
There are hundreds of attractive towns in the region, but here are a few of the highlights.
Otranto
Otranto is a delightful seaside town just 40 minutes to the south. With its historic castle, adorable old town, and colorful marina, Otranto is a sunny spot and has some great beaches right in town.
Lecce
Lecce is the grand dame of Puglia. All dolled up in baroque embellishments, it's impossible not to love Lecce. The buildings of the city are made of local limestone, lathered with joyous ornate carvings and adornments done with such exuberance that it gives the city a sense of gaiety. Lecce is extravagant, even flamboyant. It is the cultural capital of Puglia with loads of monuments, churches, palaces, and museums that it has garnered the nickname, "The Florence of the South."
Polignano a Mare
Called the Pearl of the Adriatic, you'll quickly see why. The white-washed buildings look like stacked-up sugar cubes and contrast with the azure color of the sea that laps at its feet. The whole centro storico is a pearl with gleaming smooth limestone streets wending among buildings and opening unexpected to sea views. Artisan shops and cafes are scattered among the lanes
The Valle d'Itria
The low hilly landscape southwest of Bari is a popular destination, known as the Valle d'Itria.  This is a tranquil realm of gnarled olive trees and vineyards, of little gardens that produce green-leaf crops even in the depths of winter. Unlike in central Italy, where towns glow in shades of rich earth colors, small settlements here gleam white, shimmering on low hills under a deep blue sky. The landscape is speckled with trulli, peculiar homes with conical roofs unique to this area. You'll see them everywhere, but especially around Alberobello.
Ostuni
Ostuni is called the White City, for obvious reasons. The old town spirals around the hill with delightful cafes and restaurants squeezed in among the lanes; some bars have pillows tossed on the steps of the "streets" and tables in any outdoor space wide enough.
Locorotondo
Locotondo is a spiral of a town that is user-friendly and attractive, and known for its wine and its picturesque lanes.
Martina Franca
This is the largest town of the Valle d'Itria and the most elegant; its buildings are adorned with baroque flourishes and stately wrought iron balconies. Its graceful curving piazza is one of the prettiest in Puglia.  It is also hosts year-round cultural events.
Ceglie Messapica
Ceglie Messapica blends Greek, Moorish, and Puglian styles among its white and sand-colored streets. Less known than the other towns in the area, it also has lower real estate prices.