By Valerie Fortney Schneider
Vivacious, outgoing, and laidback, there are endless facets to love about Puglia. The people here know how to live; it must be the sunshine, the food, and the wine that make them so friendly. The stiletto heel of Italy is itself a peninsula skirted by the Adriatic and Ionian seas boasting 500 miles of coastline, with a wealth of intriguing and exotic towns all along the way. Puglia offers some of the best beaches, best food, and best festivals that Italy has to offer; all tied up with an exotic feel.
While its southern peninsular position may look isolated, it's not remote. There are two airports (Bari and Brindisi) and a rail line that runs up the Adriatic coast. Puglia was a byway for colonizers, conquering invaders, and departing crusaders. It became a crossroads of culture, first with the Greeks, then the Romans who brought their version of a super-highway here, the Appian Way, followed by the Byzantines, Normans, Arabs, and Spanish. Each left a mark, giving Puglia a worldly exotic tinge.
Puglia produces a cornucopia of tomatoes, eggplant, peppers, figs, citrus, melons, and almonds, all ripening under that southern sun, and the region is a major producer of olive oil and wine. Add in the local seafood and meat specialties and you'll eat well here.
Retire in Puglia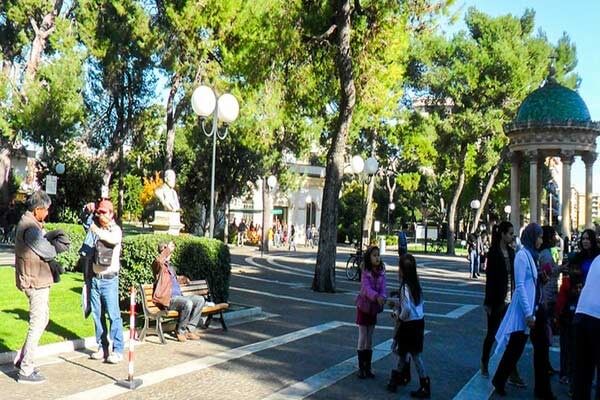 Puglia lounged quietly in its southern peninsula, largely overlooked until recently. It has seen bounding tourism growth—about 12% annually—along with a growing number of expats seeking a laidback, intriguing place to live. The region rambles for about 250 miles from north to south, and is the eastern-most section of Italy. At its closest point, Puglia is a mere 50 miles from Albania, while the tip is just 68 miles from Sidari on Corfu. That makes it not just a pleasing blend of cultures but gives residents some excellent getaway options.
Sun seekers will rejoice in Puglia, where the climate is semi-arid and mild year round, with fine weather stretching from April through November. With only 63 rainy days on average annually, there's plenty of sun to enjoy, and winter days rarely dip below 48 F. You can golf year round, enjoy a horse ride, walk along the dry stone wall-lined country roads, or even enjoy a seafront lunch in the winter months. Summers are hot and dry, with myriad water sports options and a vibrant line-up of events and festivals.
While much of Puglia comprises relatively flat olive-covered lands staked by dry stone walls, there is a hill region, and much less known, a range of low mountains in the north, where delightful towns sit waiting to be explored. The Gargano peninsula offers a more dramatic coastline, where cliffs dash to the Adriatic Sea. In short, there is a variety of landscapes and townscapes here.
The towns are scenic and intriguing with their blends of Greek, Roman, Byzantine, Arab, and Baroque influences melding together, while some are downright other-worldly, like Alberobello with its curious trullo structures. Life is never boring in Puglia. And life is affordable here, too.
Lifestyle in Puglia
Puglia's residents are exuberant, vivacious, and love a party. They're known to be friendly and welcoming, so you'll find friends easily, and the region has been quietly gaining a growing number of expats, too.
Time is leisurely here, where the daily pace keeps the rhythm of the ages. Long lunches followed by a siesta (called riposo here) are still the norm. An evening stroll and pre-dinner drink are practically obligatory, and a great way to catch up with friends, or just sit at a café and watch the people parade (passeggiata). Festivals are huge affairs, with giant arbors of colorful lights, food, music, and dancing until dawn. The cities offer bigger shopping opportunities and nightlife, but even smaller towns have theaters for plays and opera, cinemas, shops, and a good quality of life.
Golfers will love Puglia with its variety of clubs and outdoors pursuits include cycling, walking, and of course water sports of every kind. There are cultural events, historical sights, interesting towns to explore, beautiful countryside to enjoy, and excellent food and wine at every turn. Many Italians consider Puglia to have the best cuisine, for its fresh produce and abundance from both land and sea. They're creative in the kitchen, so dining out is never routine. Puglia's wines are noteworthy, and many cantinas (wineries) let you take your own jugs to fill up from the barrels, at a super-affordable price.
With lots of coastline, you're never far from the beach. There are low reefs and rocky shorelines intermingled with sandy beaches, some with archeological remains right at the swimming spots. Diving and snorkeling, boating, windsurfing, and more will keep you busy and sun-tanned.
Cost of Living in Puglia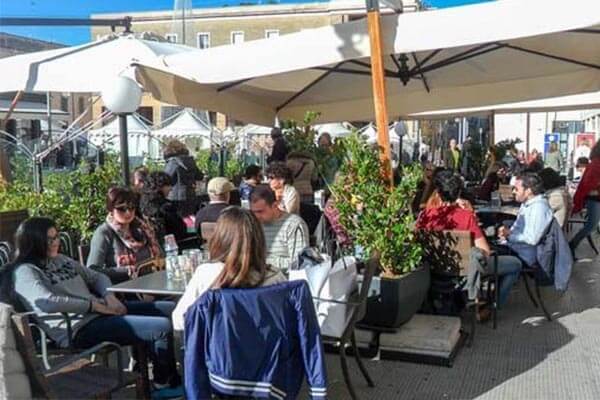 The surprise for many is that the overall cost of living is low in Puglia. Real estate can be very affordable, with homes starting at just $50,000. Of course, larger houses, country villas, and seaside homes run a premium but even so, some deals can still be found.
Dining out can be downright cheap: the locally-loved bracerie butcher shops that grill the meats you choose are an affordable and tasty outing, where dinner for two with wine can run just $25. A seafood feast can vary from upscale to home-style, with prices bounding from $25 a person to $100 a person but the fish is always super-fresh and well-prepared. A glass of wine at an outside café will set you back just $4 or $5 with snacks, while a cappuccino will cost you around $1.30. Of course, Puglia also offers upscale fancier restaurants for special evenings, and resorts that will cater to any whim while you lounge poolside or beachside. In essence, living in Puglia can be as affordable as you want it to be.
Where to Visit in Puglia
There are hundreds of attractive towns in the region, but here are a few of the highlights.
Otranto
Otranto is a delightful seaside town just 40 minutes to the south. With its historic castle, adorable old town, and colorful marina, Otranto is a sunny spot and has some great beaches right in town.
Lecce
Lecce is the grand dame of Puglia. All dolled up in baroque embellishments, it's impossible not to love Lecce. The buildings of the city are made of local limestone, lathered with joyous ornate carvings and adornments done with such exuberance that it gives the city a sense of gaiety. Lecce is extravagant, even flamboyant. It is the cultural capital of Puglia with loads of monuments, churches, palaces, and museums that it has garnered the nickname, "The Florence of the South."
Polignano a Mare
Called the Pearl of the Adriatic, you'll quickly see why. The white-washed buildings look like stacked-up sugar cubes and contrast with the azure color of the sea that laps at its feet. The whole centro storico is a pearl with gleaming smooth limestone streets wending among buildings and opening unexpected to sea views. Artisan shops and cafes are scattered among the lanes
The Valle d'Itria
The low hilly landscape southwest of Bari is a popular destination, known as the Valle d'Itria.  This is a tranquil realm of gnarled olive trees and vineyards, of little gardens that produce green-leaf crops even in the depths of winter. Unlike in central Italy, where towns glow in shades of rich earth colors, small settlements here gleam white, shimmering on low hills under a deep blue sky. The landscape is speckled with trulli, peculiar homes with conical roofs unique to this area. You'll see them everywhere, but especially around Alberobello.
Ostuni
Ostuni is called the White City, for obvious reasons. The old town spirals around the hill with delightful cafes and restaurants squeezed in among the lanes; some bars have pillows tossed on the steps of the "streets" and tables in any outdoor space wide enough.
Locorotondo
Locotondo is a spiral of a town that is user-friendly and attractive, and known for its wine and its picturesque lanes.
Martina Franca
This is the largest town of the Valle d'Itria and the most elegant; its buildings are adorned with baroque flourishes and stately wrought iron balconies. Its graceful curving piazza is one of the prettiest in Puglia.  It is also hosts year-round cultural events.
Ceglie Messapica
Ceglie Messapica blends Greek, Moorish, and Puglian styles among its white and sand-colored streets. Less known than the other towns in the area, it also has lower real estate prices.
Things to do in Puglia
By Anne Rose
If you're planning a visit to Puglia, excellent choice. If you're thinking of relocating here, an even better choice. The region of Puglia, with its 500-mile coastline along the Adriatic Sea, is vastly underrated by the tourism industry. That has some drawbacks in its less-than-robust infrastructure. But what it lacks in tourists actually provides abundant opportunities to experience the 'real' Italy.
After living here for nearly two years, with my husband, Keith, I realize that I have barely experienced the myriad charms of this ancient landscape which changes dramatically from the forested north to the plains and beaches of the south.
Fortified city walls to fend off sea-invaders still stand as a testament to the nature of war and conquest. Stone arches and labyrinths of cobblestone streets that date thousands of years—remind you of the multicultural history of this land.
Anyone who appreciates antiquities will marvel that the simple little stone church you're passing dates back to the 11th century. With so much history around you, it could be easy to overlook the unadorned buildings that have survived millennia.
Puglia retains its emphasis on traditions and their way of life that has served them well over the millennia. You can do like the locals and eat a hearty lunch, then rest on a rock by the sea or on a bench in the piazza, reflect, and enjoy the air, the ambience, and the sea. Or roam the ancient cobblestoned streets, feeling the walls of the old stones and imagining their silent stories. Lose yourself in twisting skinny streets that better resemble alleys, some only a few feet wide. Stroll the fortified walls of the city and visit the old ports with bobbing, colorful fishing boats. At sunset, watch the fishermen stand to row out to sea, melodically scissoring their arms and throwing nets as they've done for hundreds of years.
The ancient landscape, culture, foods, wines, and people of Puglia invite exploration and discovery. Here are some of my top things to do in Puglia.
Check out the Cathedral in Trani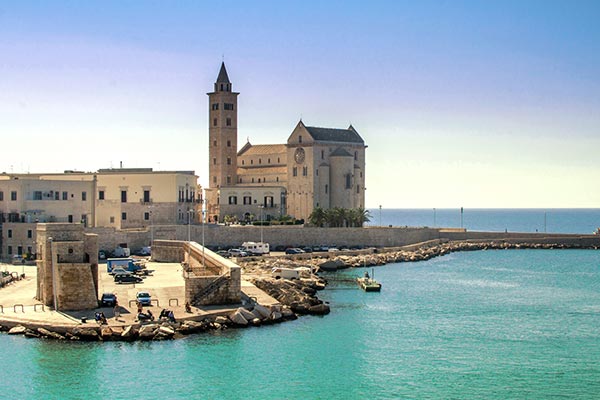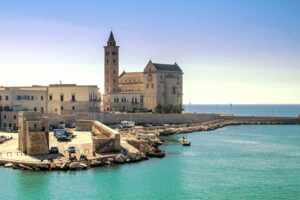 Trani has a lovely cathedral that is heralded as the purest example of Romanesque-Pugliese architecture. The adjacent Villa Communale (public park) has acres of brilliant flowers, shade trees, a concert gazebo, aquarium, carousel, and several bars and cafes dotted in and around the seafront park. If you're visiting in summer, head to the bar next to the sea wall and carousel for an out-of-this-world refreshment—watermelon granita, essentially a watermelon slushy. No chemicals. Just pure flavor. Best I've tasted anywhere in Italy!
Ramble around Bari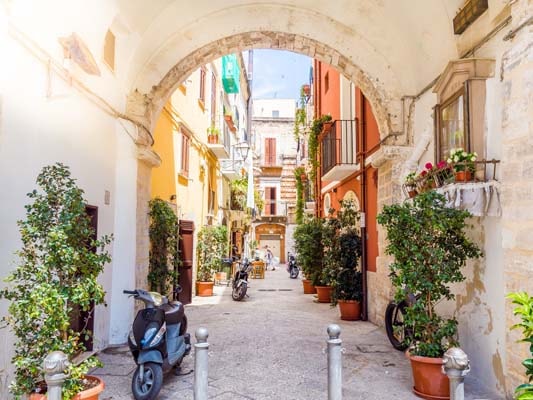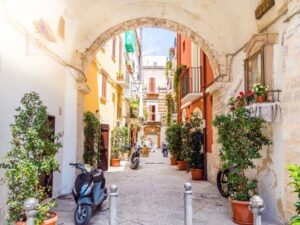 The Old Town of Bari (Bari Vecchio) with its narrow, twisting streets reveals grandmothers hand making the local pasta specialty of orecchiette, the fortified castle near the port, and the Basilica of San Nicola which is said to house the bones of St Nicholas—are all worth a leisurely ramble.
Take a Boat Tour in Polignano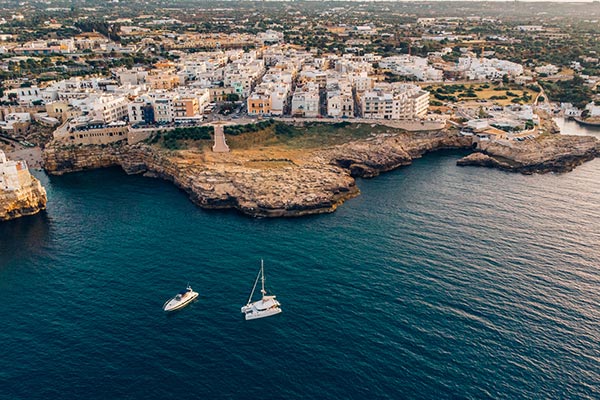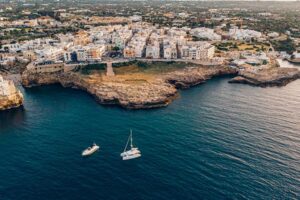 The beach towns of Polignano a Mare and Monopoli, to the south of Bari, are seriously picture-perfect. From a boat tour, you can see the caves for which this area is known. Spectacular grottoes with iridescent turquoise waters.
Discover Ostuni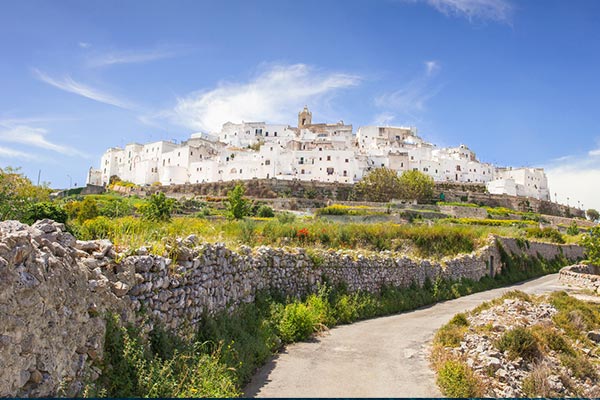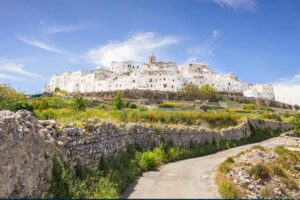 Make sure to visit the White City of Ostuni, so-called for its white stone buildings, sparkling under the sun, or moon. That it looks out at the Adriatic Sea, just five miles away, ups its attraction. You can easily enjoy the nearby waterfront, nature preserves, and other pristine beaches
Peek through open doors, ask questions, and you will be rewarded. On our trip to Ostuni, I peered through a partially open door to reveal a workshop straight from a fairy tale, walls, and stone ceiling laden with hand tools. Hunched over his workbench was an old man, hand carving olivewood kitchen utensils. Giuseppe was happy to show us his creations of all sizes and shapes: wood spoons with wavy edges to swipe every bit of sauce from the corners of a pan, spoons with tiny holes to add olive oil by drops into your pot, and other fantastically shaped utensils. We bought several pieces from our new friend as reminders of a true artisan and dying art. What a treasure—and we only saw it because we were curious.
See Trulli homes in Alberobello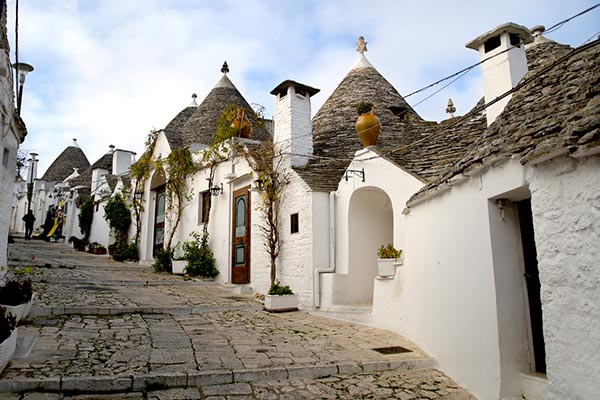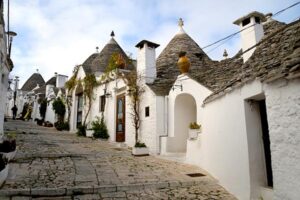 To the west of the Adriatic are such charming towns of Alberobello, Altamura, and Gravina. Alberobello is famous for its trulli, conical-roofed stone cottages built hundreds of years ago, designed without mortar to quickly dismantle in an effort to thwart the tax collector. They are only found in Puglia with the largest concentration in Alberobello, a UNESCO World Heritage site. Visit and even consider staying in a trullo overnight for a throwback to long ago.
Check out the caves in Gravina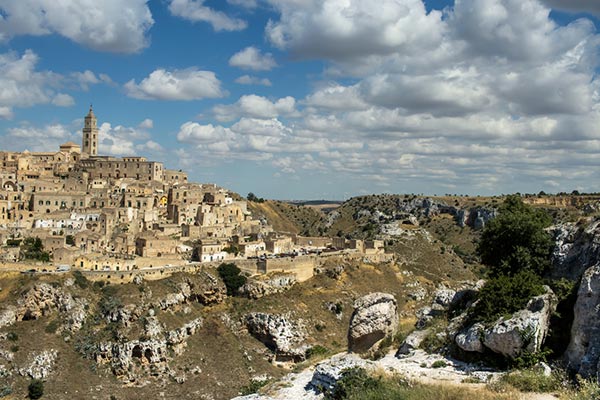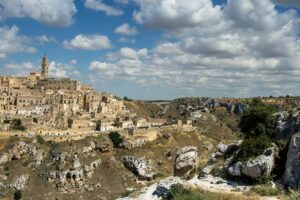 Gravina is near Altamura and is famous for its caves that are similar to the caves (called 'sassi') of nearby Matera (which is technically in the neighboring province of Basilicata). These caves were inhabited by locals until not very long ago. They're either abandoned now or repurposing into cafes. There's also a long stone bridge that dates to the Roman Empire. Like Roman soldiers of long ago, you can cross the bridge and get a better look at the caves in the hillside. You can also stand where 007, James Bond, jumped off this very bridge in his latest movie No Time To Die.
Enjoy Carnevale in Putignano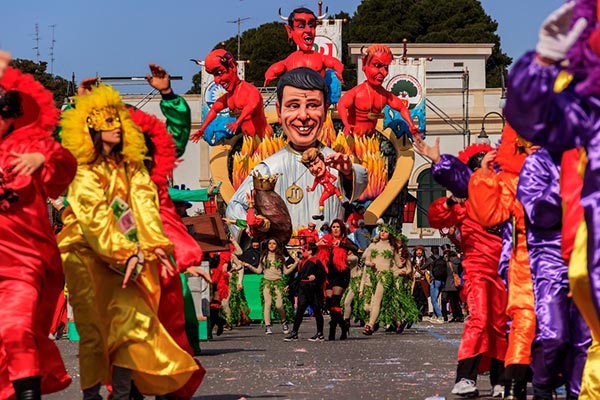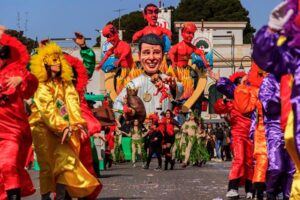 The little town of Putignano is famous for having the oldest Carnevale celebration in Europe—over 600 years and counting. This is a family-friendly event based on whimsical, huge, mechanical floats of artistry, made entirely of papier-mache. Add the numerous stalls of food, beverages, and handmade goods, and it's a fun outing for tourists and residents alike if you're visiting in the spring.
No matter where you're wandering or settling, each town has its own calendar of events that can include religious parades, medieval processions, fireworks, St Joseph's bonfire nights, and of course, typical holidays like Christmas and New Year's where the towns' residents come out and celebrate the camaraderie and ebullience of the Pugliese people.
We still delight in the everyday scenes that the locals take for granted. The excitement of hearing the approaching piccolo and drums of our town's marching band (a la Mayberry!) as they march by our window. These kinds of things remind me fondly of an earlier time, long gone. But here in Puglia, it remains unchanged, time immemorial.
Soak in thermal baths in Margherita di Savoia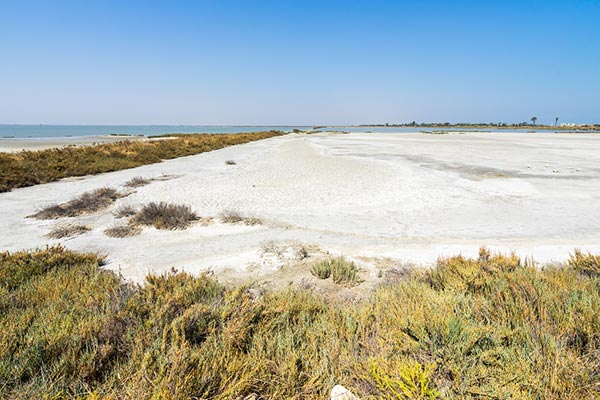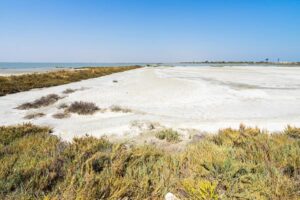 Margherita di Savoia has one of the largest salt pans in the world and also is home to many migratory birds, including flamingoes. For a therapeutic visit, soak in its famous thermal baths.
Discover Brindisi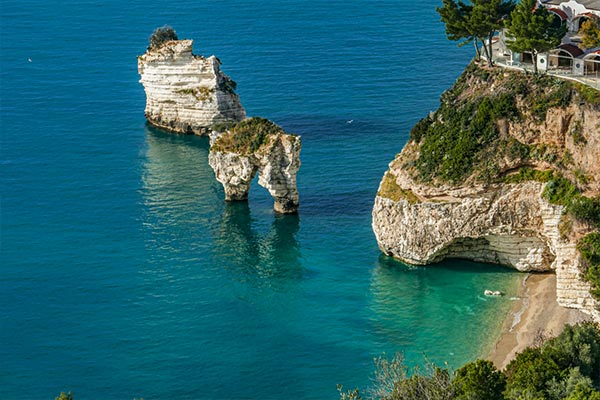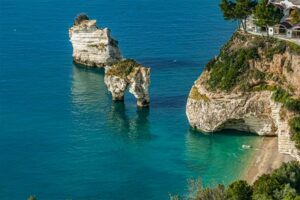 The town of Brindisi was a launching port for Crusaders. They headed north to Puglia's Gargano Peninsula and form here they made the pilgrimage to Monte Sant'Angelo where it is thought the Archangel Michael had appeared.
Getting Around Puglia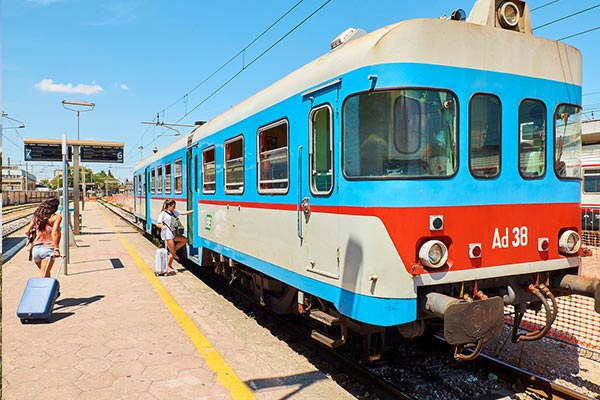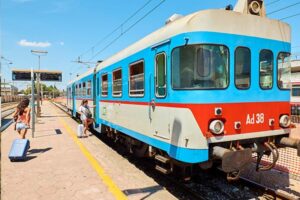 It is easy to visit the coastal towns of Puglia to the southern tip of Lecce using an excellent north-south train system—frequent trains traverse the length of Puglia, making it a convenient and affordable option for exploration.
Visiting the interior of Puglia is much trickier. Remember what I said about the lack of tourism infrastructure?
A combination of private train lines and buses will eventually get you where you want. The problem is there's no coordination among the different transportation platforms, so you might find yourself perusing several different websites to see if you can coordinate this state-owned train with that private train with that public or private bus and where you even catch them and on what days they operate.
An alternative is to rent a car, but the caveat is that Italians drive…differently than in the U.S. You risk getting into an accident or incurring a steep fine because you didn't deduce that weird traffic sign meant you could not drive on that street at that moment without a permit; months later you receive an unhappy surprise in the mail from the rental company charging you for that fine.
A third alternative is to book a tour with transportation included. If you're short on time, that's the easiest and most convenient. If you're in Puglia for the long-haul, then do the research on using public transport. It's more economical, makes you feel more independent, and you get to see some amazing scenery along the way. And even when you get lost, it's still an adventure.
For the persistent, the payoff is well worth it. Precisely because the transportation system inland has some holes, making it more difficult to visit, the benefit is that these areas are fairly devoid of tourists, leaving you to savor the Puglia way of life.
Food in Puglia
The abundance of handmade breads, cheeses, and olives, and locally grown produce inspire cooking adventures. Gleaning recipes from friends, local farmers, and our own inspiration, we never tire of kitchen creativity. Although any Puglia town will have numerous eateries from fine dining to casual bars, I recommend that if you're visiting, consider accommodations with an equipped kitchenette so you can create your own Italian masterpieces after a bountiful visit to an outdoor market.  Many Pugliese chefs are eager to teach you how to make bread, focaccia (another pizza-like regional specialty) easy pasta from scratch, and variants of tomato sauce that cook in the time it takes to boil a pot of pasta.
Wine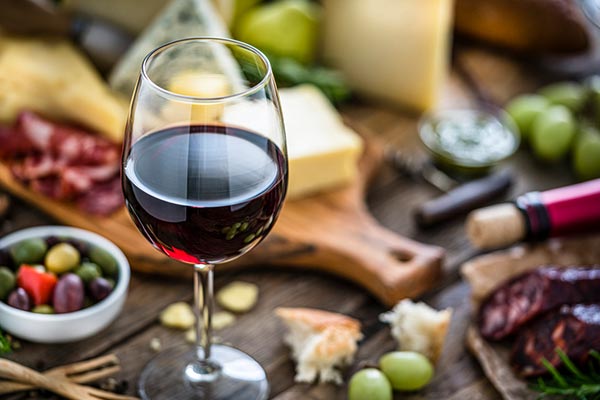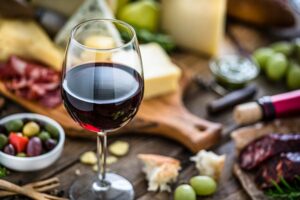 Oh, the wine. Italy is famous for wine, but many of the grapes come from Puglia. Tuscany's wine industry has a more sophisticated marketing and distribution strategy, giving Tuscany greater fame but arguably not better wine. Most of the varieties grown in Puglia are from smaller vineyards with low volume that precludes distribution outside the country.
What that means is that Puglia's glorious wines are unique, delicious, and economical. Primitivo is king here (called Zinfandel in the U.S. but tastes much fuller-bodied and juicier in Puglia), but there are numerous other red and white varieties you've likely never heard of: Negroamaro, Nero di Troia, Bombino Nero, Falanghina, Moscato, Verdeca, Aleatico, and Malvasia. And they're all yours for the tasting.
Not only delicious, but they're affordable on just about anyone's budget. Our local vineria dispenses wine from a local Count's estate where we buy a liter of Primitivo for $1.40 and a liter of bianco frizzante (sparkling white) for $1.60. That's about $1.50 for a liter of delicious wine! Are you thirsty yet? Grab a bottle and head out to the seafront for an impromptu picnic.
Here's another plus to Puglia's wines: the vintners seldom use pesticides and rarely add sulfites. So much of the wine is naturally organic and better-tasting with fewer allergenic repercussions. When you drink Pugliese wines, you understand why wine here is truly an indispensable food in a healthy diet.
Puglia has thousands of small, family-run wineries that you can visit. Sample their varietal specialties and bring back your favorites to your lodging or ask the winery to ship a case or three back home. If you're lucky enough to live here, a twice-weekly visit to your local vineria will keep you in good stead. Pair with some homemade Pugliese taralli snacks (they come plain or in flavors like fennel, rosemary, pepperoncino, cheese, picante), slices of handmade Pugliese cheese, and some incredible, huge green Puglia olives.
Fresh Vegetables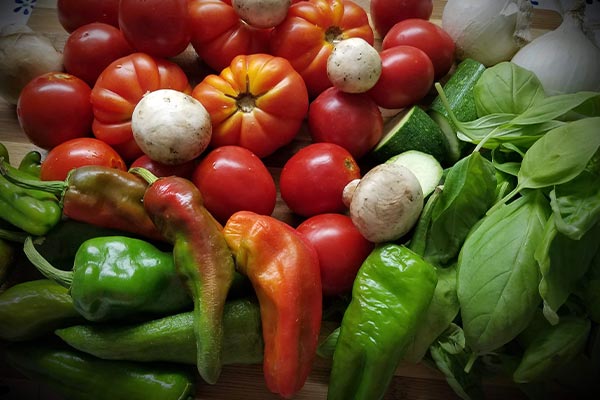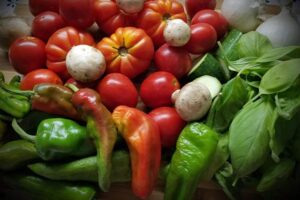 Visit the local seafood and produce markets (every Puglia town has them) showcasing fresh-that-morning fish and vegetables only recently yanked out of the ground, their soiled roots still attached. It doesn't get any fresher than that.
The daily and weekly markets, which are ubiquitous throughout Puglia, are endless sources of fun and discovery for me and my husband. After almost two years, we still find ourselves saying 'Ohmigosh, in California, this would cost five times as much!'
We went to the weekly market recently in our little village of Giovinazzo and bought a haul of fruits and vegetables for about $15. Totally strained our wheeled trolley with fresh green beans, white onions, red onions, both crimini and white mushrooms, yellow bell peppers, sweet red long peppers, bunches of green and purple grapes, aromatic peaches, carrots, zucchini, and two different kinds of cherry tomatoes. Two-four pounds of each fruit and vegetable. Yes, for $15 total.
It's not just the price that excites us—although it's wonderful to eat so well on a budget. The locally grown produce is delicious. It really tastes like it was meant to taste back in the 'old days'. Now, the downside to seasonal produce is that it's…well…seasonal. When the watermelon season is done, it's done, and you have to wait for next year. Same thing for any fruit or vegetable. Enjoy it while it's in season because when the season is over, there's no more. But frankly, I'd rather eat something delicious for a short time, than eat a mediocre, flavorless anything year-round.
The other fun aspect of our outdoor markets is not recognizing something—a foreign vegetable if you will. The farmer or the lady standing next to you who's heaping them into her bag will be glad to tell you what they are and how to cook them. We recently saw a strange, whitish berrylike fruit that we had never before seen. The farmer explained it was white mulberries from his tree and gladly gave us samples of this tasty berry. We scooped up some big bags which were quickly devoured. When we returned to the market a few days later, no more; they were done. But the taste memory lingers on
Olive Oil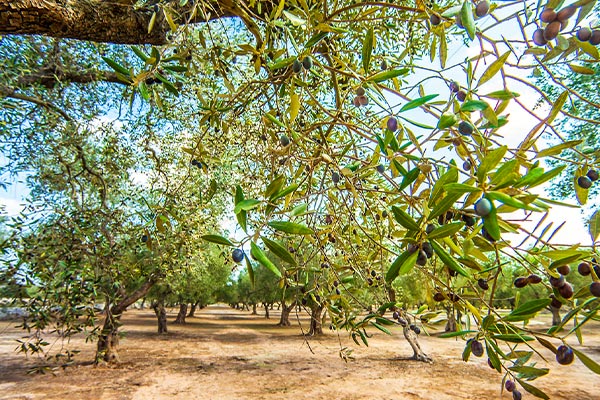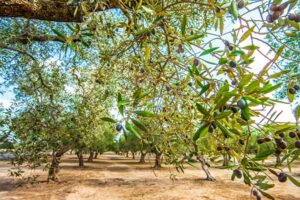 Puglia produces most of the olives for Italy. The countryside is covered with thousands of acres of olive trees. Not the paltry ones I used to see in California, but giant, gnarled trees that could be hundreds, and sometimes thousands of years old—still producing! Many of these olive farmers don't use machines to shake the olives off the trees; they pick the olives by hand because it's healthier for the tree and less bruising for the olive. That kind of care and respect is evident in the quality of the final product.
Fresh, extra virgin olive oil is plentiful and cheap—about $7 per liter. Because of the quality, taste, and better health benefits, we cook with only our local olive oil. Go to one of the numerous bakeries (paneficio) for some fresh bread, dip it in your olive oil with a sprinkle of local sea salt, and you'd swear you'd made it to heaven.
Don't forget your skincare. Puglia olive oil is great for the skin and finds its way into face creams and even your ordinary grocery store shelf soap (my olive oil soap is $1.17 a bar). Puglia olive oil makes great gifts for the folks back home who don't know that Puglia olive oil is seriously the best in the world.
In mid-September, olives come into season, and we love curing our own olives. At the big weekly market, we bought raw green olives for $2.34 per kilo (that's 2.2 pounds). The farmer was happy to share his recipe for curing which was essentially putting the olives into a big jar, covering with brine, and ready for tasting at Christmas time. We were so pleased with last year's batch that we doubled our purchase this year. Can't get enough Puglia olives—as a healthy snack or topping our homemade pizzas.
Bread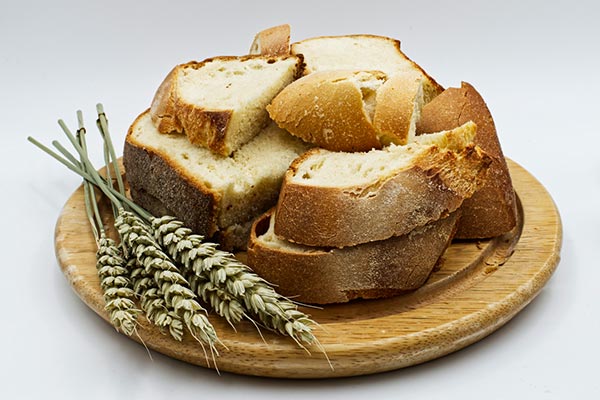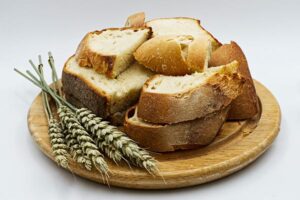 Altamura is not on any tourist's radar, but if you like bread, it should be: the poet Horace heralded Altamura bread in 37 BC. Altamura produces the highest quality flour in all of Italy. The bread made from Altamura flour is so unique, it has its own DOP (Protected Designation of Origin.) Golden in color with a thick, chewy crust, it's like no other. Be sure to visit the oven that dates to 1423. Yes, the oven is still producing bread and taralli since 1423. You would not recognize this structure as an oven: it is a round tower, about 11foot high, and 8 feet in diameter.
Cheese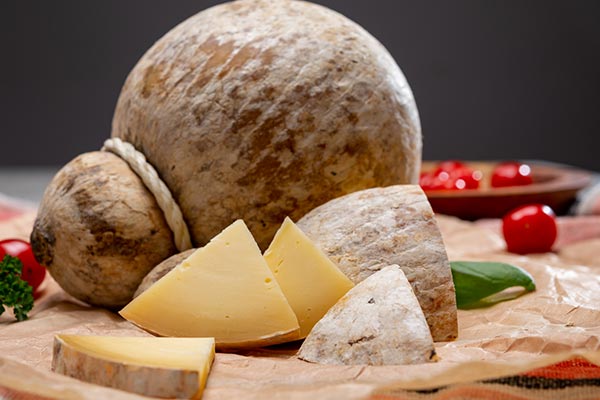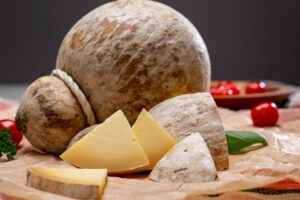 Puglia cheese is world-famous, and you owe yourself a visit to the local caseificio (cheese maker) to sample some regional specialties like Burrata, stretched mozzarella encasing a creamy cheese. These are not cheeses you can replicate in the U.S.: the cows are different; they're eating different food; and the land on which they're grazing is different, all contributing to a unique milk and cheese. You'll especially notice the creamy difference when you treat yourself to an artisanal gelato. Sure, make it a daily indulgence as a reward for all the walking you'll likely be doing!
Snacks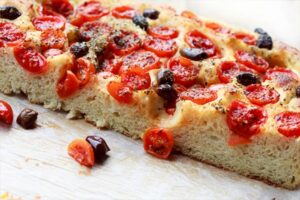 For an evening snack (or dinner), imitate the locals and grab an Italian beer and a pizza or focaccia to-go. Snag a rock table by the sea, settle under the moon and stars, and enlist the surf as your musical orchestra; that's a Pugliese-style dinner to rival in taste and ambience a Michelin experience.
When to Visit Puglia
By Anne Rose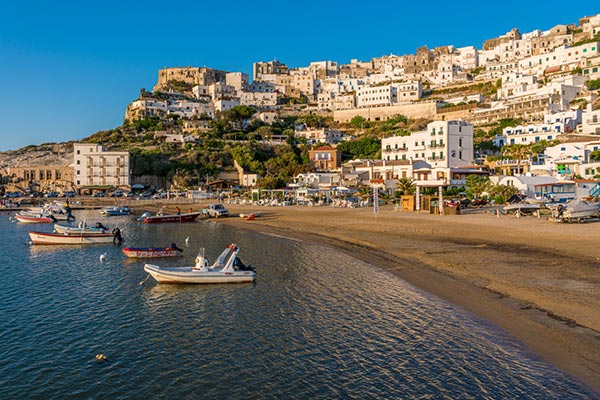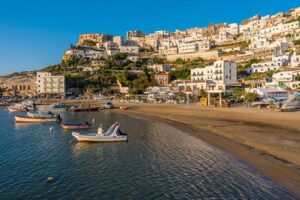 When you live in a particular town, you get to experience all the seasons it offers. But when you're exploring a destination as a visiting tourist, perhaps on an exploratory scouting trip, you have different standards for choosing when to travel.
The Puglia region, on Southern Italy's Adriatic coast, has four distinct seasons, and we're often asked when is the 'best time' to travel there. It depends on what you're looking for.
Spring in Puglia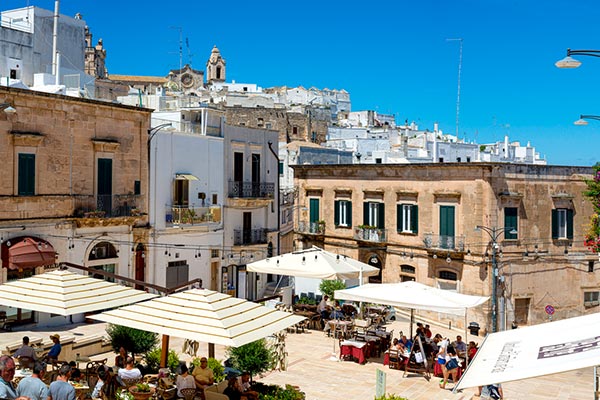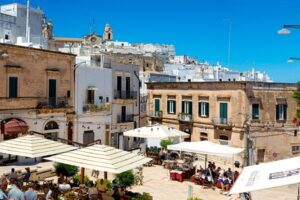 Towns begin to awaken in Spring, starting from March. Flowers, olive trees, nut trees, all come into bloom, and the landscape is rife with color. Temperatures hover in the 50s F to 60s F, making for pleasant clothing options. You can expect occasional rain which only serves to spur nature's growth.
You can sense the town waking up from its winter hibernation. Restaurant owners are starting to put out tables and chairs for al fresco dining; they're tending to their flower boxes and outdoor landscaping. The gelato shops, closed over winter, begin the housekeeping of reopening their stores to the public.
Store owners who had boarded up their shops over winter are returning to freshen their stores and inventory for the visitors they're expecting. You can also see construction beginning on the pop-up food and drink kiosks that are prevalent along the coast in the summer.
Stores and shops re-opening means that if you visit now, you'll have dining and shopping options as the towns prepare for Carnevale and Easter celebrations.
For a truly special visit, plan to go around the beginning of Lent to attend the fantastical Carnevale of Putignano, a little village in Puglia that hosts the longest and arguably the oldest Carnevale in Europe. Huge, artistically designed mechanical floats made of Papier-mâché wind their way through the streets where eventually a winner is announced. There is nothing like this anywhere else—a feast for all the senses when you combine the artistry of the floats with all the vendors selling food, drinks, and artisanal crafts.
In Bari, the capital of the Bari province, there is a special parade to honor its patron saint, San Nicola (yes, that St Nicholas) whose relics are protected in the Basilica of San Nicola.
And throughout the coastal villages of Puglia, where fishing retains a significant importance, you will encounter various festivals to bless the fishermen, their boats, and the sea.
Spring is a gorgeous season in Italy and offers a lovely holiday. The only negative would be if you have seasonal pollen allergies which would definitely be triggered. Still, the beauty of spring in bloom in Puglia is worth it.
Summer in Puglia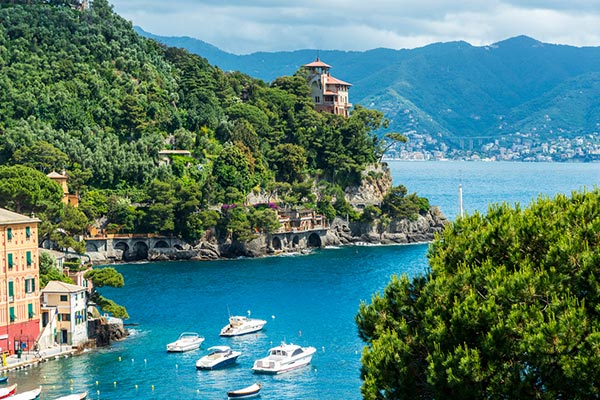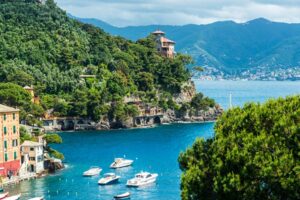 Summer in Puglia is lively. Restaurants, bars, gelato shops, all open and inviting, filled with animated tourists and locals alike. Grab a gelato and join the evening passeggiata (promenade) in the piazza or along the sea's boardwalk (lungomare). Enjoy an afternoon Aperol Spritz al fresco and people watch. Puglia is open and at its most glorious with its focus on food, friends, and life.
Late nights are the order of the day with people dining at 10 p.m to midnight. It's not an anomaly to see little children playing late in the evening while the nearby parents chat or dine with friends. Pop-up mini carnivals attract families while the pop-up bistros cater to the young-at-heart. Fireworks are frequent and for no apparent reason other than to celebrate life.
Every town has its farmers' market, and the plentiful array of flavorful, colorful, cheap produce is enticing. Summer at its best!
Inland residents head down to the coastal towns for their annual vacations by the sea. The Adriatic is warm, clear, and perfect for any kind of water sport. You can rent snorkel gear, inflatable kayaks, dive gear. Or treat yourself to a day cruise or sail along the Adriatic to see the sea caves carved into the coastal rocks.
Temperatures in the summer are 80s F to 90s F, but the humidity, especially along the coast, can make it feel much warmer. To adjust, learn from the locals: shop or sightsee in the morning, rest indoors after a main lunch meal, and then re-emerge in late afternoon to mingle with friends and family until the early hours.
August is especially hot, and many Italians lock up their homes and businesses and head out to cooler climes for two weeks. A holiday called Ferragosto (August 15) was initially a religious holiday, then political holiday, now just a reason to take off and enjoy yourself somewhere else. Best to avoid the latter part of August, and not just because of the stifling heat: despite some fireworks for the hardy locals who brave the heat, many businesses are closed and could negatively impact your visit. Who wants to be relegated to an air-conditioned hotel room with not even a gelato as a reward.
Autumn in Puglia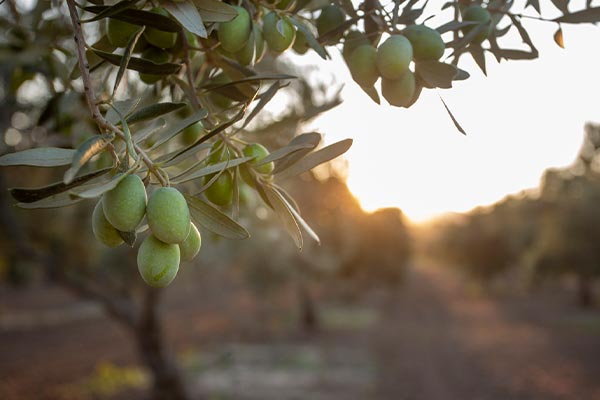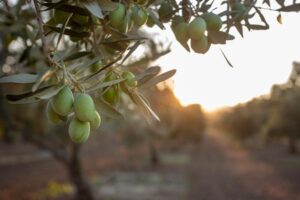 The changing of the seasons from summer to autumn is barely perceptible. One morning you suddenly smell a hint of autumn in the breeze. Your suspicions are confirmed at the farmers' markets when the watermelons and peaches give way to the chestnuts and fresh olives.
This is the time of harvest. Watch long lines of cars, trucks, and vans haul their olive harvest to the frantoio (local olive mill) for pressing into precious olive oil, the mainstay of Pugliese cuisine. Puglia provides 70% of Italy's olive oil, so olives and olive oil are ubiquitous and integral to the culture. We are spoiled by plentiful and inexpensive extra virgin olive oil for cooking and in beauty products. And it's really unique to see the stone mills pressing the olives and to be sold a bottle of olive oil, freshly produced before your eyes.
The grape harvest has also arrived. You can visit wineries to watch the harvest (sometimes even participate) and the crushing, taste the first wines of the season, and rejoice in the bounty of the harvest and the anticipation of delicious wines to bolster you spiritually during a dark winter.
Stores start to sport decorations for Halloween and Christmas. Temperatures are in the 50s F to 70s F—perfectly comfortable. Everywhere is a sense of harvest reaping, gratitude for this land, and readying for winter.
Winter in Puglia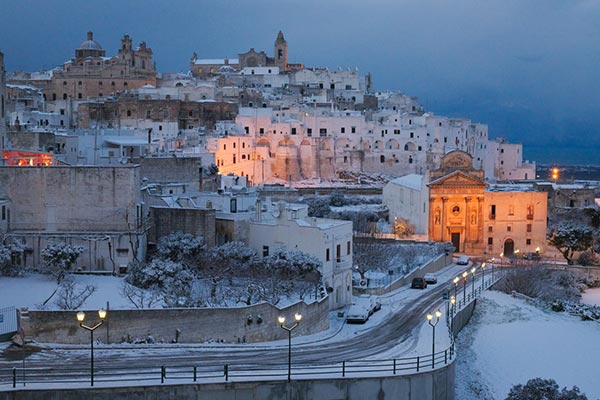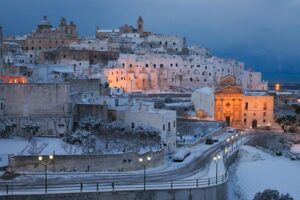 Few tourists visit Puglia in the winter because so many businesses have closed up for the season in the more famous tourist towns. Empty piazzas and closed shops can lend an air of desertion. In less touristy towns, the residents return to the business of living. Your winter trip to Puglia reveals more subtle charms that might have been overlooked in the busier tourist seasons.
The winter strips the trees of its leaves, but it also strips the façade of a town to reveal its inner character.
December brings out Christmas stalls filled with homemade goodies and visits from Babbo Natale (Father Christmas). More festivals celebrate St Lucia in early December. Not polished affairs designed for tourists, these homespun celebrations have developed over centuries. January lights up with celebrations on Epiphany and for St Joseph's bonfires. Christmas lights stay up through January which minimizes the depressing effect of the shortest days of sunlight.
Temperatures hover from mid-40s F to 60s F with more rain and wind. Not the dismal storms found so often in the US—these give exciting changes to the personality of the skies and seas. The sea can range from powerful displays of crashing surf to glassy stillness in a matter of hours. Clouds form and dissipate in beautiful patterns. The locals have named the various weather patterns that barrel down the Adriatic Sea. Nature here isn't something that happens; it provides an integral texture to Puglia life. If you enjoy nature and dramatic landscapes, you will love winter's weather in Puglia.
Tip: if you're scouting for a permanent home in Puglia, winter is the perfect time to negotiate rentals. Without income from tourists, home and apartment owners are more eager to lower prices in exchange for a long-term lease. Finalize your rentals in the quiet winter months when there's a dearth of rental competitors, not the peak of summer tourism when high prices abound.
Seasons Should Play a Role in Choosing Your Retirement Destination
You have probably analyzed many factors in considering a retirement location: geography, climate, economics, cuisine, the people and language. But it is imperative to also think about the seasons of your potential retirement home in contrast to planning a two-week holiday.
Here are some considerations:
Visit in your favorite season to see if matches your expectations. For example, an 85 F average temperature in August might sound ideal compared to a 105 F California summer.  But the suffocating heat of an August in Puglia might not be what you had anticipated if there's 105% humidity, making breathing difficult.
Likewise, whether you like or don't like a rainy day, don't assume that a destination's 'rainy season' is enough rain for your preferences or possibly, not so much rain as to be off-putting.  Does the average monthly rainfall come in one giant torrent two days a month, or is it a daily drizzle? That can make a difference between tolerable and unbearable. Visit in your least favorite season, and you might be pleasantly surprised that it becomes your new favorite. Test it out.
Decide whether you want a touristy town or off-the-tourist-track town—assess if you'd like the stark contrast between on/off seasons of a tourist spot or prefer a town with year-round residents.
Visit in the 'off season' (in Puglia, 'off season' is definitely winter) to see how desolate a town becomes. We were captivated by three towns that we visited in autumn where we loved the bustling array of shops and cafes. However, when we revisited in January, these same towns were ghost towns and literally boarded up and dead—they seemed abandoned, desolate, and depressing. We realized that we preferred to live in a town of year-round residents, not one that catered to high-season tourists.
Do you have any allergies? Visit in the season where your allergies are the worst for the pollens that are prevalent then to see if it's bearable health-wise.  I am terribly allergic to olive trees in bloom, and here I am in the middle of Puglia known for its abundance of olive trees. I had to make adjustments to my prescriptions; it was worth it to me for all the other benefits I enjoy here, but would it be worth it to you?  If you're allergic to mold, see how you feel in the humidity of living near the sea where mold is a constant issue.
Population stats do not tell the story of a town's true character; we have visited towns that are supposedly larger and more population-dense than our little village. But the population varies with the season from hustle and bustle and elbow-room only to no signs of life at all.
If you're dependent on public transportation, do those buses and train lines run in the winter, or do you risk becoming an isolated hermit? Are there planned train line renovations which would take those trains out of commission for a season or year or more? One acquaintance of ours recently rented a house inland in the hills; the train line servicing that town is closed for this coming year for extensive renovations, effectively curtailing any provincial explorations he had planned—something he had not considered at all.
In contrast to California where building maintenance and renovations are done in the warm, dry months of summer, the opposite is true in Puglia. Renovation and building maintenance are reserved for the winter months when there are fewer people and no tourists about. Be advised that any commercial building in need of repairs will likely be closed while the work is done; depending on how much renovation the old buildings in your potential retirement town require, that can affect how many businesses (shops/cafes/bars/restaurants) will be open for any length of time. If you enjoy going out in the evening to various cafes, these closures can definitely hamper your nightlife.
For those with Seasonal Affective Disorder (SAD) where the shorter days of winter really can make you blue, are there events going on in your potential new city to mitigate it? January has always been a struggle for me in the U.S., but our little Puglia village had so many festivities planned, that I barely noticed how short the days were. So, if this is something in your personality, check out the town's events calendar for winter to see whether the locals make their own fun or are boarded up in their dark homes, hibernating till spring.
The takeaway: Something as critical as your daily weather report is not a minor detail in selecting a satisfying retirement destination. You can overlook communication challenges, adjust for culinary differences, and minimize other cultural distinctions. But you can't control whether the sky is blue or gray, whether it's raining or sunny, hot or cold. So, the weather and seasons of your possible new home demand your attention before you move.