By Valerie Fortney Schneider
Lounging on a small promontory to the south of Rome, the city of Anzio has long roots that include an imperial past, and a more recent rebirth following the Allied landings (and bombings) during World War II. With 53,000 residents, Anzio combines archeological sites with seaside resort flair, and modern villetta homes, all just an hour from Rome. Anzio has become somewhat of a commuter city but also retains its own identity and community as a fishing port, beach destination, and bustling town in its own right.
My husband, Bryan, and I spent the first three months of our Italian adventure in Anzio, nestled away in the summer home of generous Roman friends, and the place crept into our hearts. People retain the memory of the American and British forces liberating the town, and express their gratitude openly still today. It is in easy reach of Rome by train and bus, yet sits away in its waterfront location where there is a separate feel from the capital city, and much lower prices, too.
Retire in Anzio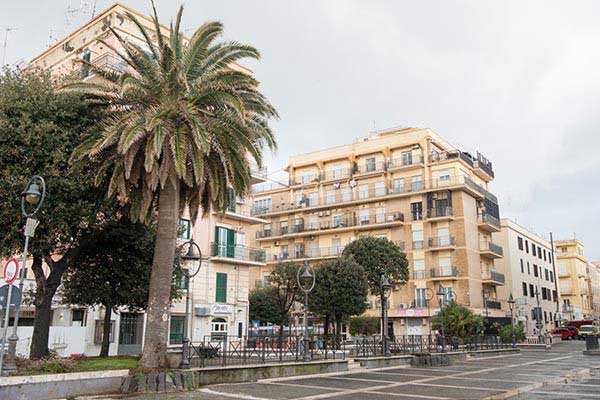 While Anzio has a pair of attractive piazzas, some shopping streets, and a beautiful waterfront position, it isn't much of a tourist town. There aren't a lot of "sights" and that means it is mostly the area's residents and the weekend Romans who come here. The month of August will bring Italians from around central Italy to toast in the sun and enjoy a beach party or two, but otherwise it is a laidback place.
The still-active fishing port serves the surrounding area, and many locals go down to the docks when the fishermen come in to buy the freshest catch directly off the boat. Clustered around the port are some excellent seafood restaurants, while the piazzas and streets are clustered with all the shops and cafes and boutiques you'll need, right there in town. A hospital, shopping mall, and cinemas add to its services.
An easy and affordable one-hour train trip gets you to the city center of Rome for all the activities, shopping, and cultural life you want.
The weather is similar to the Mediterranean climate of Rome, though a bit more temperate being by the sea. Summers are hot and winters are fairly mild, with little to no rain from June through September and temperatures in the 80s F and sometimes in the 90s F. Winter temperatures average in the low 50s F during the day through the winter and dipping to the 40s F at night. The rainy months are November through February.
Lifestyle in Anzio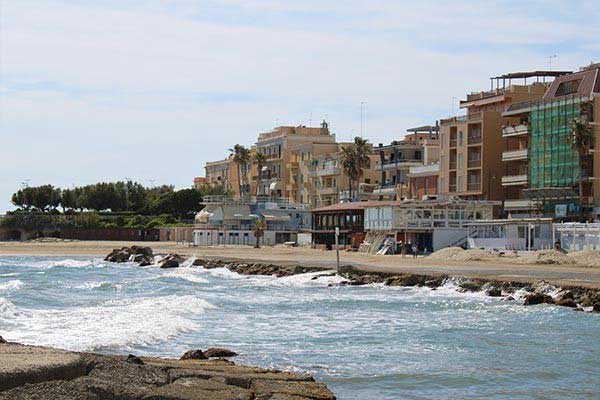 Occupying a promontory, Anzio sits at the point with its port, town center, and easy-access seaside, while to the north, low cliffs back the beaches. The town was the birthplace of Caesar Nero, who kept an opulent imperial villa at the water's edge. In fact, he was here in 64 AD when Rome burned (famously, according to the legend that "Nero fiddled while Rome burned"). Nowadays, you can swim among the ruins of his palace at the Grotte di Nerone, an archeological area and beach. Above the water is a lovely overlook and lighthouse, perfect at sunset. Other beaches extend towards the north to a nature reserve, Tor Caldara, and to the south where Anzio meets Nettuno. Nettuno has a beautiful Mmedieval section on the water with an ancient castle and offers more shopping and restaurants in easy proximity. Nettuno is home to the American military cemetery for the soldiers who died during the Allied landings, while the British Commonwealth Cemetery is on the north side of Anzio.
The Borghese family still retain a villa in Anzio, though it's open only for privately hosted events. The pretty Villa Adele hosts a nice archeology museum along with a museum dedicated to WWII.
Ferries leave from Anzio for the pastel (and little-known) island of Ponza, a great getaway.
Dining is effortless, as there are loads of restaurants that offer everything you crave; though the focus is naturally on seafood, carnivores and vegetarians won't be disappointed with the offers here. The zuppetta is a seafood stew and is a bit different in every restaurant. A simple dish of spaghetti with fresh-caught anchovies is a flavorful local favorite. Outside Nettuno are some wineries with interesting local vintages to try. A weekly market brings in fresh produce from around the region and around Italy, along with lots of stalls selling everything from housewares to shoes to hardware.
Less than an hour away is the Castelli Romani zone, the famous hills and lakes that drew dignitaries and popes as a summer retreat (and the Papal Palace is still there in Castel Gandolfo.)
Cost of living in Anzio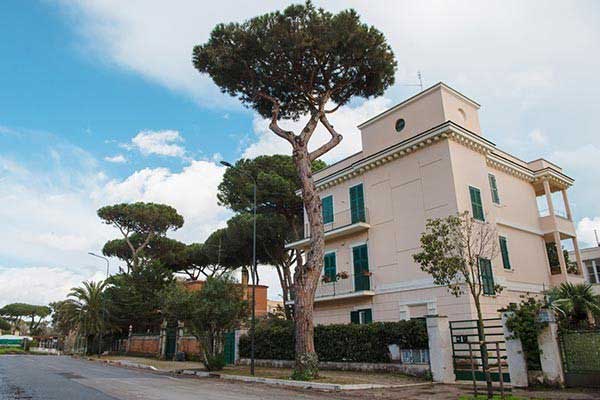 While Anzio isn't a bargain destination, it is not expensive like Rome, which is why many people live here and commute to the city. In the heart of town, a two-bedroom, one-bathroom apartment on the main piazza is for sale for $224,798 with 807 square feet. Everything is right outside the door. North of town just a couple of blocks from the beach, there is a 968-square-foot apartment with two bedrooms in a newer building, with a bright and open floorplan, two balconies, and garage in a residential neighborhood listed for $152,626. These are indicative of the prices around town. Expect to pay between $946 to $1,419 a month for rentals; more for waterfront apartments, which go for $2,000 to $2,400.
Dining is affordable, with pasta dishes running from $9.50 to $14 and main courses from $12 to $18 generally. Add on a glass of wine for just $3.50 and you've got a great meal. Many have fixed-price options that cost around $35. Even at the upper end, a splurge at Oro Exclusive with its 5-course tasting menu is $65; include the wine pairings for another $29.
Other costs, like groceries, cell phones, and utilities are on par with the rest of Italy. A train ticket to Rome is $1.77 because it falls under Lazio's Metrebus scheme for greater Rome's urban area. A monthly pass is €35 ($41.45), good on the trains and buses. Expect to pay $250 on utilities each month.
Featured Image Copyright: ©iStock.com/SaiKom