Lifestyle in Tuscany
As a perennially popular destination for travelers and expats alike Tuscany certainly needs no introduction. Its bucolic hills and picture-perfect landscapes are the stuff of dreams, and travel posters. As a luxurious getaway spot for the glitterati, so too is it home to some of the world's most famous artwork and architectural jewels.
Tuscany is, quite simply, Italy's most culturally-rich region, and, for many foreigners, the ideal spot to live.
Tuscany or Toscana (its name in Italian) is the fifth largest of Italy's 20 regions, located slightly north of the center of the peninsula, with a long stretch of Mediterranean coast. It encompasses 8,800 square miles and has a population of 3.7 million. It borders Lazio, Umbria, Le Marche, Emilia Romagna, and Liguria. The region is broken down into ten provinces: Massa Carrara, Lucca, Pisa, Livorno, Grosseto, Pistoia, Prato, Firenze, Arezzo, and Siena.
This gorgeous countryside striped with vineyards, perfectly kept towns with grandiose buildings, and leisurely pace of life, is alluring for those that want that "under the Tuscan sun" kind of lifestyle. The majority of the region, about 67%, is comprised of bucolic hills but Tuscany also has wild mountains, thick woods, river valleys, lunar-like canyons, and coastal plains. With a healthy 250 miles stretch of Mediterranean waterfront. If a seaside city is your dream, you'll want to look at Viareggio, Livorno, Massa or Carrara, which have year-round life and economies.
Florence, the heart of Tuscany and the city that gave us the Renaissance, is justifiably the primary draw, and the priciest city. The hills between Florence and Siena are some of the most expensive pieces of property in the country, populated by finance tycoons and movie stars. But, that doesn't mean that you have to rule out the Tuscan dream quite yet. Whether you're looking for a rustic country retreat, a city-center lifestyle, or a tidy hill town, there are still plenty of places within reach, without sacrificing style or cultural amenities.
Retire in Tuscany
With art cities, cultural offerings and outdoors activities, it's not hard to see why Tuscany is popular as a retirement destination. Walking trails, bike routes, swimming, and a wealth of great golf courses… there is plenty to do to stay active. Add in a rich array of art in museums, churches, public buildings and private galleries, plus opera theaters and music venues, not to mention historic towns and UNESCO heritage sites to explore and you're not likely to get bored no matter where you settle in Tuscany.
As this area is one of the most popular for expats, you'll also find an English-speaking presence in virtually every town.
The central swath of the region is home to some of Italy's highest real estate prices. If you're looking for affordability in Tuscany, look toward the periphery of the region and towns like Pistoia, Lucca, Volterra, Manciano, Pitigliano, and San Sepolcro. The region holds hundreds of charming small towns. Some are well-trod, like Montalcino, the Chianti towns and Pienza, while others have stayed more off the radar but have historic appeal and lovely landscapes. There is an expat presence in even the smallest hamlets, though, as Tuscany has long been a favored spot for foreigners. The lowest-priced part of Tuscany is found in the extreme corners of the region—the Lunigiana in the northwest; the eastern flank where Tuscany meets Emilia Romagna; the southern edge around Lazio.
Florence is the undisputed art capital of Italy (if not the world) but the Renaissance didn't stop at the city gates. Other cities in Tuscany also offer glorious architecture and artwork.
Below are four examples of areas in Tuscany that offer the same Tuscan desirability and lifestyle at more reasonable rates.
Pistoia
Pistoia, an elegant Renaissance city with a pinstriped art-adorned cathedral and baptistry, relaxed piazza, cafes, and stunning palaces, is often called a miniature, understated Florence. It is less than an hour from the city yet the cost of real estate –both buying and renting- is half that of its better-known sister.
Lucca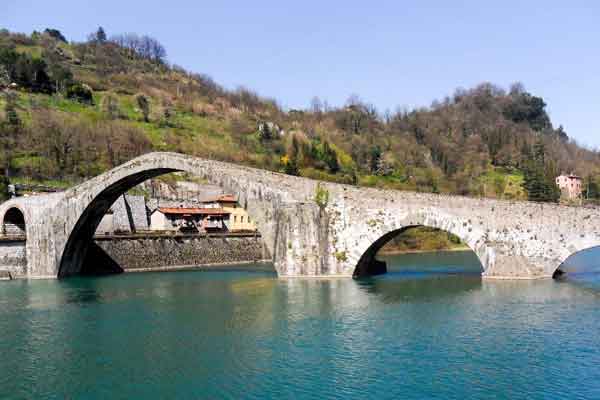 Lucca is a showy and lively city of tall towers, stately palaces, dazzling churches and an unusual elliptical piazza built along the outline of the ancient Roman amphitheater. The city is completely contained within its old protective walls, with a fabulous parkway on top of them, so you can walk all the way around the city.
Arezzo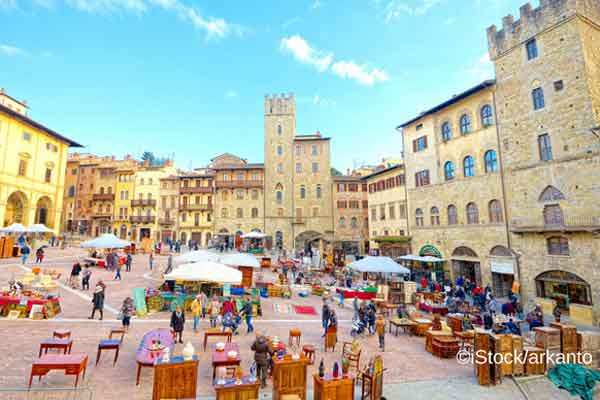 Arezzo is another charmer. Medieval and Renaissance buildings give the city an aristocratic air and its piazzas are perfectly proportioned to be gathering spaces for events, such as the famous monthly antique market. It has an excellent weekly market, with churches filled with art by the likes of Piero della Francesca, and a vivacious sense of life that makes it enjoyable. If it looks familiar to you, that's because Roberto Benigni, a hometown hero, filmed his Academy Award-winning film, Life Is Beautiful, in Arezzo.
Volterra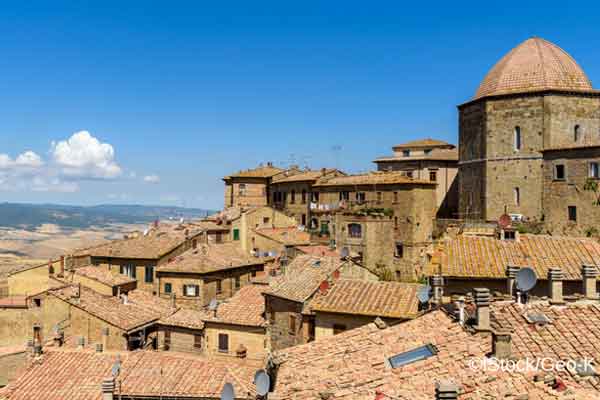 Volterra is a marvelous medieval hill town that effuses Tuscan atmosphere and boasts a massive castle, several museums and ancient monuments among its well-kept narrow lanes. You'll find piazzas basking in the sun and a quilted countryside of grape vines, olive groves and cultivated fields but the town, despite its proximity and comparisons to better-known San Gimignano, doesn't attract the number of tour buses, which is good news for livability and prices. There are many more small towns worth exploring that offer the same Tuscan desirability and lifestyle at more reasonable rates.
Cost of Living in Tuscany
Since housing is the primary cost to factor in, here is a breakdown of the average price per square foot, for both buying and renting, in the areas mentioned above .
| | | |
| --- | --- | --- |
| CITY | Buying/ per square feet | Renting/ per square feet |
| Pistoia | $202 | $0.91 |
| Lucca | $239 | $0.94 |
| Arezzo | $191 | $0.91 |
| Volterra | $223 | $0.65 |
Here's a sample monthly budget for two people living comfortably in an apartment in Tuscany
| | |
| --- | --- |
| Expense | U.S. $ |
| Rent | $650-950 |
| Utilities (electric, gas, water) | $185 |
| Gasoline, maintenance, tax and insurance for one car | $355 |
| Cell phone plans (2 phones) | $61 |
| Internet | $31 |
| Municipal taxes | $18 |
| Dining/Entertainment | $185 |
| Healthcare | $41 |
| Groceries | $271 |
| Total | $1,799-$2,099 |