Just 90 minutes north of Rome sits a stunner of a city, basking in the sun on a high panoramic bluff. Orvieto is one of Umbria's great art cities, with a history that dates to the Etruscans and an easy-living present that is a "Cittaslow" -or "slow city". In fact, Orvieto is the headquarters for the organization that promotes good living by slowing down, respecting, and maintaining the local identity, crafts, and culture, while cultivating a sense of community and human connection. In short, the qualities that many of us are looking for in a retirement destination.
Retire in Orvieto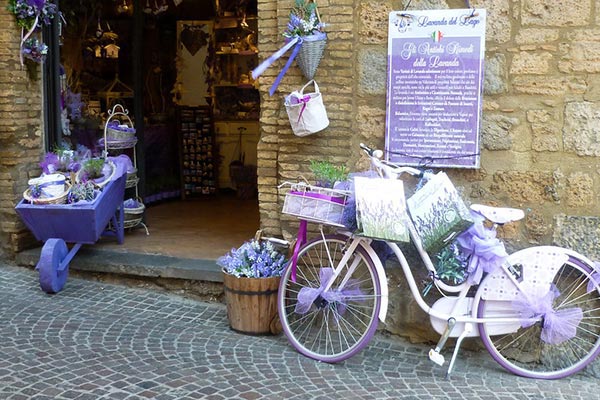 The dramatic city rests on a tufa bluff surveying the Tiber River valley. It enjoys great views and excellent transport connections. No car is needed, as you can ride the funicular down to the train station and be in Rome in about an hour or Florence in about two hours. The main north-south autostrada highway passes here, so if you do have a car you're right in the center of the country for easy traveling.
It's a breathtaking place where the cathedral glimmers in the sun, showy streets are packed with palazzi, and renowned wine is made in the hills below. Its dramatic setting gives it a fairytale quality, but it is livable and lively with about 21,000 residents. Well-known travel writer, Rick Steves says it is "what an Italian hill town should be."
The city was an Etruscan ceremonial center, and gained importance, along with its current medieval street plan, in the Middle Ages. It retains a rich artistic and cultural heritage, and a fantastic weekly produce market held in a picturesque piazza.
It is definitely one of Italy's most dramatic cities, reached by a funicular or by car. There is a newer town centered around the train station below the city, but it is the elegant upper old town that is the real attraction. The tram car whisks residents and tourists between the station and the city center balanced on top of the rock.
Everything is close at hand around town, and the city center has limited car traffic, making it pleasant for walking and shopping. There are restaurants galore, a great selection of cafes and wine bars, from simple neighborhood hang-outs to glitzier upscale locales. Getting around central Italy (and beyond) is convenient from here; the international airport at Rome is just 90 minutes away. The Perugia airport, with flights within Europe, is just over an hour from Orvieto. Umbria, Lazio, Tuscany, and Le Marche are in reach for day trips and weekend getaways.
The climate, like all of Umbria, is marked by hot summers and coldish winters. It isn't harsh, but you may see a couple of snowfalls here; winter daytime temperatures average 45 F to 49 F, while nights cool down to 34 F to 39 F. The rainiest month is November, though anytime between January and April can bring showers. Late autumn and winter can be foggy in Umbria, though Orvieto sits above it. Summer temperatures run in the 80s F during the day but cool down nicely at night to the low 70s F or below for relief and nice sleeping.
Lifestyle in Orvieto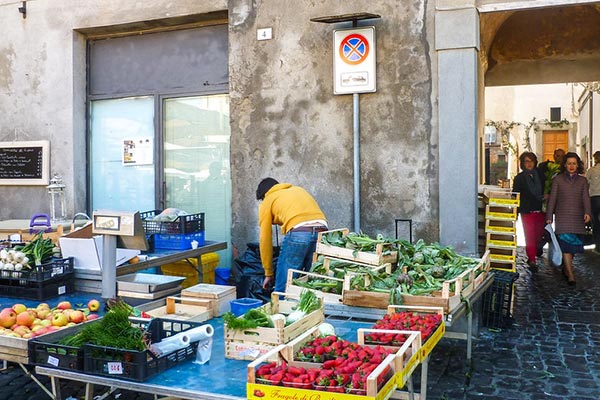 Elegant and laidback at the same time, Orvieto offers some stunning sights, interesting museums, and evocative ambiance. It's known for its quality lifestyle. Orvieto is designated as a "Cittaslow" (slow city), awarded to those cities where the living is good and the pace is, too. In short, opposite of the frenetic, fast-paced, homogenized lifestyle we're so used to. The emphasis is on traditions, a sense of place, local crafts, civic amenities, and sustainable development to allow life to stay on a human scale.
The city is home to one of Italy's most breathtaking cathedrals. It's shining Gothic façade is ablaze with mosaics and studded with a host of sculptural details. Inside, the highlight is Luca Signorelli's turbulent frescoes of the Apocalypse, the scenes so detailed and writhing that they seem alive.  The towering cathedral can be seen from miles around, but below Orvieto lies an underworld of caves, wells, and tunnels to explore. The classic horseshoe-shaped Teatro Mancinelli is a dressy theater for a night out, with operas, concerts, and plays.
This is also a famous wine town, home to the straw-colored white Orvieto Classico vintage, while the Rosso Orvietano is a hearty red blend. You can expect to eat very well here, too. There are plenty of restaurant options, an excellent local weekly farmers market, and food festivals throughout the year.  The cuisine is similar to Tuscany's—hearty, rich, and authentic. Famous for its vibrant olive oil, woody truffles, and mushrooms, Umbria is also renowned for its cured meats. They love their meats; grilled, stewed, or long-simmered in sauce, you'll find beef and pork, but also game meats like wild boar, rabbit, and guinea hen. Vegetarians will love the legumes and lentils and market-fresh produce, along with the fresh umbrichelli pasta and soups.
A great way to walk off that food is the three-mile loop trail that encircles the city, skirting the top of the bluff. Golfers can indulge at Acquapendente, about 35 minutes away. Lake Bolsena is 40 minutes from Orvieto, and the Lazio or Tuscan coasts can be reached in about 90 minutes. The countless, timeless hill towns of Umbria and nearby Lazio mean you'll never be bored, as there is so much to explore. And the city action and culture of Rome is an easy train ride away.
Cost of Living in Orvieto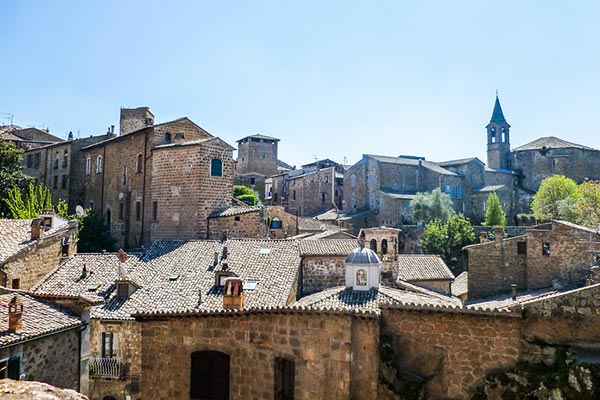 Despite its fantastic location and beautiful, historic surroundings, Orvieto also offers a reasonable cost of living. Quality furnished rentals in the centro storico can be found from $655 to $834. Don't expect real estate bargains like you can find in the surrounding villages, but it's not out of reach, either.
Around town, the average price runs $194 per square foot. Go to the smaller villages in the vicinity and prices drop. In the old town center, a fully restored two-bedroom, two-bathroom apartment on a quiet cobbled street overlooking a leafy courtyard is listed for $285,836. If you only need a vacation home, then there is a compact but bright one-bedroom apartment on two floors, with a full bathroom and a half-bathroom, in the old town, fully restored and furnished, with 540 square feet, listed for $148,873. A newly-renovated bright and airy loft apartment is on offer in the centro storico, with high ceilings, a loft gallery, one-bedroom, and warm ambiance with wood floors and light-painted wood beams. The price: is $219,141.
Restored country homes usually run from $476,000 and up, with many in the $834,000s (and quite a few ranging from $1.4 to $3.5 million, and more!) But one is currently listed for $298,000 making it a bargain for this area. It has five bedrooms and three bathrooms, wood beams, a big fireplace, and plenty of land, along with two outbuildings that could be restored for guest quarters or rentals.
Good living doesn't break the bank. A glass of wine at an outdoor table in any town will cost from $3.50 to $6, and comes with snacks included. A pizza and beer will set you back just $11, while a plate of fresh-made pasta with porcini mushrooms (or wild boar sauce, or other wonderful toppings) in a trattoria costs about $9 to $13 Add a glass of house vino for a mere $3 or $4. A three-course meal in a family-run restaurant will run between $24 to $28 a person, while an upscale dinner will cost $50 a head or so. Orvieto has a fine selection of eateries, from down-home, to take-away, to upscale.
Things to do in Orvieto
By Valerie Fortney Schneider
Basking on a dramatic panoramic bluff, Orvieto is a stunner of an art city and one with a history that goes back to the ancient Etruscans. It's a place that is guaranteed to charm your socks off, where the cathedral glimmers in the sun, showy streets are packed with palazzi, and renowned wine is made in the hills below. Its spectacular setting gives it a fairytale quality, but it is livable and lively with about 21,000 residents. Rick Steves says Orvieto is "what an Italian hill town should be."
Marvel at the Cathedral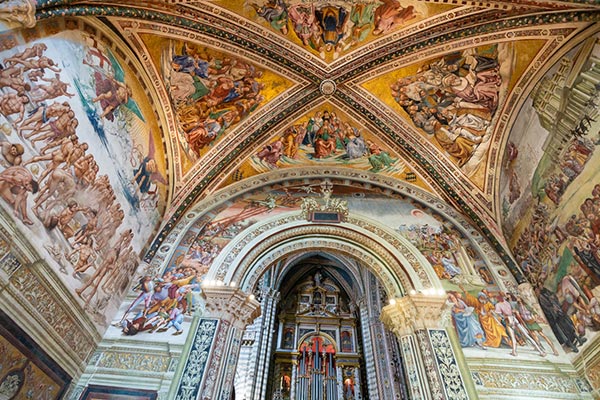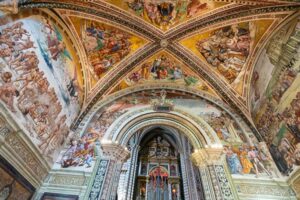 The first thing has to be the stunning cathedral, one of the most breathtaking in Italy.  Started in 1290, it took nearly three centuries to complete. The studded and glittering Gothic façade gleams with mosaics and is adorned with so many sculptural details you could spend a whole day just looking at them. But step inside, because the second act is just as glorious. Striped marble, soaring ceilings, and a coffered cupola are jaw-dropping, but keep going; the frescoes will astound you. The San Brizio Chapel is the highlight, with Luca Signorelli's turbulent, dizzying frescoes of the Last Judgement. After that riot of motion, come back down to earth with the gentler paintings in the Corporale Chapel.
Next door is the Palazzo dei Papi (Papal Palace) and the Museo dell'Opera del Duomo, the Cathedral's repository for other works by Signorelli and Della Robbia, along with sculptures, paintings, altar pieces, and more.
Explore the Underworld
The dramatic city on the bluff puts on a showy face, but it hides an underbelly—literally. Within that tufa stone are tunnels, chambers, and deep wells, like an alternate universe to what you see on top. Take the one-hour guided tour that departs from Piazza del Duomo and leads you back 2,500 years in time to see the caves that were used as a refuge in wars and invasions, like wine cellars, olive mills, and mangers. Many homes still have caves of their own.
Another underground marvel is the Pozzo di San Patrizio, a water well that is a work of art. Built in 1527 by Antonio da Sangallo, it bears a double spiral staircase that descends 248 steps, so water bearers and mules going down didn't intersect with those climbing up. Arched "windows" keep it from feeling too claustrophobic. If that's too much work, you can see an ancient well while dining at the appropriately named Pozzo Etrusco restaurant (meaning Etruscan well). Just ask, and they'll show it to you after you've enjoyed a delicious Umbrian meal.
Time Travel to Etruscan Sites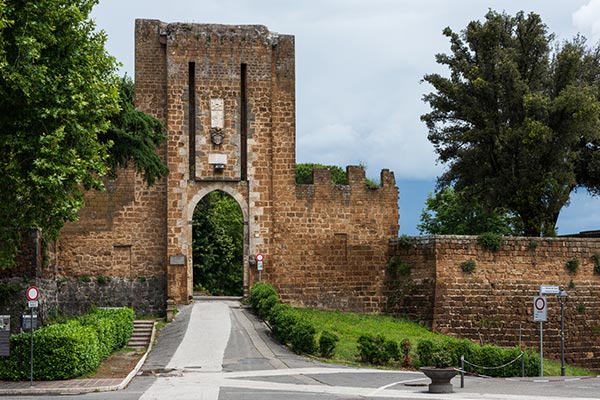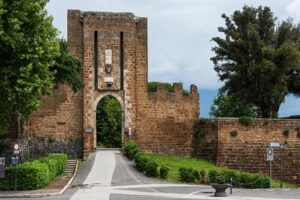 With its ancient roots, Orvieto has a lot to show for its Etruscan history. There are tombs, temples, and cisterns to be seen. Start at the National Archeology Museum to view the artifacts from the area's excavations and get a good overview. Then head to the Tempio del Belvedere, an easy-access temple built in 500 BC. It's situated in the public park near the fortress and funicular. Below the town, the Necropolis di Crocifisso del Tufo is a fascinating "grave village" while the Campo della Fiera archeological site is an ongoing excavation of what had been a ceremonial religious site. Back in the city center, the Pozzo della Cava is an Etruscan well, and the tour leading down ancient carved steps to see the Etruscans' ingenuity is interesting. It includes historical kilns and caves, as well.
Enjoy the Slow Life
Orvieto isn't just a città slow, it's the headquarters of the Slow City organization that promotes good living by slowing down, respecting, and maintaining the local identity, crafts, and culture. So, go ahead, take it slow and enjoy that good life the town promises. Meander the weekly mercato, watch the artisans at their work, stroll the streets before or after dinner with the townspeople, and soak it all in. Why not sit on a piazza and sip a coffee or a glass of local wine? From there you can watch the ebb and flow of the people parade, maybe chit-chat with a few folks, and just relax. Taking it slow is part of their ethos here, so embrace it and unwind.
Climb the Tower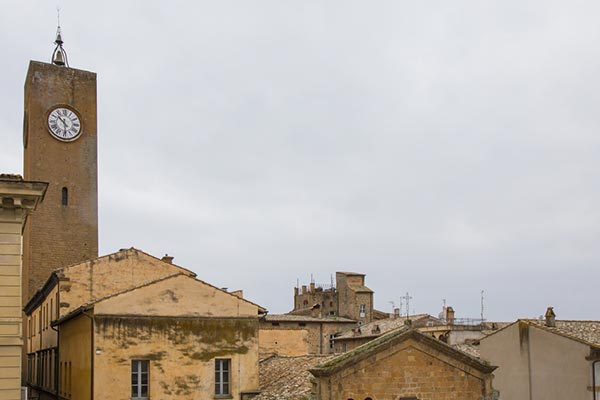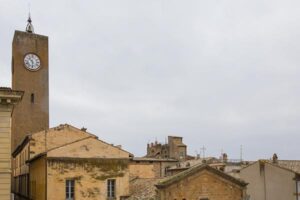 It's not the fanciest one in Orvieto, but the squared clock tower known as the Torre del Moro lets you huff up the stairs to enjoy the 360-degree views from its rooftop terrace. Located at the cardinal points where the city's four districts intersect, it was originally called the Pope's Tower, but Pope Leo X ceded it to the city in 1515. The clock and bells were added in 1866. If you can't walk up all of the 250 steps, there is an elevator that will take you part of the way. The spectacular panoramas over the city and countryside make it worth the exertion.
Walk Around the Walled City
Walking in town is pleasant, but walking all the way around the city gives you some exercise (work off that pasta!), great views, and a glimpse of history, too. The three-mile trail that loops the perimeter of Orvieto's massive tufa rock base is called the Anello della Rupe (meaning "ring of the bluff") and shows off panoramas of the countryside, the canyon-like calanchi formations, and some historical remains, as well. Look out for the Etruscan-carved pigeon holes, the medieval aqueduct, and the two deconsecrated churches along the way. There are several access points, so you can do the full loop or just a portion.
Sip Some Wine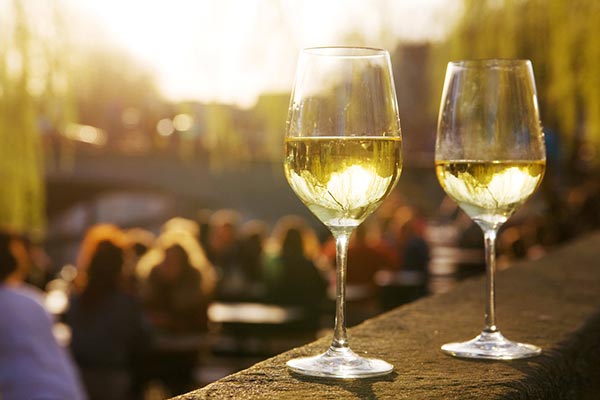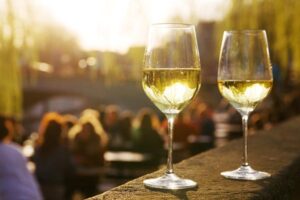 Speaking of wine, Orvieto is a well-known wine town, so make sure to sample some of the goods, and maybe visit a winery or two. In fact, vino has been made here since the Etruscan era. The straw-hued vintage called Orvieto Classico is the renowned vintage around here, but the Rosso Orvietano blend is nothing to scoff at, either. Of course, there are wine bars around town, and every restaurant will have local wines, but it's fun to visit a cantina or two. The easiest is the Cantina Foresi, right near the cathedral. Its rustic ambiance makes you feel at home in the tiny interior, but they'll take you down to the cellar, situated below Piazza Duomo, making it quite an experience. Outside town, Le Velette is a fantastic choice for a tour of the vines, the cellar in the tufa rock, and a sampling of local goodies. You have to reserve, but they offer several tasting and food options.
Take a Day Trip
Orvieto enjoys an enviable location with easy access to the train and highway, making it easy to get around. Take the train to Rome for a day; it's only an hour-and-a-half away.
Get a rental car and see some of the area's intriguing places, like Civita di Bagnoregio, another town on a bluff, but this one requires a walk across a pedestrian bridge to reach. It's dubbed "the dying town" because it's difficult to access and because parts of the rock keep eroding. It's thoroughly charming, though, and photogenic. The Monster Park at Bomarzo is another nearby attraction, constructed by an Orsini prince to cope with his grief and heal his broken heart when his wife died. Its mix of bizarre and surreal sculptures is meant to astonish and amuse, and is like an early amusement park. The leaning house really does make you dizzy (you'll see!) and sculptures include monsters, mythological creatures, and more. The final piece installed was a temple dedicated to the memory of the prince's wife.
Lake Bolsena is only a half-hour away, pretty Citta' della Pieve is 40 minutes, and alluring Todi is a 45-minute drive. Lovely Lake Trasimeno and the hot springs town of San Casciano dei Bagni are both an hour from
Learn to Cook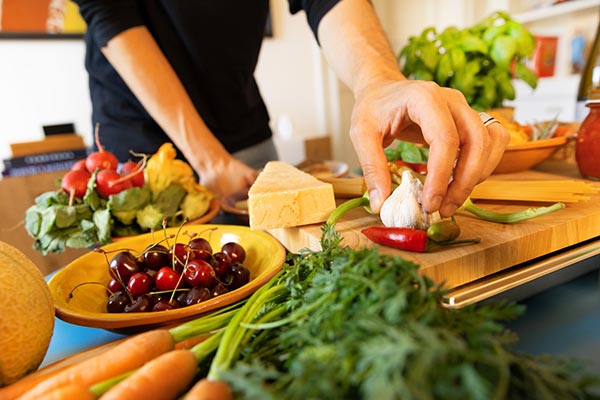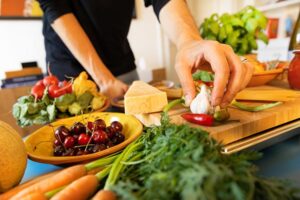 Why not take a day and get your hands in the pasta dough and learn to make those umbricelli or ravioli? A cooking class is a good time in a lovely kitchen, and an experience that keeps on giving with the skills and recipes you take home. There are half-day, full-day, and multi-day courses through various providers. One that is easily accessible is at the restaurant, Duca di Orvieto, where they serve (and teach) "cucina storica"— historical cuisine, meaning grandmothers' recipes, and time-honored regional foods. Another is the Casa Segreta, where farmer-chef Lorenzo starts the class at the local market, then takes you to the country house for the hands-on course, with house-made wines and olive oil. Either way, the flavors are purely Umbrian, the food will be abundant (and delectable) and the wine will flow freely!
Foods You Must Try in Orvieto
By Valerie Fortney Schneider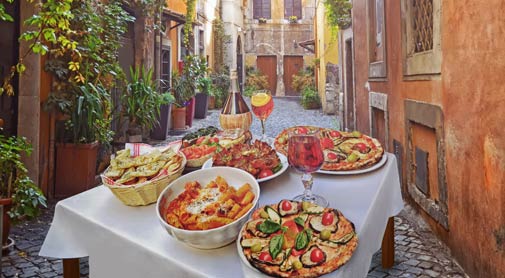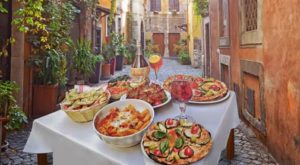 The lofty bluff-top city of Orvieto in southern Umbria offers a dramatic setting, stunning artwork, and a lively, elegant ambiance around town. Its cuisine keeps the Umbrian traditions, being a "Slow City" that grew out of the Slow Food movement, which emphasizes regional dishes and locally-grown ingredients.
Umbrian fare, like it's Tuscan neighbor, tends towards hearty, fat pasta strands, rich stews, earthy mushrooms, and grilled or roasted meats. The region's forest truffles and porcini mushrooms will be the highlight on any menu. Most meals start off with a salami and cheese board; Umbria is renowned for its cured meats, and also produces some fine pecorino cheese, from milky-fresh to well-aged.
Here are some of Orvieto's signature foods that you should taste while you're there.
Umbrichelli Pasta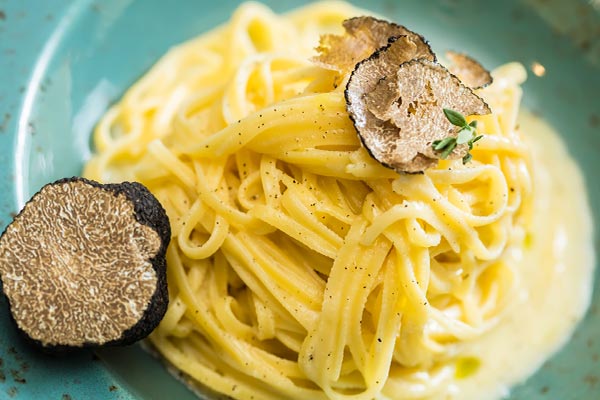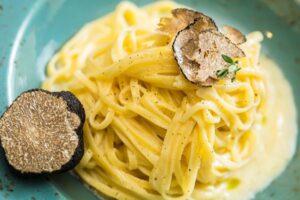 The area's long, plump strands are hand-rolled and perfect for soaking up the savory sauces they use here. Whether the pasta is dressed simply with Umbrian black truffles and olive oil, or slathered in a substantial sauce made from wild boar, rabbit, or tomatoes and wine, this is the pasta shape to eat in Orvieto.
Lumachelle Orvietana
The word lumaca means snail, but this has nothing to do with escargot. It's a snail-shaped rosette of dough spiked with bits of pancetta, salami, or prosciutto and crumbles of pecorino cheese. The small spiral snacks were mainstays for farmers who called them "pocket foods" for a quick break from their labors.
Chickpea and Chestnut Soup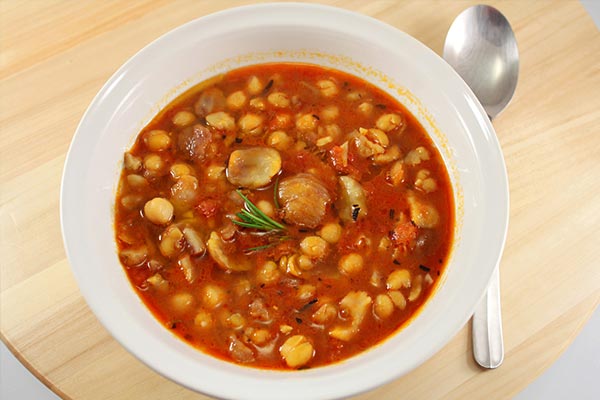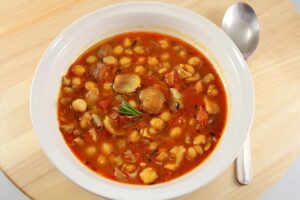 Filling, heart-warming, and flavorful, the soups here harken back to the rural roots of Umbria and the cucina povera when they took the simple ingredients they had and turn them into nutritious and delicious, if humble, meals. Served with fire-toasted bruschetta, the soup is somehow even tastier if it's been cooked in a clay pot at the fireplace.
Pasta al Rancetto
Usually made with that umbrichelli pasta or spaghetti, this dish uses pancetta, tomatoes and marjoram, and a hefty topping of grated pecorino cheese. It's even better with guanciale (cheek) instead of pancetta.
Game meat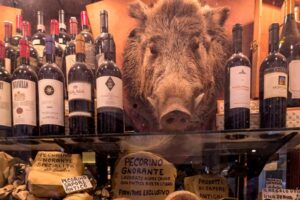 They love their selvaggina around here, be it cinghiale (wild boar), quail, pigeon, or rabbit. It's prepared in savory stews, or roasted, studded with wild fennel, sage, and rosemary. The meats are also long-simmered to create pasta sauces that will make you swoon. Try the cinghiale alla cacciatore, boar stewed with wine, tomatoes, and olives that is rich and fork-tender; the rabbit alla cacciatore is in bianco, without tomatoes, cooked with Orvieto's renowned white wine, herbs, and a splash of wine vinegar.
Tagliata con Tartufo
Grilled steak is very popular around here, and the tagliata is a tender cut that is grilled on a wood fire and served already sliced, topped with shavings of the area's black truffles. Decadent. Other versions come with porcini mushrooms, cooked radicchio, or with rosemary and fresh-pressed olive oil.
While the salamis and other cured meats aren't made in Orvieto, the region is famous for them, most notably the town of Norcia. For years the salami shops all over central Italy were called norcinerie because of their renown, so you really should order a tagliere (charcuterie board) as a starter, or as a meal with a glass of local vino at a wine bar.
Gallina 'mbriaca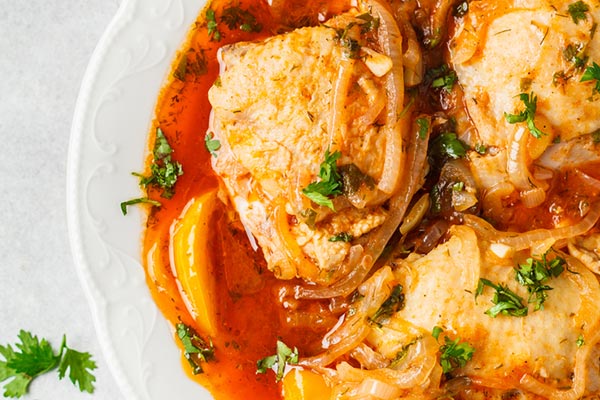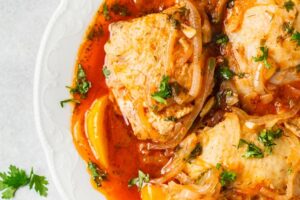 A cut-up chicken is cooked with a soffritto of minced onion, celery and carrot, herbs, and red wine. It is called 'mbriaca from the word for "drunken"—and this imbibing hen turns out aromatic and luscious.
Fava Bean Soup
Like Tuscany, the Umbrians like a good bean soup, and around here, they use the fresh fava beans to make a satisfying soup. This one is often without meat but ask first if you're vegetarian, because some cooks slip in a tad of pancetta or sausage for extra flavoring. Other soups to try include brothy white beans with escarole, thick squash, and chickpeas, or soup made with the heritage legume called cicerchie, depending on the season.
Wine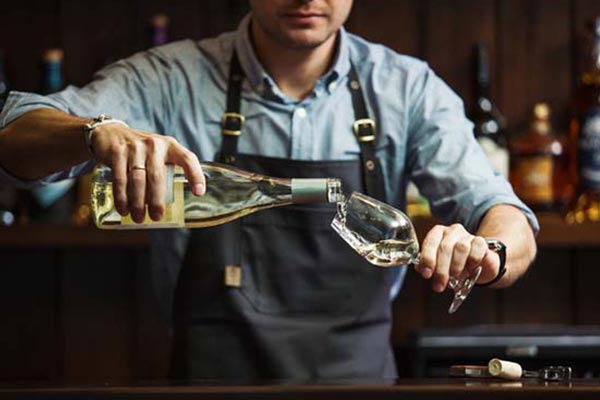 Whatever you choose to eat, you will need to try the Orvieto wine, a well-known white that has DOC status, made with trebbiano and grechetto grapes. They say the first "cellars" were carved out of the tufa rock by the Etruscans, it is straw-colored with good structure and mineral tones from the soil and comes in Classico or Superiore appellations. The Orvietano Rosso is a red blend with many variations but is velvety and aromatic with jewel-like ruby tints.
Finish it all off with an amaro, an after-dinner liqueur. The local brew, L'Orvietan, is a mix of 25 herbs, produced here since 1603 and is offered in many restaurants to help digest the meal, and can be purchased at the L'Orvietan store in town as a nice take-home gift.