By Anne Rose
Bari is a bustling central city and also the capital of the Bari province in southern Italy's Puglia region, on the heel of the Adriatic Sea coastline.
Appealing to tourists and retirees alike, Bari is home to numerous shops (local mom-and-pops as well as high-end designer goods), museums, theaters, universities, a train, and bus hub from which to explore points north, south, and inland, an airport, and a cruise terminal.
Retire in Bari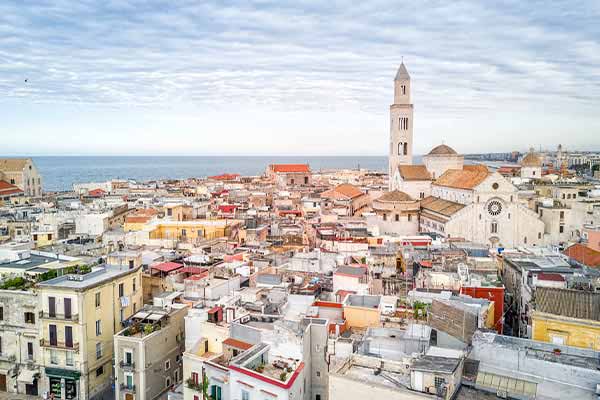 The climate is typical Mediterranean with four distinct seasons. Winter is seldom cold, more chilly and rainy. Spring and autumn are perfectly delightful shirt sleeve weather with an abundance of blooming plants or harvests of olives, grapes, and chestnuts. Summer can be extremely hot, exacerbated by high humidity because of its perch on the sea.
But it also brings a profusion of organically grown produce, flavorful, colorful, and economical. Picture-perfect red tomatoes that look to have been photoshopped, sweet and juicy watermelons, mounds of fresh purple garlic bulbs (with stalks attached so you can try your hand at braiding the garlic!), peppers of every color and shape. The food is just one enticing reason to move to Italy.
Wines are cheap and plentiful but delicious. They're only inexpensive because Puglia hasn't yet learned how to market and distribute their incredible varietals, such as Verdeca, Primitivo, Negroamara, Castel del Monte, Nero di Troia, to name a few; these are nearly impossible to find outside of Puglia, so take advantage of these while you're here. Just yesterday, we bought an amazing local Castel del Monte for only $3 a liter. That wine in the U.S. would easily command $20 or more.
If you ever pictured yourself sipping a glass of vino in Italy, this is the most affordable, and arguably the tastiest, province to actualize your dream!
Lifestyle in Bari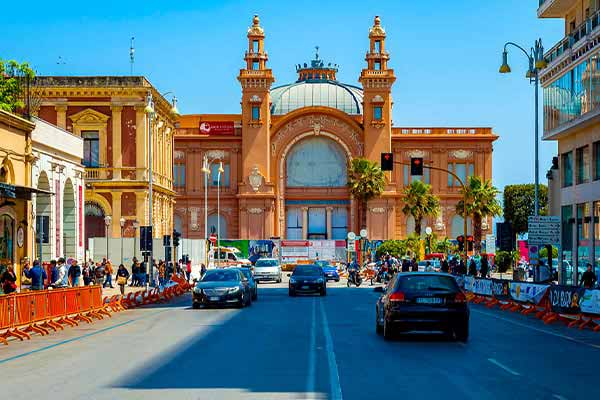 From Bari Centrale's main train hub, buses are waiting outside to drive you to inland villages, possibly not served well by trains. At this writing, a $1.20 ticket will conveniently take you to the airport or the cruise pier. One block from Bari Centrale is the privately operated Appulo Lucane train station that will whisk you through scenic, fertile farmlands to the Basilicata region next door to Puglia, and home of Matera, 2019s UNESCO City of Culture.
Suffice to say that if exploring Puglia is on your radar, Bari city is a centrally located and convenient base with its numerous transportation modes and proximity to other beautiful Pugliese towns, such as Polignano a Mare, Alberobello, Ostuni, Monopoli, Martina Franca, Cisternino. Margherita di Savoia, and Matera. It is easy to explore the entire Bari province and the region beyond using public transportation. No car is needed, which is a huge saving. And trains and buses are inexpensive: $1.70 usually to go to the next town whether by train or bus. The most we have spent on trains was less than $20 roundtrip from Bari to the southern end of the province.
Even without venturing further afield, Bari has plenty to offer besides the aforementioned shops and museums. Old Town Bari (Centro Storico/Bari Vecchia) is a maze of cobbled streets that you've imagined as iconic Italy. Whitewashed stone buildings, arches galore, and streets that better resemble alleys. To those tangled streets, add loads of little shops selling authentic Barese wares and foods (homemade taralli anyone?), and you can browse for hours on end.
Need a snack? Tuck into one of the ubiquitous eateries offering Barese specialties like orecchiette, fish, or of course, pizza) or grab to-go focaccia (Bari's unique version of a different kind of pizza made with semola flour) or panzerotti at a bakery and snack while you walk, like the locals do.
The little, ear-shaped pasta, called orecchiette, are a staple of Bari diets. The best ones are handmade, and you can see this age-old art still practiced by elderly women in the streets of Old Town. Watch their fingers fly from decades of dedicated practice (I have tried numerous times to get that unique shape, and the closest I can come is a cavatelli wannabe) and then buy a bag, fresh-made before your eyes, for your night's supper. Or buy some cime di rape at the produce monger next door to complete your authentic meal of orecchiette con cime di rape.
Cost of Living in Bari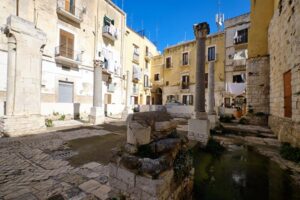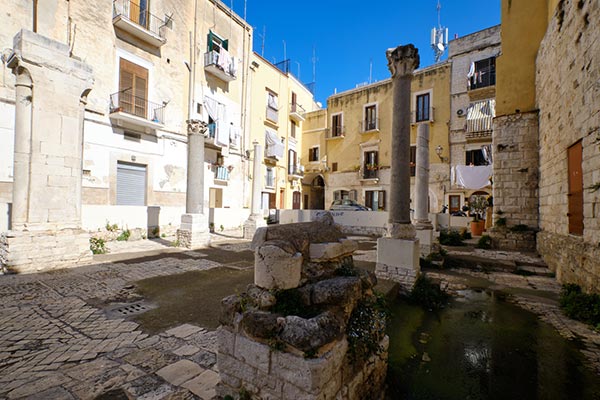 Italy's economy is in a current slump, and landlords have been eager to rent, owners eager to sell. It is a buyer's market now. Compact, furnished little studio apartments can be had for as little as $420 a month. Seaview apartments and more upscale rental homes command higher prices that we've seen as high as $1,300 a month. The average is somewhere in between. One tip is to contact a realtor selling homes to inquire if the owners would consider renting until it's sold. That's what we did: this independent stone house has been on the market for six years, empty, so we offered a two-year long-term rental for $770 a month which was eagerly accepted. One- bedroom, two-bathrooms, well-stocked kitchen (we didn't have to buy one dish, one pot, or fork), fully furnished (even with linens!), and an amazing sea view rooftop terrace. Bargains to be had!
Food is inexpensive in Bari, particularly if you shop like the locals at the farmers' markets for your fresh produce, fresh fish, and fresh cheeses. Buying direct from the local farmers (the original farm-to-table concept) ensures that your food is fresher, riper, and more economical by cutting out numerous layers of middlemen.
Not just food outlets, these markets also sell housewares, linens, clothing, and shoes. All economically priced. I've bought lovely cotton dresses for just over $7 and 100% linen shirts for $3.50—less costly than the fabric alone would cost if I even tried to sew it myself.
Because of the abundance of restaurants in Bari, dining out doesn't need to break the bank either. A full-size 12 inch Margherita or marinara pizza can cost less than $5. A fancier dinner of fava bean puree appetizer (with taralli for dipping), a pasta or meat entrée, and a glass of wine will only set you back $30 or less for two people. The key is to eat like the locals and not order food imported from other countries, or order foods out of season. The Italian style of eating is easy, natural, and wholly satisfying.
Healthcare is substantially cheaper than in the U.S. A doctor's visit might set you back $30 to $60. Recent dental work has been less than $120 for replacement fillings after a complimentary one-hour consultation. Full dental X-rays that took 15 minutes total from the waiting room to X-rays-in-hand were around $30. Our five prescription meds, for the both of us, cost approximately $35 a month; in comparison, back in the U.S., my one prescription alone cost $60 a month. And if you become a legal resident, you can apply for the healthcare card, which ranges from free-hundreds per year depending on a province-wide algorithm. Frankly, we have not needed it as our costs are so minimal that we can pay out of pocket.
Entertainment costs can vary according to how often you go to the movies or theaters or nightclubs. We prefer instead the free entertainment of our landscape—picnicking by the ocean, walks along the lungomare, a gelato while people-watching in the piazza, or one of the numerous free concerts in the piazza. Most paid events hover in the $9 to $18 range. Are cooking classes your kind of entertainment? Figure on about $60 for a private two-hour class.
| | |
| --- | --- |
| Expense | U.S.$ |
| Rent | $770 |
| Groceries | $240 |
| Cable TV | $60 |
| Internet/Phone | $60 |
| Water | $24 |
| Gas/Electricity | 60 |
| Entertainment | $120 |
| Transportation | $100 |
| Healthcare | $60 |
| Total: | $1,494 |
Fun Things to Do in Bari
1. Stroll the Old Town and lose yourself in the tangle of narrow cobblestone streets, serendipitously discovering quaint little shops with items geared for the Barese lifestyle—chestnut roasting pans and knives, earthenware pots, lamps in the traditional acorn shape, a symbol of Puglia's hospitality.
2. Watch the 'pasta ladies' in Old Town deftly create the iconic orecchiette pasta and they might even let you have a go at it. Or sign up for an orecchiette class with one of Bari's chefs for a tasty and fun experience.
3. Visit the Basilica di San Nicola, the resting place of St Nicholas' relics. He is also the patron saint of Bari.
4. Admire the exterior of the imposing Castle Svevo or venture inside for one of the rotating exhibitions. Built around 1132, this castle sits as a fortress on the sea against invading marauders.
5. Explore the port of Bari where the cruise ships sailing the Adriatic Sea dock or browse the stalls of port side fishermen who are selling fresh-caught fish. The sights and smells are pure Barese.
6. Walk the pedestrian-only main thoroughfare from the front of Bari Centrale and window-shop the designer stores of the likes of Gucci and Prada.
Featured Image Copyright: ©iStock.com/Sky_Blue