By Valerie Fortney-Schneider
Just an hour and a half north of Rome amidst the low hills and hazelnut groves, the lovely city of Viterbo is a beauty, and one that deserves more attention than it garners. The medieval core with its stone towers, cobbled streets, and active life will woo anyone who loves Old World charm, and it is accessible by an elevator on the west hillside; once in the old town, it's fairly level for getting around. The streets are generously adorned with palaces, carvings, fountains, and details, so walking around is never boring. Some towers resemble the more famous San Gimignano.
Retire in Viterbo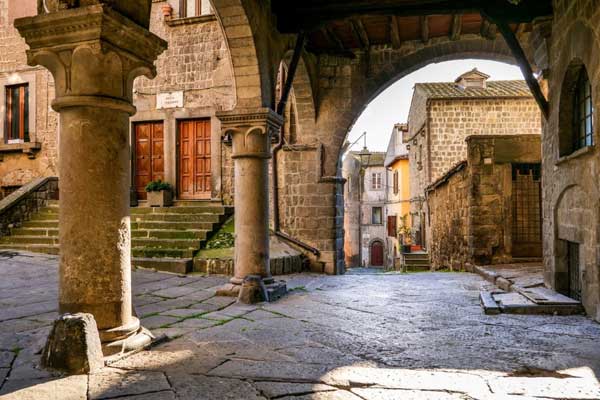 Located in reach of Rome and less than an hour from the Mediterranean coast, this small city offers the best of all worlds, with an affordable lifestyle. It's called the City of Popes because it acted as papal seat during a period of unrest in Rome, from 1257-1281, and the papal conclaves originated here. Dozens of popes kept homes in Viterbo throughout the Middle Ages and Renaissance period, and the gorgeous Gothic Papal Palace is called "the Vatican of Viterbo." A few steps around the centro storico, and you'll think you're in a Tuscan hill town, with the stone archways, medieval towers, and cobbled lanes intertwined with piazzas.
Enjoy hill town atmosphere, rolling countryside, and an active community that supports a university, a military base, and a line-up of cultural events throughout the year. There is a very good regional hospital, and access to the major medical centers in Rome. Another plus? Hot springs! You can indulge in a blissful soak to soothe sore muscles anytime you want. There are free open-air springs, as well as resort-type spa facilities with beauty and massage treatments available.
Lifestyle in Viterbo
Between Lake Bolsena and Lake Bracciano, there are slow-life activities like paddling, fishing, and rowing to be enjoyed in close proximity. The stunning and dramatic art city of Orvieto is only 45 minutes away, and Rome is just about an hour and a half, with cultural offerings and events to enjoy. The Mediterranean Sea is less than an hour to the west for easy access to beautiful sandy beaches. Historical hill towns and castles are scattered all over northern Lazio and Umbria, all in hitting distance for never-ending exploration and discovery.
But staying around town is not boring, either, as Viterbo is heralded as having the most extensive centro storico (old town historic center) in Europe, with well-preserved districts and an intriguing tangle of lanes crossed by arches, decorated pedestrian bridges, and stair-stepped alleys. All over are carved lions, the symbol of the city, aristocratic palaces, fancy fountains, a dozen churches, and pretty piazzas. The opulent Teatro dell'Unione is a lavish opera theater for shows and performances.
When it comes to dining, you'll see that the area's dishes are distinctly similar to Tuscan fare, with fat fettuccine dressed with porcini mushrooms, wild boar, or truffles, and a penchant for grilled or stewed meats. Wines from Lazio and Umbria are full-bodied to match the cuisine.
Cost of Living in Viterbo
Despite its status as the capital of the province and its beauty, the city is very affordable. Small condos in town start at $52,658, ready to move into! One with a spacious living room, bedroom, kitchen, and bath in the heart of town with services right outside the door is listed for $57,339. A roomy palazzo that has been renovated and has 1,600 square feet is on sale for $204,782. A nice stone farmhouse outside the city in the pretty countryside with three bedrooms, a large garden, and more than four acres of land is listed for $310,099. These are good indicators of the range of options and prices available here. Furnished rentals can be found in town from $433 and up, with some very nice options to choose from, too.
The overall cost of living here is in line with the majority of Italy's northern cities. The produce markets, local food shops, and supermarkets will give you plenty of options to keep your grocery bill around $300 a month or less for a couple. Wine is affordable, even cheap, and everyday costs, like a cappuccino and glass of wine, are on par with the rest of the country, unless you go to a more upscale place. You can enjoy all the delicious pasta and other delicacies without breaking the budget. A plate of tagliatelle pasta and a glass of wine in a trattoria will cost around $14, and a pizza and beer $10 to $12.
Aside from rent, electricity is usually the biggest home expense, and that, along with water and garbage bills, will cost on average about $200 a month.
| | |
| --- | --- |
| Expense | U.S. $ |
| Rent | $500 |
| Utilities | $250 |
| Cell Phone Plans | $50 |
| Groceries | $300 |
| Internet | $33 |
| Dining Out | $200 |
| Bus Pass | $41 |
| Monthly Total: | $1,374 |
*Exchange rate at time of writing:  €1 = $1.17
Featured Image Copyright: ©iStock/Photo Beto