The Marvels of Traveling in Italy
Traveling in Italy can offer you some of the most incredible vacation experiences of your life. Whether you choose to spend your time absorbing the atmosphere of one of the great art cities, exploring rural medieval towns, or basking on a beach, you're in for a wonderful treat.
Where to Stay When You Travel in Italy
Italy offers all kinds of vacation accommodation: a 15th-century monastery, resort hotels beside the sea and lakes, business hotels, and simple inns and guesthouses. But hotels aren't the only option. You can rent an agriturismo farm cottage in Tuscany, an apartment in a medieval building in Palermo, or a room in one of those curious domed trulli houses in Alberobello. Although you'll find hotels that you've probably heard of, you'd be missing out on a lot if you stick to only the Best Westerns and Hiltons.
Unique Italian Travels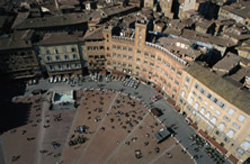 How do you make gnocchi…create a mosaic…apply gold leaf…learn to sing like Pavarotti? If you're eager to learn, Italy offers a host of wonderful workshop options that can make tourism in Italy even more special and unique. Here are a few examples of themes: cooking in Tuscany, Florentine furniture decoration, the magic of mosaics, art among the olive groves, or excursions into art history…
Museums and Art Galleries
Italy has more than 3,500 museums, art galleries, and archeological sites. Although most museums and galleries are usually closed on Mondays, opening hours are not uniform. Enquiries should be made at tourist offices or the museums themselves.
Shopping
Store opening hours vary from region to region. In general, though, stores are open from 8.30 a.m. until 12.30 p.m. and from 4.30 or 5 p.m. until 8 or 8.30 p.m. from Monday to Saturday. They are often closed on Monday mornings. Large department stores tend to remain open all day, as do shops in tourist centers–these may remain open all day and sometimes until late in the evening. (In Alghero, Sardinia, many jewelry stores don't close until 11 p.m. in summer.) Shops where you can buy typical products with the "made in Italy" label (clothing, leather goods, shoes, jewelry, art objects) are usually located in the historical centers of cities. Via Montenapoleone and Via della Spiga in Milan, Via del Corso and Via Condotti in Rome, Via Toledo in Naples, and the shops on the Ponte Vecchio in Florence are famous worldwide. If you're seeking clothing bargains, check out the chain stores.
Visit Antique Markets as You Travel in Italy
To those in the know, Italy's best antiques market is in Arezzo. On the first Sunday of every month and the preceding Saturday, Arezzo's old town streets are closed to traffic and transformed into a great outdoor bazaar and antiques fair for both professional and amateur shoppers. Here you can find antiques, collectibles, new articles, or curious miscellany from all over the world. Artwork, ceramics, accessories, jewelry, lighting, furniture…collectors' stamps, maps, nutcrackers, dentistry and medical instruments, terracotta vases, planters…with hundreds of stands, you could spend hours here. Buyers beware, of course. Some stands sell not-so-authentic antiques at steep prices. You can, however, find good-quality items at good prices. Bargaining hint: If the item is still available at the end of the day, you ought to be able to negotiate a bigger discount. Arezzo is a charming city 30 minutes from Florence and accessible by railway or car–it's on the main railway line between Rome/Florence and Milan. If you are driving from northern Italy, it's a 30-minute drive south of Florence on the A1 autostrada (freeway). Many towns have flea markets and small markets for antiques and collectibles, usually held at weekends. Here are a few more well-known ones:
Bergam: Third Sunday of the month
Lucca: Third Saturday and Sunday of the month
Milan: Last Sunday of the month
Modena: Last Saturday and Sunday of the month
Ravenna: Third Saturday and Sunday of the month
Turin: Second Sunday of the month