By Valerie Fortney-Schneider
It doesn't take more than a glance to see why Ostuni is dubbed "the White City" (la citta' bianca). Spiraling around its hill and spreading across another one beyond, the city exudes an alluring blend of Greek sugar-cube homes and Arab casbah exotic charm. That it looks out at the Adriatic Sea, just five miles away, ups its attraction. Plus, it is also just 30 minutes from Brindisi with its city amenities, airport, and ferry port.
Retire in Ostuni
Ostuni is the Puglia city that has drawn the most expats. With its white circular form, it looks like a cloud floating above the olive groves. The cathedral that crowns the town stands out distinctly simply because it isn't white like everything else. Ostuni is an impressive sight. It retains its medieval character but it is also infused with a lively buzz and upscale feel, too. It is bustling without being chaotic. The old town is an appealing labyrinth of lanes with prestigious palaces, casual cafes, and funky wine bars wedged into corners and alleys. Some are right on the stair-stepped lanes, strewn with fluffy pillows on the steps where friendly banter with the other patrons as they sip a glass of local verdecca wine is a casual treat.
At just a few minutes away from the sea, you can easily enjoy the waterfront nature preserves and other pristine beaches. There are three golf courses within about a half-hour of Ostuni, a rare concentration in Italy.
Located in the Valle d'Itria, Ostuni rests among towns like Alberobello, famous as the epicenter of the peculiar, pointy-roofed trulli dwellings, along with Cisternino, Locorotondo, and Martina Franca. The low hills are covered in woods and centuries-old olive groves, and is a big wine producing region, as well.
Its hill location and limestone landscape formations keep the area fairly arid, and sea breezes wafting over the hill help keep the humidity down. Summers are hot and sunny, winters are fairly mild, though an occasional snowfall or levante wind from the Balkans can bring cold temperatures. The summer averages 84F but cools down to around 70F (or even lower) at night, while winter average temperature is 49F or more by day and 40F by night.
With easy access to Brindisi, Lecce, and Bari, there are city diversions nearby, plenty of towns to enjoy in the vicinity, and Adriatic Sea beaches for water fun. Ferries take you to Greece or Albania, while the airport opens all of Europe (and beyond) with no effort.
Lifestyle in Ostuni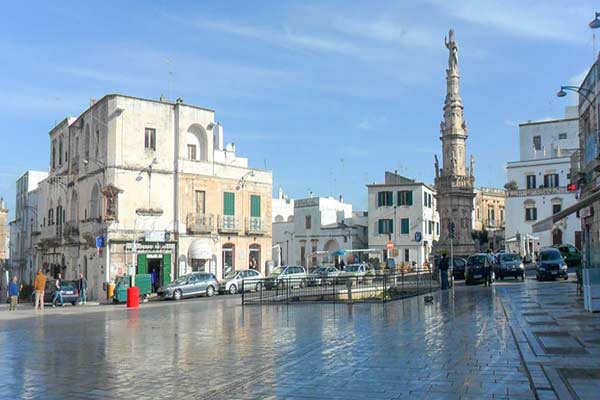 Ostuni's centro storico is a circular, white uprising among the lower spread of the city, full of character. The Piazza della Liberta' is the centerpiece, a gathering spot and the perfect place for a drink and some people watching. Stroll up the curving Via Cattedrale where stair-stepped lanes lead off to hidden delights, especially of the culinary kind. I like the Borgo Antico Bistrot with its tucked-in terrace and tables staggered up the lane, perfect for cocktails and snacks that make a light meal. Pricier but so worth it; a full meal from antipasto to dessert will cost about $50 per person. More reasonable are the little bracerie-restaurants, where butcher shops turn into grill eateries by night; choose your meat and they cook it over the coals, and you'll only pay about $13 per person for the feast. Or, reserve dinner in one of the area's agriturismo farm restaurants, where set menus usually run about $25 to $28 per person, including wine.
The city center spreads out from the piazza, with distinctive neighborhoods, each with their services right at hand, well-used roof terraces, flapping laundry, and the neighborhood coffee bars and shops, all sparkly white-washed. Beyond, the countryside is sprinkled with those trulli homes that lend a distinctive sense of place to the Valle d'Itria. Less than a 10-minute drive gets you to the rocky incised Costa Merlata (literally, crenellated coast) with inlets, reefs, and small, delightful beaches interspersed. The pretty fishing town of Torre Santa Sabina is a great place for a waterfront walk and lunch, while to the north, the coastal dunes of the nature park Torre Canne gives you walking paths and sandy beaches.
In an hour, the stunning baroque city of Lecce is yours to explore; the cultural events and offerings are plentiful and every stroll brings gorgeous corners dripping in ornate adornments to gaze at. But don't overlook the events and museums in the area's towns, as the Valle d'Itria puts on high level exhibitions in Martina Franca's Ducal Palace, and Ostuni's own Civic Theater puts on plays, comedies, and musical evenings throughout the year.
Cost of Living in Ostuni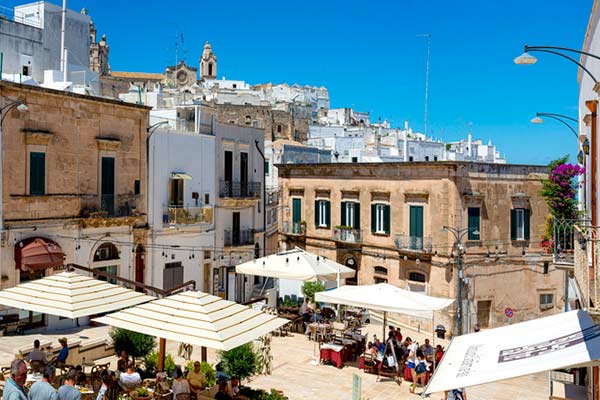 Making Ostuni even more attractive is its reasonable real estate market, for rentals and sales. Despite all its allures, Ostuni offers some excellent real estate prices. Here you can find small but habitable homes starting at $50,850—or even lower. In the city center, a smartly redone loft apartment with 647 square feet, two bedrooms, and barrel vaulted ceilings in a convenient location is listed at $66,670. Or, go for a restored country villa with three bedrooms and three bathrooms, plus a one-bedroom and one-bathroom guest house, fireplace, air conditioning, a swimming pool, flagstone patio, and built-in barbecue—all for $316,400.
Rentals are reasonable, even bargains. In town, nice furnished rentals run from $340 to $565; a furnished country trullo rents for around $800, and a three-bedroom, two-bathroom country villa of 1,400 square feet is listed for under $1,500 a month.
The overall cost of living in Ostuni is very reasonable. A bag full of local produce at the weekly market will set you back about $6; stop for a cappuccino while shopping for $1.30 and munch on a cornetto pastry for $1.10. An excellent espresso costs just $1. You'll pay between $12 to $20 for a haircut.
Dining out can be downright cheap: the locally-loved bracerie are butcher shops that then grill the meats you choose are an affordable and tasty outing, where dinner for two with wine can run just $25. A seafood feast can vary from upscale to home-style, with prices bounding from $25 a person to $100 a person, but the fish is always super-fresh and well-prepared. A glass of wine at an outside café will set you back just $4 or $5, and comes with snacks. Of course, Ostuni also offers upscale fancier restaurants for special evenings, and basic trattorias and pizzerias for economical but delicious dining. In essence, living in Puglia can be as affordable as you want it to be.